Searching for a reliable stove online for your kitchen can definitely be a fairly overwhelming experience. From trying to narrow it down by its specifications, to determine if it's the best fit for your kitchen, it's easy to get frustrated and want to give up.
If you're going to start to think of your options by browsing online, you're probably going to end up with countless lists of different brand names and models. One of the most popular brands you will most likely encounter is GE Appliances. 
GE Appliances has been in the home appliance industry for more than 100 years, and there's a good reason why they're one of the most trusted appliance brands today. Not only do they offer a lot of great options when it comes to different kinds of kitchen appliances, but they also stand behind their products, too. 
And of course, when it comes to stoves, most of their models are dependable and well-featured. So, whether you're looking for the most affordable options or stylish high-end models, you will probably find a sound choice from GE Appliances. 
Having said that, if you either have no prior knowledge about GE stove models or you're only starting to understand kitchen stoves, our guide can help you! We gathered everything you need to know about GE stove models. But before you look into some important factors in buying the right GE stove, you should first know the different types of stove models available. 
Understanding the Different Types of GE Stove Models
Before you head on to any appliance store to look for the perfect stove for your kitchen, you must first consider the type of stove that will match your needs. Although the design should also be considered, it would be a wiser idea to consider the essential features you need in your kitchen. 
Each type of stove works differently, and they come with its own set of benefits and drawbacks. GE stove models are categorized into five different types, namely:
Electric Ranges 

Gas Ranges

Double-Oven Ranges 

Dual Fuel Ranges 

Induction Ranges 
Electric Ranges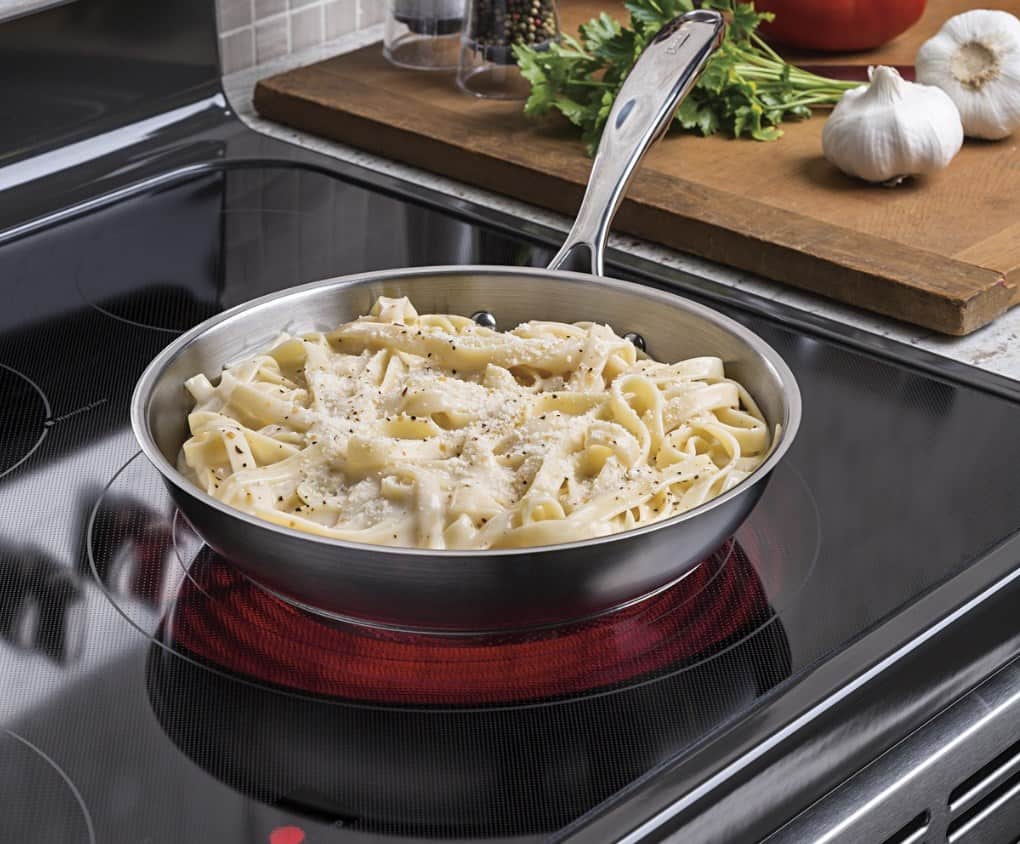 Electric ranges are typically used for apartments and other rental properties, since they are much more inexpensive to buy and keep in good condition. On top of that, they are safer to use since they run on electricity instead of gas. 
With an electric range, you won't encounter any gas leaks or potential fire hazards in your kitchen. Still, there are a few downsides to choosing an electric range.
If you compare it to a gas range, an electric range generally needs more time to adjust its temperature and maintain it, whereas, with gas ranges, it heats up instantly. This is probably the main reason why professional chefs and avid home cooks prefer to use gas ranges over electric ranges. 
However, if you personally prefer an electric range, a good model from GE Appliances (like the JB655YKFS) would cost you anywhere between $529-$2899. 
Pros:
Electric cooktops are easier to clean

Easier and less expensive to install

No potential gas leaks
Cons:
You can't cook if the power goes out

They generally cook slower than gas ranges
Gas Ranges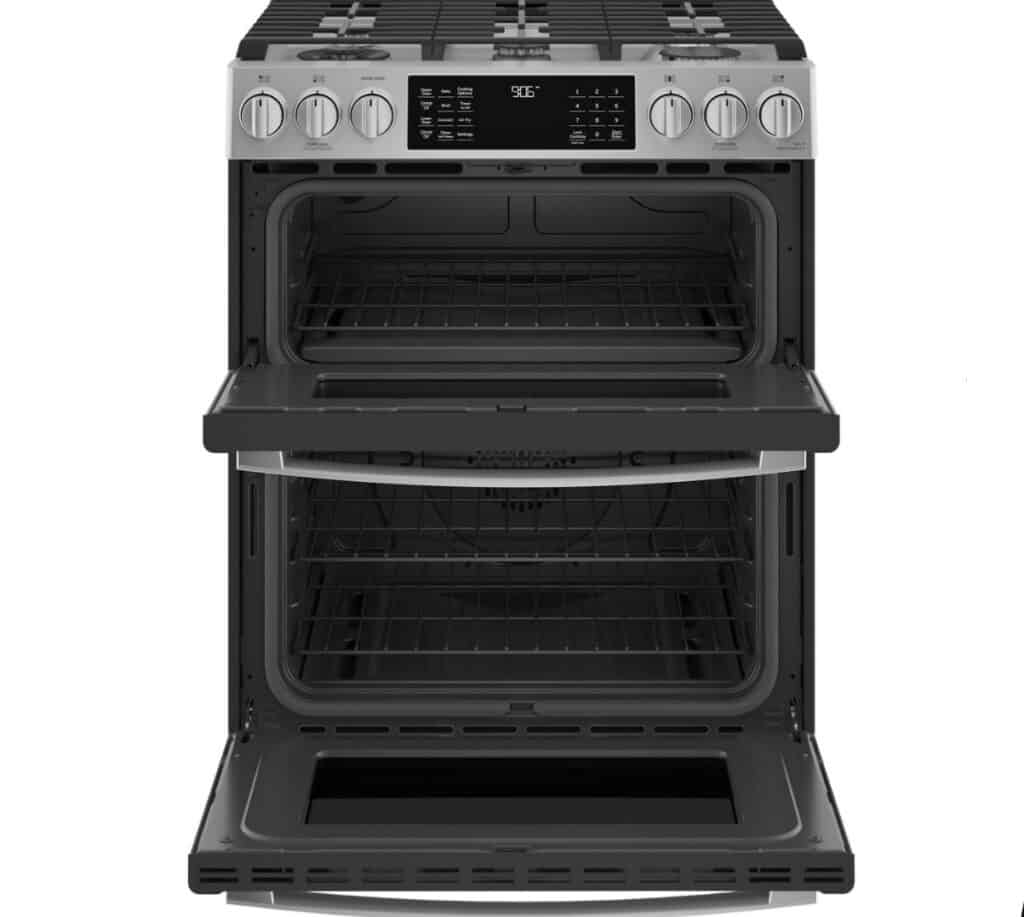 Gas stoves have always been considered as the most preferred choice for professional cooks and home cooks, especially since they are generally more energy-efficient and cost-effective when compared to other types of stoves. Although they come with such advantages, you'll still encounter certain problems in buying one. 
For instance, if a gas stove is poorly installed or not maintained properly, your kitchen might experience potential hazardous problems. And while most modern stoves today come with excellent safety features, some models will still occasionally experience dangerous gas leaks. 
Fortunately, there are certain ways to prevent such risks. GE Appliances has a wide selection of reliable gas ranges for you to choose from, too. So whether you're looking for the most high-end model or you're just in the market for an affordable yet dependable gas stove, you'll have an easier time picking the right gas range from GE Appliances. 
Pros: 
Temperature is easier to control

Generally cheaper to operate than electric ranges

Provides constant and even heat
Cons:
More expensive purchase 

Gas lines are expensive to install

Somewhat unsafe due to potential gas leaks
Double-Oven Ranges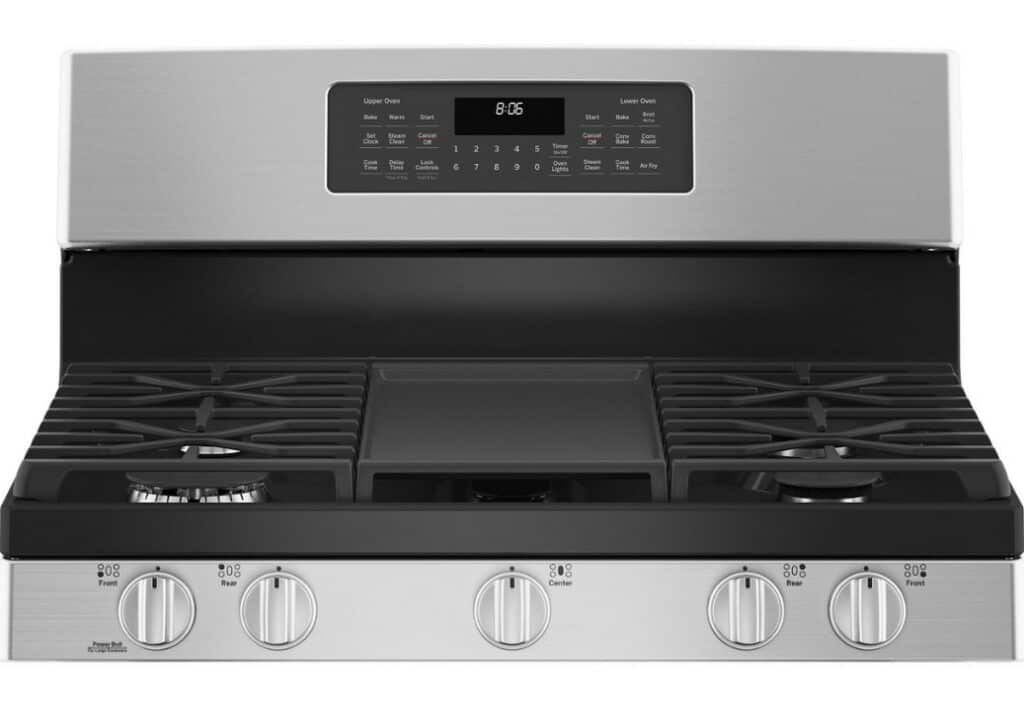 If you're looking for a stove that will help you have an easier or quicker time cooking, you might want to take a look at a double-oven range. A double-oven range allows you to have a more versatile appliance. And since it comes with two ovens, it's capable of cooking two different dishes at two different temperatures simultaneously. 
However, the main disadvantage of buying a double-oven range is that they generally cost more than single-oven stoves. Still, if you're in need of a more efficient and modern stove, you have to consider buying a double-oven range. 
If you're searching for a reliable free-standing double oven, you might want to check out the JGBS86SPSS from GE Appliances. 
Pros: 
Extra space for cooking

Less time to cook

Small oven uses less energy than most single ovens
Cons:
More expensive than single oven stoves

Higher energy usage
Dual Fuel Ranges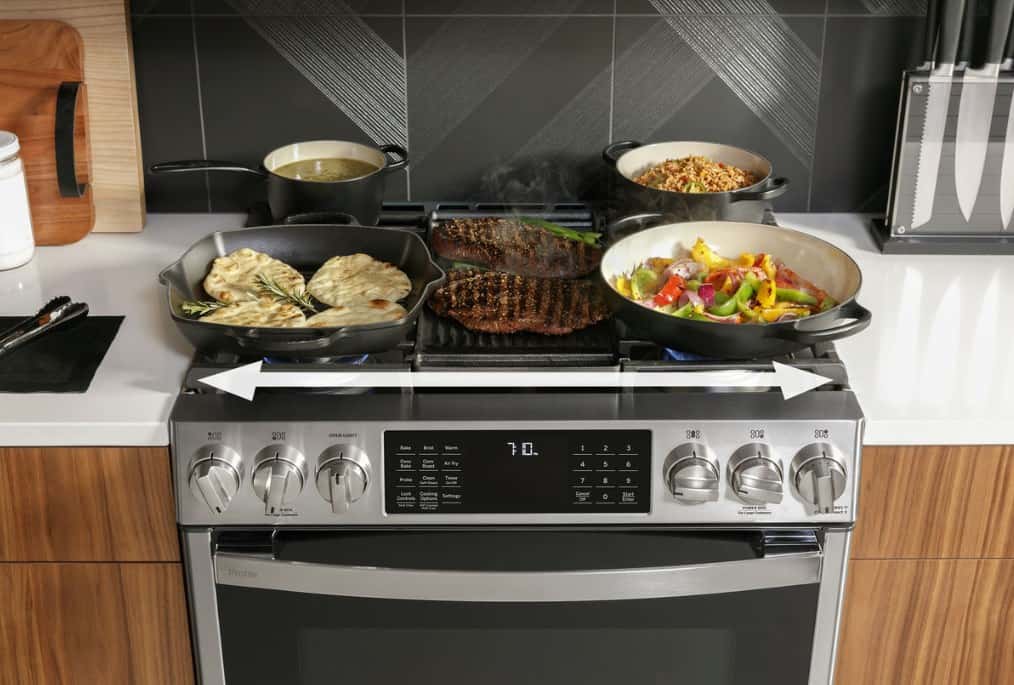 Assuming you already have a decent knowledge when it comes to stoves and ovens, chances are, you probably know by now that there are distinct benefits in both types of fuel sources. If you want a range that you can completely trust with all sorts of cooking, you might want to consider a dual fuel range. 
With the inclusion of a precise gas cooktop and electric oven, you'll experience the best features of both gas and electric ranges. Even though a dual fuel range comes with such desirable features, most people still consider it a premium appliance. 
There are admittedly no "cheaper" options for these types of ranges, and since they operate with electricity and gas, you need to have both a gas line and power line ready for it to be installed. As of now, GE Appliances only offers a few options when it comes to dual-fuel ranges.
Pros: 
Easier to control stovetop

Electric oven cooks more evenly

Better baking and roasting 
Cons:
Requires both a gas line and power line

More Expensive to buy and install 
Induction Ranges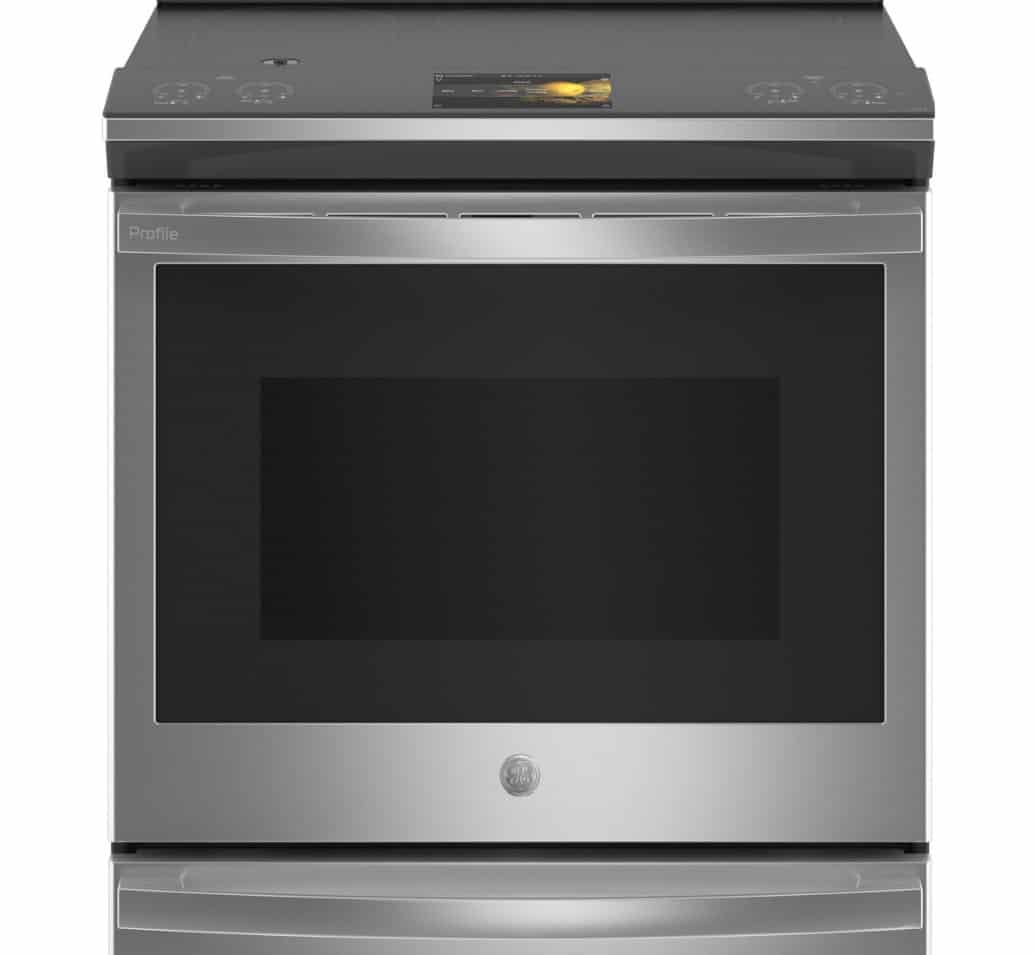 Aside from electric and gas ranges, a newer type of range that you might not know about is the induction range. Although most people will tell you that they come at a steep price point, induction ranges offer a few significant advantages over other types of stoves. 
One notable feature of the induction range is that it cooks in a much safer way. Since the heating coils of an induction range only become active when it comes in contact with iron, the cooktop will remain cool even though the pan or pot will heat up. 
An induction range also tends to cook faster, since you don't have to wait for the heating element to transfer any heat to the pan. However, the common problem when it comes to using an induction range is that you may need some time to know how to properly cook with it. Moreover, you will also need to check if the set of cookware you have is induction safe. 
Pros: 
Precise temperature control
More energy efficient than electric and gas
A safer way to cook food
Cons:
More expensive than electric and gas

Most induction cooktops are prone to being easily scratched
A Freestanding Range Versus a Slide-In Range
In addition to looking into the type of stoves that GE Appliances has to offer, another important factor you need to consider is the installation style of the stove. There are two types of installation styles that you need to know about when you're buying a stove from GE Appliances, namely:
Freestanding ranges

Slide-in ranges
Let's go ahead and break them down a little bit further, shall we?
Freestanding Ranges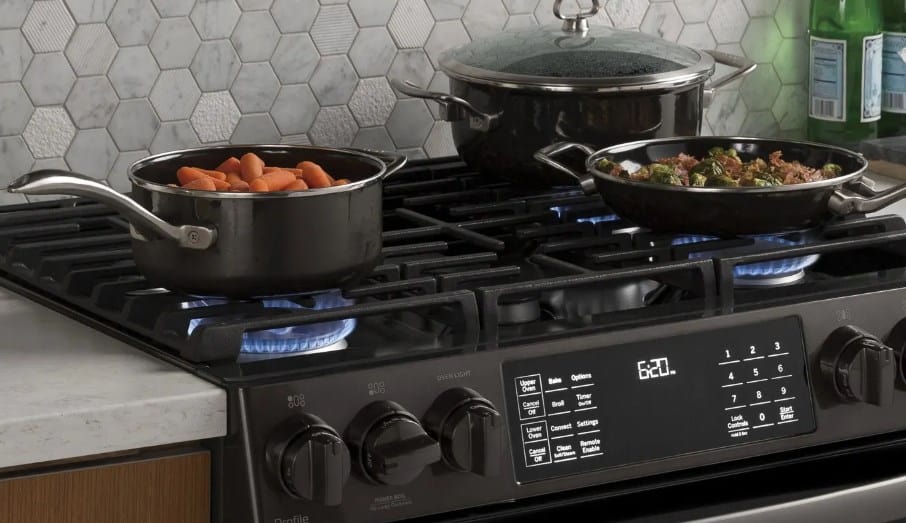 If you're thinking of a more economical and popular option, most of your choices would probably be freestanding ranges. Freestanding ranges are more preferred by most people because of the versatility they have when fitting them to your kitchen. 
They can be installed in between two cabinets or on their own, making them easier to install. Freestanding ranges come with their own back console to help protect kitchen walls from frequent splashes and spills.  This type of installation style is your go-to option if you're looking for a more practical appliance. Having said that, a freestanding range might not be the best option for a kitchen island. 
Pros:
Easy to install and move around

More versatile in terms of features

Comes in different price points
Cons:
Can take more effort to clean

You will have to bend lower to use the oven
Slide-In Ranges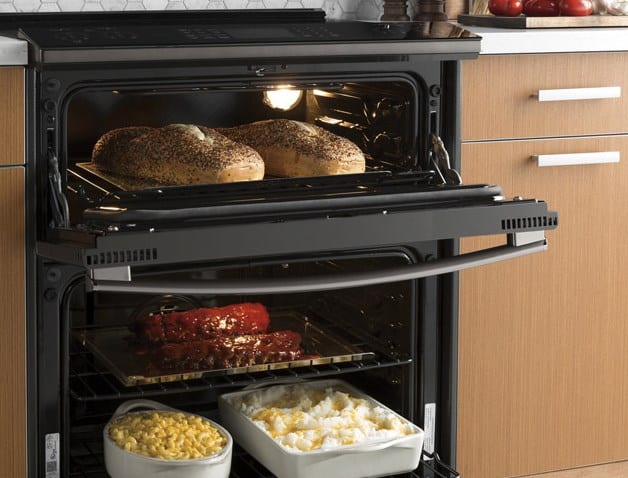 Compared to freestanding ranges, slide-in ranges tend to offer more premium features to consumers. However, since a slide-in range provides a more custom and sleek design to your kitchen, well-featured models can cost more than $2000. 
A slide-in range is typically designed to slide between cabinets to create a built-in look, making it the perfect style for kitchen islands. Having said that, most slide-in models today can be installed anywhere in your kitchen provided you can give the exact dimensions. 
Even though you'll enjoy a more open layout, most slide-in ranges tend to have slightly smaller ovens than freestanding models. Also, since there's no integrated back console on top, curious children can't reach the front controls of the stove and accidentally injure themselves. 
Pros:
Perfect choice for a more open layout

More modern and premium look

Easier to clean
Cons:
Generally, more expensive

Demands a more careful installation
How to Buy the Right GE Stove Model 
If you already have a decent understanding as to what type of stove you should buy, then it's probably time for you to learn other important factors as well. These include:
Setting your budget

Knowing how much space you have

Being alert to the features and functions

Choosing the right color and finish
So, to help you make the best choice for your kitchen needs, here's a comprehensive guide of the important factors you should consider before buying the right GE stove model. 
Know your Budget 
Before anything else, start thinking about your budget. How much money are you willing to spend on your new stove? If you're looking to shell out between $400 – $500, don't expect too much, since you will most likely get basic features from such a low-price range. 
That said, though, don't just simply base your decision process on budget alone, since a slightly higher-priced model might save you more money in the long run. On top of that, you should also check if there's already an existing gas line or power line in your kitchen. That way, you will have a better idea of knowing what type of stove will save you more money. 
If you're willing to spend more than $1000, you can choose from a wider selection of stoves with different features. In the $1000 – $2500 category, you'll be able to pick from more premium types of stoves such as double ovens, slide-in ranges, induction ranges, and the like.
Stove Dimensions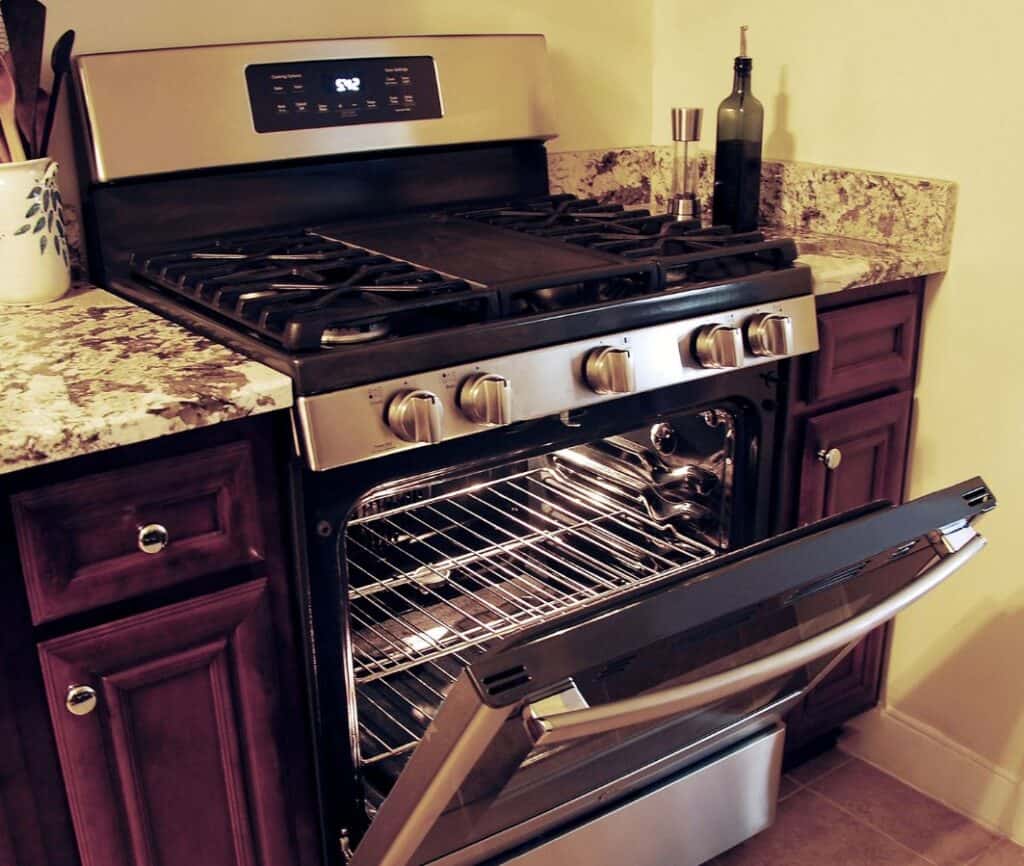 After considering your budget, the next thing you should focus on is the stove dimensions. Most freestanding or slide-in stoves from GE Appliances have standard dimensions. These standard stoves are generally around 30" wide and are around 25-27" deep. 
They're usually the same height as most kitchen counters. However, since stovetop and oven features tend to vary especially in moderate to high-end models, most residential stoves are between 30" and 38" wide. 
Moreover, there are also stoves made specifically for smaller kitchens or large commercial kitchens. You should always remember to consider the standard size that would fit in your kitchen. After all, it's easy to ruin your kitchen's layout with the wrong stove size. 
Bonus Features and Functions 
Obviously, another important thing that you should always remember when you're shopping for such an expensive appliance is taking a look at the features. After all, it would be a regrettable decision if you'll end up wanting more from your stove. 
Apart from choosing more premium types such as dual fuel and induction ranges, there are also other stovetop and oven features that are very useful. An example of a bonus feature that you might want is the inclusion of sealed burners. 
Although they are generally present in higher-end models, sealed burners are very beneficial, as they can help you have a more convenient way of cleaning your stove's surface. Since other kinds of appliances already have their own smart features, certain stove models also come with their own smart features. 
Helpful Hint: If you want to know more about smart appliance features, check out GE's Kitchen Hub. This smart-kitchen system can help completely streamline the way you whip up a meal, and it's designed to fit right above your stove for ease of access.
Standard Colors and Finishes
It's important to get the right look for your kitchen. Most stove models from GE Appliances come in colors such as:
Stainless steel

Black

White
However, some models are also available in other colors such as slate or even bisque (an eggshell, cream-like color).
Our Top Recommendations 
Whether you're looking for the most high-end model that will complement your kitchen's style or you're just in the market looking for a budget-friendly replacement, you will eventually find the right stove from GE Appliances. 
Of course, we're completely aware that shopping for the right GE stove isn't an easy task especially if it's your first time buying from such a brand. So, in order to help you find the right stove for your kitchen, we made a list of recommended stoves that you should check out down below. 
What's Our Evaluation Criteria? 
Although following your budget is extremely important when it comes to buying appliances, your decision process should also be influenced by other important factors such as reliability, durability, and essential features. 
In order to know the best stove models from GE Appliances, here are some of the important questions we asked ourselves when we were selecting our recommendations. 
Does it offer any particular must-have feature?

Is it a long-lasting and dependable stove?

Is the price worth it? (i.e., Is it easy to install, manage, and use?)

Does it have good reviews? i.e., Did customers like it, or did they wind up returning it?)
From basic freestanding models to well-featured slide-in ranges, there's a lot of great models to check out from GE Appliances. However, it's not an easy job going through countless listings and reviews online. 
And because of this, we have carefully gathered the best GE models you can find, from different price points. We hope you're able to find your next stove with this helpful guide!
GE Profile 30" Smart Free-Standing Electric Double Oven Convection Range with No Preheat Air Fry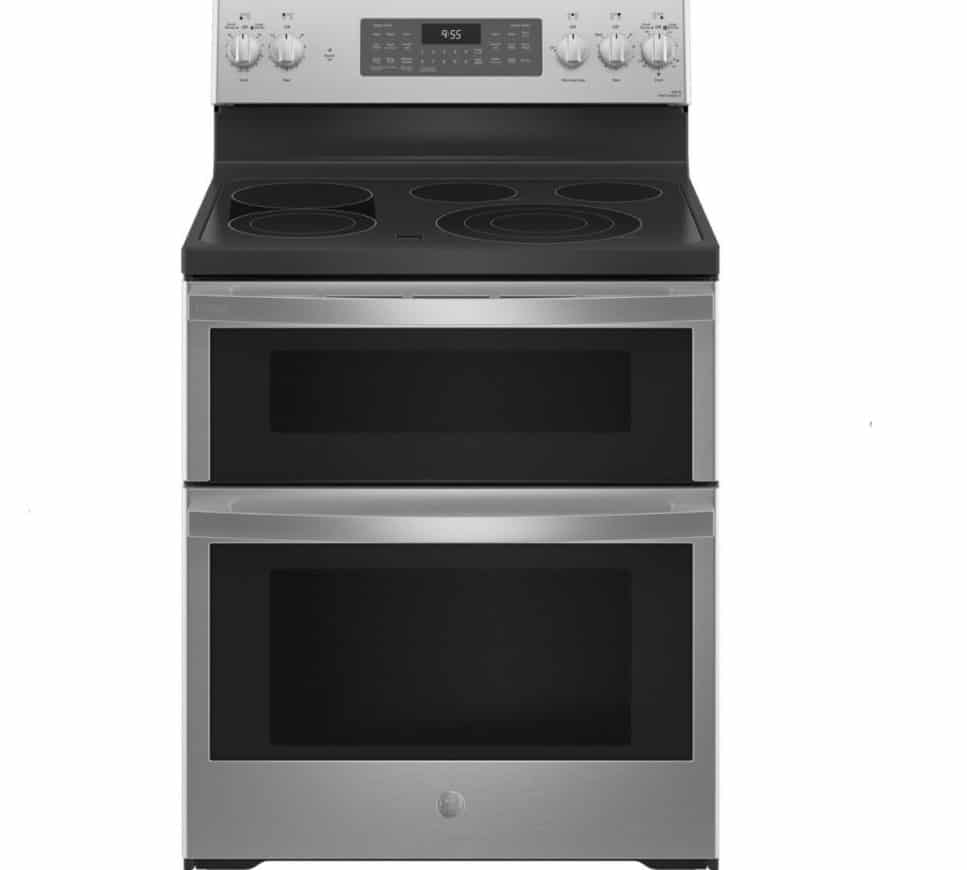 Considering that it's one of the newer electric double ovens from GE Appliances, the PB965YPFS offers a lot of great features. It has a built-in WiFi which helps you control oven functions and it also comes with an air fryer that doesn't require preheating. Moreover, since it has a few self-cleaning features, you'll have an easier time cleaning it.
Pros:
Versatile cooktop

Fingerprint resistant 

Fast preheat time
Cons:
Cooktop might be hard to clean

Hot indicators for burners can be inaccurate
GE 30" Free-Standing Electric Range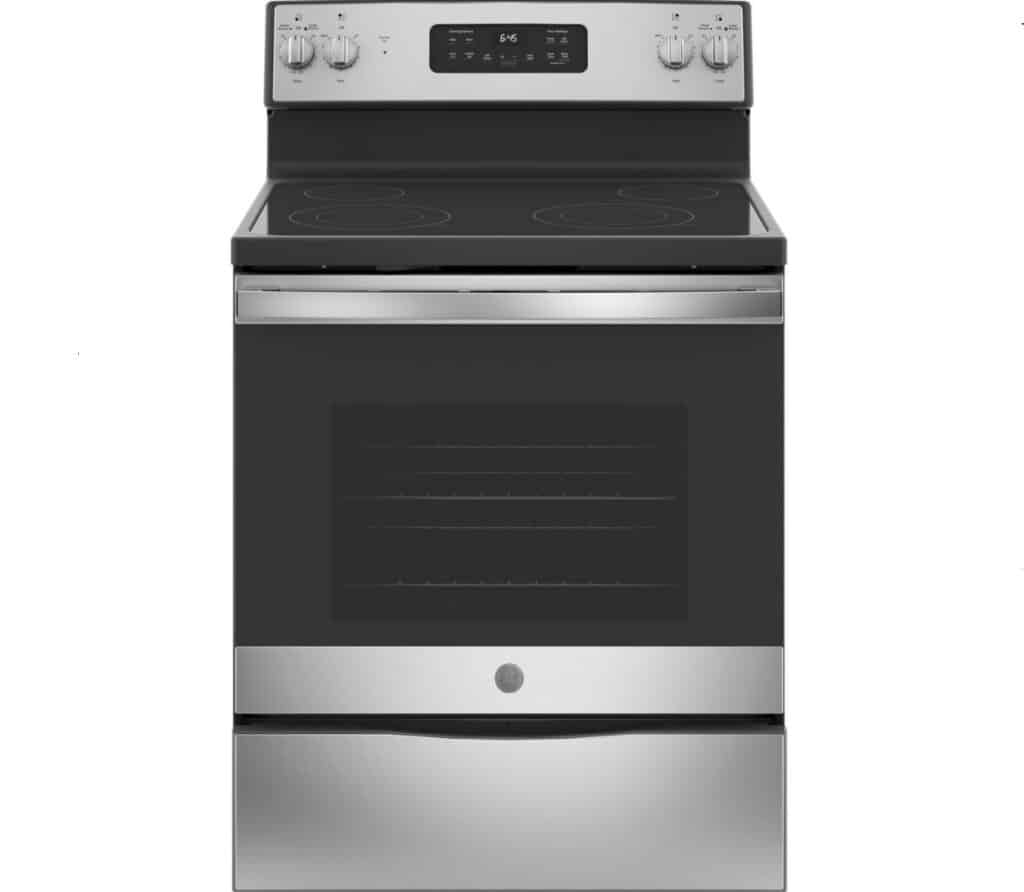 Even though it is not the most affordable model you will find from GE Appliances, the JB645RKSS is a very reliable basic stove. It features a self-cleaning oven, making it a great choice if you want to cut off some cleaning time. This model is also available in white, black, slate, and black slate. 
Pros:
Easy to clean

Accurate oven temperature

Energy-efficient burners
Cons:
Low-end glass cooktops tend to crack and scratch easily

Has a somewhat flimsy bottom drawer
GE Profile 30" Smart Slide-In Front-Control Induction and Convection Range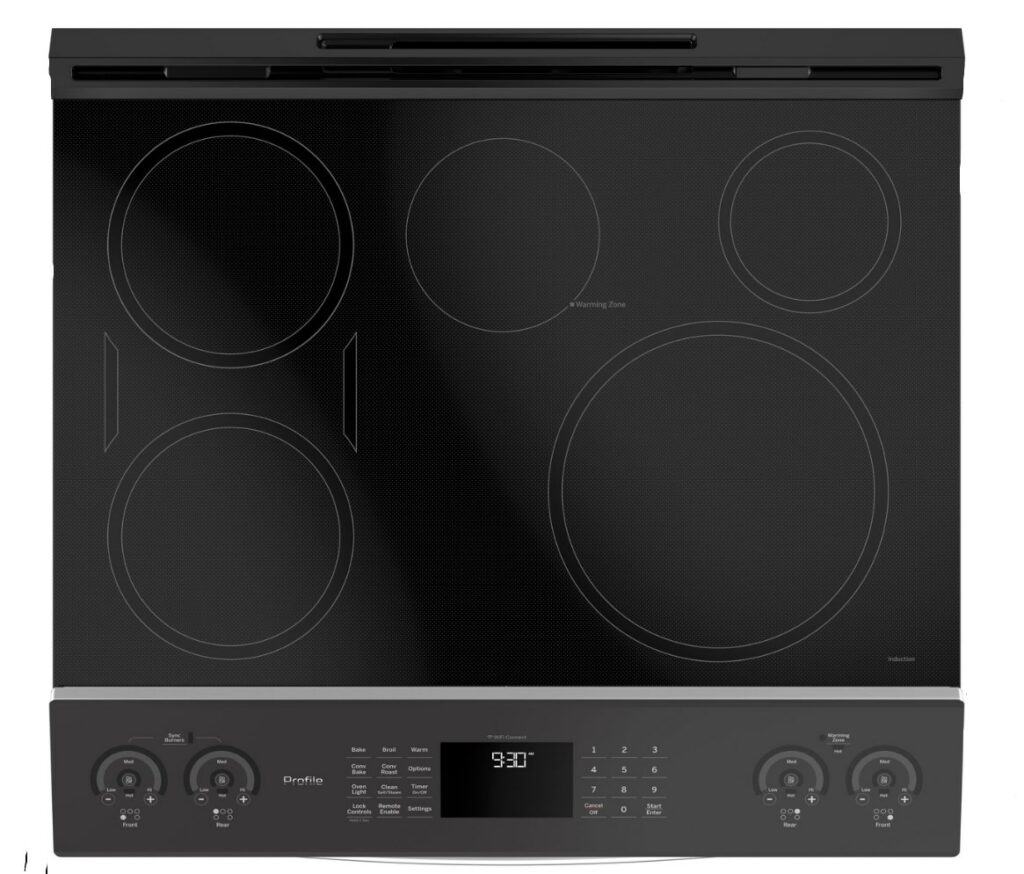 If you're looking to spend more than $2000 for a well-featured slide-in range, you should definitely consider the PHS930SLSS. This beautiful, slide-in range comes well-equipped with high-end features. It has a great induction cooktop and a powerful convection range, making it one of the best induction ranges in the market. 
Pros:
Consistent baking performance 

Heavy-duty oven racks

Quick induction cooking
Cons:
No number indication for burner's temperature 

Lacks preset options for baking 
GE 30" Free-Standing Gas Double Oven Convection Range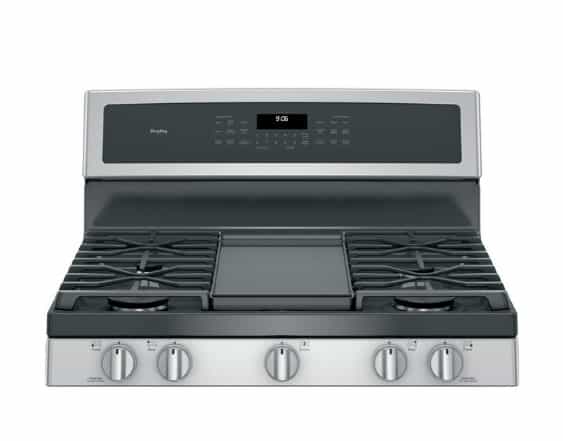 If you are looking to upgrade your basic gas range, this sleek and versatile model is surely a great pick for your kitchen. This model's double oven offers plenty of extra space for you to work with. In addition to its main features, the PGB960SEJSS also has highly durable, self-cleaning grates and a very versatile set of burners. 
Pros:
Has a steam clean option

Precise and versatile burners

Provides a fantastic integrated grill
Cons:
The lower part of the oven isn't easily accessible

Buttons are hard to press 
GE Profile 30" Smart Dual-Fuel Free-Standing Convection Range with Warming Drawer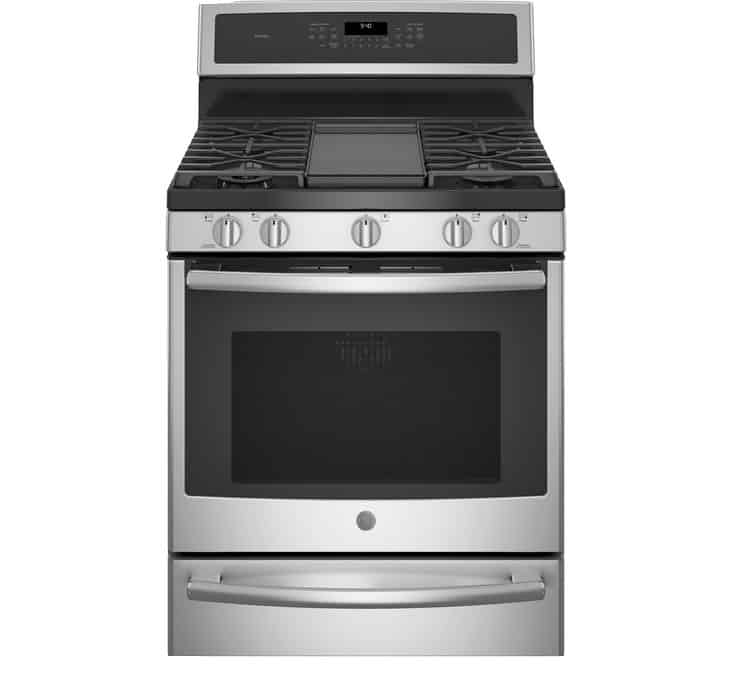 GE Appliances also provides a wide selection of reliable dual-fuel ranges and one of the best models that they have is the P2B940SEJSS. Much like the PGB960SEJSS, this model comes with similar features. 
However, it comes with its own warming drawer, a very useful place to store or warm items. And since it's a dual fuel range, you will have a better overall experience cooking with this model.
Pros:
Ensures accurate cooking temperature

Has an easy to clean and durable roller rack

Versatile and spacious stovetop 
Cons:
Warming drawer barely heats up

Keypad controls are hard to push 
GE 30" Free-Standing Electric Range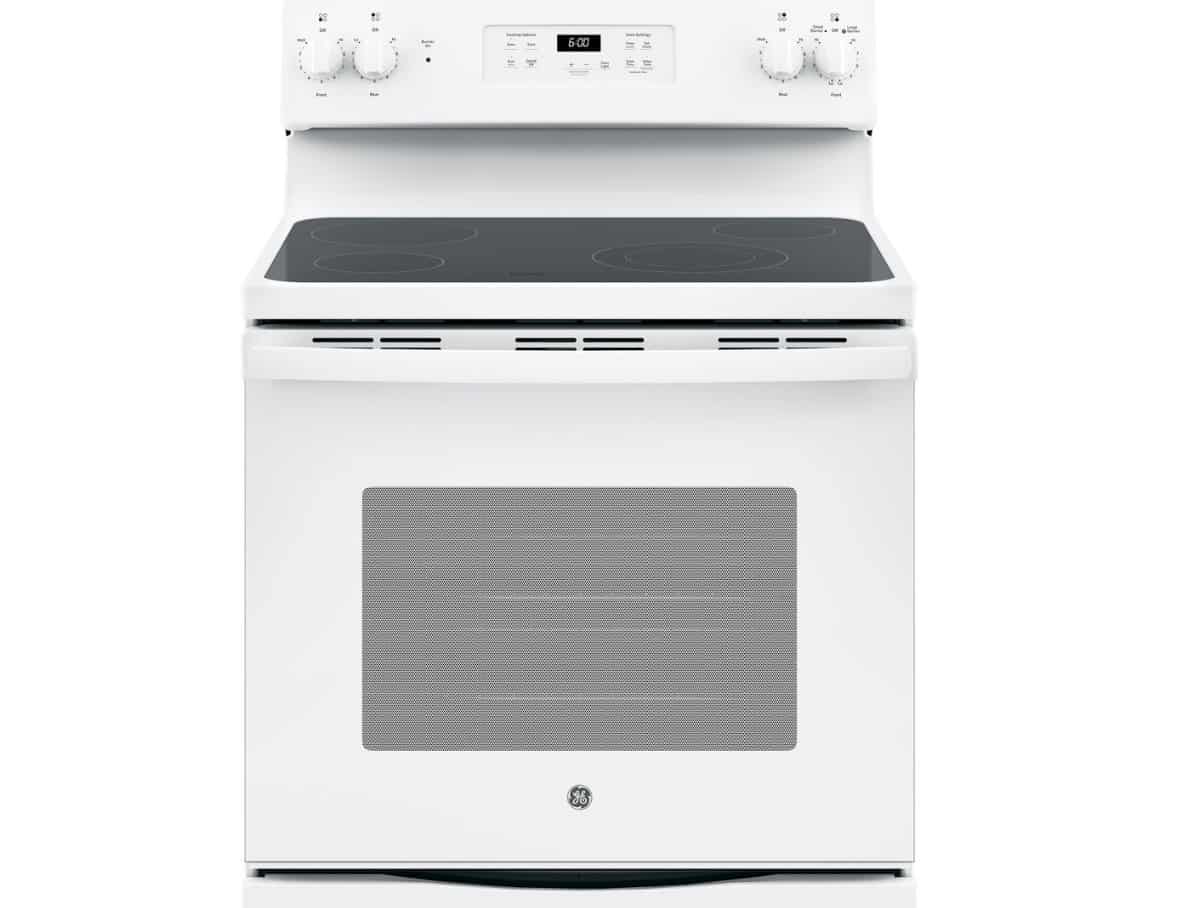 One of the most affordable (yet surprisingly more reliable!) electric ranges from GE Appliances is the JBS60DKWW. Although it has virtually no extra features to offer, the JBS60DKWW is a good choice for apartments and other small spaces. 
It has a versatile cooktop and a decent oven. So, if your budget is very limited and your needs are fairly basic, consider checking this model out!
Pros:
Versatile cooktop

Surprisingly quick preheat time 

Good for roasting and broiling 
Cons:
The controls for the oven are hard to press

Not meant for baking
GE 30" Slide-In Front-Control Convection Gas Range with No Preheat Air Fry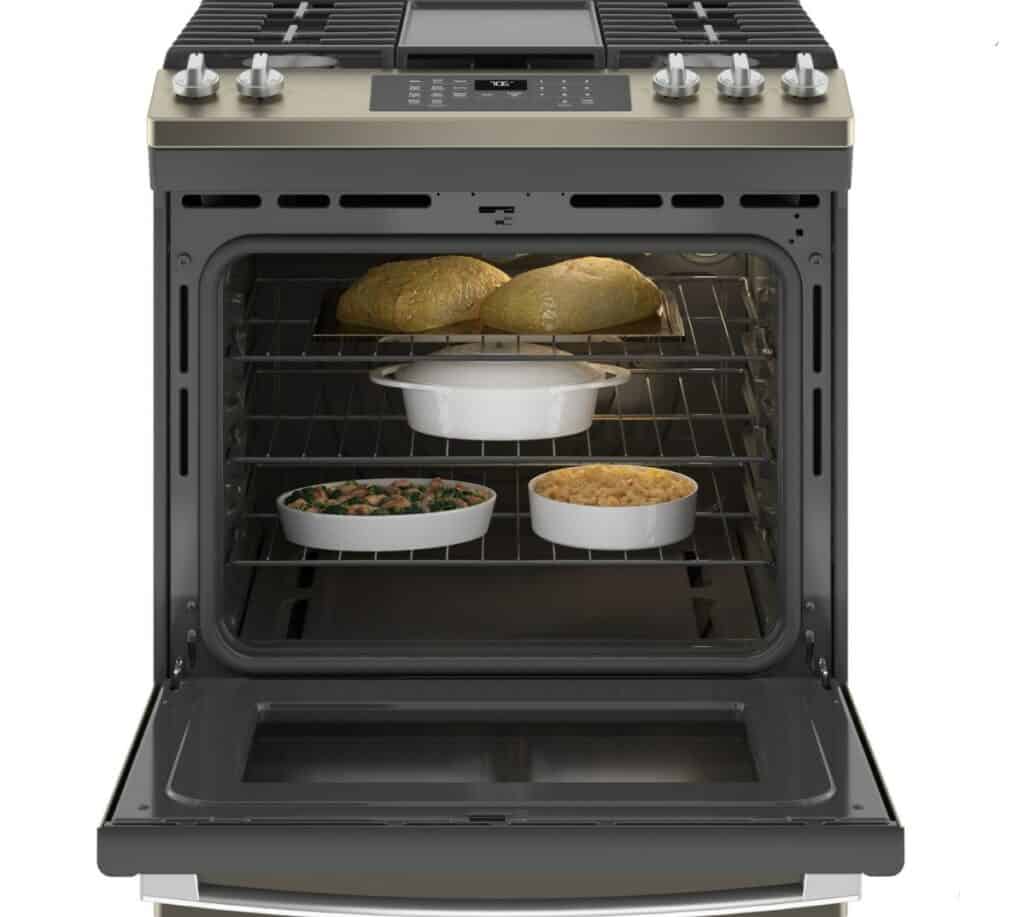 If you prefer a high-end gas range over other types of ranges, chances are, you're going to love the JGS760EPES! This model comes fully equipped with a smooth-glide storage drawer and a no preheat air fry mode. Also, since it has a simmer and power boil burner, it's capable of providing a quicker and more precise cooking experience. 
Pros:
Plenty of oven space

A great choice for kitchen islands

Has high-quality grates 
Cons:
Air fryer requires broil-safe cookware

Front control has questionable build quality
GE Profile 30" Smart Slide-In Fingerprint Resistant Front-Control Induction and Convection Range with No Preheat Air Fry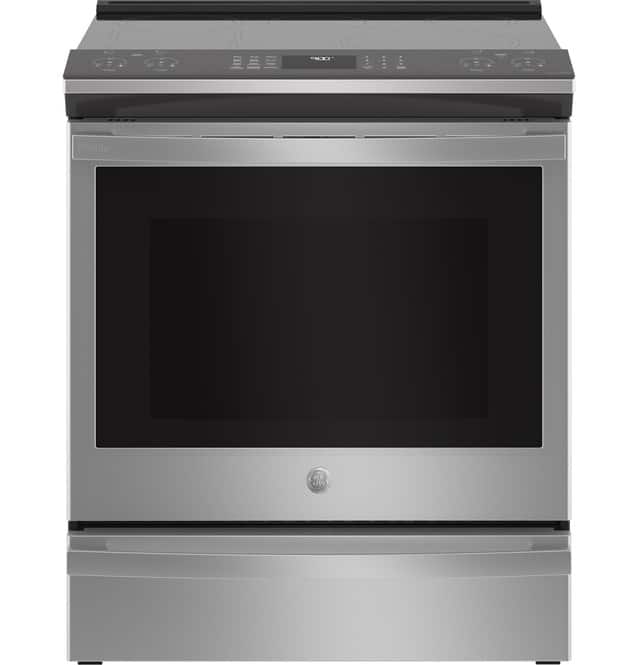 Although it has such an expensive price tag, the PHS930YPFS provides some of the best features you could ask for. Aside from having an innovative and efficient induction cooktop, this model also comes with a few modern features. 
It has a more friendly front control panel and a faster preheat time. It truly works like a luxurious appliance. 
Pros:
Quick induction cooking

Great smart features 

Premium look and finish
Cons:
The air fryer feature forces you to use an app

Sensitive control panel
FAQs
Question: How long should a stove last?
Answer: According to the National Association of Home Builders (NAHB), a gas range has a life expectancy of about 15 years, whereas an electric range is expected to last for about 13 years. 
However, that does not mean your stove will last that long. With the proper maintenance and care, you're probably going to have a stove that will last for more than six years, give or take. 
Question: Can a smooth glass cooktop handle any type of cookware?
Answer: Most brands like GE Appliances suggest that you use medium or heavy cookware in order to get the best cooking experience from a smooth glass cooktop. Also, it is highly recommended that you should use flat bottom pans instead of non-flat pans. 
Flat bottom pans will give you an easier time cooking with a glass cooktop since it will enable a quicker heat transfer. And besides, non-flat pans can crack the glass of your cooktop. If you want to know more about the proper type of cookware you should use, here's a helpful guide from GE Appliances. 
Question: What should I do if my electric burner is not heating up?
Answer: If the electric burner of your stove is not working, it probably has something to do with the wire or connection of the range. For instance, if the top burners stopped working but the clock still functions, your appliance may just be poorly wired. If this occurs, you will need to contact your installer for help. 
You should also look into the circuit breakers and the power cord of your electric range, since you'll most likely find an insecure connection from these areas of your range. If every connection or plug seems to be secured, the other option you have is to remove the burner and test the element. It may need a replacement. 
(For a more in-depth guide on how to fix your electric burner, here are some useful tips from GE Appliances.)
Question: Is a GE Stove worth repairing?
Answer: In most cases, repairing a GE stove is cheaper than replacing it, but there are also cases wherein repair costs are ridiculously high. If the repair cost is nearly half the price of buying a similar model, you're better off replacing it. 
Also, it's important to consider the age of your appliance. if it has already served you for more than a decade, then it may be best to replace it with a newer model. 
Question: Why does it take so long for my oven to preheat?
Answer: If it feels like your oven is taking much longer to preheat than usual, it may be a sign that the power cord or power supply is not properly wired. Calling an electrician will help you determine if it is only a connection problem. 
You can also contact GE Appliances to ask how they can help you with your stove. If you want to learn more about the normal preheat time of GE stoves, you might need to check out this page from their website. 
Question: What is a front-control range?
Answer: A front-control range is basically the hybrid version between the slide-in and freestanding range. It combines the finished sides of a freestanding range and the sleek design of a slide-in range. So, if you want to enjoy the best of both worlds, then maybe a front-control range would be the perfect fit for your kitchen. 
Our Final Thoughts: Pick the Model that Fits Perfectly In your Kitchen
Much like with any other appliance, buying a new stove is a personal experience. But we're not talking about buying based on your preference alone. Instead, we recommend that you should take everything into consideration. From your available kitchen space to your personal needs as a cook, there are a lot of things to think about when it comes to buying such an important piece for your kitchen.
However, if we had to choose only one stove model from our list to recommend, we would pick the JB645RKSS. It's a great choice especially when you consider the essential features it has to offer. It bakes evenly and boils faster than most GE elements at its price point. On top of that, it's extremely user-friendly and has an excellent self-cleaning feature.
There's a lot to take in when it comes to buying a GE stove, and we understand that it can feel a bit exhausting trying to learn about the reputation of your choices. However, knowing everything about your options is a great way for you to end up with a reliable product. And ultimately, no one would want to experience buyer's remorse, especially with such a costly investment!