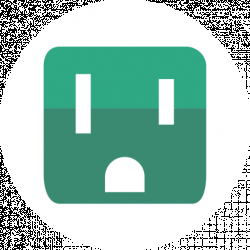 Latest posts by Appliance FAQs Team
(see all)
Are you looking to buy a Hotpoint refrigerator but are not sure whether it is the right choice? If this is you, then we completely understand your predicament. There are many refrigerator brands in the market these days, such as Samsung, LG, Frigidaire, and Amana, to name a few.
Hotpoint is the perfect refrigerator brand to go for if you are looking for an inexpensive and no-frills appliance. It has a long reputation of being affordable, hence why many people love it. If you are looking for a top refrigerator, then Hotpoint has got you covered.
However, if you want a French or bottom freezer, you are not lucky, as Hotpoint does not make them. For a comprehensive Hotpoint refrigerator model guide, read below. We have a complete guide on what to look for and which models stand out among the rest.
Hotpoint History
Currently, Hotpoint is a subsidiary of GE Appliances, which Haier, a Chinese Manufacturer, owns. However, it has a long history, as it began its manufacturing journey more than 100 years ago. In 1903, Earl Richardson, a meter reader for the Ontario Power Company, developed a small and light version of the complex electric iron first patented in 1982. clothing.
Meanwhile, the 33-year-old former journalist, George Hughes, was experimenting with the first electric range. He continued doing trial and error for a few years until he eventually created the electric range that has revolutionized Today's cooking.
In 1918, Hughes and Richardson collaborated and merged their companies with the General Electric Company to form the Edison Electric Appliance Company. In 1920, they established a joint venture with General electric hence forming Hotpoint Electric Appliance Company.
Hotpoint, later on, continued to launch some of the industry's firsts. For example, in 1924, the first all-white and fully enameled electric range was made, and in 1953, the company designed the first refrigerator on wheels. Later on, in 2016, GE sold its appliance division to Haier of China.
Types of Hotpoint Refrigerators
Hotpoint Top Freezer Refrigerators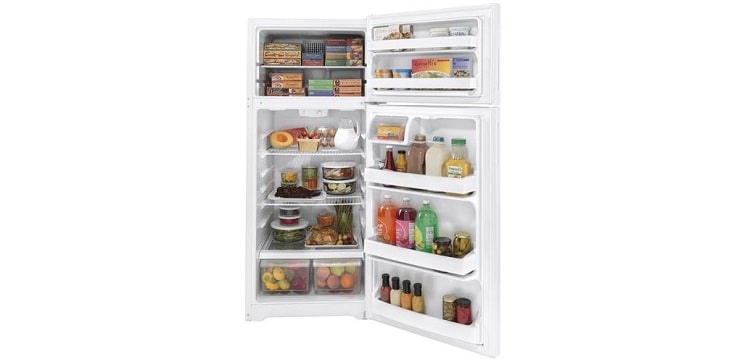 These are the most common and traditional types of refrigerators. The conventional refrigerator comes with two full swing doors, one for the fridge and another for the freezer compartment at the top.  It keeps the frozen food at the eye level and the fresh food at the bottom chamber. It is the best freezer model for people who do not need over-the-top features.
If you are looking for high-end features, then this top-freezer model is not for you. However, it is pretty affordable, and one of the reasons why people love it. It has some of the most expansive shelves possible, making it the excellent choice for deli trays and frozen pizzas.
Pros
They Are Energy Efficient:

According to the US Department of Energy, top freezer refrigerators use 10 to 15% less energy than bottom freezers.

This will also reduce your energy bills, which will be a plus.

They Are Cheaper:

Top freezers are the cheapest in the market.

Depending on the space, the number of compartments, and size, they range between $500-$800.

If you add the ice makers and water dispensers, you may have to add around $25-$100 to the refrigerator's cost.

They Are Easy To Access:

The freezer and the top rack of the fridge are at eye level, hence easy to access.

They Are Perfect For Small Spaces:

The Hotpoint top freezer refrigerator is great for small kitchens and apartments.

More Usable Space:

Top refrigerators have more usable space as the freezer is on top.

A standard top refrigerator model spans between 30-33 inches in width, which is fantastic.

Therefore, you can take advantage of this space and refrigerate long platters waiting to be baked or served.

You can also store your large dessert boxes here.
Cons
They Lack a Water and Ice Dispenser Option:

You may have to buy an ice and water dispenser separately from the refrigerator.

They may not Complement Every Modern Kitchen Design:

If you are looking for a Pinterest-worthy design, then this is not it.

Top freezer refrigerators are traditional and basic and do not have over-the-top features.

They Have Fewer Organization Options:

This top freezer option does not give you lots of leeway when it comes to organization.

Therefore, there isn't much you change about it.

Efficiency:

You will have to bend down or squat to pick up items in the fridge, as it is below eye level.

This can be pretty frustrating, especially for tall people.
Hotpoint Compact Refrigerators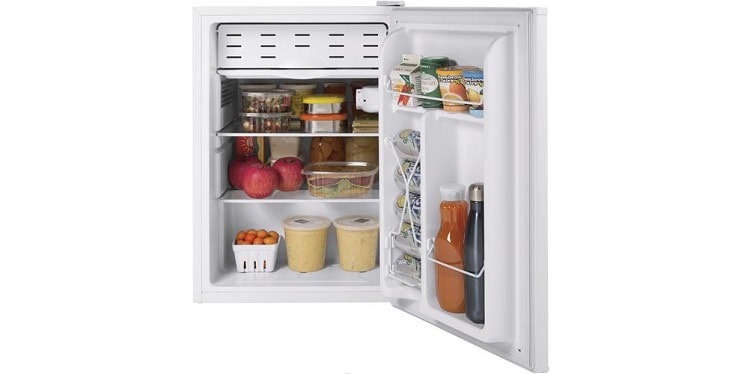 These are perfect for small spaces such as your office or home bar. They are also ideal for people who live in studio apartments, want a secondary backup refrigerator, or live in a dorm room.
These compact refrigerators come with either stand-alone units or built into the cabinetry. The free-standing stands alone and vents out the backside, while the built-in model is much shorter and is surrounded by cabinetry. Some models, however, can work either way.
A compact refrigerator is notably a smaller fridge that provides you with portability and comfort. They operate on the exact mechanisms as the other refrigerators, with the only difference being their size and style.  Over recent years, Hotpoint compact refrigerators have gained in popularity due to their simplicity and convenience.
Most people, however, confused compact and mini-refrigerators. Compact refrigerators are larger than their mini counterparts and take up between three to seven cubic feet. A typical compact refrigerator will be 24 inches wide, 32 inches tall, and have a 24-inch depth.
Pros
They are Convenient:

These compact refrigerators are highly convenient as you have to set the fridge up and use it to your convenience.

You can also use it to decorate your space while still taking advantage of its functional capabilities.

If you also want to shift the fridge to a new location, it is pretty easy to do.

They are Easy to Use:

All compact refrigerators are easy to use, whether you are tech-savvy or not.

All you have to do is put your drinks and food inside the appliance and adjust the settings accordingly.

They are Energy Saving:

Some compact refrigerators have energy-saving features.

These will help you to regulate the temperature and note the amount of energy used to cool down the food in the fridge.

They Help Save Space:

Compact refrigerators, unlike regular refrigerators, save lots of space.

They can be placed in numerous places to offer space-saving benefits.

Therefore, you can have it on top of the counter, under the table, or next to your workspace, whatever you deem fit.

Affordable:

One of the best things about compact refrigerators is that they are pretty affordable, unlike their other counterparts.

You will therefore save more money by buying this fridge.
Cons
Small in Size:

Compact refrigerators have minimal space;

hence they may not fit all your groceries.

You may also find yourself in a situation whereby you will have to remove one item to store another with a bigger priority, which can be daunting.
Hotpoint Side by Side Refrigerators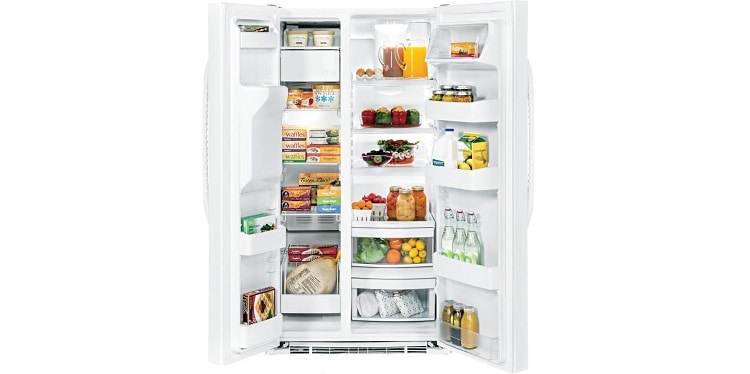 Side-by-side refrigerators are the fastest-growing types of refrigerators in the market. This is mainly due to their incredible features and designs that keep growing day by day.  They are pretty stylish, with the freezer on the left and refrigeration on the right. Therefore, you will have better access and visibility to both fresh and frozen food.
They range between 20 to 28 cubic feet; however, most of them are around 22-26 cubic feet. They are also ADA compliant, which is excellent for you.  They also have ice and water dispensers outside the freezer door which is an incredible feature. Another thing is that they do not need a lot of clearance space to open the doors, hence perfect for narrow kitchens.
However, due to their vertical split, we recommend you go for the widest model that will fit into your kitchen to give you ample space.  They also have a large capacity, hence perfect for households with up to seven members. One major drawback to this refrigerator is that the freezer sections are narrow, thus quite difficult to accommodate large items.
If a Hotpoint side-by-side refrigerator is what you are looking for, then there are some things you should note. First, only two models are being sold in the market, and both of them have a 25 cubic foot storage capacity. They are of the same model, with the only difference being that one comes in faux stainless steel and the other in white. Also, we are not sure if there will be any other side-by-side models once these models are sold out.
Pros
Space-Friendly:

Side-by-side refrigerators are space-friendly as the only side opens at a time.

This makes it perfect for narrow kitchens or those with space constraints.

Reduced Energy Usage:

With a side-by-side refrigerator, you will only open one door at a time based on what you are picking or putting inside.

Therefore, not all the air inside the fridge is expelled at once, reducing the energy required to cool items.

Organized Interior:

Side-by-side fridges are stylish and have an organized interior.

They promote the compartmentalization of items and enable you to access things quickly.

You can also rearrange the items quite easily.

Water and Ice Can be Dispensed Through the Door:

With side-by-side refrigerators, you don't need to open the door to get your water and ice.

Amazing, right?

This makes them quite convenient and will also save you more on costs as you will save energy by not opening the doors.

Spacious:

The freezer and fridge have more space as compared to the other single-door models.

You can therefore store more items, which will be a win for you and your family.
Cons
They are Wide:

Side-by-side refrigerators are wider;

hence this can be an issue if your kitchen is narrow.

You may also have problems when storing large items like containers and casseroles.

This can be pretty devastating especially if you usually host friends over or have many events where a lot of food is cooked.

Costly:

These refrigerators do not come cheap like their other counterparts.

You have to be ready to part with a lot of money;

therefore, they are not the best option for budget-conscious buyers.

The Ice and Water Dispensers Require Upkeep:

As much as having the water and ice dispensers is an incredible thing, it also comes with its downsides.

First, you have to ensure that the area where you keep the refrigerator is plumbed for water, which could be a problem, especially in older homes.

You will also need to do regular water lines and filter maintenance to ensure that they are repaired or replaced when needed.
Hotpoint Chest Freezers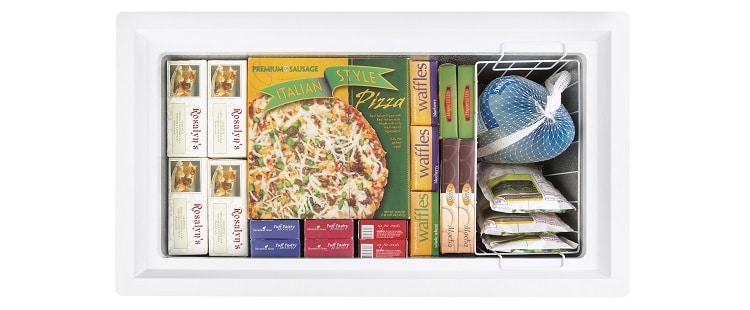 If you are looking for a chest freezer , then Hotpoint has a lot to offer here. There are around six different sizes, ranging from 6 cubic feet to large standard ones at 24.9 cubic feet. They vary in size and capacity, defrost settings, energy efficiency, and even temperature control settings.
Chest freezers offer up to 20% more capacity than their upright alternatives. They differ from upright freezers in that they open from the top instead of the side. Here, food can be stored in the average freezer temperatures, locking its freshness and extending its shelf life.
Chest freezers are perfect for the home, people running a convenience store, restaurant, or bar as they are mainly designed to store frozen food products in large quantities.
Pros
They Have Good Temperature Retention:

If you want to freeze food you will not need soon;

then the chest freezer is the right option.

They Offer High Capacity storage:

When it comes to space consumption, chest freezers stand out.

They can store ample products and food with no problems.

For example, you can store huge chunks of meat, seasonal berries, and jams here.

They are Highly Efficient:

They have built-in sidewall insulation that maintains their cold temperatures for a long time;

hence they use less energy to function.

If you are moving houses or have power outages, the chest freezer can keep your items cold for up to three days, as long as the lid is closed.

This makes it highly efficient;

thus, you will not experience losses.
Cons
They Can be Pretty Bulky:

These chest freezers are not lightweight;

therefore, moving them is not that easy.

Regular Maintenance is Needed:

If you buy a chest freezer with a manual defrost option, you will have to do lots of regular maintenance to remove the frosting.

This can be pretty tedious and time-consuming for you.

Difficult to Retrieve Contents at the Bottom:

Chest freezers have deep storage cavities;

hence retrieving items at the bottom can be tricky.
Key Features to Consider
There are numerous features available in Today's refrigerator. So, what should you look for?What should you not miss out on?
Dual Evaporators
Using a fridge with dual evaporators, one for the refrigerator and another for the freezer, is highly convenient. They will help manage the temperature in both compartments and increase climate control, hence keeping your food fresher.
These evaporators also help eliminate temperature imbalances; for example, in fridges with one evaporator, if the fresh food door is left open for a long time, the freezer will run at a colder temperature and over-freeze the frozen foods.
This happens because the single evaporator pushes additional cold air through both compartments to stabilize the temperature in the fresh food compartment. Therefore, having a dual evaporator will help prevent this from happening.
Finish
There are numerous finishes in the market, and it depends on your preference. One of the most popular ones is stainless steel; however, there are new smudge-resistant versions gaining traction.Also, more unique options such as bronze and black stainless steel are appealing to many customers.
Door Locks and Alarms
If you are in a home with toddlers and young children, a refrigerator with door locks and alarms will come in handy. These refrigerators have an alarm system that will set off when the doors are opened for a long time or if a child is playing with the door.
This will help you keep them safe and conserve energy, as they will reduce internal temperatures. Having a lock will also be great as you can prevent your toddlers from opening the fridge and even hurting themselves.
Adjustable Shelves
Always go for adjustable shelves, as they will allow you to tailor your appliance to your specific needs. This will also enable you to organize your refrigerator according to your preference and do the cleaning easily.
LED Displays
With the advancement of technology, there has been the introduction of smart refrigerators. With smart fridges, the possibilities are endless.You can remotely monitor the refrigerator's contents, compile a shopping list, keep track of expiration dates and use voice control to manage your refrigerator.
LED displays always come in handy when using smart refrigerators as you can adjust the temperature, organize the fridge, leave notes, access recipes online, and even stream music.
Magnetic Gaskets
A refrigerator needs to be functional to ensure that you save on utility bills and energy. This is where the magnetic seals come in. These magnetic gaskets will lock in the doors and drawers' temperature and humidity, hence preventing air leaks.
Automation Temperature Controls
Nothing is more frustrating than doing your grocery shopping, only for most items to rot after several days. This can be pretty disheartening to deal with.
It is why we recommend going for a refrigerator with preset temperature controls that will automatically balance the humidity and temperature inside it. It will help ensure the slow ripening of fruits and circulate fresh air to maintain consistent temperatures.
Interior Lighting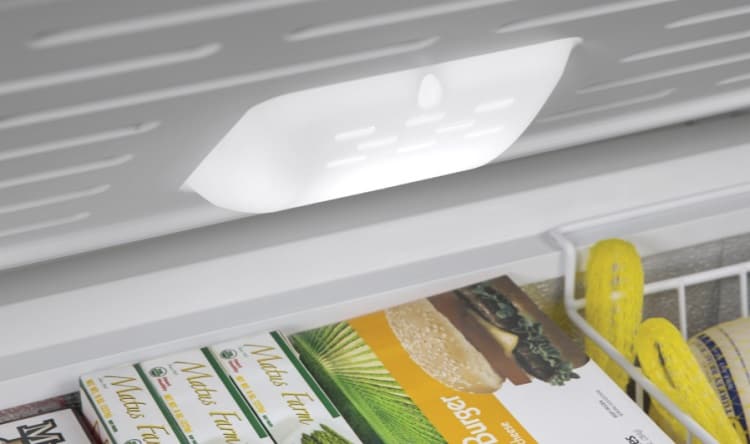 Most of the time, no one thinks about the lighting in their refrigerator until it is not working. However, this should not be the case.
Ensure that you go for a fridge that allows you to control brightness with the LED lighting. This will illuminate the interior, thus making it easy to get the inside items and make food more visible.
Ice Maker
No one loves waiting for ice when they have guests at the house. It can be quite frustrating waiting for your refrigerator to make ice, taking up a lot of time, and end up disappointing your guests.
The best way to get rid of this is to go for a refrigerator with an ice maker. These internal ice makers use filtered water to make ice cubes all day. You can opt for dual ice makers or a fridge with a large ice maker to ensure things run seamlessly during parties.
However, it is essential to note that ice makers require lots of electricity; hence you may experience a spike in your utility bill once you buy the refrigerator. Therefore, it is up to you to decide on what you will compromise. Also, you may consider a stand-alone ice maker.
Energy Star Compliance
One of the things that you should not ignore is whether your refrigerator is Energy Star compliant or not. Energy-efficient appliances can provide up to 10% savings on energy bills per year.
Therefore, always look out for refrigerators with an Energy Star sticker to show that they are compliant. You may pay more money initially, but it will all be worth it later on as it will help reduce your energy bills and your carbon footprint.
Top 3 Hotpoint Refrigerators that we Love
The following are some of the top three Hotpoint refrigerators that we love. We have described some of the features that have placed them on this list. Check them out and see which one is the best choice for your kitchen.
The Hotpoint HPE16BTNRWW Refrigerator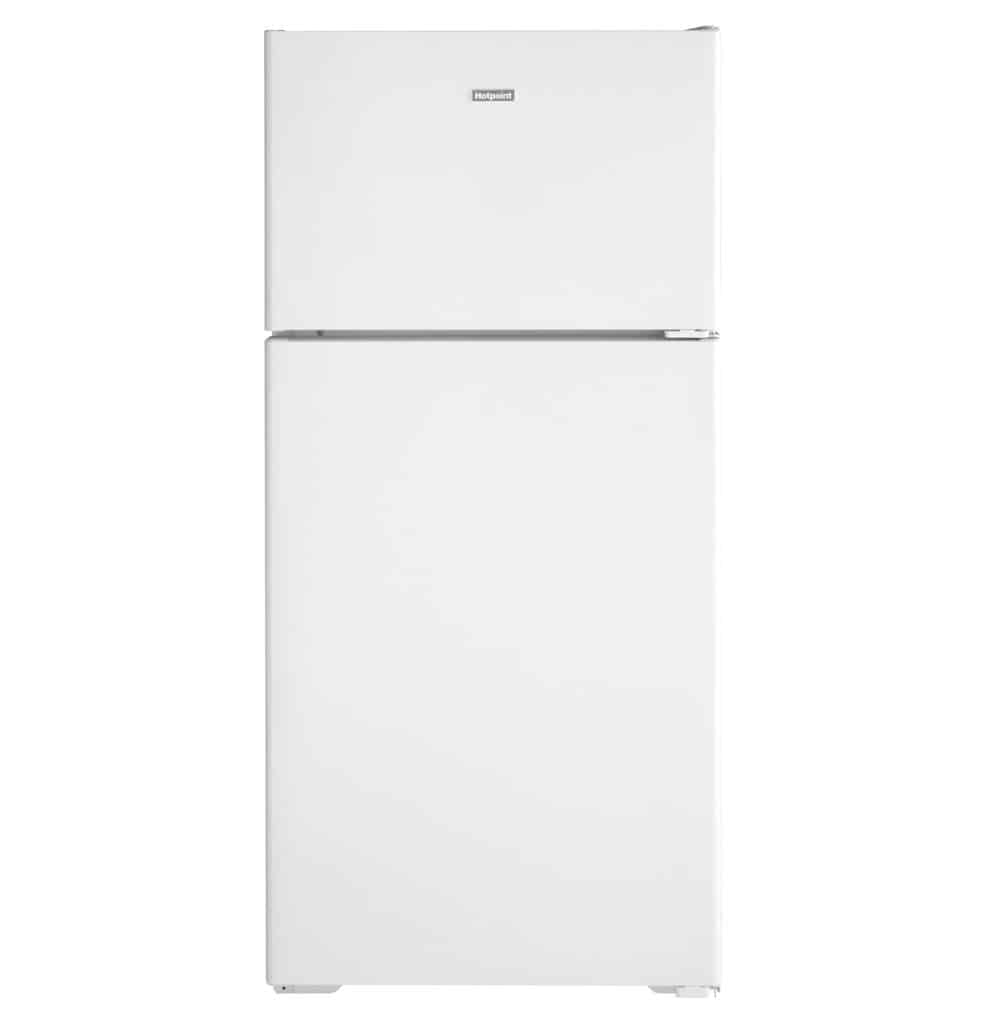 If you are looking for a durable refrigerator that will serve your family for years to come, then this is the fridge for you. This 15.6 cubic feet top freezer refrigerator is highly durable and reliable. It has 11.58 cubic feet of refrigerator space with four cubic feet of freezer capacity. It has recessed handles and comes in two colors, white and black. Sadly, the brusque option is no longer available.
It has a width of 28 inches, 30.5-inch depth, and 61.75 inches in height. It is a great model; for people with small kitchens and those living in studio apartments. It is also Energy Star rated, which will help save energy hence lower your utility bills.
Its fresh food section has two adjustable wire shelves, two large fixed door shelves, and two clear bins. It also has a dairy compartment that is perfect for storing fast perishables such as milk and cheese.It also has a frost-free freezer option that has two door bins and a shelf.
The storage is separated into crisper drawers; hence you can store fruits and vegetables here, away from the other foodstuff. All these are lit by natural-looking LED lights that help keep your eyes safe as they will not strain them. The doors are also reversible, and temperature controls are upfront. There is also an optional ice maker kit if you want it.
According to an independent study of property maintenance personnel done by the Stevenson Company, the Hotpoint HPE16BTNRWW Refrigerator was ranked first in the Quality and Dependability category. It is also Energy Star certified and also compliant with the Americans with Disabilities Act. This is great since you will have a streamlined and smooth experience if you have differently-abled family members in the house.
The Hotpoint HPS18BTNRWW Refrigerator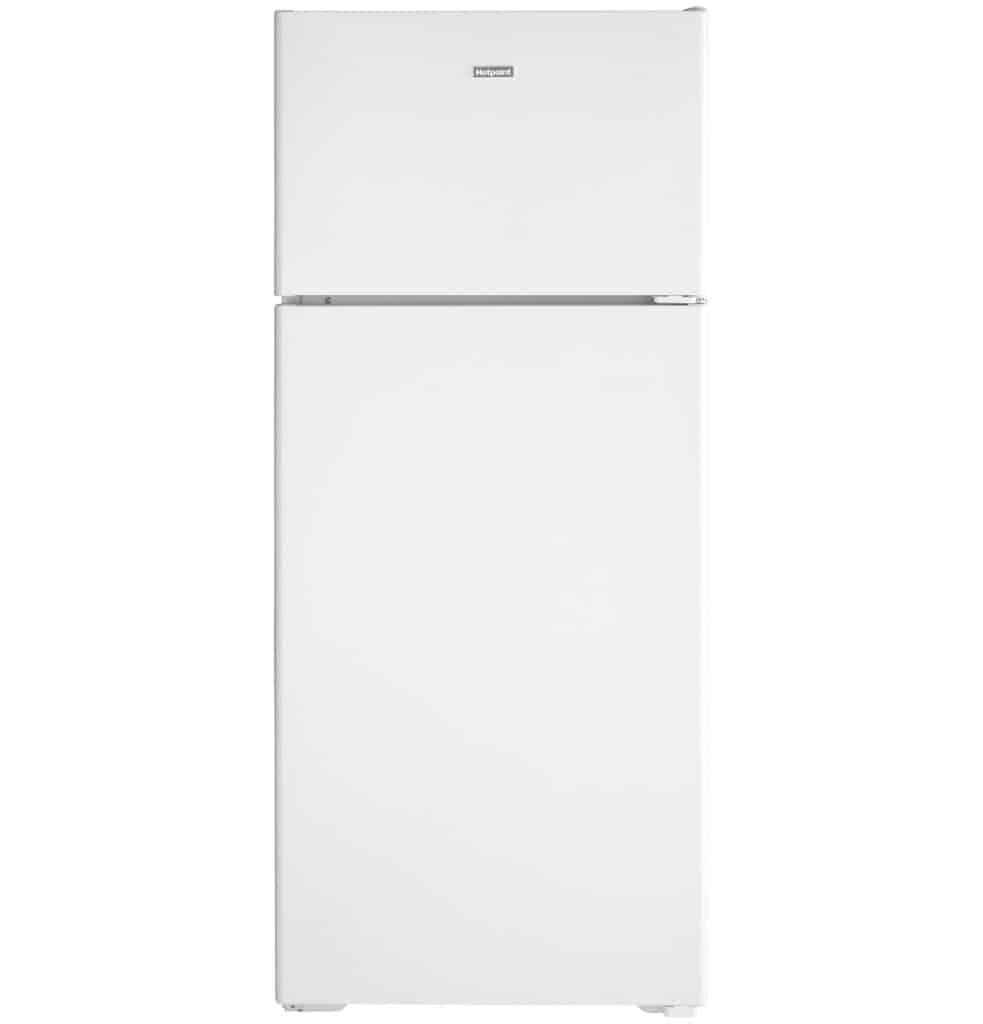 If you want more space, then this is the best option for you . It is 17.6 cubic feet, with a larger interior capacity and exterior dimensions.
It also has a third storage rack on the fresh food door and a four cubic feet freezer section capacity, which is a plus if you have a large family. Therefore, it will give you more space than the other models, without changing how big it looks from the outside.
It has movable racks that allow you to change the storage whenever you want a different organization and accommodate different food types. It also has transparent crisper drawers for the vegetables and fruits and also wire shelves in the freezer.
It is only available in black and white and is great for homes with space limitations. Its dimensions are as follows: the width at 28 inches, the depth at 30.5 inches, and the height at 67.38 inches. It is also crucial to note that the temperature for both the freezer and refrigerator compartments is controlled separately via a control panel that is easy to use.
The Hotpoint HSS25ATHWW Side-By-Side Refrigerator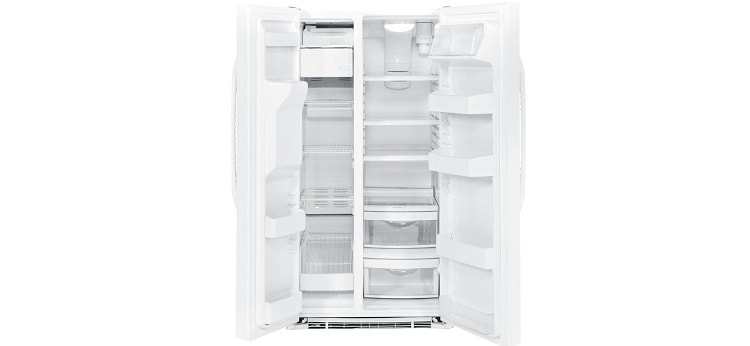 This 25.3 cubic feet side-by-side refrigerator is a marvel to behold. It has 15.7 cubic feet for the fresh food capacity and 9.6 cubic feet for the freezer and offers numerous convenient features worth the money. Some of the features we love are spill-proof glass shelves that easily slide out, multiple door bins to hold large bottles and a slide-out wire basket.
It also has an ice maker and external water and ice dispenser, which comes in handy when hosting many people at home. The spill-proof glass shelves are also adjustable and have raised edges to help contain spills and make cleanup relatively easy. These shelves can also hold up to 12 ounces of liquid, which is perfect for large families.
It also comes with multi-level fresh food drawers that will store your fruits and vegetables efficiently. Its integrated shelf support system also provides flexible support for items inside the refrigerator. It also has a digital temperature display and adjustable temperature controls that will make food last longer.
FAQs
Question: Why is my Hotpoint Refrigerator Freezing Up?
Answer: There are several reasons why your refrigerator is freezing all your food. One of the reasons could be your temperature control thermostat. This device directs voltage to the evaporator fan motor, compressor, and condenser fan motor.
If the thermostat is not working correctly, the refrigerant system may overwork; hence the refrigerator will get too cold.
To know if your thermostat is faulty, rotate it to the highest setting and listen for a click. If it clicks, then it is okay. However, if it does not do so, then there is an issue. Here, we recommend using a multimeter to test for continuity. If it does not have continuity, then you will be required to replace it.
Another reason for the freeze-up could be a defective air damper control. Check to see if the damper between the fridge and freezer is closed or open. If it is open and does not close, then it is faulty and should be replaced.
Question: Where is the Model Number on my Hotpoint Fridge?
Answer: Nothing is embarrassing as having a faulty refrigerator, only for the engineer to ask you what model you have, and you do not have an idea or even know how to look for it.
You need the correct model and the serial number of the appliance to get the right spare parts. So, how do you know your model number? Hotpoint refrigerator model numbers are located either behind the bottom drawer or behind the crisper.
Question: How Long Should a Hotpoint Refrigerator Last?
Answer: Hotpoint refrigerators are durable and long-lasting. Therefore, with good maintenance, they will last you up to 15 years. However, it is not recommended to let it last that long as the older it is, the more costly it is to repair it. Once you note that you need to do constant repairs, it is better and cheaper to replace it.
Conclusion
With the above comprehensive guide, we hope that you will be able to navigate this journey seamlessly. Buying a refrigerator is a massive investment; hence lots of research needs to be done.  However, with the above guide, you will be better placed to choose the best Hotpoint refrigerator for your family that will last for many years.
We would highly recommend the Hotpoint HPE16BTNRWW refrigerator top freezer due to its many incredible features. Let us know in the comments below what your experience is.