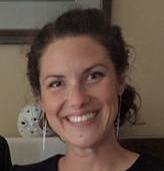 Latest posts by Sarah Caldwell
(see all)
The Kenmore 72483 is a fantastic refrigerator if you don't mind the price. While there was recently a price drop, this refrigerator is still pretty expensive. However, it packs a lot of features and some really great functionality which is something I will cover in this Kenmore Elite 72483 Review.
About Kenmore Elite
Kenmore Elite appliances leave your neighbors wanting to keep up with you. They offer high-end performance and stylish elegance. They're also loaded with innovative features and intuitive technology. Kenmore Elite appliances come in black, white, stainless steel, stainless steel with Active Finish, or black stainless steel. You'll be able to add sophistication in any color to your kitchen.
Not only will it look great, but it will be fun to use, with smart technology that allows you to control your appliances from anywhere by connecting them to wifi. You can monitor your refrigerator's temperature to make sure it's cold enough for the party tomorrow.
While many people choose to purchase the basic Kenmore models, Kenmore Elite models will offer much more. They're simply better all around. They look better, they perform better, and they will last longer, thanks to superior materials and construction.

72483 Overview
The middle drawer draws its air from the main refrigerator compartment so you can choose four separate temperature settings from 29-42 degrees. This makes it easier to organize food while keeping the design family-friendly. The middle drawer is great for juice boxes, snacks, and other things for kids.
If you like to grill, you can also use the middle drawer as a meat drawer while party hosts can use it to store wine and cheese.
In addition to the middle drawer, the fridge has features like smooth-sliding drawers, LED lights, and a lot of adjustable storage. The controls at the top of the frame that surrounds the main food section, so while you have to open the fridge to adjust them, it leaves the water and ice dispenser with a minimalistic look.
The fridge comes in stainless, white, and black, so you can choose the color that looks best in your kitchen.
Temperature accuracy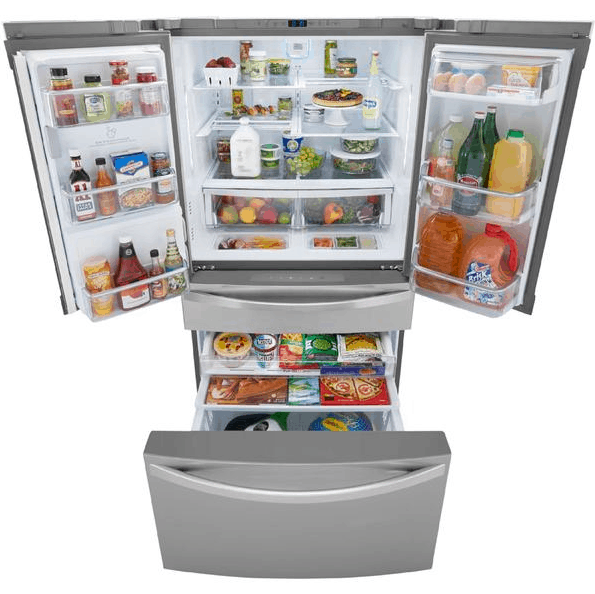 The degree-based thermostat on this refrigerator does a great job of maintaining accuracy. In fact, your main section should keep incredibly true to the setting, with the air at the bottom by the crisper drawers being slightly warmer. This is designed to keep produce fresh.
The freezer fluctuates even less, but that's probably due to it staying shut for long periods of time.
Performance
This refrigerator is incredibly efficient and does a great job of meeting the most recent Energy Star standards. It's one of the most efficient French door models you can buy. If you're still using an old refrigerator in your kitchen, you'll notice a drop in your electric bill by switching to this one.
Capacity
This refrigerator has 29.9 cubic feet of storage between the refrigerator and the freezer. With sliding compartments, adjustable shelves, large crispers, and a middle drawer, you have all the space you should need. The freezer also has sliding drawers of varying heights and feels very large.
The gallon-sized door bins increase your storage capacity by getting those gallons of milk off of the shelf and into the door. That means there's also plenty of room for smaller items like condiments, juice, or wine bottles.
Features
The Airtight Crisper definitely lives up to its name, keeping any moisture you add to your produce present over long periods of time. The regular crisper has an adjustable humidity slider and is also very effective.
There's an ice and water dispenser in the door with an Ultra Ice mode that produces ice more quickly when you're anticipating a high volume of use. The middle drawer has 5 settings, each with a special purpose. Set it to 29 degrees for seafood, 37 degrees for deli meat and snacks, 33 degrees for drinks, and 42 degrees for wine.
GeniusCool and Multi Air Flow technology cycle air through the refrigerator and keep it cool, helping to keep your food fresher. Dual evaporators will ensure the humidity in the fridge is ideal while a CleanFlow air filter eliminates the need for a box of baking soda to keep odors down.
Price
The only downside to this excellent refrigerator is the price. While Kenmore has lowered the price since it first came out, you'll still pay almost $3000 for it, unless you can find it on sale. Other Kenmore refrigerators with nearly equal features and performance come in at more reasonable prices.
However, if we're talking about value, this is one of the best options you'll find. It's incredibly efficient, performance is better than anything else you can buy, and it's sleek and stylish.
Pros
Middle drawer versatility

Maintains consistent temperatures

Incredibly efficient

Ice and water dispensers

Sleek look
Cons
Key features
Digital controls

Air filter

Dual evaporators

Door open alarm

Built-in water filter

Spill-proof shelves
Alternatives
Kenmore Elite refrigerators are some of the best on the market. They come with great features and are a stylish addition to your kitchen. If you're thinking about getting one, here are some other options you might consider.
Kenmore Elite 74033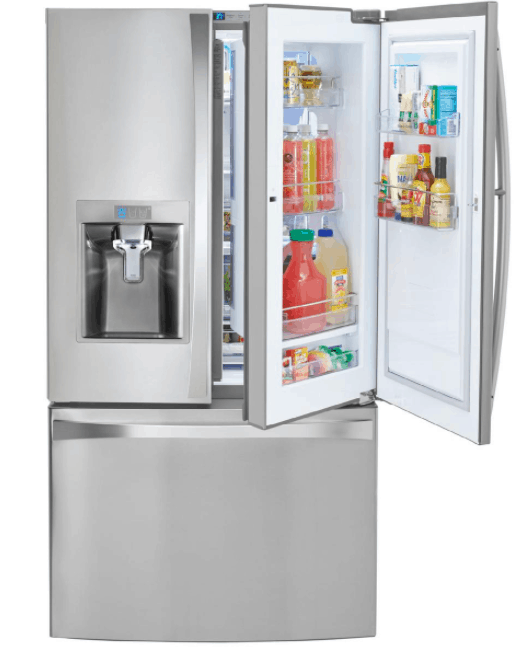 This French door, bottom freezer design has a door-in-door feature for extra storage. It has only slightly less storage space than the 72483, at 29.6 total cubic feet. Thanks to thoughtful design, you likely won't even know the difference.
The best thing about this refrigerator is its flexibility. You're doing away with the middle drawer, but you're gaining door-in-door storage space, where you can keep thanks you need quick access to and often, reducing the need for you to open the main compartment and let cool air escape.
Spill-proof, adjustable shelving allows you to personalize the fridge and put everything just where you like it. There are two crisper drawers, one of which is AirTight. The three-tire Tilt-N-Take freezer allows you to store items in the door that are easy to access by just tilting the door out. Slide it all the way out if you need access to anything else on the inside.
GeniusCool technology allows the refrigerator to maintain accurate temperatures while the CleanFlow filter will eliminate odors, much like placing a box of baking soda in the fridge.
Kenmore Elite 51773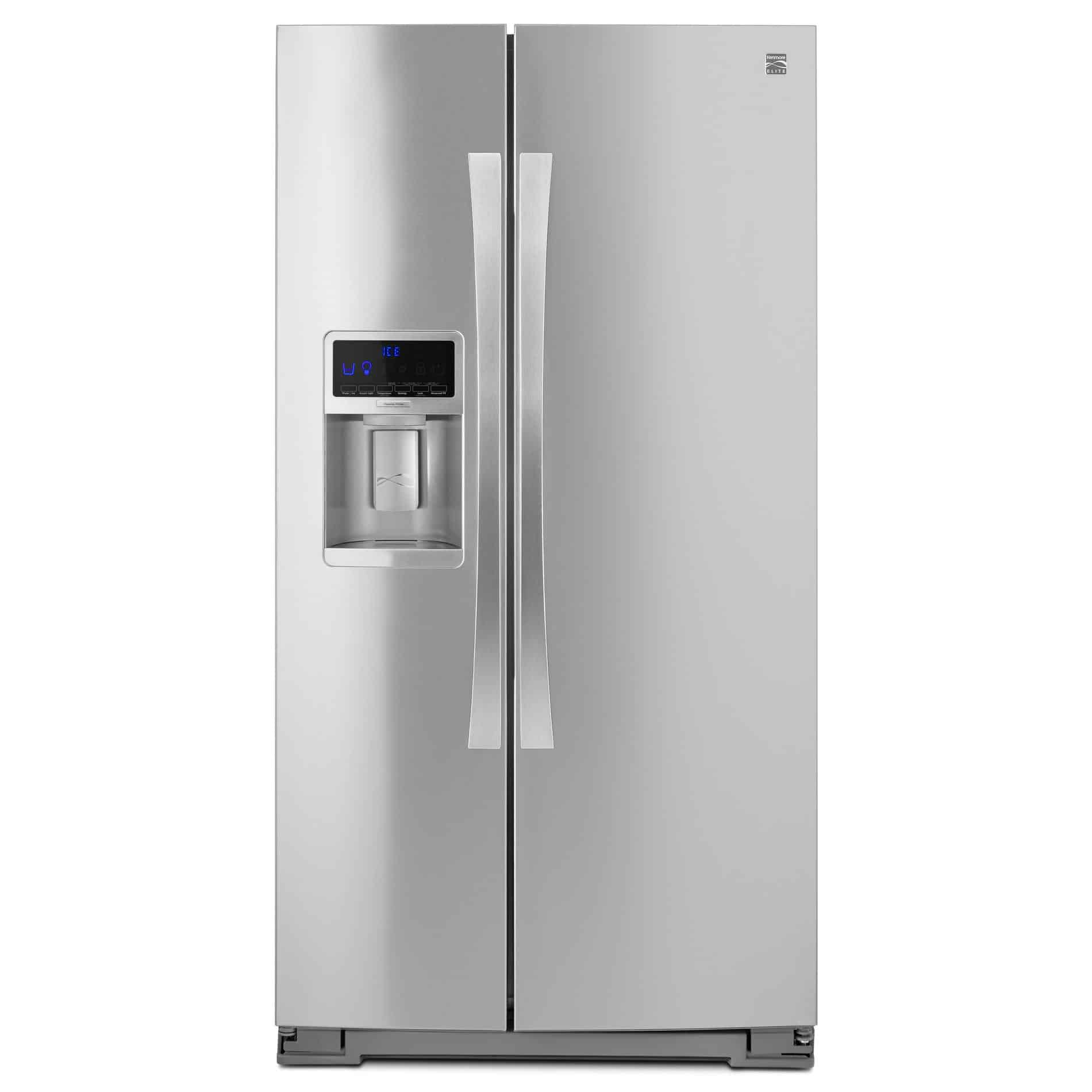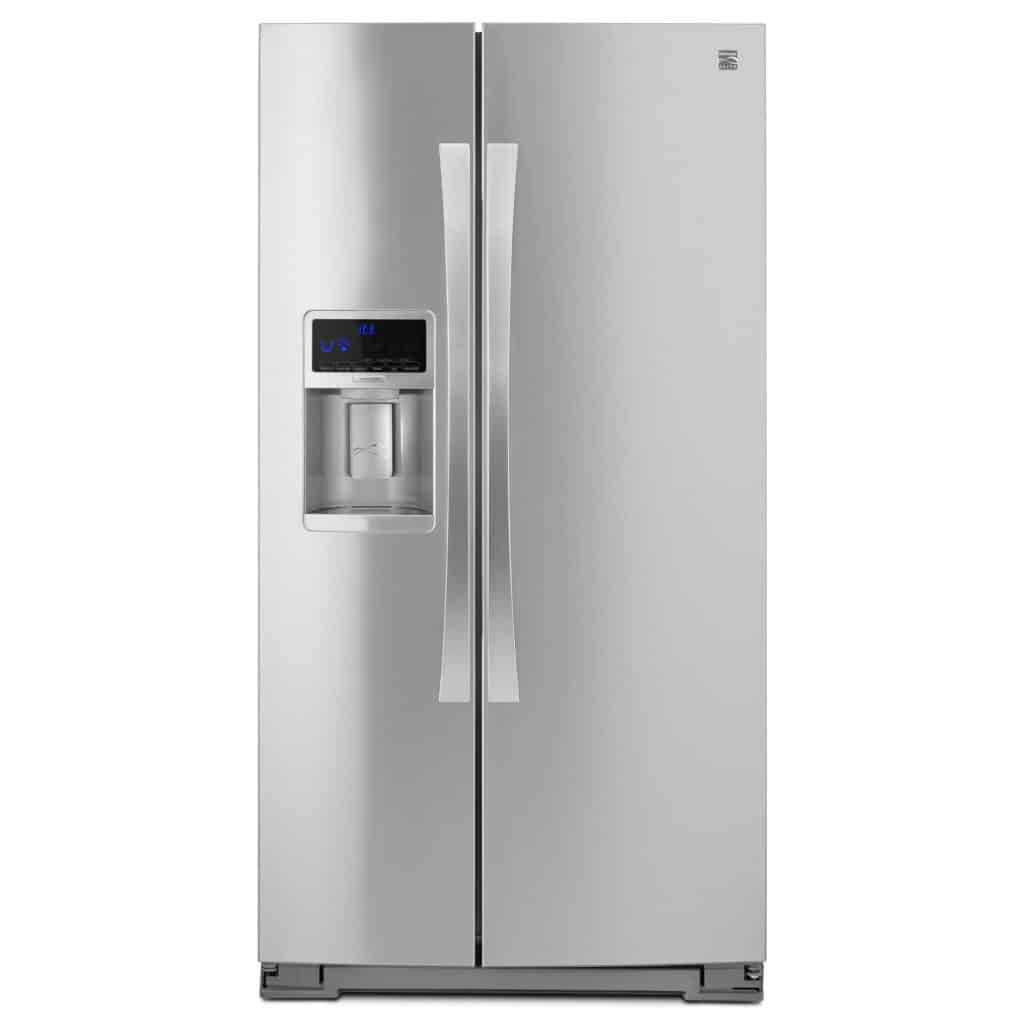 If you're not a fan of the bottom freezer design, this side-by-side refrigerator will offer you most of the same great features at a much lower price.
Even better, it still has 28 cubic feet of storage, so you're barely losing any space. This fridge has a modern look with great features like LED lighting and gray trim on the shelves, making it just as attractive on the inside. Blue-tinted symbols make the control panel shine against the stainless steel finish.
This unit has a door-mounted ice maker, to save space in the freezer, as well as a five-can door rack on the refrigerator side. You can adjust the shelving on both sides to make it work for you. It comes with a four-bottle wine rack, too. However, if you fill up too many shelves with extras, it will start to feel a bit cramped.
This model also has GeniusCool technology as well as a SmartSense temperature management system, to ensure it stays at just the right temperature. This system also regulates the humidity in the refrigerator to make sure your food stays fresh and doesn't get freezer burn.
Kenmore Elite 79043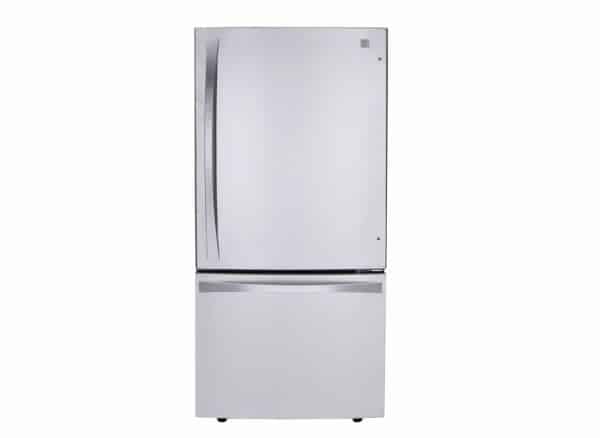 This simple yet elegant bottom freezer design eliminates the middle drawer and the French doors at the top. It's functional and minimalistic, but it only has 24.1 cubic feet of space, which may not be big enough for a large family.
It comes with a door reversal kit, just in case you want it to open the other way. There's a full-width pantry drawer at the bottom of the refrigerator section so you can fit snacks and party trays.
Each glass shelf is adjustable, but they're not spill-proof like the 72483. There's a Tilt-N-Store door bin that allows you to store and access taller items more easily while gallon storage bins give you a great place to put milk.
There are two crisper drawers with humidity controls so you can keep all of your produce fresh and a two-tier pull-out freezer for easy access to frozen food.
Multi Air Flow technology keeps air circulating while the built-in ice maker ensures that you always have fresh ice for your guests.
FAQs
Question: How Long Does a Kenmore Elite Refrigerator Last?
Answer: Appliances aren't built as well these days as they used to be. It's not uncommon to find old refrigerators from the 70s and 80s still performing well today. However, it's equally as common to hear people talk about their 5 year old fridge biting the dust.
The good thing about Kenmore Elite is that, while you'll pay a lot of money for them, they will last at least 10 years, if not 20. That's unheard of by today's standards. Kenmore continues to support their older models as well, which means if something does go wrong, you will likely be able to get it fixed.
Question: Who Makes Kenmore Elite French Door Refrigerators?
Answer: Many companies farm out manufacturing to other places, and Kenmore is no different. Most of Kenmore's top-freezer models are made by Electrolux. The side-by-side models and a few French door models are made by Whirlpool. However, most French door models and some side-by-side models are actually made by LG.
Question: Is Kenmore Elite a Good Brand?
Answer: Kenmore has been recognized as a top appliance brand for more than 100 years. They deliver quality products that outperform the competition. While you'll pay more for a Kenmore Elite product, it offers a better value thanks to the features and performance.
Kenmore Elite 72483 Review:  Final Thoughts
The Kenmore Elite 72483 is a top of the line model that delivers consistent performance, energy savings, massive capacity, and plenty of great features. Despite its high price, it's a great value because it's loaded with everything you need for convenience in the kitchen.
While all other Kenmore Elite refrigerators are also excellent, the 72483 would be my top choice because of its stylish appearance and daily conveniences.