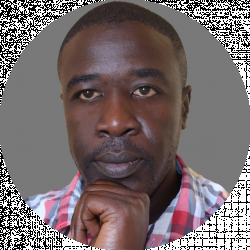 Latest posts by Barry Juma
(see all)
We can agree on one thing – Electrolux makes appliances that are pleasing to the eye. Although this Swedish brand has an iffy reliability track record, they do work hard to build stylish appliances. This is the case for their microwaves, which both look good and function well, according to online reviews. If you're in the market for a new microwave then I'm sure you're considering Electrolux, that's why you're here.
 In this Electrolux microwave model guide, we'll help you figure out whether this brand is right for you and help you identify the main things to consider when looking for a new microwave. Keep reading to learn more.
Types of Electrolux Microwaves
Electrolux only sells two types of microwaves: built-in microwaves and over-the-range microwaves.
Built-In Microwaves
These are microwave models that are meant to be built into your kitchen cabinets or a wall. Their design gives the kitchen a sleek look and they also save on countertop space. You can find both door and drawer models, and the doors can either swing sideways or downwards. Electrolux has both of these door configurations in their lineup.
Thinking about getting a built-in microwave? Here are some advantages and disadvantages of these models.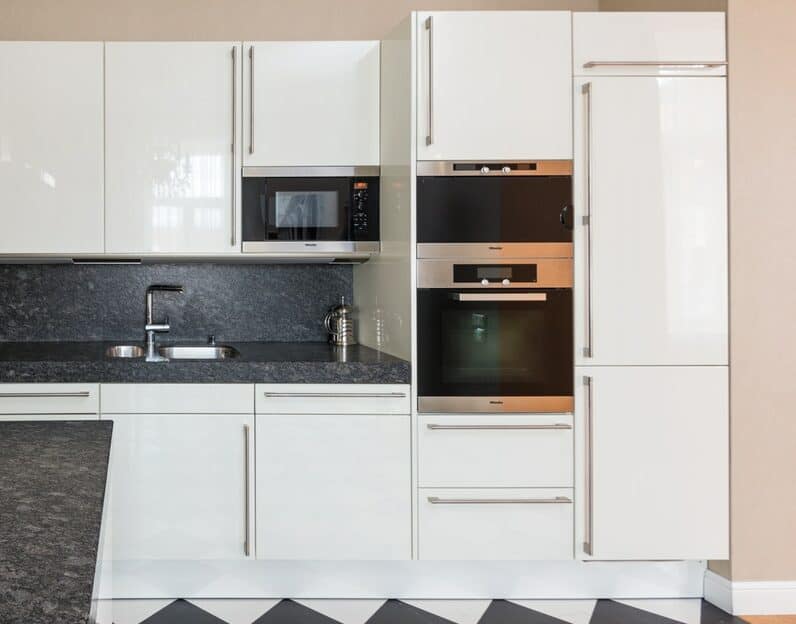 Advantages
They have a sleek, modern look.

Built-in microwaves save countertop space. 
Disadvantages
They're more expensive than the countertop and over-the-range microwaves.
Over-the-Range Microwaves
These models are installed above the stove and they have a ventilation system underneath their bodies to act as a vent that eliminates smoke and odors from the cooktop. Therefore, over-the-range microwaves combine the functions of a hood with those of a microwave, thus saving space. If you have a compact kitchen then consider these models.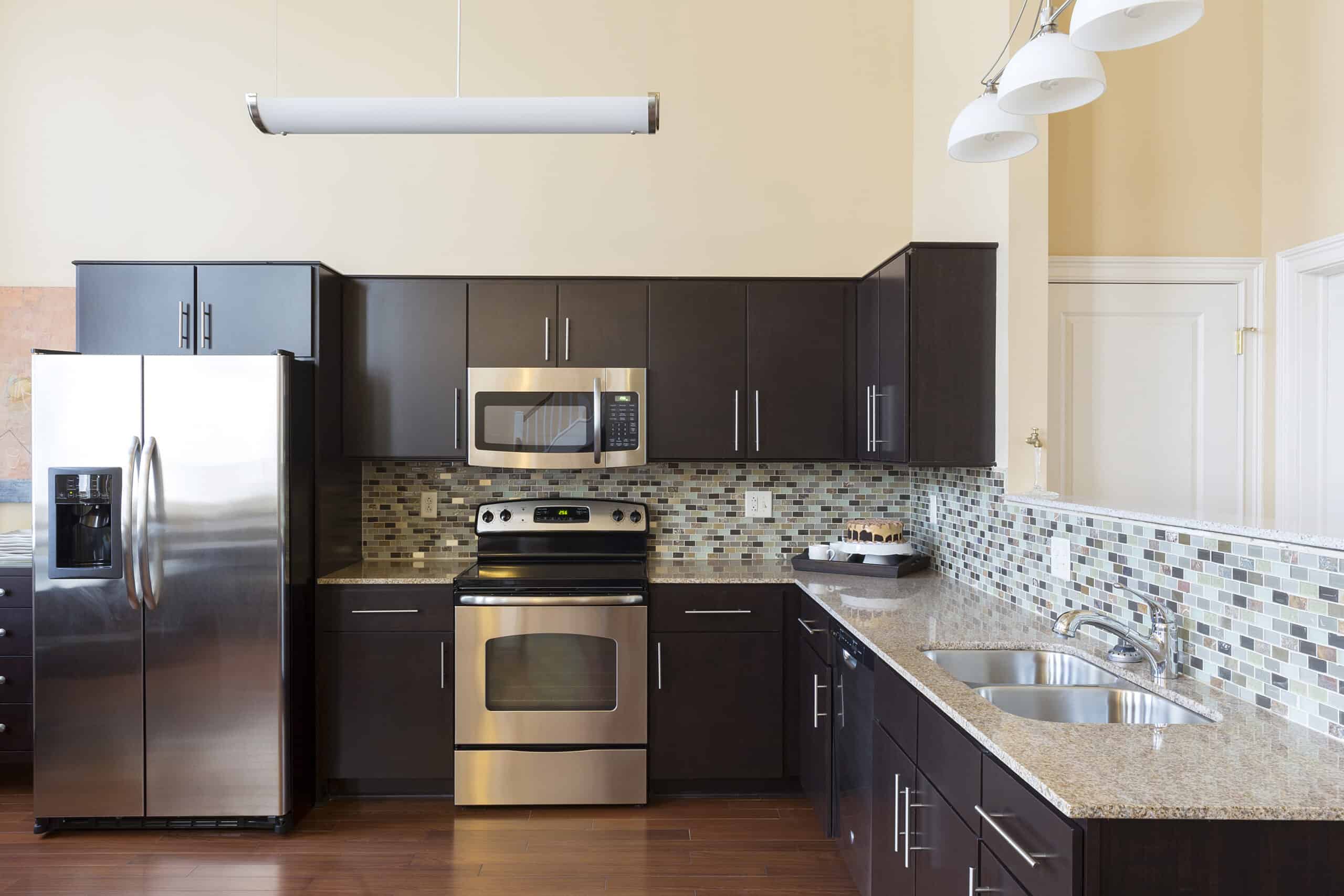 Advantages
They're space savers.

They cost less than buying a separate stove hood and microwave.
Disadvantages
Their venting systems don't function as well as those of independent hoods.

They require professional installation.
There's only one over-the-range microwave model in Electrolux's lineup. 
Main Features of Electrolux Microwaves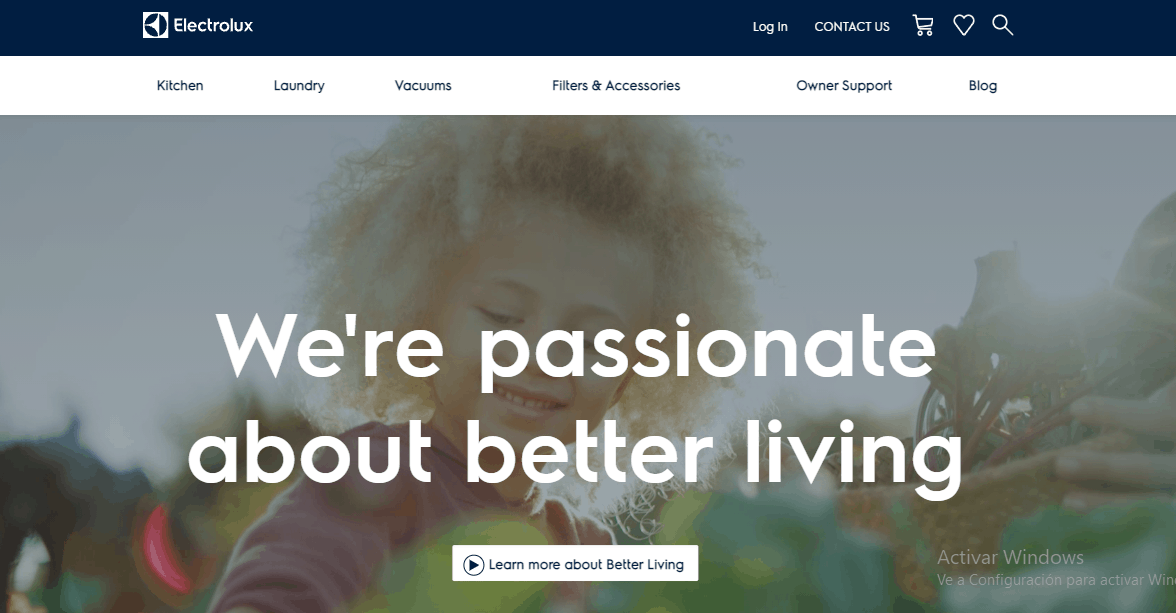 Convection Cooking
All microwaves in Electrolux's lineup have a convection fan at the back of the microwave's cavity. This fan is activated when you select convection mode, circulating hot air for uniform heat distribution. As a result, food will be evenly browned. With this feature, you can opt to use your microwave as a regular oven. 
Combi Cooking
This is a setting that takes the efficiency of traditional microwave technology and combines it with the effectiveness of convection cooking. Combi cooking, therefore, is great at roasting or baking quickly without compromising on quality. All the Electrolux microwave models have this feature.
Keep Warm Mode
If you prepare your food early but aren't ready to have it yet, you can use this feature to keep your food warm until serving time. It's a great feature for those who often entertain guests and prefer cooking in advance. Whatever the use-case scenario of this feature, it's certainly a handy one to have. 
Multi-Stage Cooking
Different cooking stages have different temperature requirements. With multi-stage cooking, you can preset the ideal temperature for each stage, and how long each stage will last. The microwave will then proceed to cook without any further intervention from you. This takes away the hassle of constantly checking on your food, especially if you're busy with other chores.
Sensor Cook Function
Electrolux's microwaves are fitted with sensors that keep track of the food's temperature. If the food's temperature rises, the sensors will alert the microwave to reduce power and the other way around. Because of this, the chances of overcooking or undercooking food are reduced. Electrolux also offers sensor reheat that prevents overheating or underheating meals. 
LED Lighting
The LED bulb found inside the microwave clearly illuminates food, which is ideal when you're in a low-light environment or if you want to monitor your food as it cooks. The over-the-range model also has LED lighting underneath, which is meant to light up the stovetop. 
Things to Consider When Buying an Electrolux Microwave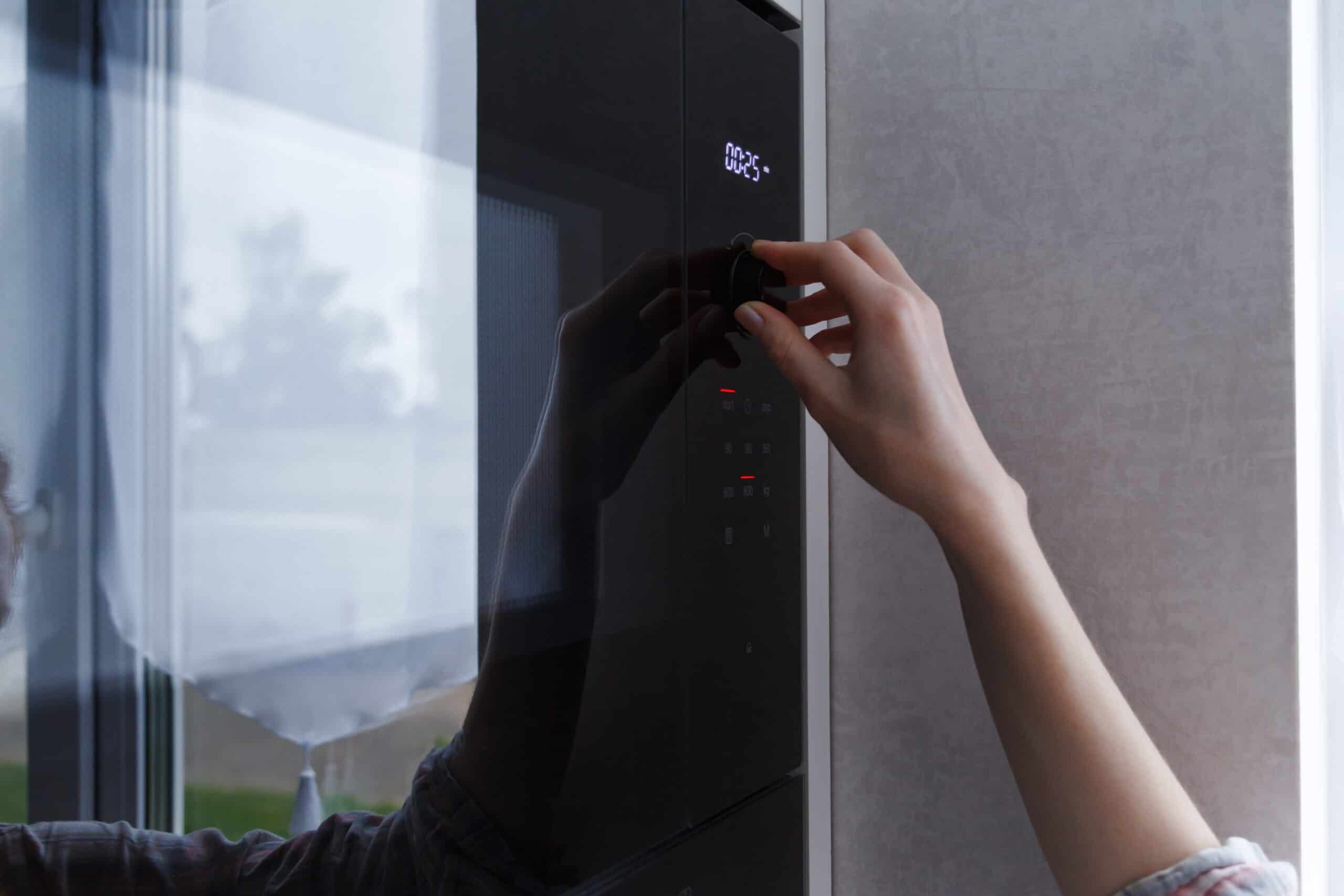 Size and capacity
Think about the space where you'll install your new microwave and find one that fits the dimensions of the location. Whether you're getting a built-in or over-the-range model, you'll need to take some time to measure the dedicated slot for the microwave. 
Electrolux's current microwave models all have widths from 22 inches for the smallest one to 30 inches for the larger models. The heights range from 13 inches to 20 inches and the depths are from 16 inches to 23 inches. 
Also, take some time to check out the internal dimensions of your preferred microwave and make sure it's large enough to accommodate your containers. The largest Electrolux microwave has an interior width of 21 inches and the smallest has a width of 16 inches. 
Consider the microwave's capacity as well. This is determined by your cooking needs and household size. If you plan to try out a lot of recipes in the microwave, consider a spacious one that can accommodate larger dishes. The largest capacity offered by Electrolux is 1.9 cubic feet while the smallest one is 1.5 cubic feet. 
If you only intend to use the appliance to perform basic microwave functions then a smaller one would be just fine. Still, although Electrolux's microwaves have several useful features, they can't substitute full-sized ovens. Therefore, a capacity of less than 2 cubic feet is just fine for most people.
Design
The design of a microwave includes the color, build, and door configuration. Electrolux's lineup is black with stainless steel trim. Although this is the only option you have, you shouldn't mind because the microwaves look stylish and they are bound to fit in the color scheme of any kitchen. 
Think about the door configuration as well: Electrolux offers side-swing doors and a drop-down door option. Side-swing doors are traditional designs that we're all used to in microwaves. They open to the left and, therefore, favor right-handed people. This shouldn't be an issue for you if you're left-handed, though. 
Drop-down microwaves open much like an oven, so they work for both right-handed and left-handed people. These models are usually installed lower down, possibly at the same level you'd install an oven. 
Price
The types of microwave you want and what you'd like it to do will determine the amount of money you're likely to spend. 
If you're looking for a built-in microwave, Electrolux's built-in models cost $900 for a side-swing model and $1700 for a drop-down model. The company's over-the-range model, on the other hand, costs $1000. Sadly, if your budget is less than $900, there's no option for you. 
For those on a much lower budget, check out our GE microwave models guide.
Safety Features
One important safety feature is the child lock, which prevents accidental use of the control panel when activated. As the name implies, this feature is perfect for those with kids, who are likely to inadvertently press the controls. 
Also, ensure that your next microwave has a UL (Underwriter Laboratories) certification. This is an agency that's charged with the responsibility of testing appliances to make sure that they adhere to industry safety standards. An appliance that's UL certified poses no risk of electric issues and they aren't likely to cause fires. Thankfully, Electrolux's microwave models are UL listed, as well as cUL listed – this is the Canadian version.
Noise Levels
Find out about the sound levels of the microwave and make sure it isn't more than 60 dBA. Some manufacturers include the decibel level in the microwave's specification sheet so start by checking there. Electrolux indicates that their loudest microwave – the over-the-range model – has a sound level of 60 dBA. This is fine considering that it has a vent. To put this in perspective, the sound level of normal conversation can max out at 65 dBA. 
Turntable Size
Consider the turntable size as this dictates the size of dishes that the microwave can accommodate. Check the size of the largest dish that you'd like to use in the microwave and make sure that the turntable size is big enough to hold it. Also, ensure that the turntable is firmly supported. Electrolux's models have a turntable diameter range from 14 inches to 16 inches.
Power Specifications
The ideal amount of power for a microwave should be about 1000 watts. Anything less than this might fail to effectively heat food and they require more time to perform such functions. So, the more power the faster the microwave will perform. Electrolux's over-the-range model has a power rating of 1350 watts while the company's most powerful built-in model offers a maximum of 1750 watts when the convection element is activated.
Warranty
Finally, make sure the manufacturer gives you at least one year of warranty. Thankfully, Electrolux offers a one-year limited warranty. You can also register your appliance for their Platinum Star limited warranty that offers an additional two years, covering replacement parts only.
Electrolux Microwave Models
The three models listed below are all the company's current microwaves. We, therefore, chose to feature all the models to give you a good idea of what you're likely to get and help you decide which one, if any, is right for you.
Electrolux Model EMBD3010AS Built-In Microwave Oven with Drop-Down Door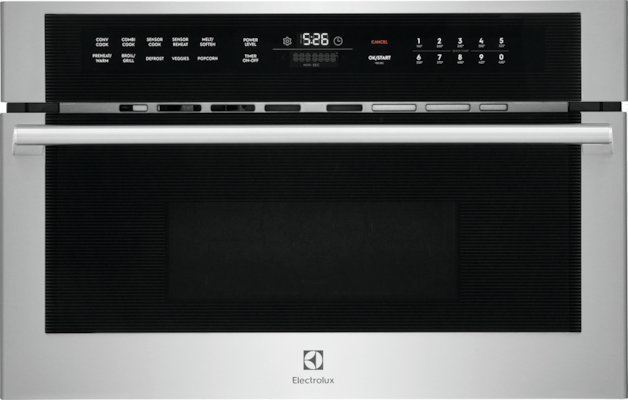 This is Electrolux's only drop-down door microwave model and it's also the company's most expensive. Costing about $1700, this model will stretch your budget a bit, but do you get value for your money? Let's see.
It's a built-in model, with a sleek stainless steel/black theme that stylishly blends with your kitchen cabinets. Its drop-down door design gives it a high-end appeal, which is expected since this is a high-end appliance. You'll certainly love its look when installed next to (or above) your built-in oven unit. 
This microwave has a decent capacity of 1.6 cubic feet that's enough for a family's needs. It'll fit in a cabinet cutout space that has a width of about 28 inches, a height of 18 inches, and a depth of 23 inches. 
Size aside, this microwave promises excellent performance, underscored by features like cooking sensors and a convection fan, among others. You can, therefore, opt to use either the microwave function, the convection function, or a combination of both. Known as combi cooking, using both the convection and microwave function will result in even browning delivered at microwave-level speeds. Moreover, this model also boasts multi-stage cooking. 
All these features come together to make this a popular microwave model that does a lot more than just warm your food. And judging from the positive reviews from past customers, this is certainly a microwave that offers value for the price you have to pay.
Main Features
This is a built-in microwave model.

It has a drop-down door design.

The microwave has a capacity of 1.6 cubic feet.

It offers a convection function.

It has a maximum cooking power of 1000 watts and a maximum of 1750 watts with the convection element.

There are temperature sensors.
Pros
This microwave can bake and cook as well as warm food.

Its temperature sensors ensure that food is cooked precisely.

The internal LED light clearly illuminates the interior.

It looks stylish.
Cons
It's expensive.

There's no WiFi connectivity.
Electrolux Model EMBS2411AB Built-In Side Swing Microwave Oven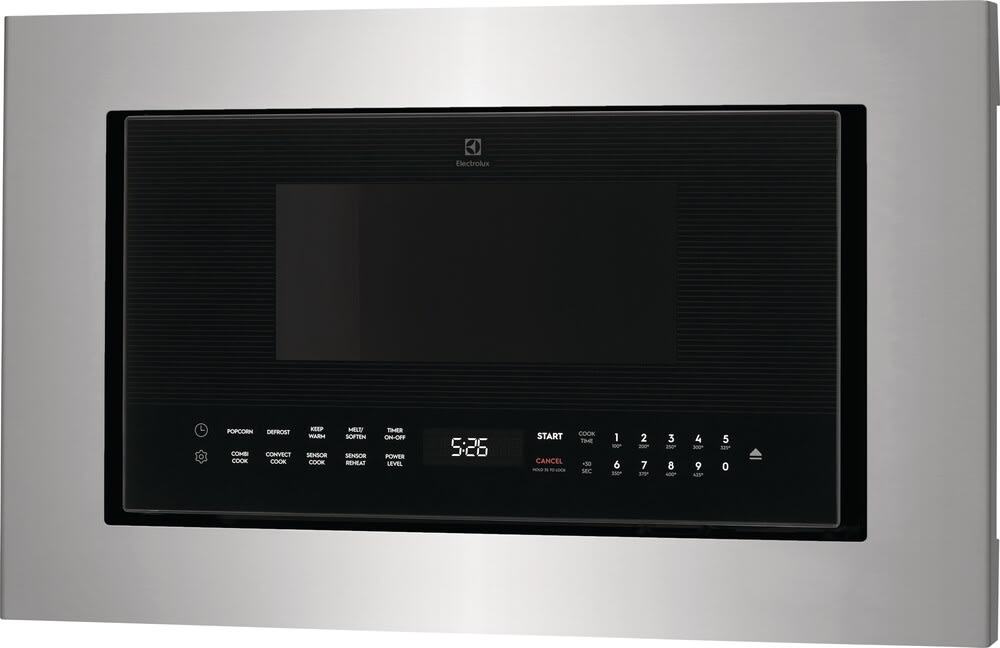 If you're looking for a built-in microwave that won't cost you a pretty penny, consider this model. Unlike the one above, this one has a traditional side-swing door. Although it isn't as fancy, it still gets the job done and at a fraction of the cost. This model costs $900, which is by no means a small amount, but it's certainly cheaper than most built-in microwaves by other brands.
The design of this model gives it a premium look, characterized by stainless steel and black accents. There are touch-sensitive controls on the front face, and its front is kept clean by a handle-less design. Its 1.5-cubic-foot capacity is enough for warming or cooking small meals for two or three people. And you'll find yourself using this microwave for a lot more than warming your coffee. 
Just like Electrolux's other models, this one also has convection cooking, which ensures that heat is uniformly distributed within the cavity. You can also opt to use combi cooking if you want a quick meal that's perfectly cooked. Other handy features are Preheat and Keep Warm modes. 
To install this microwave, you'll need a cabinet cutout with a height of about 17 inches, a width of 25 inches, and a depth of around 24 inches.
Main Features
This is a built-in microwave model.

It has a side-swing door design.

The microwave capacity is 1.5 cubic feet.

There's a convection function.

Its cooking power is 900 watts and the power with the convection element is 1400 watts.

There are 10 power levels.

Its turntable diameter is 16.5 inches.

It has an internal LED light.
Pros
It has a sleek handle-less design.

The convection function results in evenly browned or crispy food.

You can keep food warm using the Keep Warm Mode.
Cons
There's no WiFi connectivity.
Electrolux Model EMOW1911AS Over-the-Range Convection Microwave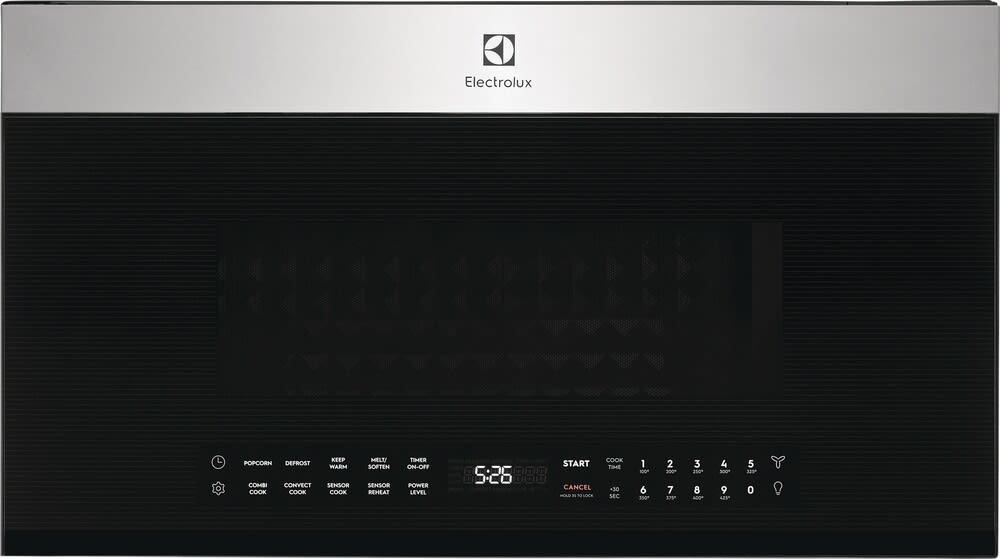 The only over-the-range microwave in Electrolux's lineup, this model offers the convenience of a microwave with the functions of a stove hood at $1000. It's certainly an aesthetically pleasing appliance, bearing Electrolux's signature colors of black and stainless steel. This model's handle-less design and the touch controls give it a modern appeal that will style up your kitchen. 
As is common with Electrolux microwave models, this one also has a convection function that you can pair with the microwave for quick and effective meal preparation – Electrolux calls this combi cook. It also has other bells and whistles like sensor cook and multi-stage cooking. And with a capacity of 1.9 cubic feet, you can prepare an entire meal for your family using this microwave. 
Underneath the unit, there's a ventilation system, as you'd expect in an over-the-range model. It uses a ductless vent with exhaust fans that strive to eliminate smoke and odors from your kitchen. Electrolux tells us that this vent, when active, has a noise level of 60 dBA, which isn't too loud to interrupt a conversation. 
Main Features
This is an over-the-range Electrolux microwave model.

It has a capacity of 1.9 cubic feet.

There's a convection function.

It has sensor cooking.

There are 10 power levels.

The turntable has a diameter of 14 inches.

It gives out 1350 watts of power.

This model has a ductless vent.

There's an interior LED light.
Pros
The convection feature makes it ideal for multiple applications like baking.

It has a spacious capacity.

The sensor cooking feature ensures that the cooking temperature is precise.

The ventilation system is effective.

It's a stylish-looking microwave.
Cons
There are no smart features.

It's expensive.
FAQs
Question: What is the most reliable microwave brand?
Question: When should a microwave be replaced?
Answer: Microwaves should be replaced every 10 years.
Question: Are 700 watts enough for a microwave? 
Answer: A 700-watt microwave takes a long time to heat food as this is much lower than the recommended power of 1000 watts. Also, this type of microwave might not cook food evenly, if you want to use it to try out some recipes. 
Bottom Line
Electrolux's microwave models are limited to just three, and you only have the option of built-in or over-the-range types. Their prices are also rather high compared to brands like Whirlpool or GE. Granted, Electrolux's models offer some handy features like cooking sensors and convection functions, which push up the price of the microwave. 
Sadly, none of the company's models have smart functions, so if this is important to you, you'll have to consider brands like Samsung, LG, or Whirlpool.
If you want a microwave to simply heat food then spare some cash and look for another brand like GE – here's our GE microwave model guide. However, if you want a microwave model that will complement your oven's functions then Electrolux's models will do a good job at cooking as well as heating food.