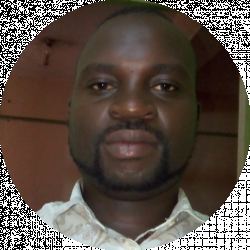 Latest posts by Haron Omaita
(see all)
Freezers provide an excellent way to store extra food that can't fit into a standard refrigerator. With their sturdy design, it's very easy to store bulky food items like frozen vegetables and meat. Freezers are a convenient storage solution for large families that usually buy bulk quantities of food.
Is your refrigerator's freezer large enough to store your food surplus? Sick of repacking the popsicles, lasagna, and frozen vegetables and repeatedly trying to cram them all in? Perhaps it's time you thought about buying a new standalone freezer.
By getting the right freezer for your needs, your trips to the grocery store will become fewer and fewer and you'll save time and money at the same time. Take some time to consider your space limitations and food storage needs to buy a freezer that best suits your household.
Standalone Freezer Options
If you're purchasing a standalone freezer, you've got three main options to select from. Let's look a little closer at each kind of freezer.
Upright Freezers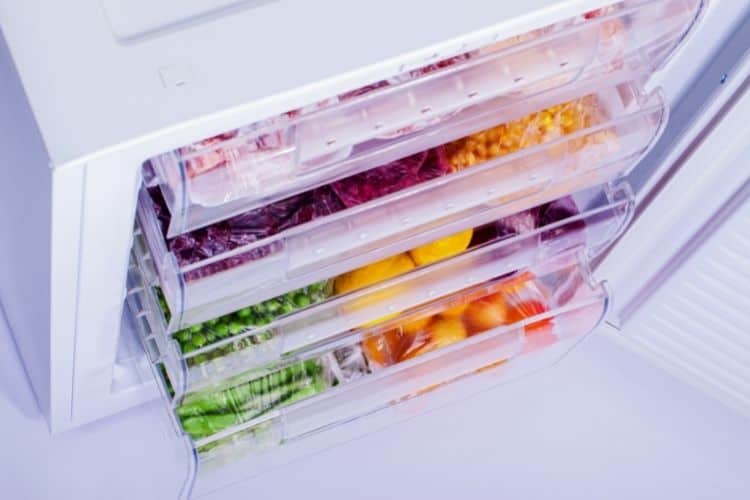 Upright freezers are a convenient option hence their popularity. They won't take too much of your space, can easily fit through any door, can be moved with ease, and usually come equipped with compartment dividers to help you organize your foodstuffs in the best way possible.
Unfortunately, upright freezers are usually a bit pricier than other popular freezer options and also consume a little bit more energy. But upright units are the best choice when it comes to ease of use and convenience.
Chest Freezers/Deep Freezers
Often known as deep freezers, chest freezers are quite a popular option for the budget and energy-conscious. Of the three main types of freezers, chest freezers boast the largest capacity.
If you have large food items you want to keep in your freezer or plenty of food to keep frozen, chest freezers are the best option. They consume less energy than their upright counterparts and keep food cold for longer in case of a power outage.
But unlike upright freezers, they aren't as convenient for day-to-day use since accessing any items at the bottom requires taking everything above them out. Chest freezers also require regular manual defrosting, which becomes messy and might be difficult to carry out.
On the plus side, they're typically cheaper than upright models, both in terms of upfront cost as well as long-term energy costs.
Portable Freezers
Smaller than other freezers, portable freezers don't store as much food, but they are usually cheaper and have an array of features not present in other kinds of freezers. Portable freezers are made to let you move frozen food items from one location to another, so they're convenient for those who need to have their meals on the go.
Since they are able to maintain a constant temperature, no matter the elements around, portable freezers are ideal for long road trips, camping, boating, or for those who frequently travel in an RV.
The freezers are amazing since you don't need to constantly add ice to them, or drain off the melted water. Simply set the right temperature and you're good to go. If you want frozen meals on the go, a portable freezer is your go-to option.
Picking the Right Freezer Size
Freezers come in four main sizes: compact, small, medium, and large. Compact sizes typically have 5 cubic feet of freezer space while small sizes have 6-9 cubic feet of freezer space. Medium sizes have 12-18 cubic feet of freezer space while large sizes have 18-25 cubic feet of freezer space.
When choosing a freezer, you should consider not only its capacity but also your family's size and eating habits. Do you normally buy plenty of frozen foodstuffs in bulk? Like to have your garden vegetables and fruits frozen so you can eat them in the winter? Does anyone in your family fish or hunt?
Another factor to think about is whether your family likes prepared or frozen foods. If can only buy groceries once a week and have little time to cook, a freezer can come in handy. Or maybe you like to make the most of meat sales so you can have meat available for your next barbecue session.
As a general rule, appliance experts recommend that each member of your family should have 1.5 cubic feet of freezer space, with a single cubic foot storing around 35 pounds of frozen food.
Once you've settled on the best freezer size for your needs and considered the amount of frozen food you intend to keep, then consider the space available for your brand new freezer.
Setting Up Your Freezer
The type of freezer you pick will be determined by the amount of space you have. It's recommended that you measure your space before you go shopping for a freezer.
A chest freezer is probably better suited to a basement or garage while an upright freezer might fit better in the kitchen.
If you're going to place your freezer outside or in your garage, make sure that it's not exposed to extremely cold temperatures as this can damage the interior and compressor. Some models come equipped with technology to work in extremely low temperatures and fit better in outdoor storage or a garage.
And when setting up your freezer, be sure to leave about 25mm of space around the unit to allow the hot air to safely ventilate out.
Typical Freezer Features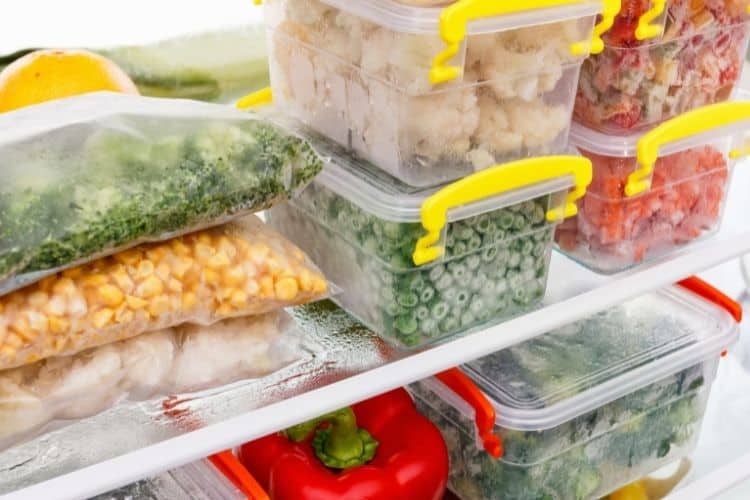 Manual defrost: Many deep freezers are manually defrosted. You need to perform this process once per year when the ice buildup is ¼ inch thick, but it might be less or more depending on how regularly you open up your freezer.
You must empty out the freezer and switch it off to melt all the ice away. You can accelerate the process with a hairdryer or something else. Some models are equipped with front thaw drains that make the process even easier.
Energy efficiency: Energy Star-rated freezers have more energy efficiency than the average federal standard. Compare different models for energy efficiency to have a better clue of their running costs.
Also, bear in mind that bigger models consume more energy and manual defrost models use half of the energy used by automatic defrost models but require periodic defrosting.
Automatic defrost/automatic defrost: Frost-free freezers come with a heater that works twice or thrice daily to unfreeze the evaporator. Normally, the moisture drains off into a tray beneath the freezer. The frozen food inside the freezer isn't affect provided that the freezer is full.
Frost-free freezers consume more energy, but they can be worth the price. In humid, hot conditions where doors are opened frequently, the automatic unfreeze cycle may not work properly.
Chest/deep freezer: These are similar terms for low, long freezers that are opened from the top.
Freezer lock: Freezers that have locks can be helpful for helping keep kids in your home safe or ensuring that the door is tightly closed after every use.
Convertible freezers: Convertible freezers/fridges can switch from freezers to refrigerators as needed. This is a more helpful feature on smaller types of freezers. A convertible freezer comes in handy when you're planning an event or party and need to increase your storage space for fresh food.
Soft freeze area: Certain upright freezers have a "soft freeze" section that stays a bit warmer than all other areas of the freezer, which makes them perfect for storing ice cream. It's basically a covered bin.
Temperature controls: These can be either dial or digital controls and may be found outside or inside the freezer. Digital controls found outside the freezer are often found in high-end models.
Temperature alarm: This an audible alarm on the freezer that alerts you if there's too much warmth in the interior.
Interior organization: Check the bins/baskets or shelving found in the freezer. In upright models, there may be door shelving, as well as wire or glass shelving.
Interior lights: This feature is particularly useful and is found in larger freezers where you can easily lose track of the food inside!
Power indicator light: Found on the outside of the freezer, power indicator lights help you ensure that your freezer is getting power.
How Much is Your Budget?
For at least $500, you can get a small manual defrost deep freezer, normally with 10 cubic feet of freezer space or less from manufacturers such as Hotpoint and GE. For $500 to $700, you can buy a larger deep freezer (typically 10 to 16 cubic feet of freezer space) or an upright freezer (typically 13 to 16 cubic feet of freezer space).
For $700 to $1,000, you can a larger upright freezer (typically 14 to 20 cubic feet of freezer space) or an extra-large chest freezer (typically more than 20 cubic feet of freezer space).
"Clearance" models can appear around January to May since this is when certain manufacturers update their product lines so as to discontinue old models and introduce new models.
Our Top Selections
Best Upright Freezer: Whirlpool WSZ57L18DM 17.7 Cu. Ft. Frost-Free Upright Freezer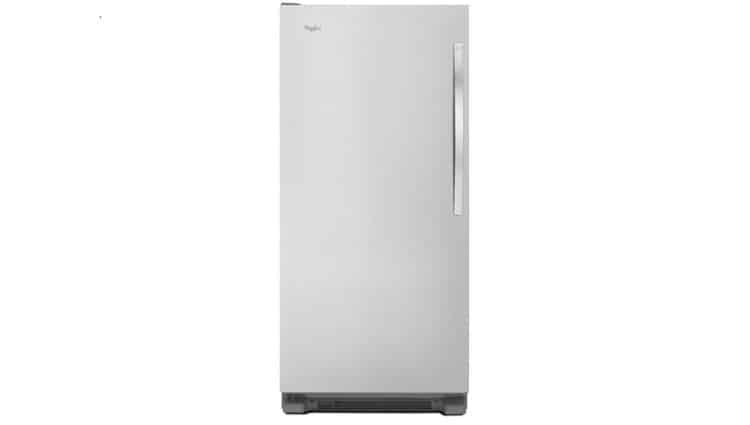 An upright freezer typically has more storage space than a chest one. But the Whirlpool WSZ57L18DM Frost-Free Upright Freezer is a top-of-the-range option thanks to its capacity and convenient features that make your life a little bit easier.
For instance, the freezer boasts 17.7 cubic feet of freezer space, LED lighting, as well as 5-door bins for easier access to snacks and ice cream. There are four shelves in total, as well as a bulk storage bin for any other things you may be keeping in your home.
In addition, thanks to a temperature monitor and really accurate electronic controls, everything you keep in this freezer will be chilled to the right temperature. The temperature monitor notices when things get too chilled, so you can regulate the interior correctly. This helps prevents the buildup of freezer burn on any food, which can make it unsafe for consumption.
Notably, the Whirlpool WSZ57L18DM freezer is also frost-free, which spares you the awfully arduous task of manually unfreezing a large appliance. In terms of style, you'll love the recessed handle and light stainless steel surface that'll easily match your other household appliances. This model requires very little maintenance and leaves virtually nothing to be desired.
Best Chest Freezer: WZC3115DW 14.8 Cu. Ft. Chest Freezer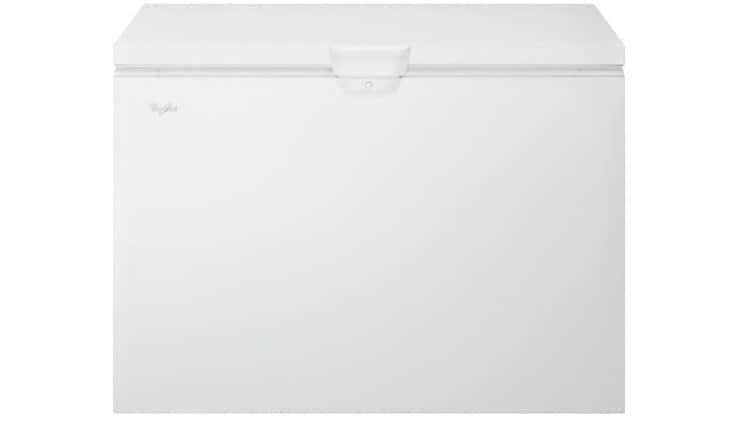 To get a huge amount of storage space without spending a fortune, go for the Whirlpool WZC3115DW. It has an incandescent light on the inside and a child-secure keyed door lock. There are two sliding storage containers that are big enough to keep small things so that you don't have to look for them at the bottom of your freezer.
Unlike models with wire storage containers, these bins are made of hard-wearing plastic so that items don't fall through. You'll also love the defrost drain that comes with a hose adapter to let you drain off the melted ice with ease.
Best Large Freezer: Kenmore 22202 Upright Convertible Refrigerator/Freezer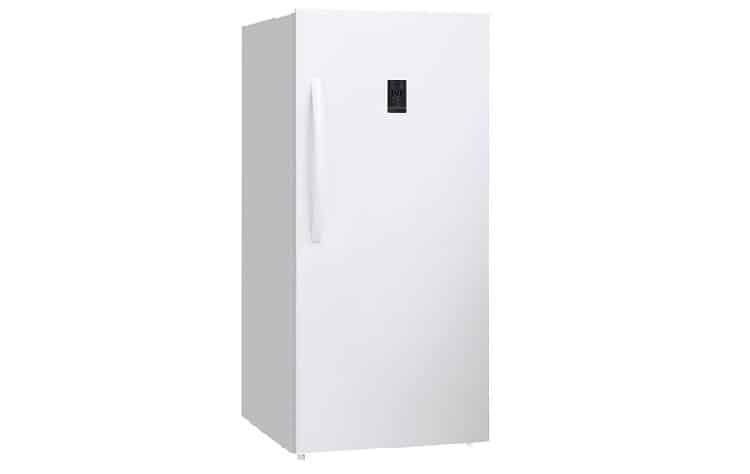 Known for reliable, serviceable appliances, Kenmore has been quite a popular appliance manufacturer for years. The same is true of the Kenmore 22202 Upright Convertible Freezer. The four sturdy and adjustable glass shelves, four-door bins, and two transparent storage bins will give you 21 cubic feet, which is more than enough storage space for your needs.
The temperature controls are easy to understand and use. They include a quick-freeze key, freezer-to-fridge conversion key (you'll love dual-purpose appliances!), high-temperature alert light, digital temperature display, and control panel lock button so you don't accidentally change your choices.
You can adjust the temperature to turn the freezer into a refrigerator or vice versa, using the quick-freeze feature that lowers the temperature to the highest freezing point, 11°F. And the best news is that the Kenmore 22202 Upright Convertible Freezer has an automatic defrost feature that prevents ice accumulation and spares you the hassle of having to defrost and clean this gigantic freezer.
Best Compact Freezer: Whynter CUF-110B 1.1 Cu. Ft. Portable Freezer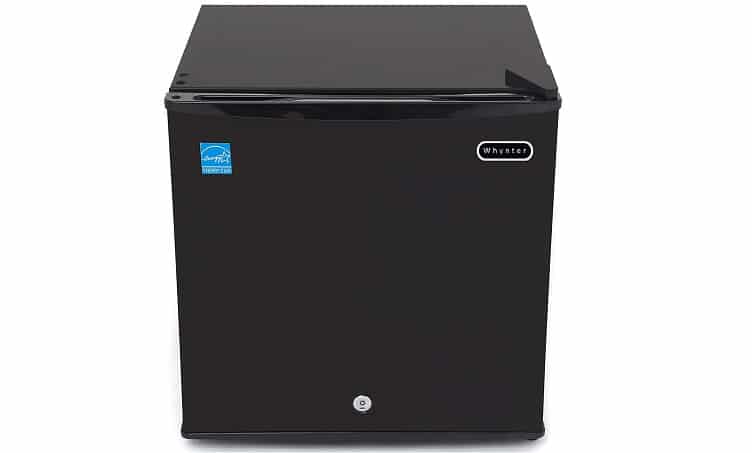 Have limited space—like an RV, dorm room, or boat, and need a freezer that can fit it perfectly? The Whynter CUF-110B is an effective, compact, Energy Star-rated portable freezer that offers 1.1 cubic feet of freezer space. This basic model is the perfect choice for keeping several ice cream pints or a pile of frozen dinners at hand.
The Whynter CUF-110B can fit into tight spaces. There's one detachable wire shelf inside, in addition to a manual temperature dial that permits settings in the range of -10°C to 2°C. There's a reversible swing door with a recessed handle that keeps things running smoothly.
If you're placing this unit under a table or desk, these features add some functionality to the appliance and let you access things conveniently.
The door is lockable, too, so nobody can access your food without the key. Ultimately, the Whynter CUF-110B will do a great job and won't disturb your peace. Go for the 12-month warranty if you're worried about any potential problems.
Most Energy-Efficient Freezer: GE FCM11PHWW 11.0 Cu. Ft. Chest Freezer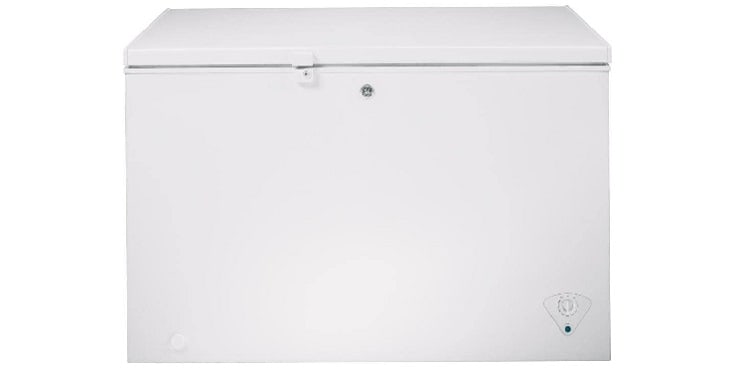 The GE FCM11PHWW consumes one of the lowest amounts of energy per year, according to ENERGY STAR.
Made to weather ambient temperature from 0°F to 110°F, this chest freezer has almost 11 cubic feet of freezer space and three detachable sliding wire storage bins. It has an exterior switch-on temperature and light control, a child-secure keyed door lock, an unfreeze water drain, and an interior light.
FAQs
Question: What's the Most Efficient Freezer Brand?
Answer: The most reliable freezer brands include:
• Frigidaire Frost-Free Upright Freezer
• Maytag Frost-Free Upright Freezer
• GE Garage-Ready Frost-Free Upright Freezer
• Magic Chef 3.0 Cu. Ft Upright Freezer
• Gladiator Rolling Garage Upright Freezer
• Danby Designer DUFM059C1WDD Upright Freezer
• Whirlpool Sidekick Frost-Free Upright Freezer
Question: What's the Best Freezer Brand?
Answer: The best freezer brands today include:
• Frigidaire 19.8 Cu. Ft. Chest Freezer
• Danby DCFM110B1WDB Chest Freezer
• Whirlpool Sidekick WSZ57L18DM Upright Freezer
• GE Garage-Ready Chest Freezer
• Summit SCFF532D Stainless Steel Drawer Freezer
• Whynter CUF-110B Upright Freezer
Question: How Do I Select a Freezer?
Answer: When selecting a freezer, be sure to take the following considerations into account:
• Size of freezer
• Cost of freezer
• Amount of use
• Energy use
• Organization options
• Temperature and climate categorization
• Noise level
• Blackout performance
Question: What Are the Best Freezers in Nigeria?
Answer: The best deep freezers in Nigeria today include:
• Haier Thermocool BD-719 R6 Large Chest Freezer
• LG FRZ25K 253-Liter Fast-Freezing Chest Freezer
• Scanfrost SFL411 Deep Freezer
• Samsung ZR31FARAEWW 260-Liter Chest Freezer
• Nexus NX-265 197-Liter Chest Freezer
• Midea 260C-200L Chest Freezer
• Samsung Duracool ZR20FAREWW Chest Freezer
• Haier Thermocool HTF-429H R6 Large Chest Freezer
• LG 25K-DSLBC 253-Liter Chest Freezer
• Bruhm 100-Liter BCF-SD100 Glory Series Chest Freezer