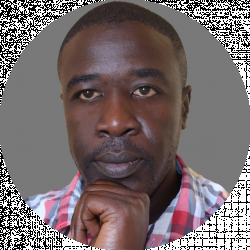 Latest posts by Barry Juma
(see all)
Looking for a new microwave? Well, Sharp is a good choice as it's known for making stylish and reliable microwaves. And I'm not just saying that; the guys at Consumer Reports agree. In a study that involved testing hundreds of thousands of microwaves, Sharp's models were found to be among the most reliable and, alongside Bosch, some of the best looking. If you're considering this brand then you'll definitely find a model that fits your needs. 
In this Sharp microwave model guide, we'll help take a look at the types of microwaves in the company's lineup and their main features. We also have a list of some of the best Sharp microwaves that you should consider.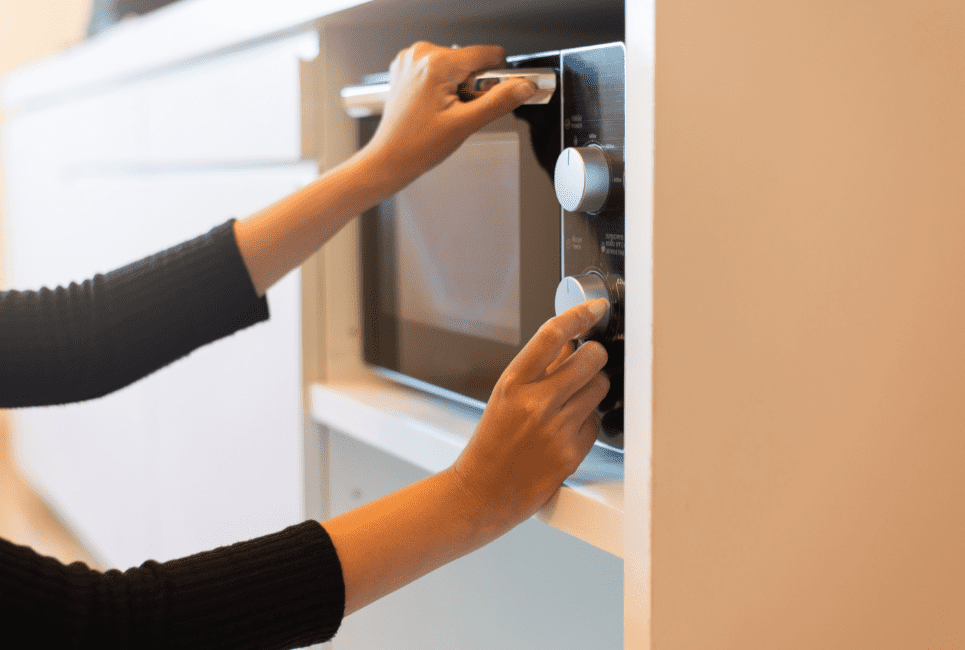 Types of Sharp Microwaves
Sharp sells four types of microwaves:
Countertop

Drawer

Over-the-Counter

Over-the-Range
Countertop Microwaves
These are the most affordable types of microwaves in Sharp's lineup. They are quite simple to install – just place the microwave on the countertop, plug it in and it's ready to use. If you're on a budget then these are definitely the models to consider because, other than being among the cheapest, they also don't require professional installation. 
However, the biggest con of these types of microwaves is still that they take up counter space, making them inappropriate for compact kitchens.
Here are some more advantages and disadvantages of countertop microwaves.
Pros:
They're the most affordable type of microwave.

Countertop microwaves are easy to install.

They are portable, making them ideal for those renting their home.
Cons:
These microwaves take up counter space.
Drawer
These are built-in microwaves with a drawer configuration, boasting a modern look. Sharp's drawer microwaves are among the company's most expensive, placing them out of reach of those on a tight budget. However, if you can stretch your budget to over $1000, then you can spice up your kitchen's look with these models. But are drawer microwaves worth their premium price tag? 
They're the mark of a premium kitchen and those who spend money on these microwaves do so because of their unconventional design. If you're remodeling your kitchen and want a contemporary aesthetic then consider drawer microwaves – if your budget allows. 
But they offer more than just looks. Take a look at the advantages and disadvantages of drawer microwaves below.
Pros:
Drawer microwaves save space since they're built into cabinets.

They're installed in lower cabinets, making them easy to reach for everyone.

They are ideal for both right- and left-handed people.

These microwaves are easy to clean since they don't have turntables.
Cons:
They require some bending to access the controls.

They're very expensive.

They require professional installation. 
Over-the-Counter
Over-the-counter microwaves are designed to be built into the upper cabinets, above the countertop. Their position allows you to spare counter space, unlike the countertop microwaves. These models come with lights at the bottom, to illuminate the counter. Sharp is one of the few manufacturers that sell these types of microwaves; most brands have over-the-range models. 
If you have a compact kitchen then these models are the ones to consider.
Pros:
They save kitchen space.

They have task lights underneath, which illuminate the countertop.
Cons:
You'll need a professional to help you install these microwaves.

They're difficult to reach for shorter people.
Over-the-Range
These microwaves are designed to be installed above the stove. They have a vent system underneath them, which performs the tasks of a hood. Therefore, if you opt for an over-the-range microwave, you also get a hood in one appliance. However, if you do a lot of cooking, the vent in an over-the-range microwave might not handle the task as they're still inferior to dedicated hoods. If you only cook for your family – or yourself – then these microwaves will serve you well. 
Pros:
Over-the-range microwaves are two appliances in one: a hood and a microwave.

They're space savers and are ideal for compact kitchens.

They have lights underneath them that illuminate the stovetop.
Cons:
Shorter people and kids find it difficult to reach them.

They require a professional to install them.

Main Features of Sharp Microwaves (And What to Look For)
Smart Features
Sharp only has two models with smart capabilities, and both of them are drawer microwaves. These smart appliances have WiFi connectivity, allowing you to connect them to your home network. You can then use the Sharp Kitchen App to remotely control your device via your smartphone.
Sharp's smart microwaves can also be paired with Amazon's Alexa, allowing you to use voice commands to issue instructions. There are specific commands that your microwave can carry out and these depend on the model. You can issue up to 65 voice commands in the most expensive model and 35 in the cheaper smart microwave.
Convection Cooking
If you're looking for a microwave that will do more than warm your morning coffee, consider a model with convection cooking. Sharp has several models with this feature, allowing the appliance to perform the functions of a traditional oven combined with those of a microwave. 
A convection microwave has a fan that rotates to circulate hot air and evenly distribute it within the cavity. As a result, food will come out perfectly browned or crisped. 
Generally, a convection microwave can bake and roast, which standard microwaves can't do. They're also a lot faster, reducing cooking time by up to 25%. But, as you'd expect, these microwaves are more expensive than standard models, so if you're on a tight budget you might have to forego this feature.
We took a deeper dive into the pros and cons of convection microwaves in this article, so check it out if you'd like to learn more.
Sensor Cooking
Microwaves with sensor cooking are able to automatically adjust the cooking temperature and time depending on the food you're heating or cooking.
The sensors are able to detect the moisture level coming from the food and this will help them determine whether to raise or lower the temperature or to reduce or increase the cooking times. This feature is helpful to those who struggle to select the precise temperatures, allowing the microwave to do this for you. 
Sharps models with sensor cooking also have preset sensor cook menus to allow you to heat or cook specific meals by simply pressing one button. 
Colors and Designs
Most of Sharp's microwave models come in more than one color option. Depending on the model, you can get black and white options, as well as stainless steel and black stainless steel, which are more common in the higher-priced models.
You should also think about the door design you prefer. For instance, there are Sharp microwaves without handles and those with handles. The company also sells different door configurations; you can get side-swing doors, drop-down doors, or drawer microwaves. 
Wattage
The least powerful Sharp microwave has 700 watts. For a light microwave user, this is adequate, but it'll take a long time to evenly heat large portions of food.
However, if you want a model that'll handle most of your cooking needs then consider at least 850 watts. Lower powered microwaves tend to struggle to cook food all the way to the inside so try and avoid any below 850 watts if you'll do more than just heat a plate of food. 
Sharp's most powerful microwaves have 1000 to 1200 watts. These are able to perform some oven functions and are best for those looking for a model to complement their oven. 
Available Sizes and Capacities
Consider both the external and internal dimensions of the microwave you want to know how much space it'll take up and how much room it has inside. Sharp shares the exact specification of its microwaves in each model's spec sheet, which is found online alongside the listing. 
Also, consider the capacity depending on how much cooking space is ideal for your needs. Sharp's countertop microwaves range from 0.7 cubic feet to 2.2 cubic feet. If you want a drawer microwave, you can get either a 1.2-cubic-foot or a 1.4-cubic-foot capacity in Sharp's lineup.
The company's over-the-counter and over-the-range models have capacities from 1.1 cubic feet to 1.8 cubic feet in the largest one.
Below is a microwave capacity guide to help you identify the perfect size for your needs.
| | |
| --- | --- |
| Household size | Recommended capacity |
| 1 to 3 members | 0.7 to 0.9 cu. ft. |
| 3 to 4 members | 1.1 to 1.4 cu. ft. |
| 4 to 5 members | 1.5 to 1.8 cu. ft. |
| More than 5 members | 2.2 cu. ft.  |
However, also ask yourself the following questions before choosing an ideal size for your needs:
What Do You Want to Cook?
You might have a household of more than five members but you'll only use the microwave to heat or defrost food. In this case, you may not need a large-capacity model. On the other hand, if you intend to cook a lot of meals in the microwave, then a larger one might be appropriate even if you have a smaller household.
What Is Your Budget?
The larger a microwave the more expensive it is. If you're on a tight budget, you might have to buy a slightly smaller one. We'll take a look at the price of Sharp microwaves below.
ADA Compliance
The Americans with Disabilities Act requires that home appliances are easily accessed and operated by people with disabilities. Most of the company's microwaves are ADA compliant, meaning that their controls are easy to reach and they can be operated using one hand, with little effort. 
For instance, some of Sharp's drawer microwaves have an Easy Wave Open feature that enables you to open the appliance by simply waving your hand in front of it. 
Because of their placement, the over-the-range and over-the-counter microwave models aren't ADA compliant. So, if you have a member of your household with a disability, consider the countertop or drawer models.
Prices
Sharp's low-end microwaves cost from $80 to $150. At this price range, the highest wattage you'll get is 1000 watts and the largest capacity is 1.4 cubic feet. 
From $160, you'll get a smart model, and if your budget is between $160 and $200, you can get a large-capacity model of 2.2 cu. ft. One of Sharp's most powerful microwaves in terms of wattage is also available at this price range, offering 1200 watts.
At a price range of $300 to $600, there are features like convection cooking. Sharp's over-the-range and over-the-counter models also start at this budget. 
The flagship models cost over $1000, offering Sharp's premium features and designs. This budget will get you a drawer microwave, with the most expensive one costing $2000. 
5 Best Sharp Microwave Models
Selection Criteria
We came up with our list of the best Sharp microwaves based on the following factors:
Value for money:

These microwaves have features that justify their price. We checked models at different price points and compared them with their counterparts within the same budget. Our choices proved to offer lots of value for what you pay.

Customer reviews:

We looked for models with an overall rating of four stars and above. These models earned positive reviews based on their reliability, practicality, and style.

Performance:

The microwaves on our list are the best performers in their class. To check this, we considered the wattage, capacity, and extra features like convection cooking.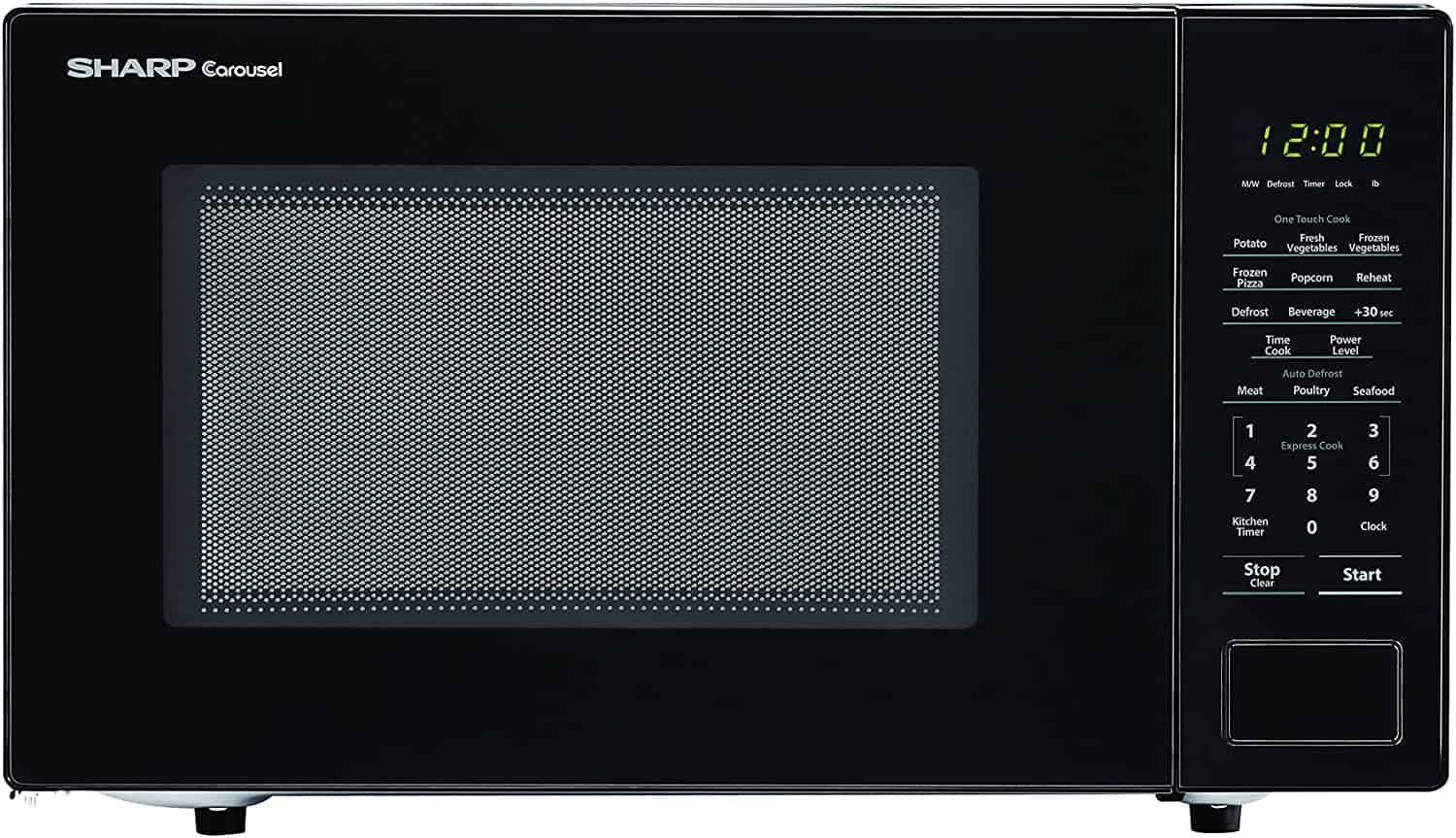 This microwave caught our attention because it's an affordable Sharp model, costing just $90. At this price, you don't expect lots of fancy gadgets, and this model certainly lacks all the bells and whistles found in more expensive models. However, if your budget is less than $100, then I assume that you're only looking for a basic, no-frills microwave to reheat a meal here and a mug of coffee there, right?
The Sharp SMC1111AB is an excellent microwave for simple home use. It boasts 1000 watts of power, which is perfect for fast reheating and defrosting. Moreover, it has a spacious capacity of 1.1 cubic feet, with a 12.4-inch turntable that should hold your largest dish. 
This countertop microwave's design is nothing to write home about. It has a typical microwave look with a side-swing door and a touch-sensitive control panel. It's also big for a countertop microwave, so prepare to give up lots of counter space.
Main Features
The Sharp SMC111AB is a countertop model.

The microwave has a capacity of 1.1 cubic feet.

It gives off 1000 watts of power.

There's a 12.4-inch glass turntable.

It has a touch control panel with an LED display.
Pros
This microwave is affordable, costing less than 100 dollars.

It has a spacious capacity that can fit large dishes.

The 1000 watts of power do a great job at heating and defrosting food through to the inside.

You can save your most used cooking settings.
Cons
The microwave takes up lots of kitchen counter space.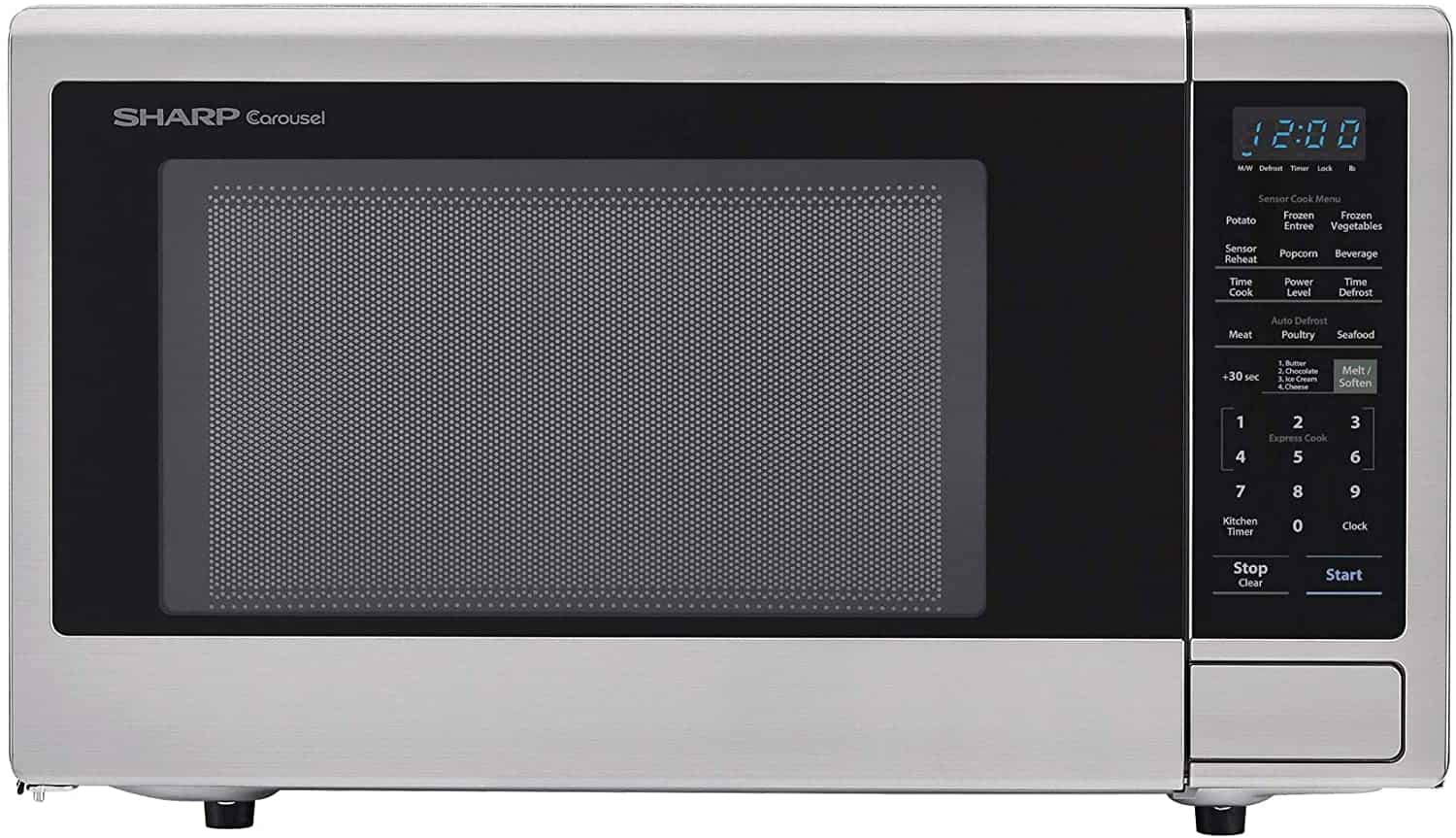 With a stainless steel body and 1200 watts of power, this countertop microwave offers premium features that justify its over $200 price tag. But I'm getting ahead of myself, we'll get back to the features a little bit later. First, its design: this microwave looks no different from other Sharp countertop microwaves.
Don't get me wrong, this isn't a bad thing, it just isn't unique. The side-swing door is opened by pushing a button found underneath the control panel. Speaking of the controls, they're touch-sensitive buttons with several cooking and reheating presets.
Looks aside, this Sharp microwave offers features that make it worth more than its price. At the top of the list is sensor cooking, which enables the microwave to determine the precise cooking time and temperature for specific dishes. And thanks to the 1200 watts of power, you won't have to wait too long for the microwave to complete heating or cooking. 
This is also one of the largest microwaves in Sharp's lineup, with a capacity of 2.2 cubic feet. Complementing this capacity is a large 16-inch turntable that's ideal for those with large serving trays. If you have a large household or you love trying out recipes in the microwave, this is a good microwave for your needs. 
Main Features
This countertop microwave has a capacity of 2.2 cubic feet.

It is made of stainless steel.

It has a wattage of 1200W.

The turntable's diameter is 16 inches.

There's the sensor cooking and reheating feature.

It has an LED display.

The microwave has 10 cooking power levels.
Pros
The sensors help to set precise temperatures and cooking times, so you don't have to figure these out yourself.

Its stainless steel body is durable and stylish.

The large capacity can hold large dishes and bowls, as well as serving trays.

This is a powerful microwave that reheats food fast.

It's easy to use.
Cons
Since it's a large microwave, it'll take up a lot of counter space.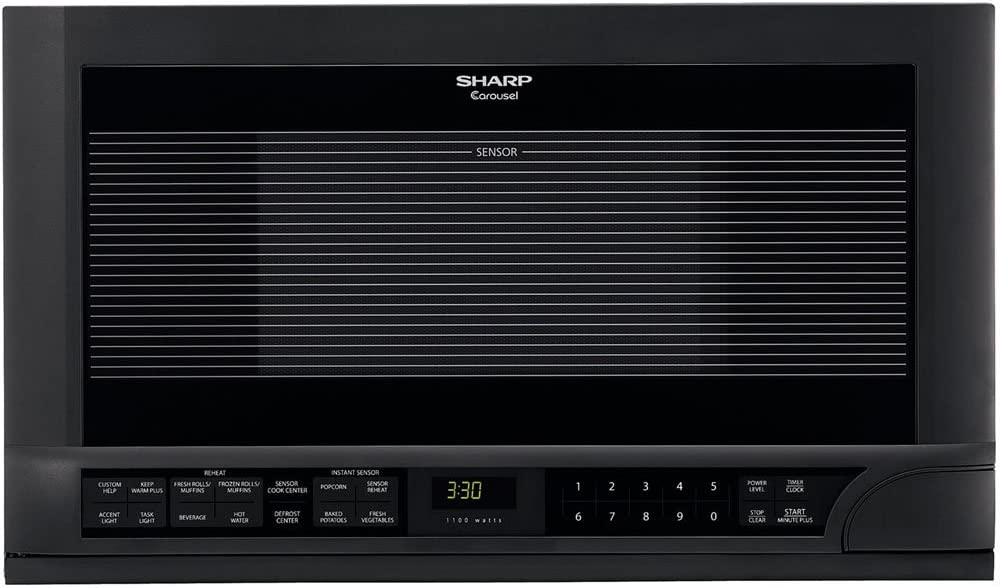 If you're looking for an over-the-counter model this is our favorite, but you'll have to spend $300 to bring it home. Compared to other brands, Sharp's option is still reasonably priced. And you'll be happy with the nifty features that this model has, offering value for what you pay. 
This Sharp microwave has a capacity of 1.5 cubic feet and a wattage of 1100. This model will do more than just warm your dinner, it can cook several dishes to perfection, thanks to the sensors. There are actually 11 settings for sensor cooking so you'll find the right setting for your dish. 
Inside, the microwave has Sharp's Carousel turntable that has a diameter of about 14 inches, which, as Sharp tells us, can hold a 9-inch by 13-inch dish.
It has a control panel with touch-sensitive buttons, much like most of Sharp's microwaves. The placement of the buttons makes them easy to reach since the microwave will be mounted above the counter. This thoughtful design accommodates shorter people. Plus, there's a task light underneath, which illuminates the counter space at the press of a button. It also has an accent light feature that, if you ask me, is cool to have but not really necessary. 
Main Features
This over-the-counter microwave has a capacity of 1.5 cubic feet.

Its power is 1100 watts.

There's a 14-inch Carousel turntable.

It has sensor cooking with 11 settings.

There's a task light as well as an accent light setting.

This model has 11 cooking power levels.

It has a black finish.
Pros
The microwave's controls are placed in an easy-to-reach position.

Its cooking sensors ensure food isn't overcooked or undercooked.

The 1100 watts of power make it easy to quickly heat or cook.

The task light comes in handy when you're working in low-light conditions.
Cons
There's no convection cooking.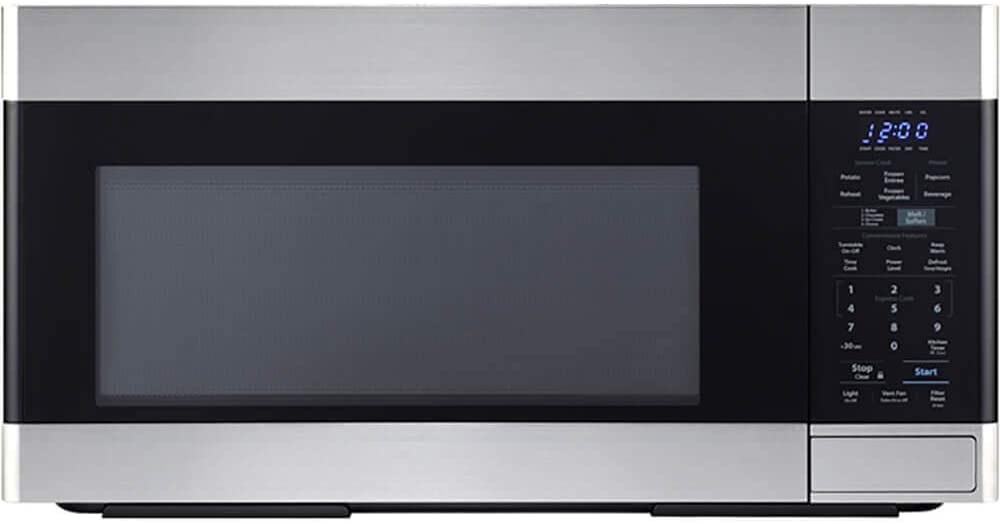 Over-the-range microwave models are usually more expensive than other types, and Sharp's options are no different. This one costs slightly more than $300, depending on the retailer. For an over-the-range model, this isn't too expensive, considering you're getting two appliances in one: a hood and a microwave.
The Sharp SMO1854DS has a vent with a power of 450 cubic feet per minute. If you know a thing or two about kitchen hoods, then you'll know that the higher the CPM the better the airflow. And 450 is not too shabby! 
But this is first and foremost a microwave and it doesn't let you down. It boasts a spacious 1.8-cubic-foot capacity that's more than enough for a large household's needs. Couple this with the 1100 watts of power and you have an appliance that will heat and cook with ease.
Speaking of cooking, this model has sensor cooking, with preset menus that take away the stress of figuring out the precise settings yourself. The sensors also help when reheating food, allowing you to get the exact temperatures in your food with ease. Sadly, there's no convection cooking in this model.
Main Features
The Sharp SMO1854DS has a capacity of 1.8 cubic feet.

Its power is 1100 watts.

Its body is made of stainless steel.

There's a vent system that can extract 450 cubic feet of air per minute.

It has sensor cooking and reheating.

There are touch-sensitive controls with multiple cooking presets.
Pros
It has a large capacity that can hold large dishes.

There's a bright LED light that shines over your stove.

The vent system's 450 CPM does a great job of eliminating smoke and odors.

Its cooking sensors make it easy to prepare some meals.
Cons
It doesn't have convection cooking.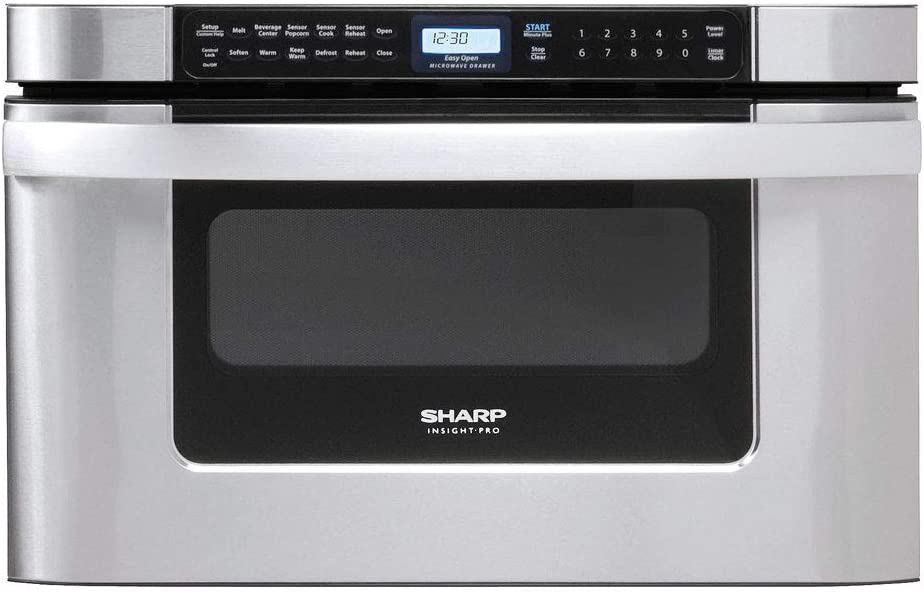 This is Sharp's lowest-priced drawer microwave, but that's not why it made it to our list – at least it's not the only reason. So, let's get the price out of the way: this model costs slightly over $1000. So, agreed, it's in no way an affordable microwave.
What you pay for is a modern design that will upgrade your kitchen's look. But you want more than just a good-looking appliance and this Sharp microwave doesn't just look pretty, it works hard too. 
It has 950 watts of power. Okay, there are more powerful microwaves on this list, for sure. However, Sharp's drawer models don't go beyond 950 W perhaps limited by the unique design of these models. The design also somewhat limits the capacity you can get, with this model offering 1.2 cubic feet, the largest capacity of Sharp's drawer microwaves. However, as Sharp tells us, the microwave is spacious enough to hold a 20 Oz. container or a 4-quart dish. 
At this price point, you expect at least a stainless steel finish, and this model doesn't disappoint. There are black accents that blend beautifully with the rest of the body and a handle for easy opening and shutting of the microwave. The controls are found above the door, and they're easy to read and use. 
Main Features
This drawer microwave has a capacity of 1.2 cubic feet.

Its power is 950 watts.

It has a stainless steel finish.

There are touch-sensitive controls.

This microwave is ADA compliant.

There's a Keep Warm function that will keep your food heated for up to 30 minutes.
Pros
This microwave is stylish.

Its placement in the kitchen makes it easy to reach for everyone.

It has sensor cooking.

The drawer is designed to easily open.
Cons
Kids can easily reach the controls.

The microwave doesn't have convection cooking.

950 watts is a little low for the price.

There are no smart features.
FAQs
Question: Who makes Sharp microwaves?
Answer: Sharp microwaves are made by the Sharp Corporation, a Japanese multinational company that's owned by the Taiwanese manufacturer, Foxconn Group.
Question: Are microwaves worth repairing?
Answer: You can consider repairing your microwave if it doesn't cost more than the price of a new microwave and it's still relatively new – about less than five years.
Question: Why are drawer microwaves so expensive?
Answer: The main reason drawer microwaves are so expensive is because their unique design requires unique parts that are expensive. Since there are fewer drawer microwaves than standard models, their parts are also fewer in the market, thus raising their cost significantly. 
Bottom Line
If you're looking for a modern microwave design that offers a unique design then go ahead and get the drawer models. They're, no doubt, sleek and stunning, and they will make your kitchen elegant. However, they don't perform better and are significantly more expensive than their counterparts.
So, if you want a microwave for its functionality rather than style, avoid the drawer models as they're overpriced and will still cook and heat as the other models do. In fact, there are countertop and over-the-range/over-the-counter models that are very powerful and offer a large capacity but at an affordable price.
You can also consider Whirlpool's microwaves if you're still on the fence about getting a Sharp model. Check out our Whirlpool microwave model guide.