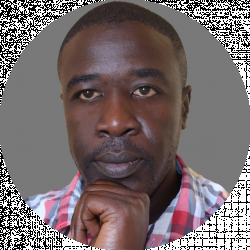 Latest posts by Barry Juma
(see all)
Frigidaire, as a brand, has been in the market since 1916, but their washers came much later. Today, this is a well-known maker of washers, with their laundry center models as some of the most popular in the market. 
Frigidaire's popularity stems from its affordable price tag. Indeed, even their most expensive washers are still more affordable than those offered by other companies. In this Frigidaire washer model guide, we'll take a look at some of the main features of the company's washers and help you decide on which one to buy. 
Main Features of Frigidaire Washers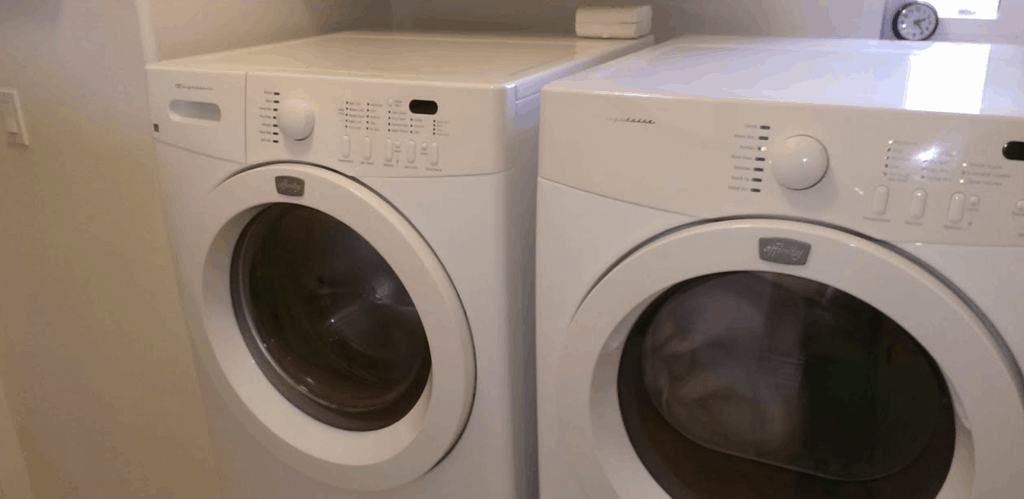 Gentlest Wash
Frigidaire's Gentlest Wash feature is designed to treat delicates with care. This wash cycle activates a gentle spin that reduces the friction of clothes when they rub against each other. This feature is found in some of Frigidaire's laundry center models. In other models, this is simply the 'delicates' cycle.
Max Fill
This feature is meant for loads that are heavily soiled and need more water than usual. When you choose this option, the washer will increase the amount of water for the wash and extend the cycle time. MaxFill isn't a dedicated cycle, rather, it's selected alongside a specific wash cycle. Models like this top-load washer come with the feature. 
Wash Cycles
Frigidaire's washer models have from 10 to 12 wash cycles. They are; Normal, Delicates, Handwash, Active Wear, Colors, Whites, Heavy Duty, Bulky, Quick Wash, Rinse & Spin, Drain & Spin, and Tub Clean.
You can set the soil level and water temperature for each cycle or use the cycle's preset configuration. For instance, the 'Normal' cycle is preset to warm water temperature and medium soil setting. 'Heavy Duty', on the other hand, is preset to use hot water and an extra-heavy soil level. 
Drum Material
Frigidaire uses stainless steel drums in all models. Stainless steel is considered the best material for washer drums as it's durable and so will weather the rigors of frequent use. It also resists stains, meaning the washer's tub is less likely to accumulate odors. Here's a breakdown of the advantages of stainless steel drums.
Pros of stainless steel drums
Stainless steel drums are durable and will handle heavy use.

This material isn't as porous as plastic and so will accumulate little to no stains.

Stainless steel drums are gentle on clothes as the surface remains smooth even after years of use.
Things to Consider Before Buying a Frigidaire Washer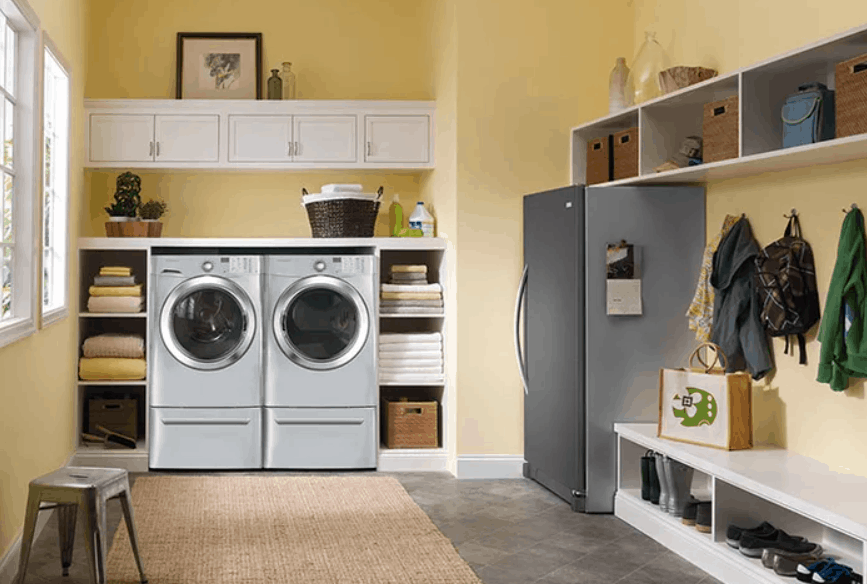 Your Budget
Frigidaire's present washer lineup ranges from $700 to about $1400. Sadly, most of the company's washer models are no longer on sale brand new, so your options are limited. However, you can still get some of Frigidaire's older models in some local outlets as used. 
For $700, you'll get yourself a top-load washer with 12 wash cycles and a couple of Frigidaire's stand-out features. If you are able to spend more, Frigidaire's laundry center models are what you'll get. These are a washer and dryer combo and are quite affordable. More on these models later in the article.
Noise Level
Think about the noise level of the washer, especially if you'll install it near your living space or bedrooms. Ideally, a washer should have a noise level of no more than 70dB. One with 77 dB is loud and so you should avoid these models if you don't have a dedicated laundry space. 
Frigidaire's models such as this one have the company's sound-dampening tech that lowers the noise level. 
Capacity
Consider the maximum load sizes you often wash and this should dictate the washer capacity you need. Compact washers have about 2.5 cubic feet to 3.1 cubic feet while standard-sized ones have a capacity of about 4.25 cubic feet. Larger washers will have over 4.5 cubic feet. 
Generally, a standard-sized top-loader can wash a load size of about 12 pounds (5 kgs) while a front-loader can wash about 15 pounds (7 kgs). Check out this article we wrote on finding the best washer to find out what load sizes can fit in different washer capacities. 
Frigidaire's washers start from a capacity of 3.9 cubic feet, such as this laundry center model, to 4.1 cubic feet in this top-loader.  
Size
The washer size is determined not just by your washing needs but also by the installation space in your home. The washer you choose should fit its intended space, leaving a space of about 6 inches at the back for hose connections.  
Also, make sure there's enough space for opening the washer's door – if it's a top-loader like this Frigidaire model, ensure that there's extra space at the top, at least 24 inches. Avoid a tight fit as this increases vibrations.
Frigidaire's current models all have a width of 27 inches. The laundry center models have a height of 76 inches while their front-load washer model has a height of about 43 inches. 
Laundry Center or Dedicated Washer
Frigidaire's current lineup is made up of a top-load washer and two laundry center models, which are a washer and dryer combo. So, consider whether you want to get just a washer or the combo. This is determined by your needs and, of course, the space you have in your home. 
Advantages of a laundry center model
You'll save on space as you don't need to find room for a separate washer and dryer.

It's cheaper to buy a combo rather than the separate washer and dryer units.

You get the option of either gas or electric models.
Advantages of a dedicated washer
It's ideal for a space with a limited height, like a low-ceiling basement.

These washers have more features.

You don't need a vent as you would with the laundry center models.
Energy Efficiency
Consider the energy efficiency rating of the washer model you intend to buy. It's best if the appliance is Energy Star certified to assure you of low power consumption. However, in the absence of this certification, check the model's kWh consumption per year. This should be mentioned in the user guide. 
The most energy-efficient washers listed on energystar.gov use from 60 kWh/yr to 120 kWh/yr. This Frigidaire model has a high-efficiency rating as it uses 110 kWh/yr, right within the desired range. 
New or Used
Since most of Frigidaire's older models have been discontinued, your options for brand new ones are limited to just three. However, you can consider buying used models from online or local stores. 
If you choose a used model, you won't enjoy the manufacturer's warranty in case it breaks.
Here are some tips for buying a used Frigidaire washer.
Avoid washers that are more than five years old as these are more likely to have issues.

Shop in used-appliance stores – rather than from Craigslist or Facebook Marketplace – to get a store warranty and better deals.

Buy from recognized stores with mainly positive reviews.

Test the washer before buying. Make sure you inspect it for any rust, mold, and odors in the tub. 

Try and negotiate for a lower price.
Frigidaire Washer Models
Sadly, Frigidaire discontinued most of its washers so your options are quite limited. In fact, if you prefer a front loader, then you might want to choose a different brand as there are none currently sold by Frigidaire. 
We did a search in the most popular online retailers (Best Buy, Amazon, Lowe's, Home Depot) and the result we got was a 'sold out' label in all older models.
Presently, the company only has three models: a top-load washer and two laundry center models. You can buy these in online stores like Home Depot, Aj Madison, and Lowe's, as well as local appliance stores. 
Let's take a deeper look at Frigidaire's washer models. 
1. FFTW4120SW Frigidaire 4.1 Cu. Ft. High-Efficiency Top Load Washer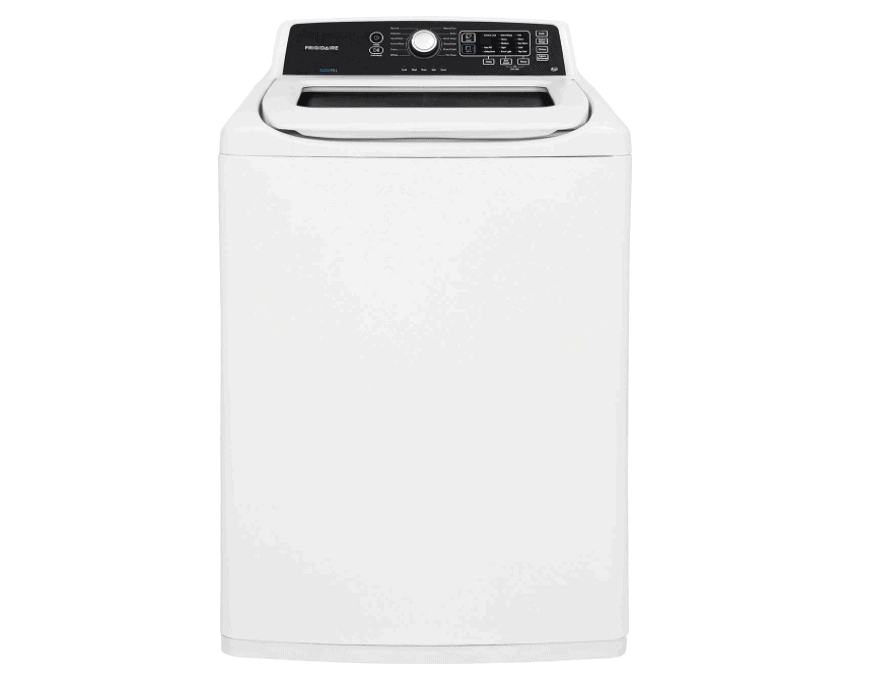 This washer's design is simple, with nothing to draw your attention to it, except, of course, the clear-top door. Good thinking, Frigidaire! You can easily peer into the tub to monitor the progress of your wash, or just stare at the rotating laundry if that's your speed. Speaking of the washer's top, this model has a soft-close lid. If you're wondering why this gets us excited then a closing lid has never slammed on your fingers. 
Its 4.1-cubic-foot capacity is nothing to sniff at, just the right size for a mid-sized household. But does it do its job well? There are 12 wash cycles to accommodate every possible laundry scenario. These are complemented by five soil levels ranging from Extra Heavy to Extra Light modes. My favorite wash cycle is Quick Wash, which completes its task within just 30 minutes. 
Another popular feature in this model is MaxFill. As we mentioned earlier in this article (check out the main features section), you can get the washer to use more water than usual when you have loads that are heavily stained. 
This Frigidaire washer's selling point, however, isn't the wash cycles or the soft-close door; it's the high efficiency. To put this in perspective, the most energy-efficient washers, according to Energy Star, should use about 120 kWh of energy per year. This washer uses 110 kWh/yr. However, it's important to note that it isn't Energy Star certified, at least not at the time of writing this piece.
Main Features
The washer has Firigdaire's MaxFill feature.

It has 12 wash cycles and 5 soil levels.

Its capacity is 4.1 cubic feet.

There's a soft-close lid.

The washer is energy efficient, using just 110 kWh/yr.

It has a stainless steel drum.
Dimensions
Width:

27 inches

Height:

43 inches

Depth:

28 inches 
Pros
The washer's soft-close lid helps to prevent banging.

It's highly energy efficient.

MaxFill works well with all wash cycles.
Cons
Although it's energy-efficient, this Frigidaire washer isn't Energy Star certified.

The washer's performance is less than average. 
2. Frigidaire Electric Washer/Dryer Laundry Center – FLCE7522AW Model and FLCG7522AW Model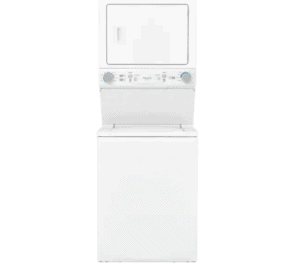 Frigidaire's next offerings are two laundry center units. These two are bundled in this section because they're essentially the same, with some minor but significant differences. We'll take a look at these a little later. But first, what's the same between the FLCE7522AW and FLCG7522AW models?  
First, they look the same: a modest white finish with a bare-bones design. So, instead of fancy touch-sensitive buttons or an LED display, you get two knobs, one for the washer and the other for the dryer. Speaking of which, the washer is at the bottom and the dryer is stacked at the top. And both models have a 3.9-cubic-foot washer.
It's probably a good time to mention what's different between the two: the FLCE7522AW model is powered entirely by electricity while the FLCG7522AW has a gas dryer. This explains the E and G in the model codes – FLCG7522AW for gas and FLCE7522AW for electricity. Get it? 
Also, the FLCG7522AW model has a slightly bigger dryer, with a capacity of 5.6 cubic feet as opposed to 5.5 cubic feet in the FLCE7522AW.
Despite their spartan looks, these laundry center units are known for their functionality. They're armed with Frigidaire's wash cycles, 10 to be precise, and 6 dry cycles. You'll also get their popular Max Fill feature for heavily soiled loads. 
Frigidaire also added their sound-dampening tech in these models. This means that their vibrations are reduced, thus limiting noise output. Plus, the design makes these laundry center appliances space savers, so you can tuck them in any space as long as you have the appropriate height as well as venting. 
Another handy feature to have is the quick wash and dry cycles. According to Frigidaire, you can complete washing and drying a load within just an hour. 
In terms of cost, the electric model is slightly cheaper than its gas alternative, with the former costing about $1350 and the latter costing about $1450. 
Main Features
Both washer models have 10 wash cycles and 6 dry cycles.

These models have the MaxFill feature.

They have a washer at the bottom and a dryer at the top.

They're fitted with sound-dampening tech to reduce noise levels.
Dimensions
Width

: 27 inches

Height:

76 inches

Depth:

32 inches
Pros
These laundry center models save on space.

They can wash and dry within just an hour.

The sound-dampening tech effectively lowers noise.

They're affordable.
Cons
These washers aren't Energy Star certified.
FAQs
Question: Is Frigidaire made in the US?
Answer: Yes, Frigidaire's products are made in the USA by Electrolux, which is its parent company.
Question: How much is a new Frigidaire washing machine?
Answer: Frigidaire's current washing machine lineup starts from about $700 for their top-load washer to about $1400 for their laundry center models.
Question: What brand of the washing machine is the most reliable?
Answer: Samsung, LG, GE, Maytag, and Whirlpool are rated as the most reliable washing machine brands according to Yale Appliances.
Finally
Frigidaire's lineup is limited to a top-loader or laundry center model. All their older front-loaders and a number of their top-loaders are presently discontinued. So, if you're looking for a front-loader, consider a brand like Samsung, which is known for its reliability. We actually have a Samsung washer model guide that you can check out.