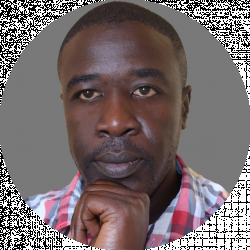 Latest posts by Barry Juma
(see all)
You're here because you're thinking about getting a new oven, and Frigidaire has entered your radar. This is one of the best brands in the market, known for both its style and reliability. In fact, in JD Power's 2021 appliance satisfaction study, Frigidaire's wall ovens were ranked as the fifth most reliable in a list that has heavyweights like Samsung, LG, and Whirlpool, among others.
There are, however, a lot of things to consider when choosing an oven. It also doesn't help that Frigidaire has different types of ovens with various features to choose from. In this Frigidaire oven model guide, we'll help you narrow down your options by sharing information on the main features to consider. We'll also share our five favorite Frigidaire ovens, so read to the end to find out. 
Types of Frigidaire Ovens
Frigidaire sells three types of ovens: single, double, and combination ovens.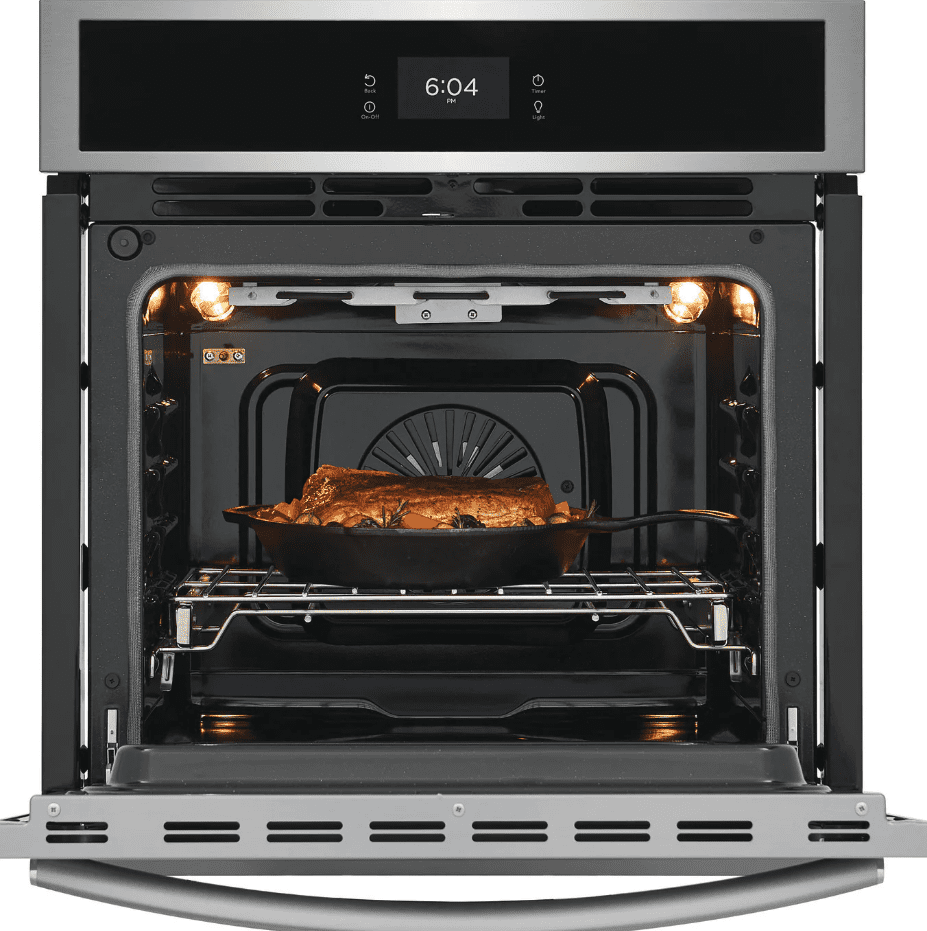 This is, as the name implies, a single oven. Most people find these models adequate for their needs as they're equipped with everything you'll need to prepare all meals. Frigidaire has about a dozen single oven models of various sizes and at different price points. Check out their lineup here. Here's a look at some of the advantages and disadvantages of single ovens.
Advantages
Single ovens are widely available in most online and physical stores.

They don't take up much space and can be installed either in the wall or under countertops.

They're cheaper than double ovens.
Disadvantages
You can't cook multiple dishes at the same time.
Who Should Buy This Type of Oven?
If you live alone, have a small household, and don't often entertain guests, then this type of oven would be a good choice.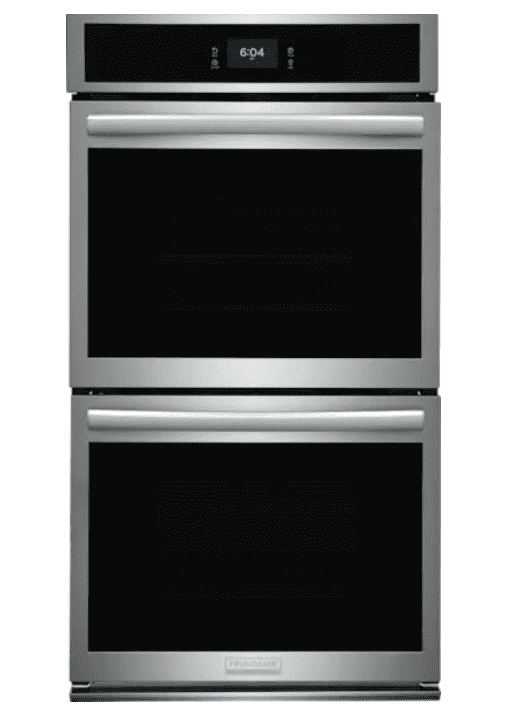 A double oven is two independent ovens with one stacked on top of the other. These are sold as a single appliance, but the two ovens function as two separate ones. This means that you can select different cooking settings in each and cook different meals at the same time. Frigidaire's double wall ovens have units with the same capacity, offering twice the space for preparing your meals. Therefore, if you often entertain guests, then a double oven will come in handy. 
But why buy a double oven instead of two single ovens? Double ovens are significantly cheaper than two single ones. For instance, this 27″ Frigidaire Gallery single wall oven costs about $2300. Two of them would set you back $4600. However, if you choose to buy this Frigidaire Gallery 27″ double wall oven with similar tech as the single oven, you'll spend about $3100. 
Advantages
You can cook two meals with different temperature requirements at the same time.

Double ovens enable you to cook large meals faster.

They're cheaper than buying two single ovens. 
Disadvantages
They take up a lot of space.

You may have to alter your kitchen layout if you're upgrading to a double oven.
Who Should Buy This Type of Oven?
This type of oven is for those who do a lot of cooking and need the extra oven capacity.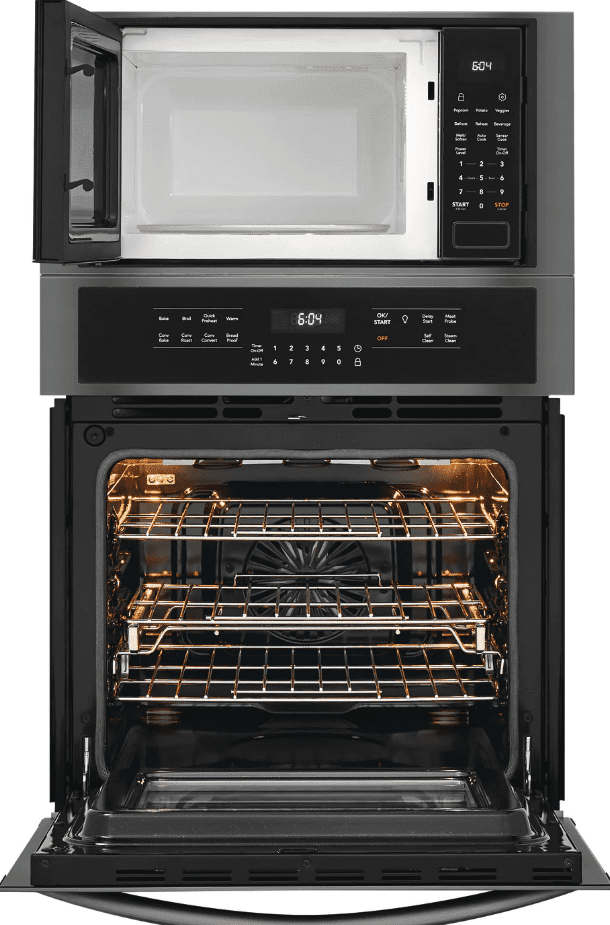 These are a combination of an oven and a microwave, with the microwave stacked at the top. If you're looking for a new microwave as well as an oven, you should consider these models. However, you'll have to make sure the features in the microwave are what you need. Otherwise, it would be better to buy a single oven and a separate microwave. Frigidaire has just two combination models in their lineup that you can check out here.
Advantages
Combination ovens come as two different appliances in one.

You save more space than when you buy a separate oven and microwave.

You can use the microwave to prepare smaller dishes quickly.
Disadvantages
They cost more than the other oven types.
Who Should Buy a Combination Oven?
If you're looking for a microwave as well as an oven, then consider one of Frigidaire's combination ovens.
What to Consider When Buying a Frigidaire Oven
Sizes and Capacities
Oven sizes are categorized according to their widths. Frigidaire's smallest single ovens have widths of 24 inches. The company also has 27-inch and 30-inch single ovens in its lineup. For double wall ovens and the combination models, their widths range from 27 inches to 30 inches. 
Frigidaire has a Fit Promise policy, assuring you that your new Frigidaire oven will fit in the space for your old oven as long as they have the same width. This saves you the trouble of altering the available space. 
You should also consider the oven's capacity. Frigidaire's single ovens have the following capacities; 3.3, 3.8, 4.6, 5.1, and 5.3 Cu. Ft. 
The capacities of double ovens are measured by adding up the cubic footage of both ovens. So, the smallest model has a total capacity of 7.6 cubic feet, meaning that each oven has 3.8 cubic feet. The largest one has 10.6 cubic feet; that is 5.3 cubic feet for each oven.
For the combination ovens, the oven and microwave sizes are shown separately. Both models in Frigidaire's lineup have 1.6-cubic-foot microwaves, but you can choose between a 5.1-cubic-foot oven or a 3.8-cubic-foot oven.
How Do I Know What Size Oven to Buy?
Singles or a household of two will find a 3.3-cubic-foot oven to be an appropriate size for them. However, a small family of three to five people should consider an oven of 3.8 cubic feet or 4.6 cubic feet. If you have a large household or you love to entertain guests, then consider an oven of 5.1 or 5.3 cubic feet. 
Prices (And Your Budget)
Frigidaire's lowest-priced single oven units cost from $1600 to 1800. At this budget, you can get a 27-inch or a 30-inch model. The company's mid-range models cost from $2000 to about $2300, and the high-end models start at $2500 and can cost as much as $2700.
If you're looking for a double oven, you'll spend at least $2300 on a 30-inch model. The most expensive one in this category costs about $3600. Frigidaire's combination ovens cost from $3100, with their most expensive one costing $3,300.
Frigidaire's ovens cost less than its competitors like GE or Electrolux, so if you don't have more than $3000 to spend, Frigidaire is a good brand to consider. 
Fuel Types
You can either get an electric or a gas Frigidaire single wall oven. Actually, there's currently only one gas model for sale. However, the company's double and combination models only have electric versions.
Which Fuel Type Is Right For Me?
Here are the pros and cons of each to help you decide.
Advantages of Gas Ovens
Gas ovens are cheaper to run since gas prices are lower than electric prices.

The heat in gas ovens is humid, resulting in moist food. This is perfect for meat and vegetable dishes.

Gas ovens heat up quickly, and the temperature changes are more instant than in electric ovens.
Disadvantages
The moist heat isn't good for foods that need to be crispy.

Gas ovens are more complicated to install.

The oven cavity isn't uniformly heated.
Advantages of Electric Ovens
They produce a dry heat that's ideal for crisping food as well as for dishes like pizzas.

Electric ovens are more uniformly heated, and so food is evenly browned.

The temperature in electric ovens is more precise than in gas ovens.

Electric ovens are cheaper than gas ovens.
Disadvantages
Electric ovens take longer to preheat.

You'll spend more to operate an electric oven since the cost of electricity is higher than that of gas.
From the pros and cons above, I would recommend buying an electric oven, especially if you're planning to use it often. 
Quick tip: If you need moist heat in your electric oven, you can place a dish with a tiny bit of water in the oven as you bake. 
Main Features of Frigidaire Ovens
Cooking Technology
There are several features across Frigidaire's oven line that are meant to improve cooking performance. Here are the main ones to look out for;
Convection
All Frigidaire oven models have convection mode. If you're wondering what this is, here's a quick explanation. Convection ovens have a fan at the back of the cavity, which circulates the hot air within the oven for even heating.
Therefore, convection ovens produce evenly browned or crisped food, no matter on which rack the food is placed. Also, convection ovens are faster than standard ovens. Frigidaire's models have 'true convection' that adds a third heating element at the back.
The more expensive oven models have what Frigidaire calls Total Convection, which is an advanced convection mode. These models are able to perform extra functions with the convection feature, like air frying, slow cooking, steam bake, and roast, as well as steam baking, among others. 
Temperature Probe
If you love to prepare meat dishes in the oven, then a temperature probe would come in handy. Some Frigidaire oven models come with this, and it's used by inserting the probe in the deepest part of the meat dish. The probe will then relay the internal temperature of your food so that you know when it's perfectly cooked through.
Sensor Cooking
This feature is found in Frigidaire's combination models. The sensor detects how much moisture the food produces throughout the cooking process and alters the temperature and cooking time depending on the dish. You can select sensor cook if you want to prepare a quick meal without having to set the temperature and cooking time yourself.
Color and Finish
There are several colors to choose from for your next oven. Frigidaire has white, black, stainless steel, and black stainless steel. However, the stainless steel models cost about $150 more than the regular black and white models.
And if you want a black stainless steel model, you'll have to pay about $100 more than the stainless steel option. Granted, stainless steel and black stainless steel have a premium look that will make your kitchen fancier. However, if you're trying to save money, just opt for black or white as the color doesn't affect the functionality.
Some Frigidaire oven models also have a Smudge-Proof Stainless Steel finish. These are resistant to fingerprints, and they're easy to keep clean.  
Other Features
Control Types
Frigidaire's ovens can either have touch controls or knobs. Touch controls are modern and easy to use, but they're also prone to damage when used with wet hands. Knobs, however, are old-school, but they are simple and easy to use.
Self-Cleaning Features
Some ovens in Frigidaire's lineup have self-cleaning features that make it easy to maintain your oven. This cycle lasts from about 2 to 4 hours, but some models have a steam-clean option that cleans the oven in just 30 minutes. 
Recommended Frigidaire Oven Models
Selection Criteria
User reviews:

The ovens on our list have at list a rating of 4.0 stars out of 5 on the Frigidaire website. They also have at least 100 reviews, with 70% of them or more being five-star ratings.

Cost to value ratio:

I considered the value the Frigidaire oven offers for the price you pay for it. The models on the list below offer advanced features that justify their price.

Reliability:

The recommended ovens below stood out as some of the most reliable in Frigidaire's lineup, according to feedback from past customers.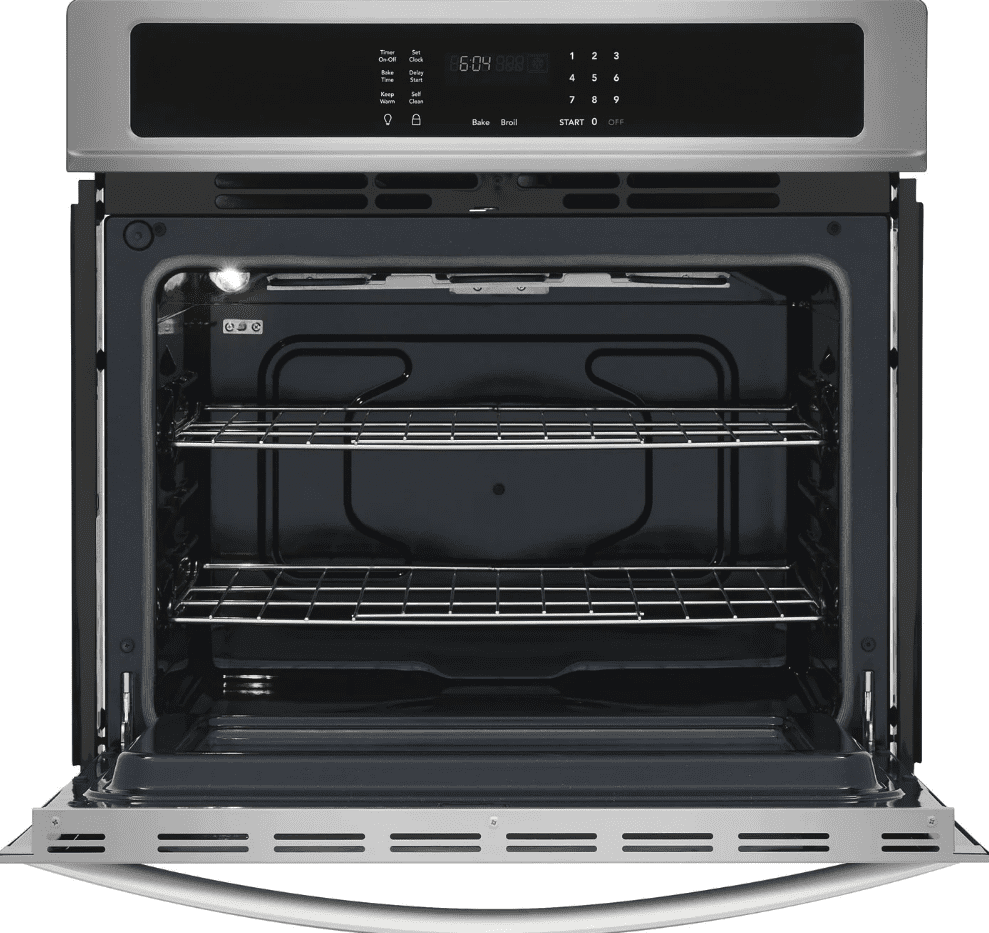 First on our list is the Frigidaire FFEW3026TS model, a 30-inch single electric oven. It's one of Frigidaire's most popular wall ovens with a price tag that isn't too offputting. In fact, this is the company's lowest-priced oven. Its design is typical Frigidaire, with a touch control panel above the oven's door. This model boasts a capacity of 4.6 cubic feet, with two racks that allow you to take full advantage of the oven's real estate. 
As is the case in all Frigidaire ovens, this model has convection cooking with Even Baking Technology that results in perfectly baked food. There's also a Delay Start that allows you to set the oven to start baking at a time of your choosing. 
Main Features
This is a 30-inch electric wall oven.

It has a capacity of 4.6 cubic feet.

The oven has self-cleaning with cycles that last from 2 to 4 hours.

There's a delay-clean option that allows you to schedule an appropriate time to start the self-clean cycle.

It also has a delay-start baking option.

It has a touch control panel.

This oven model is ADA compliant.
Pros
The self-clean feature makes it easy to maintain the oven.

It bakes perfectly, thanks to Even Baking Technology.

You can schedule the oven to automatically start baking or self-cleaning at the desired time.

It looks sleek.

The oven preheats quickly.

It has a large capacity.
Cons
The convection fan is a bit noisy.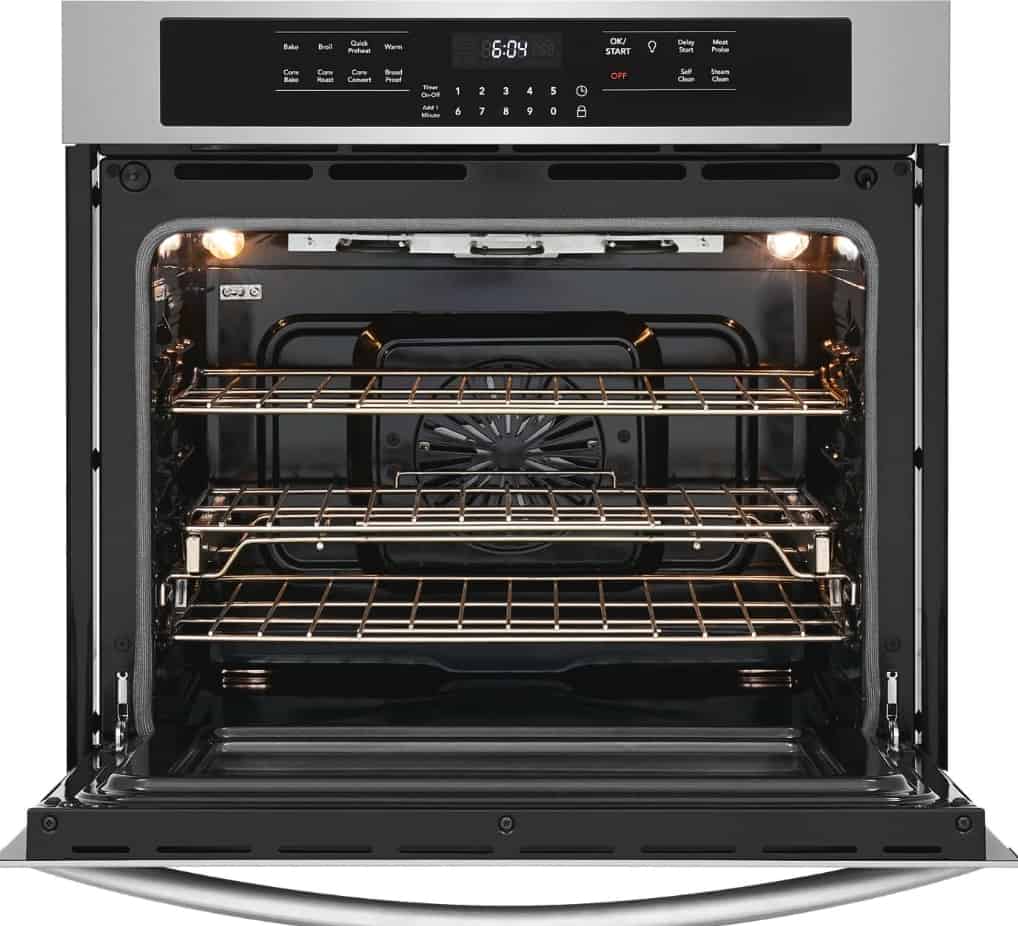 If you're looking for a Frigidaire oven with nifty features, then this is a good choice. It is a 30-inch model with a capacity of 5.1 cubic feet. Its size complements its advanced features that improve cooking performance. For starters, it has Frigidaire's True Convection with a third heating element at the back of the oven cavity. Because of this, you can place your food on any rack, and it'll come out evenly cooked. Speaking of racks, this Frigidaire Gallery model has three glide racks that smoothly slide in and out, even with heavy dishes on them. 
The FGEW3066UF model has a sleek body with a Smudge-Proof stainless steel finish that's easy to clean. Incidentally, the interior is quite easy to clean as well, thanks to the hidden lower element that leaves a smooth oven floor. But you don't have to manually clean this oven as it has a self-cleaning cycle.
Main Features
This is a large-capacity oven with 5.1 cubic feet.

It has a Smudge-Proof stainless steel exterior.

The oven has True Convection with a third heating element.

There's the Quick Preheat feature.

This model also has a temperature probe.

There's a self-cleaning feature that takes from 2 to 4 hours.

It also has a delay-clean option.
Pros
The convection oven evenly browns food.

Its temperature probe allows you to perfectly cook meat dishes.

It has a large capacity.

The racks are easy to pull out.
Cons
Its convection fan is noisy.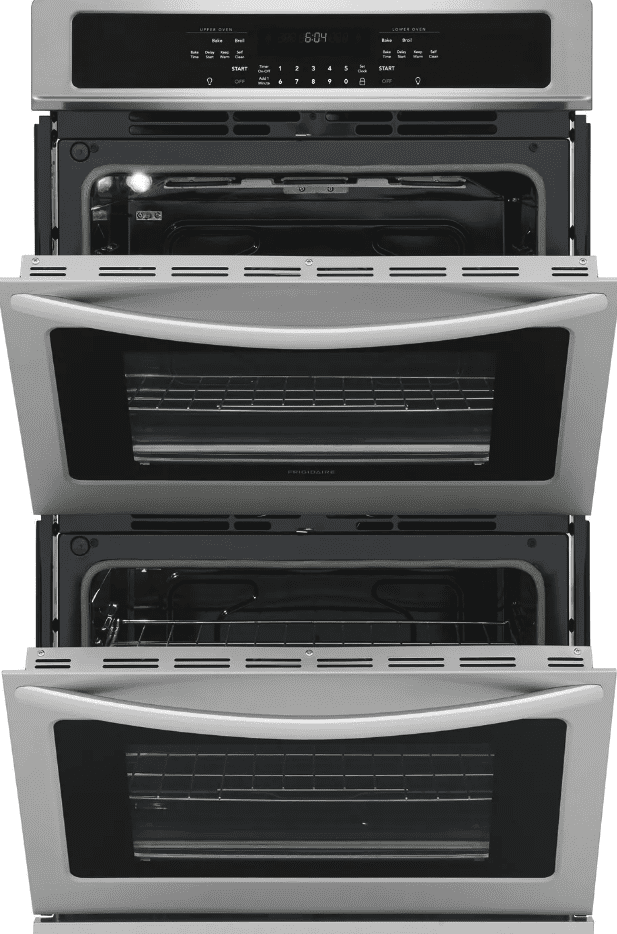 This Frigidaire double oven is actually similar in features to the first model on this list. Just like its single-oven counterpart, this one also offers value for money; it has features that make it a great oven but leaves out the frills you may not need. So, you don't get a temperature probe or quick preheat as you would in more advanced models, but you don't really need these if you want to save some cash.
This model has two 4.6-cubic-foot ovens, a total oven real estate of 9.2 cubic feet. Each one has two racks that complement the roomy interior. And you also get convection cooking plus Even Baking Technology. 
Main Features
This model has two 4.6-cubic-foot ovens.

There's the Even Baking Technology for perfect baking results.

It also has self-cleaning that lasts from 2 to 4 hours.

Its clean delay option allows you to schedule the appropriate cleaning time.

It has touch control panels.

This oven comes in a stainless steel finish.
Pros
Both ovens have convection cooking and Even Baking Technology.

You don't have to manually clean the oven, thanks to the self-cleaning function.

You can schedule the self-cleaning to start at an appropriate time.

It has a stylish look.
Cons
The buttons require a bit of pressure to register input.

The convection fans are loud.
I love this double oven because it looks a bit rugged – it's meant for heavy use. Frigidaire decided to go with knobs in this one to underscore its professional grade. However, if you also love touch controls then you'll be glad to know that the timer is a touch panel. 
This model is a top performer, with features like Frigidaire's PowerPlus Convection, which allows it to perfectly bake and roast. Thankfully, Frigidaire didn't skimp on this and equipped both the upper and lower ovens with it. Each of the ovens has a capacity of 5.1 cubic feet as well as three racks apiece. These racks are of high quality, boasting the PowerGlide feature that allows them to easily slide in and out.
This Frigidaire oven model boasts a smudge-proof stainless steel finish. Although this finish does catch some fingerprints if your hands are greasy, it's still quite easy to clean. 
Main Features
This is a professional double oven.

It has a smudge-proof stainless steel finish.

Each of the two ovens has a capacity of 5.1 cubic feet.

The oven has Frigidaire's PowerPlus Convection.

There's a temperature probe.

It has a no-preheat setting.

There are two timers for the two ovens.

This model has a two-hour self-clean feature.
Pros
The oven cooks food perfectly thanks to the convection feature and the temperature probe.

Its racks are easy to slide in and out of the oven.

You don't need to preheat the oven.
Cons
The timer controls are a bit buggy.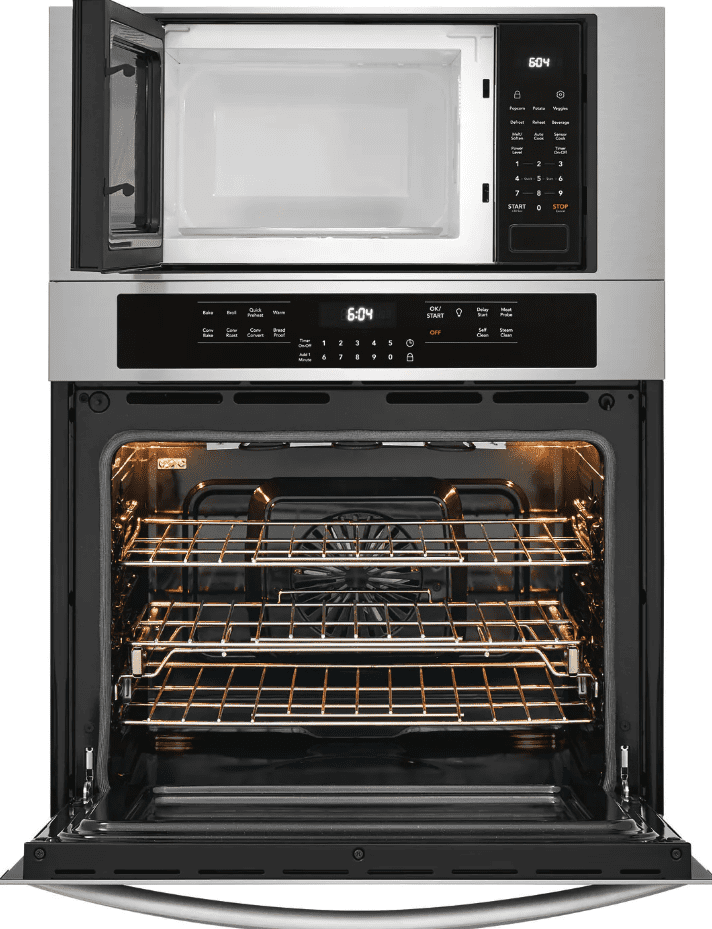 If you're looking for a microwave and an oven, this is a good option. This Frigidaire Gallery combination unit has a 1.6-cubic-foot microwave at the top and a 5.1-cubic-foot oven below it. You might expect this jack of all to be a master of neither oven nor microwave functions – you'd be wrong.
Both units are at the top of their game with features like true convection stacking the oven up there with the best. The microwave, on the other hand, is equipped with, among others, a sensor cooking option to quickly prepare certain dishes.  
This is certainly a premium appliance, marked by a sleek stainless steel exterior with a smudge-proof finish. 
Main Features
This unit has a 1.6-cubic-foot microwave and a 5.1-cubic-foot oven.

The microwave has a sensor cooking option.

It has a quick reheating function called Effortless Reheat.

The microwave also has a Keep Warm setting.

The oven section has true convection.

There's a temperature probe.

There's a self-clean function in the oven section.

It also has a 30-minute steam clean function.
Pros
This Frigidaire Gallery unit is easy to use.

The microwave reheats food quickly.

You can keep food warm in the microwave.

The appliance looks stylish.
Cons
The fan is loud.

Spills in the microwave can leak into the oven.
FAQs
Question: How long do Frigidaire ovens last?
Answer: Frigidaire ovens are expected to last between 13 and 15 years if well taken care of.
Question: Is it better to have a double oven or two single ovens?
Answer: If you need the extra oven real estate, it's better to get a double oven as it'll cost less than two single ovens with similar features. Also, a double oven requires just one outlet, and it'll take up less space as opposed to two single ovens.
Question: Is a wall oven better than a range?
Answer: A wall oven is better than a range if you have limited kitchen space. They're also good options for those who want a large oven or two ovens.
Bottom Line
Frigidaire's ovens are reliable, and they cost significantly less than competing brands. So, if you're looking for an oven that performs well and is expected to last you over a decade, Frigidaire is a good choice. To narrow down your options, be clear about the features that are most important to you, directed by your cooking needs. With this in mind, you should be able to choose an appropriate oven model. 
If you're still on the fence, you can also consider Whirlpool ovens. Here's our Whirlpool oven model guide.