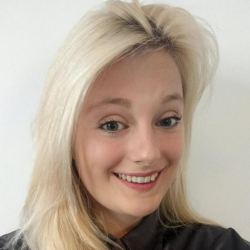 Latest posts by Rosie Greaves
(see all)
I don't know about you, but I think the oven is the hub of the kitchen – baking, roasting, warming things through – you name it, a first-rate oven is a key to culinary success! Although I don't currently have a Whirlpool self-cleaning oven, I'm saving up for a deposit on a house.
My and my fiance's dream is to get a doer-upper and flip the property for profit, and, of course, with my passion for cooking, I'm keen to do my research to ensure we fit the best possible kitchen…and the right oven is a massive part of this mammoth task!
With all that said, I wanted to dig into what makes these Whirlpool ovens so popular and get a feel for how you're able to pick the best oven for your needs. So join me as I aim to answer those exact questions…
Bottom Line Upfront
While Whirlpool ovens offer a fantastic range of features, my favorite is the Whirlpool WEG515S0FB. With its comprehensive list of features and a range of cooking modes, it's one of the most holistic choices on my list. 
This is followed closely by the Whirlpool WGE745C0FS model. This packs the largest oven capacity on my list, equipt with top-of-the-range cooking and cleaning features. 
Read on to discover why I'm so excited about these two models.
What You Need to Know About Whirlpool Self-Cleaning Ovens: My Selection Criteria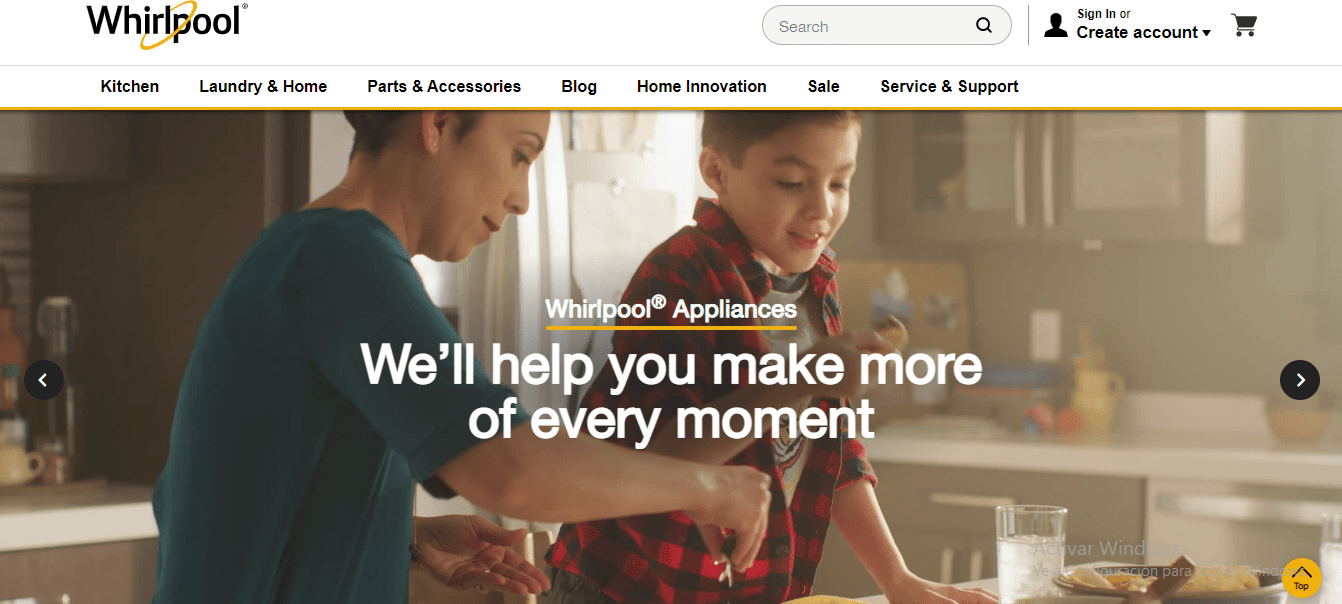 As you've probably already guessed, Whirlpool's self-cleaning technology is the primary selection criteria for these top picks. However, different Whirlpool's self-cleaning ovens boast different cleaning styles:
Pyrolytic: 

This technology uses high temperatures to burn away food residue. When the cleaning cycle ends, you simply wipe away the residue with a cloth.

Catalytic: 

These self-cleaning ovens are lined with a special catalytic substance that absorbs grease and eliminates food residue. Catalytic cleaning cycles heat the oven at a much lower temperature than pyrolytic.

Hydrolytic: 

This cleaner uses a steam cycle to cut through grease and dirt.
On top of cleaning style, I'll also keep an eye out for the following selection criteria: 
Temperature and Baking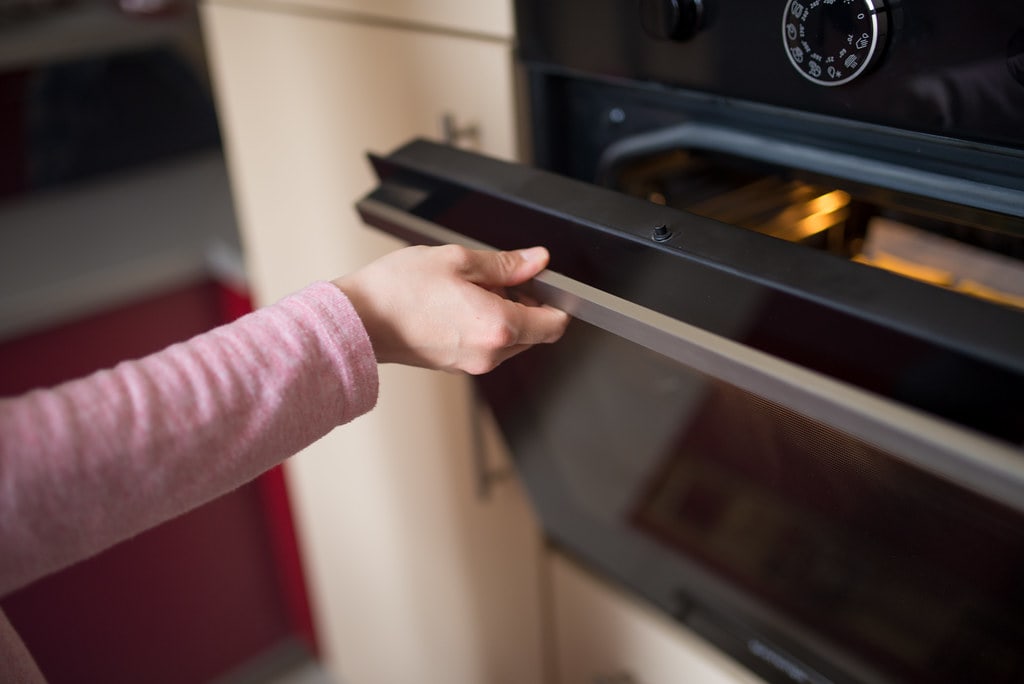 It doesn't matter if an oven is self-cleaning if its baking capabilities aren't top-notch. I'll be looking for consistent heat and how quickly ovens heat up. In addition, some products can adjust the heat at different levels to ensure all food is cooked evenly – I'll highlight such features when they crop up.
Price
If you're investing in a new oven, you've likely already set a budget. Affordable pricing is crucial and will determine which features you can expect. I tried to find models that offer good value for money that can enhance your cooking experience without breaking the bank.
Technology
Another element I'll examine is the oven's interface and technology. Modern ovens often come with intuitive touch screens where you can easily find all its fundamental settings.
Whereas more traditional models might come with manual dials. In any case, it should be easy to operate the oven and find the features you're looking for. Finally, I'll highlight when a model offers nifty and innovative tech features to make cooking easier or more efficient.
My Top Picks
With the basics covered, let's turn our attention to these top picks: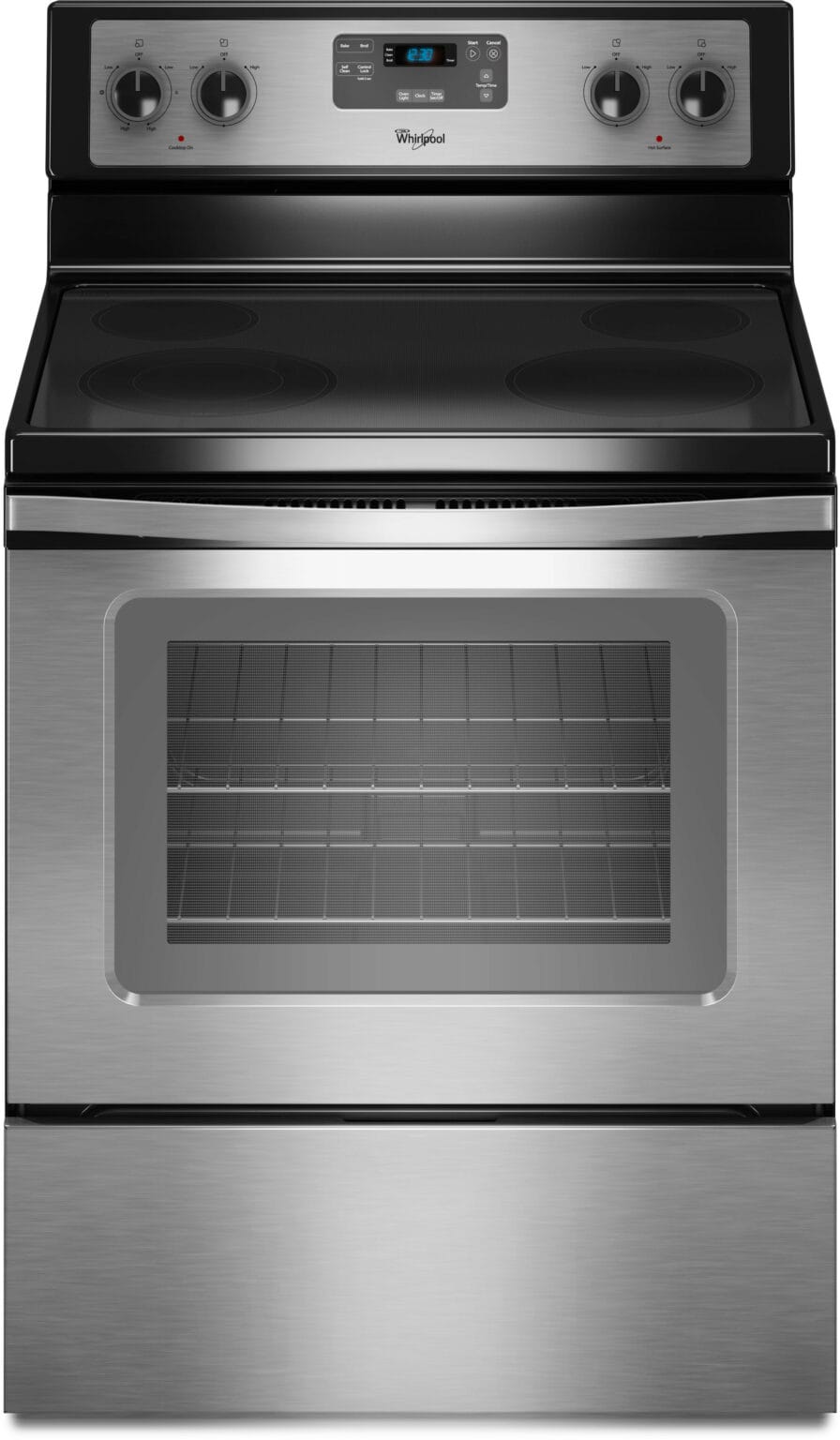 This freestanding electric model is one of the cheapest on my list. But don't let the price tag fool you. It boasts a great range of features and offers a good capacity (four cubic feet) designed for family mealtimes. There's space for five oven racks (two of which are included).
There's also a large oven window to enable you to keep an eye on your meal as it's cooking. On top of that, there are four smooth top burners with a clean easy-wipe glass finish.
I think its most notable features are as follows:
Accubake
This is a temperature management system (which I think is super handy). Here's how it works: it responds to a built-in sensor within the oven to monitor the temperature. It also picks up the heat spread of different cooking elements and automatically adjusts so that you can enjoy evenly cooked dishes every time.
9"/6" Dual Rapid Boil
This feature lets you boil water faster and comes with FlexHeat™ Dual Element. This means the radius of the burner automatically expands up to 9" for different pot sizes.
Technology
You can operate the oven's features using a touch screen. Here you'll be able to select your preferred temperature (these increase in 5-degree increments between 300°F and 525°F). You can switch on high heat for grilling meats, while low heat is ideal for delicate tasks such as melting cheese. On top of that, there's Star K Sabbath Mode, which enables you to run your oven for up to 12 hours without shutting it off.
Cleaning
This model uses the pyrolytic style. You can program it for automatic cleaning after each use. Or, you can set your own cleaning cycles (which I'm a huge fan of!) Cycles can last from 2 hours 30 minutes to 4 hours 30 minutes. However, one thing to remember is that the oven gets very hot during cleaning. So, it may be dangerous to have children in the kitchen during this time.
Price
Currently, the Whirlpool WFE510S0AS costs $749.00. You can pay this amount up front or opt for 0% APR financing; if you need the flexibility of buying now, pay later. You can also opt for Whirlpool's free in-home delivery service at this price.
Plus, you can add installation, uninstallation, and haul-away services for an extra fee at checkout if you upgrade your oven. Whirlpool also offers free returns within 15 days for products purchased through whirlpool.com that are in new condition.
Best for
I think this oven is a good choice for families who need to prepare quick meals. With self-cleaning and rapid boiling, cooking is much easier and more efficient. In addition, it has enough capacity to cook several meals at once – all with an affordable price tag. All in all, I'm a big fan!
Pros:
It's affordable

You benefit from free delivery.

This oven boasts a relatively large capacity.

It's easy to keep clean.
Cons:
Currently, this model only comes in silver.

Self-cleaning can take hours.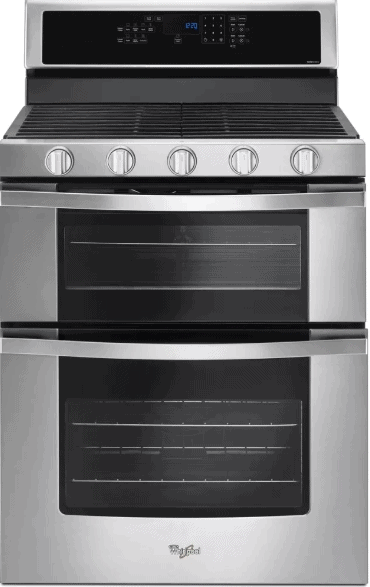 This freestanding gas oven comes with two separate ovens and is designed to handle meals for big families. It has a six cubic feet capacity and five burners. Adding the fifth middle burner and large griddles enables you to evenly cook longer cookware.
On top of the burners, there are safety EZ-2-Lift™ hinged cast-iron grates which you can lift up after cooking to quickly wipe up spills. If you're anything like me and you're always spilling things, this will be music to your ears!
I think this model's key features are as follows:
Frozen Bake™ and Rapid preheat
I hate preheating ovens, it seems like such a waste of time! However, Rapid Preheat uses all the heating elements and a rear fan to heat the oven quickly. That way, your frozen pizzas, nuggets, and fries can go straight in the oven without preheating.
Plus, with Frozen Bake, your frozen favorites will cook faster – pretty neat, right? However, it's worth noting this feature is only available for the lower oven cavity.
SpeedHeat™ Burner
With the SpeedHeat™ burner, you can sear and boil quickly at high temperatures, achieving up to 16,000 BTU.
True Convection Cooking
Here the oven uses a third heating element behind the fan to distribute hot air more evenly over and under food, allowing food to cook faster.
Technology
With electronic touchpad technology, you can set automatic cook times and temperatures for different dishes
Cleaning
I love that this oven uses the hydrolytic cleaning style. The steam cleaner uses water and high heat to automatically expel baked-on messes and grime, so there's no need to painstakingly scrub out your oven!
Best for
I think this oven is a good choice for large families and cooking maestros alike. With rapid preheating and convection conversion, it's never been easier to breeze through mealtimes. Plus, the speedy steam hydrolytic clean makes it easy to keep your oven spotless (which is a huge bonus if you're a clean freak like me!)
Price
This model is currently priced at $1889. But I think it's also important to remember this price also includes free delivery and returns. Plus, you have the choice to spread out payments if needed. Please note that interest rates will vary depending on your credit rating.
Pros:
This oven's capacity is enormous.

This oven boasts a range of valuable features.

Free delivery is available.  

Faster cleaning than the pyrolytic style
Cons:
This price is on the steeper side

Although quicker, steam cleaning is less effective than pyrolytic cleaners

Gas cookers and griddles require more cleaning than their electric equivalents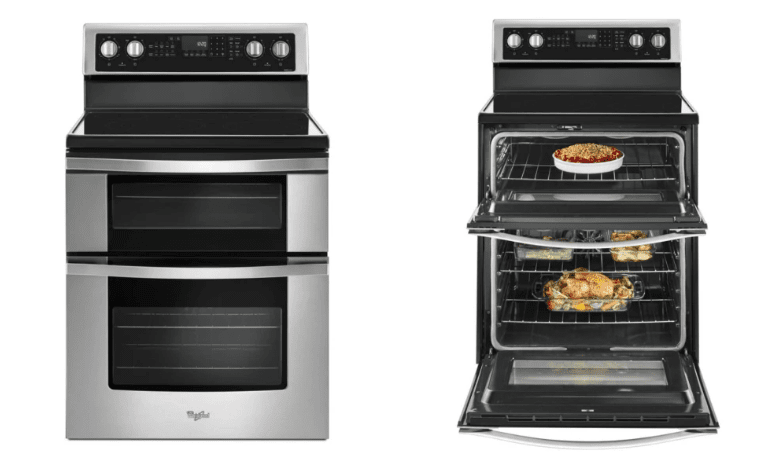 This electric double oven is the largest oven on my list. It offers a whopping 6.7 cubic feet in space. You get two separate oven cavities and a five-burner glass top. It also comes with many of the features we saw in the above model, but with a few added benefits:
FlexHeat™ triple radiant
 FlexHeat, as I've previously mentioned, means the radius of the oven top burner expands to the size of the pot you use for better heat distribution. It has three different settings.
Frozen Bake™ and Rapid preheat
Get your frozen goods in the oven immediately with the rapid preheat and frozen bake feature.
Convection Conversion and True Convection Cooking
I love that the convection conversion does the math for you. First, it calculates cook time and adjusts the heat accordingly. Then with the true convection cooking feature, you can evenly cook food using the third built-in oven fan.
Technology
This model has a built-in sensor that monitors the oven's temperature and automatically adjusts the cooking elements to help bake food evenly.
Steam clean and AquaLift® self-cleaning
Whirlpool's new Aqualift self-cleaning technology is a unique feature of this model. It's a version of steam cleaning, but the hydrolytic technology runs at a much lower temperature. I like that while it still uses water and heat, it operates at just 200॰. Moreover, it takes less than an hour to clean, doesn't use harsh chemicals, and is odor-free.
Best for
I think this model is best for large families and enthusiastic dinner hosts. With great cooking features, space, and multiple burners, I have no doubt that you'll be able to cook up a storm with this model.
Price
This model is priced at $1799 and offers free returns and delivery. In addition, it can be bought outright or paid over installations.
However, at this point, I think it's worth considering for a moment that this is the second-largest oven on my list, trumped only by the Whirlpool WGG745S0FS, which is a $100 more expensive and otherwise comes with all the same features. This makes the slightly smaller WGE745C0FS quite the bargain!
Pros:
Good value for money

Impressive capacity

This oven comes with Aqualift cleaning.

You benefit from a decent range of cooking features.
Cons:
No pyrolytic cleaning option

Only two burners out of five come with the triple FlexHeat.
This freestanding gas oven has a 5.8 cubic feet capacity and comes with five burners. The center burner has an elongated griddle for large cookware. I also love that it carries an additional compartment for extra storage space and has the EZ-2-Lift™ Hinged Cast-Iron Grates. It's easy to pop these grates off to make cleaning the top of the oven a breeze. 
This model also comes with some nifty cooking features:
Frozen Bake™ Technology
As I mentioned above, this feature lets you throw your frozen goods straight in the oven without preheating. As a result, the food cooks faster but retains the same quality.
True Convection Cooking
Forget about unevenly cooked food. With true convection cooking, hot air is distributed through the third fan system for optimum cook time.
SpeedHeat™ Burner
 This feature applies to the top burners. It lets you quickly sear and boil by rapidly reaching high temperatures.
Technology
I love that the built-in monitor keeps an eye on oven heat and adjusts cook time and temperature accordingly.
AquaLift® Self-Cleaning Technology
 As I mentioned above, Aqualift is a speedy steam clean setting. Your oven is cleaned in just 50 minutes. 
Fingerprint Resistance
This model comes with a fingerprint-resistant stainless steel finish.
Price
This oven has a middling price of $1319. However, given its size and features, I think it's a steal! Moreover, you still get free delivery, returns, and buy-now-pay-later financing options.
Best for
I think this model is a good option for couples, small families, and busy cooks. It's got most of the cooking features in other models and the Aqualift tech for easy cleaning. While it's smaller than some of the ovens on my list, it's still a decent size for busy families and individuals on the go.
Pros:
Good capacity

It's easy to keep clean.

Access to a decent range of cooking features
Cons:
You only get one single oven with just one cavity.

Currently, this model is only available at Lowe's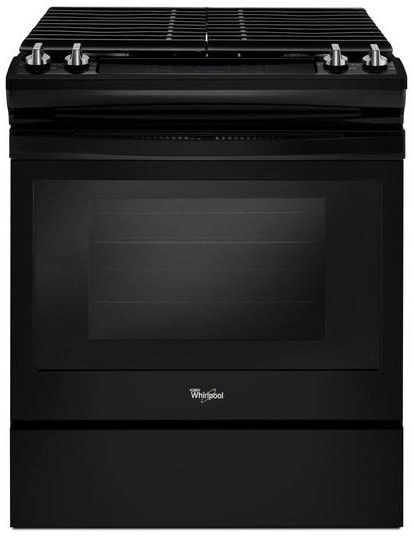 My last oven has a capacity of five cubic feet. Again, it's a single freestanding gas oven with four burners. Instead of the easy-lift grates, it has Edge-to-Edge Cast-Iron Grates. These, too, can be lifted off for easy cleaning access. With the edge-to-edge style, you can essentially place pots and pans anywhere. This model also uses traditional knob-style cooktop controls instead of the electronic touch seen above. 
But what I think really makes this oven special is its long list of features:
Cooking
It has the Frozen Bake™ Technology we've come to expect. As well as the SpeedHeat™ Burners for rapid boiling and searing. 
AccuSimmer® Burner
 With most burners, it's hard to get the temperature right for simmering. But with this feature, you simply switch on AccuSimmer, which provides the precise temperature for simmering.
Closed Door Broiling
I love that this oven has a broiling temperature management system that helps prevent overheating and maintain the optimal cooking temperature for broiling food.
Warm mode
Let's say you've cooked a great meal, but your guests haven't arrived yet. With the warming mode, you can keep your food warm without cooking.
Technology
You can expect the same built-in temperature sensor as the other ovens. But you also have the options for:
Delay cook
Simply put in the desired start time, temperature, and cook time, and then the oven automatically starts and stops cooking according to your specifications.
Star-K Certified Sabbath Mode
This model is specifically designed for people observing Sabbath or who need Kosher meals. During the Sabbath, religious laws may prevent you from turning on oven lights or using the control panels. With Sabbath mode, the oven remains on the "Bake" setting at a constant temperature until it's manually turned off.
In addition, displays, tones, and other cooking and cleaning cycles are disabled. The oven light will also not activate when the oven door is opened, and heating elements will not immediately turn on or off. This allows people to cook without breaking with tradition. The technology is Star-K Certified by the Orthodox Jewish Council of Baltimore, now known as Star-K.
Adjustable Self-Cleaning
This oven uses a pyrolytic cleaning style. You can adjust the temperature to accommodate light, moderate, or heavy-duty cleaning.
Fingerprint resistance
The stainless steel finish allows for fingerprint resistance.
Best for
I think this oven is best for cooking connoisseurs and Judaic observers. Both will get a lot from this model. It's built to adapt to various cooking needs, making it a great and flexible choice- from its cleaning features to quick-cooking abilities, this model offers a lot! I also like that it has a traditional style for those that prefer knob controls.
Price
You can get this oven for $1449. Again, free delivery and returns are included, and you can pay for this model in installments. 
Pros:
This oven comes with a diverse range of cooking options

Decent capacity

Reasonable pricing

Access to a unique sabbath mode
Cons:
No touch controls

Only one oven cavity

Only four burners
FAQs
Question: How do I use my self-cleaning oven?
Answer: How you start a clean cycle will vary depending on the self-cleaning style your oven uses. Here I'll look at pyrolytic and hydrolytic ovens:
Pyrolytic:
• First, remove all items from the interior, including racks, cookware, and pans. If you have any plastic or vulnerable items on the cooktop, remove those as well.
• With a dry cloth, remove any loose dirt. Do not add water, cleaners, or other chemical products.
• Close the oven door and select the desired clean setting. Remember, the tougher the stains, the longer the cycle should be.
• When the cycle is complete, open the door and remove any excess.
Hydrolytic:
• After cooking, wait until your oven has cooled.
• Remove all racks and accessories.
• Wipe away any loose dirt.
• Add 1 – 2 cups of distilled water to the bottom of the oven.
• Close the oven door and select the desired cleaning cycle.
• After the cycle is complete, wipe away excess moisture and stains.
Question: How long does self-cleaning take?
Answer: For a pyrolytic cleaning cycle:
• Light cleaning is 2 hours and 30 minutes of cooldown time.
• Moderate cleaning is 3 hours and 30 minutes of cooldown time.
• Heavy cleaning is 4 hours and 30 minutes of cooldown time.
• For hydrolytic cleaning cycles (Aqualift), all cleaning is 40 minutes and 10 minutes of cooldown time.
Question: Can my self-cleaning ovens catch on fire?
Answer: While some people have reported that pyrolytic ovens are a fire risk, with proper care, such instances should be rare. Just ensure you wipe down the interior before starting the cleaning cycle. 
Best Whirlpool Self Cleaning Ovens: My Final Verdict
All of these Whirlpool ovens provide a fantastic range of features. From cooking to cleaning, they're designed to speed up dinner times. But I think that the following models stand out among this range:
Best for Families
I think the winner has to go to the Whirlpool WGE745C0FS model. Here, you get the largest capacity and most comprehensive Whirlpool oven on the market. While the Whirlpool WGG745S0FS gas oven is similar, it's also more expensive and slightly smaller.
The WGE745C0FS model has more features, such as Aqualift cleaning and the FlexHeat triple burners. In short, I think this is what differentiates this oven from the others. I would also rate it as the most family-friendly buy on my list.
Best All-rounder
I declare the Whirlpool WEG515S0FB as the winner. Yes, it's smaller, but its features pack quite a punch. It's got all the cooking tools that higher-tier ovens boast. For instance, FrozenBake, Aqualift, and True Convection cooking.
However, in my opinion, where it stands out is the addition of boiling, simmering, and timed-cooking technology. For the price, it has more features than even the large capacity oven on this list!
Best Value for Money
If you want a decent oven at half the price of the others on this list, the Whirlpool WFE510S0AS model is my best choice. It has FlexHeat, Accubake, and Sabbath mode. Plus, you still get self-cleaning. What's not to like?
That's all, folks. I hope this guide has helped highlight the great features you can expect from these ovens. So, which do you think is the best Whirlpool self-cleaning oven? Tell us your thoughts in the comments box below. Speak soon!