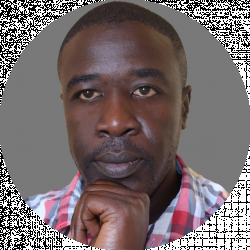 Latest posts by Barry Juma
(see all)
Amana has a limited number of chest freezer models at the time of writing, with just two currently available for sale. This means your options are limited, but that's okay if you don't want to be bogged down by dozens of choices.
However, the flip side is that you might not find exactly what you're looking for if you're clear about the features you want in your next chest freezer.
What? You're not sure what to consider? Well, don't worry because, in this Amana chest freezers guide, you'll find out about the main features to look out for in a chest freezer as well as the things to consider before making a purchase.
This should help you zero in on a chest freezer perfect for your needs. I've also put together a list of alternatives to Amana, just to give you a few more options.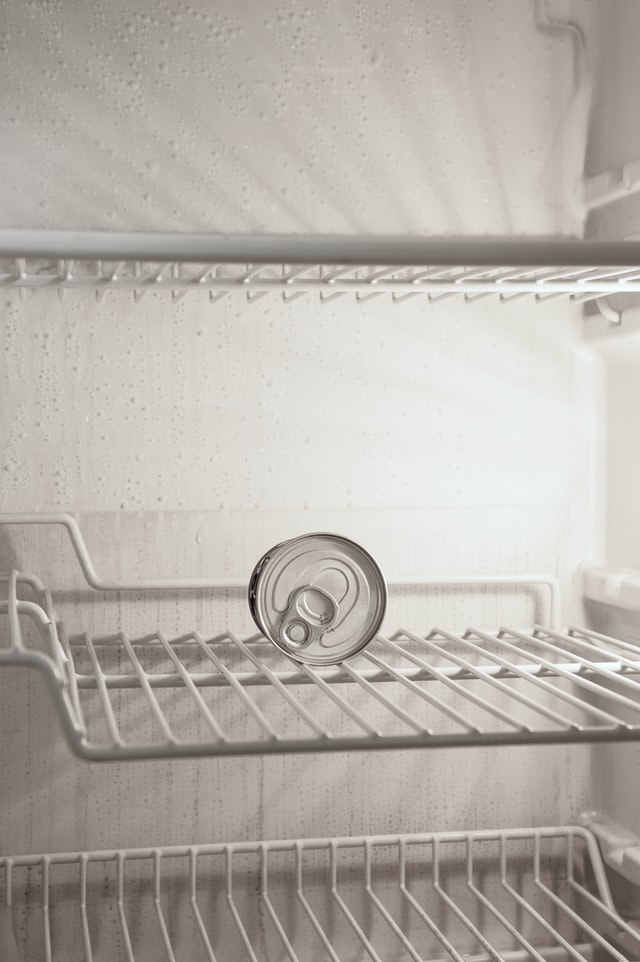 Bottom Line Up Front
The 16-cubic-foot Amana® AZC5216LW is a cost-effective option for those looking for a large-capacity chest freezer. However, I wouldn't recommend the 9-cubic-foot Amana® AQC0902LW as it's costly compared to similarly-sized models from brands like Frigidaire and GE.
Amana Chest Freezer Models at a Glance
Why Buy a Chest Freezer?
Chest freezers provide more room than your refrigerator's freezer. This allows you to buy food in bulk and keep it fresh for months. So, if you make bulk purchases or meal-prep food weeks in advance, then you definitely need a chest freezer.
Plus, chest freezers are generally cheaper than upright freezers, making them the perfect choice for those on a tight budget. For instance, Amana's 16-cubic-foot upright freezer costs about $1000, while the company's chest freezer with a similar capacity costs about $800. More on prices later.
Not yet sure? Here's a breakdown of the pros and cons of chest freezers to help put things in perspective.
Pros of Chest Freezers
Chest freezers have large-capacity models.

They're reasonably priced.

These models are energy efficient.

They can keep food fresh for hours without electricity.

Cold air sinks, so less of it escapes when the door is opened.
Cons of Chest Freezers
It's challenging to organize food in chest freezers.

You need to bend over to reach food at the bottom of the freezers.

They take up a lot of floor space.

They have basic features like manual defrosting.

Amana Chest Freezer Features to Consider
Organization
I've hinted above that chest freezers tend to be harder to organize than their upright counterparts. If you've owned a chest freezer before then, I'm sure you agree because they lack the shelves and bins that help keep food organized.
The good news is that there are chest freezers with baskets and partitions that help solve this problem. Amana's models are designed to improve organization since their cavities are partitioned into two sections. Both models (there are only 2) each have a basket for smaller food items.
Freezer Lock
Consider a chest freezer with a lock if you have kids and want to control their access. A lock also helps prevent theft of food, in case you'll be placing the freezer in an insecure part of your home, like a shed or garage.
Convertible Freezer/Fridge
Some chest freezers can be used as either a refrigerator or freezer. In Amana's models, you can convert the freezer into a fridge by simply turning a dial. This feature comes in handy when you have fresh food that you don't need to freeze but needs more space than your refrigerator offers.
Internal Light
Consider a freezer with a light if the space you'll have the appliance installed isn't well lit. Sadly, this feature is more common in higher-end models; Amana's chest freezers don't have internal lights.
Manual/Auto Defrosting
Amana's chest freezers have manual defrosting, which means you'll have to defrost it frequently when there's a buildup of ice. This process involves emptying it and waiting for the ice to melt before going in and cleaning the cavity.
Models with automatic defrost don't require you to do it yourself; they automatically prevent ice from building up. However, auto-defrost freezers are more expensive and use more energy than their manual defrost counterparts. They're also noisier!
Other Things to Consider When Choosing a Chest Freezer
Where to Install
Chest freezers take up more floor space than upright models, so it's essential to first know the freezer's footprint to figure out whether there's enough room for it. It might not be a big deal if you're planning to install it in your garage, but this is an important consideration if you live in a small apartment.
Amana's largest chest freezer model has a width of 55.25 inches and a depth of 29 inches. The smaller model has a width of 40inches and a depth of 29 inches. Both models have the same height – 36 inches.
As you identify an installation space, remember to factor in the door swing and leave enough room above the freezer.
Capacity
Amana has a 9-cubic-foot and a 16-cubic-foot chest freezer. The capacity you buy should be determined by the amount of food you intend to store. Manufacturers state that each cubic foot of freezer space can hold about 25 lbs of food. This means that Amana's smallest freezer should hold 225 lbs of food, and the larger model can hold roughly 400 lbs.
Another way to estimate the ideal freezer capacity is to allocate about 2.5 cubic feet of freezer space to each person in your household. So, a 5-cubic-foot freezer would be perfect for one or two people.
This means that Amana's 9-cubic-foot chest freezer is ideal for a household of about four, and the 16-cubic-foot model will be sufficient for a household of about six or seven.
Energy Rating
The most energy-efficient chest freezers are those certified by Energy Star. According to the agency, chest freezers with their certification have an energy consumption of about 215 kWh per year. The yellow Energy Guide label of your preferred model will give you information on the chest freezer's estimated annual electricity consumption and how much you should expect to spend.
According to Sears, a freezer that uses less than 400 kWh should cost you less than $5 monthly. Incidentally, Amana's 16 cu ft freezer has an estimated yearly energy use of 313 kWh, and the 9 cu ft model is estimated to consume 223 kWh annually.
In summary, consider a chest freezer that's Energy Star certified, but if it isn't, check the Energy Guide label to ensure it uses less than 400 kWh.
Noise Level
Unless you're installing the chest freezer far from your living area (like in your garage), you'll want to consider its noise level. Granted, chest freezers aren't usually loud, but their continuous hum or buzz might be distracting to some people. Plus, auto-defrost models are louder as the freezer works to keep the cavity frost-free.
Generally, chest freezers should run at about 10 dB, which is an indiscernible sound level. The loudest they might get is about 25 dB.
Unfortunately, Amana doesn't specify the sound level of its chest freezers, so you might have to test this out at the store.
Price
Consider how much you have to spend, as this will dictate the features your get and even the brand you settle on. Amana, for instance, sells its freezers at prices of between $600 and $850. Before settling on one from the company, check other manufacturers and their prices; you might get more value for money.
Check out the list of Amana alternatives later in this article for an idea of the other options within your price range.
Here's an in-depth look at how to find the best freezer.
Available Amana Chest Freezer Models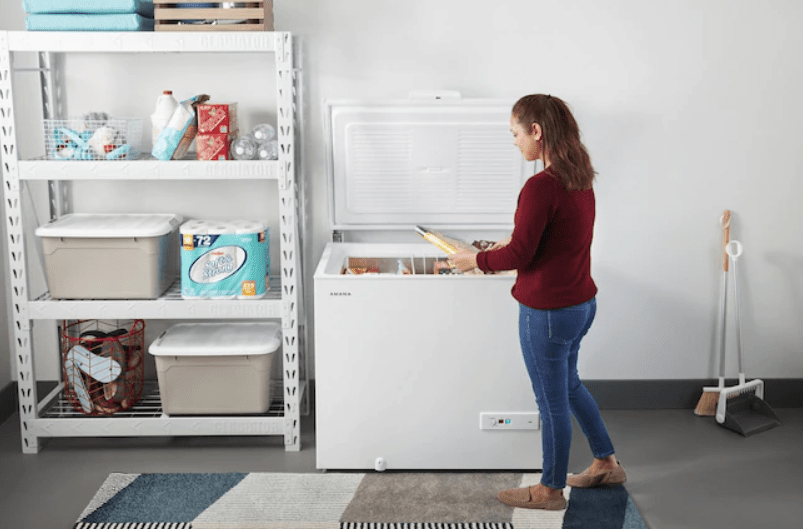 This 9-cubic-foot Amana chest freezer retails at about $700, so it isn't the cheapest chest freezer on the market. However, if I know anything, it's that the cheapest isn't always the best so let's give this model a chance, shall we?
Its design is nothing to write home about; it bears the standard, albeit bland, chest freezer look. Plus, Amana offers it in just a single color – white. Still, looks aren't your priority if you install this in your garage. Speaking of the garage, Amana has made the AQC0902LW garage-ready, meaning that its interior temperature won't be affected by changes in the room temperature. This is important since garages don't have the best temperature regulation.
If portability is a thing you're concerned about, then you'll be glad to know that it has rollers underneath, making it easy to wheel the freezer around your home.
Main Features
The Amana AQC0902LW has a capacity of 9 cubic feet.

It has a wire basket inside.

There are two storage partitions.

It can be converted from a freezer to a fridge.

It has manual defrosting.
Pros
It's easy to move because of the rollers.

The basket makes organization easy.
Cons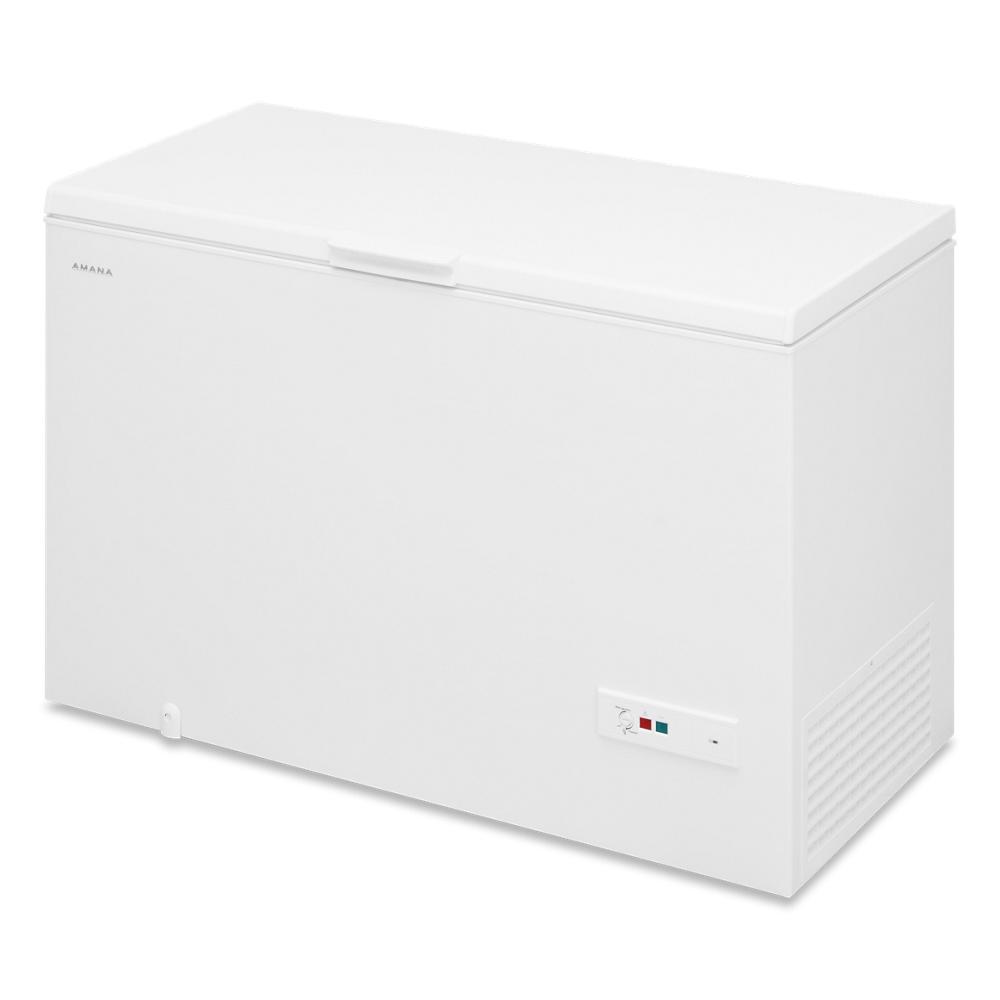 This is Amana's biggest chest freezer, boasting a large capacity of 16 cubic feet. This model is perfect for a large household as it has ample space for loads of food. Sadly, it only comes with one basket, which is a letdown since this is a large freezer.
If you're willing to look past the pains of organization in this model, you'll enjoy its convertibility from a freezer to a fridge. This model is also garage-ready, but this feature only applies if you're using it as a freezer, not a fridge.
Still, I think that this model offers good value as it costs about $850. Don't get me wrong, this is by no means cheap, but considering that the 9-cubic-foot model is about $150 less, this model sits at a price sweet spot.
Main Features
It has a capacity of 16 cubic feet.

This model has manual defrosting.

It can be converted into a fridge.

It has a temperature monitor alarm.

This model is garage-ready.

There's a built-in drain.
Pros
It has a large capacity.

It's energy-efficient.

The freezer is quiet.
Cons
Recommended Alternatives to Amana Chest Freezers
Selection Criteria
Performance – I looked for models with positive performance reviews. These models maintain a consistent temperature to keep food fresh for months.
Value for money – I considered models that offer top features for their price.
Capacity – The list has various chest freezers to offer an option to buyers with different needs.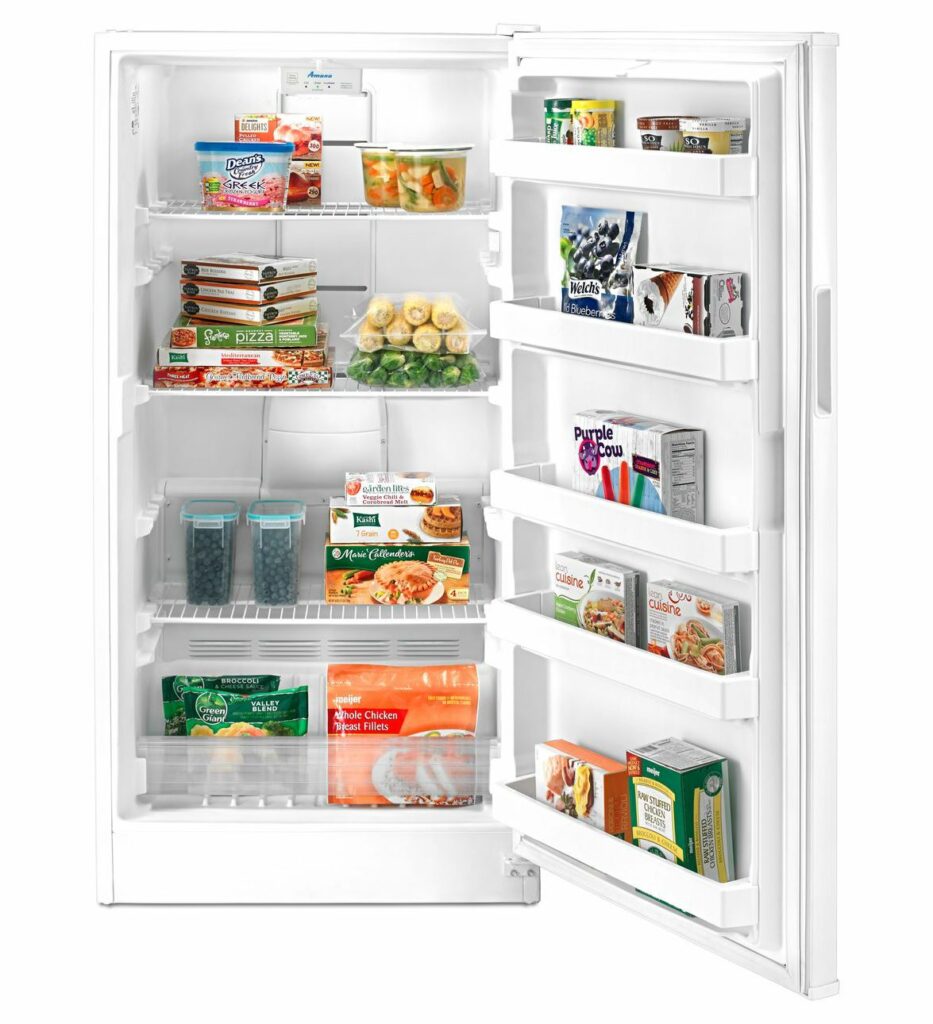 Okay, hear me out: I know you're looking for a chest freezer, but an upright freezer might be a good alternative as it has its advantages. Better food organization is at the top of the list of pros. Plus, you don't need to bend awkwardly to reach for food.
This Amana upright freezer has a capacity of 16 cubic feet, matching the company's largest chest freezer model. Granted, you'll have to spend about $1000 if you buy it from Home Depot. But, hold on; Lowe's is currently selling this model for $849. Now that's a deal, considering that the 16-cubic-foot chest freezer goes for about the same price. At this cost, I recommend getting this model instead.
If you opt for the upright freezer, you'll enjoy a frost-free experience, so you won't have to manually clean the freezer. This model also boasts Fast Freeze, which rapidly chills food – as the name implies. And I need not mention that it'll take up less floor space wherever you choose to install it.
Main Features
The Amana AZF33X16DW has a capacity of 16 cubic feet.

It has three storage shelves and five door bins.

It has DeepFreeze Technology.

There's a Fast Freeze Option.

This is a frost-free deep freezer.
Pros
It has automatic defrosting.

It's easy to organize food in this freezer.
Cons
Its energy consumption is higher than that of Amana's chest freezers.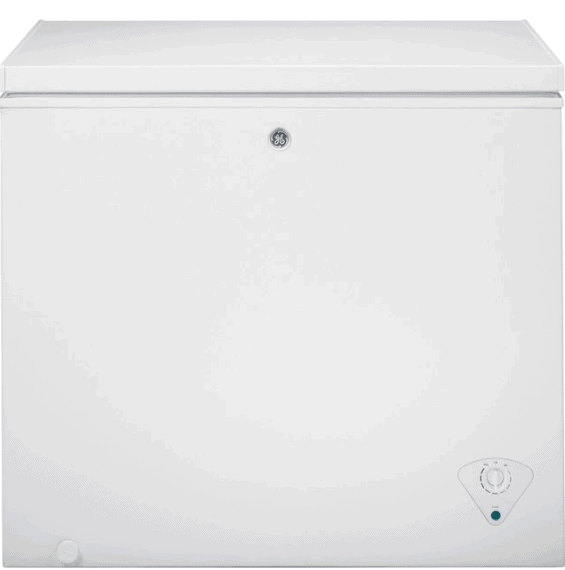 Here's an option that won't cost you more than $500, selling for about $380 at the time of writing. Plus, it's a GE model, so you know it's built to last. In terms of looks, well, I've made peace with the standard un-inspiring chest freezer designs. Again, looks are never an issue when it comes to these appliances, so never mind!
However, there are features to rave about, and at the top of the list is this model's two baskets, which is a plus in a 7-cubic-foot freezer. Amana should take notes here! Moreover, GE assures us that this chest freezer can keep food frozen for up to two days without power. The company calls it their Power Outage Promise.
If you're in the market for a smaller chest freezer than what Amana offers, this is one you should consider.
Main Features
The GE FCM7SKWW has a capacity of 7 cubic feet.

It is garage-ready.

This model has manual defrosting.

It has two plastic baskets.

There's adjustable temperature.
Pros
It's affordable.

Food organization is made easier by the two baskets.

It's easy to move.
Cons
The door's spring is too forceful when opening.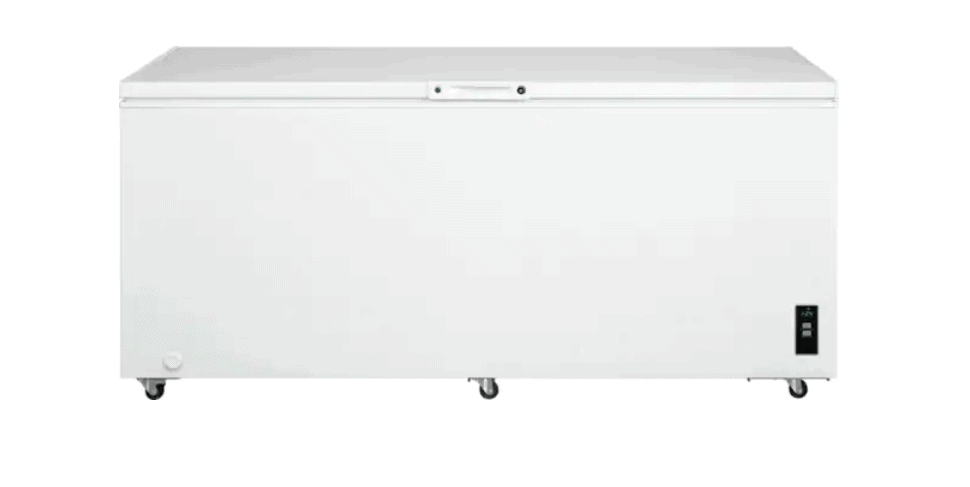 This large-capacity model is an option for those looking for a monster of a chest freezer. At 19.8 cubic feet, it's an excellent size for you if you have a large brood. However, its price reflects its size, costing about $1300.
At the bottom of this unit, there are caster wheels, which should come in handy when you need to move this 180lb chest freezer. Inside, there are two baskets that are ideal for holding smaller food items. However, I think there should have been a few more organization options for such a large freezer.
Incidentally, the cavity isn't partitioned, which is fine if you want to fit a whole hog. Still, other models have removable partitioning, a missed opportunity by Frigidaire.
There are many positives of the Frigidaire FFCL2042AW, for instance, the precise temperature control and a high-temperature indicator. There's also Freeze Boost, which is a Frigidaire's version of Amana's Fast Freeze.
Main Features
The Frigidaire FFCL2042AW has a capacity of 19.8 cubic feet.

There's a freezer lock.

The freezer has an LED temperature display.

It has a control lock.

The model has manual defrosting.

It has two removable baskets.
Pros
It's spacious.

The caster wheels make it easy to move.
Cons
Food organization options are limited.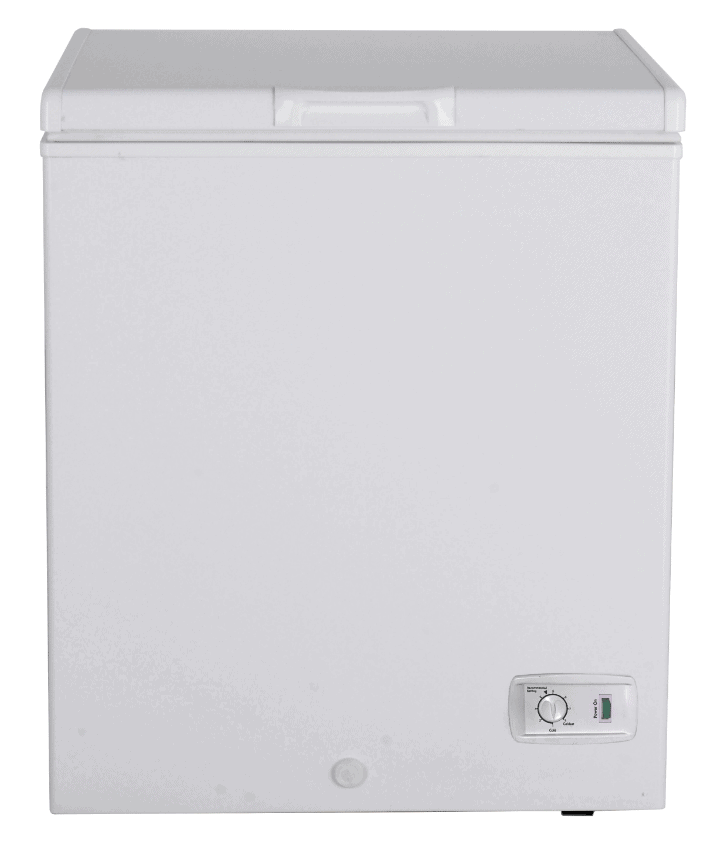 Kenmore's freezers are often cost-effective, and this 5-cubic-foot chest freezer stays true to this brand philosophy. The 17552 retails for less than $300, at about $240 on Sears. But, don't buy it just because it's cheap. Buy it because it does its job well.
This model is simple and, dare I even say, basic. The exterior only has temperature controls in the form of a knob and an indicator light. Inside, you get one wire basket within the compact space – this is enough for a small freezer. At this price point, we don't expect auto defrost either; manual defrost works just fine if you're on a budget. Sadly, there's no freezer lock, but I guess since this freezer is for a small household, a lock isn't necessary.
Main Features
The Kenmore 17552 has a capacity of 5 cubic feet.

Its dimensions are 28in by 22in by 33in for the width, depth, and height.

It has manual defrosting.

There's a power indicator light.

It has one removable wire basket.
Pros
It's affordable.

The freezer is easy to move.
Cons
FAQs
Question: Which freezer brand is best?
Answer: According to online reviews by, among others, USA Today, New York Times, and The Spruce, Frigidaire, GE, and Midea are regularly featured among the best freezers. 
Question: How many pounds of meat can a 7-cubic-foot freezer hold?
Answer: Each freezer cubic foot should generally fit between 25 to 35 pounds of food. Going with the lower number, a 7-cubic-foot freezer should fit at least 175 lb of meat.
Question: Are all chest freezers garage ready?
Answer: No, not all chest freezers are garage ready. Models designed to be garage ready are able to handle the extreme temperature ranges in garages in different seasons.
Question: Are garage-ready freezers worth it?
Answer: Yes, garage-ready freezers are worth it if you don't have a lot of space inside your home and are planning to install the freezer in your garage or shed.
Best Amana Chest Freezers: Bottom Line
Amana's limited chest-freezer lineup makes it both easy and challenging to find a model for your needs. It's easy because you don't have numerous models to choose from and difficult because you might not find the exact one that fits your needs.
Amana's 16-cubic-foot chest freezer is a good deal if you're looking for a large-capacity model. However, I think the 9-cubic-foot model is rather overpriced; you can get cheaper Frigidaire and GE models within the same capacity range.