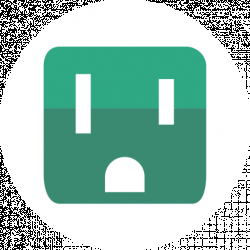 Latest posts by Appliance FAQs Team
(see all)
An oven plays a crucial role in the kitchen, and it is hard to live without one. It will help you bake, broil, roast, and prepare amazing foods for your family. However, the problem comes in choosing the right one for your family. What do you look at? Is there a perfect oven?
What will you be missing out on if you get one type and not another? If you have these and more questions, then you are in the right place. The best oven for you is one that can suit your needs and not those of other people. Therefore, which is the best oven to go for?
There are numerous oven brands in the market, namely GE, Amana, LG, and Whirlpool. Whirlpool ovens are known for their durability and effectiveness. They also keep up to date with technology and have some of the latest technologies in their ovens.
For example, you will find some of their ovens sporting the 6th Sense technology, which helps prepare your meals faster as you do not have to preheat the appliance. This means that you will save a lot of time when preparing Sunday brunch for the family.
Amazing, right? Whirlpool is a giant brand, and you can never go wrong with it. Below is a comprehensive Whirlpool oven model guide that will help you choose the best appliance for your home. Let's get started.
Why Whirlpool?
Whirlpool has been in the industry for more than a hundred years and is now the world's leading global manufacturer of home appliances. It annually sells approximately $20 billion yearly and operates in many countries worldwide.
It started in 1908 on Lou Upton's business failure. He had invested his savings in manufacturing household goods, which did not materialize. As part of the return on his investment, he was told to pick something valuable from the failed venture.
Here, he chose patents on a hand washing machine. In 1911, he worked with his uncle, Emory, and patented an electric motor-driven wringer washer. With some funding, they established the Upton Machine Company.
The company grew, and to keep up with the demands of the market; it merged with the Nineteen Hundred Washer Company of New York in 1929. Sadly, World War II stopped washer production as the factories were modified to produce aircraft and military equipment.
However, in 1945, they began producing washers again and saw a massive growth that changed their status and made them a large-scale manufacturer of major home appliances.
In 1949, the company name was changed to Whirlpool Corporation. By the 1990s, the company had expanded to Mexico, India, Europe, and even Africa. In 2006, Whirlpool acquired Maytag Corporation, broadening its portfolio of high-quality and innovative products.
Key Factors to Consider when Buying a Whirlpool Oven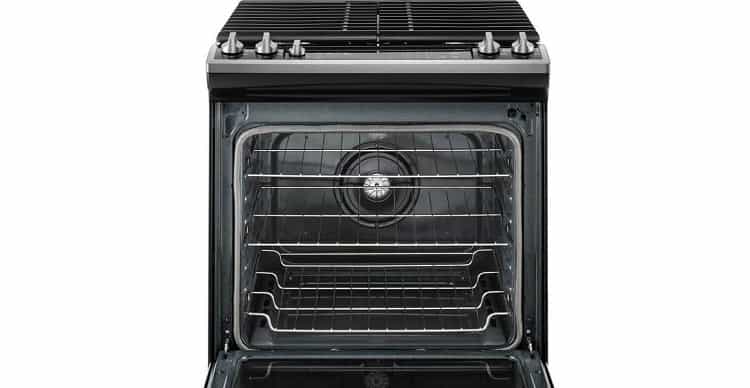 When choosing a Whirlpool oven, you should consider numerous factors such as the fuel type, type of oven, and size. It is not as easy as choosing the first one that you find advertised online, as it will only end in premium tears. They include:
Size
The Kitchen Layout
The kitchen layout will come in handy when selecting the oven for your home. When redesigning the kitchen, you need to think about how you will be cooking to have enough space for you and the appliances. You will need to consider the following:
Cabinetry
Here, you need to decide whether you prefer the traditional design whereby the cooktop and oven are under each other or a more modern design whereby the oven is placed in a  tower layout.
Island Bench
There are numerous ways to use your island beach based on your preference and lifestyle. There have been developments in how people design their kitchens over the past few years. For example, many kitchens right now are designed around the island bench hence becoming a workbench.
This is advantageous as you will prepare the food and cook and clean utensils with the oven incorporated into the design.
Work Zones
The size of the kitchen highly determines this. The kitchen triangle will be determined by how the line between the refrigerator, oven, and sink creates a triangle. You may have to have your home broken into different zones to ensure that all appliances are working correctly and synchronize with each other.
You need to measure your space before buying an oven. As a general rule, all ovens require at least 60cm of width. The height requirements may vary according to the type you choose; for example, compact ovens have a height of 45cm to fit into small spaces, standard ovens have a 60cm width, and large capacity ovens have 72-80cm height.
Size of the Oven
Here, you need to consider the internal space needed for your cooking and the cabinetry space available. The options will also depend on whether you are replacing or installing a new oven.
This is because, if you are replacing an old one, you might be limited to a particular size and style of the oven.
Here are different Whirlpool oven types based on size:
Single Oven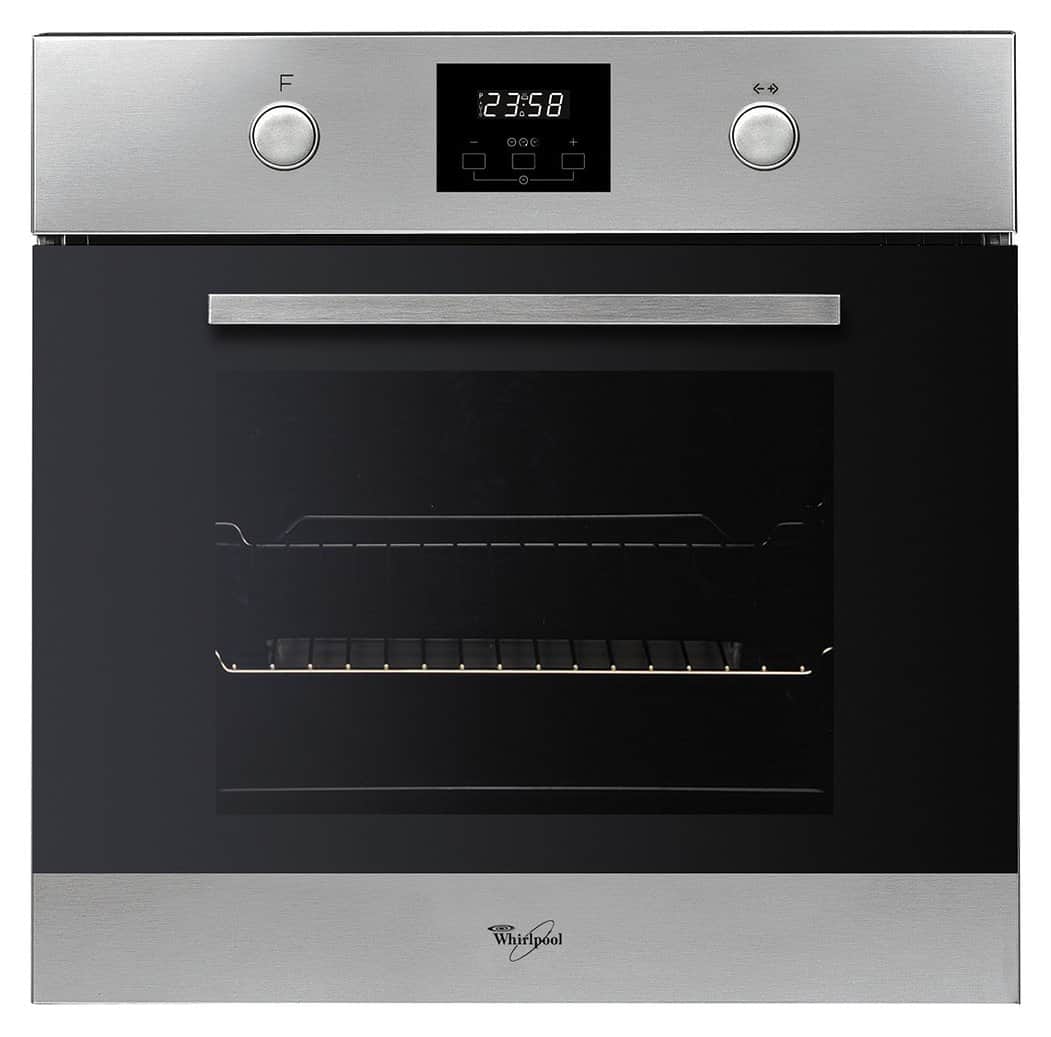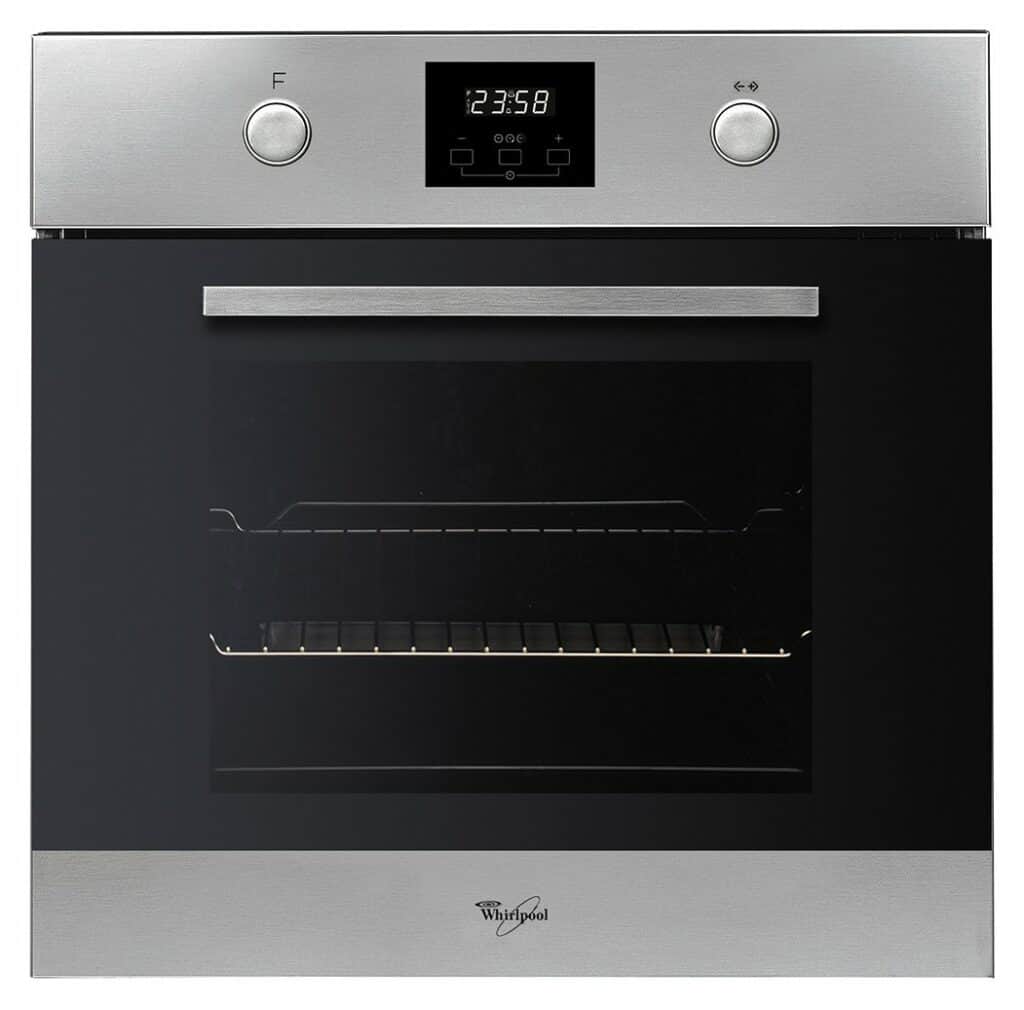 This is the most common type of oven in American households. It is great for a small family as it is a standard oven.  It is built with a single partition and fits only one pan or tray.
It comes with only one oven to roast, grill, and bake in. Single ovens are around 60cm tall and can pretty much fit anywhere in the kitchen.
Pros
It is portable and easy to use.
It is small and convenient.
Its quality and performance are still as good as the bigger versions.
Cons
Having only one oven to cook can limit you, especially if you want to do two things simultaneously.
It can be time-consuming.
Double Oven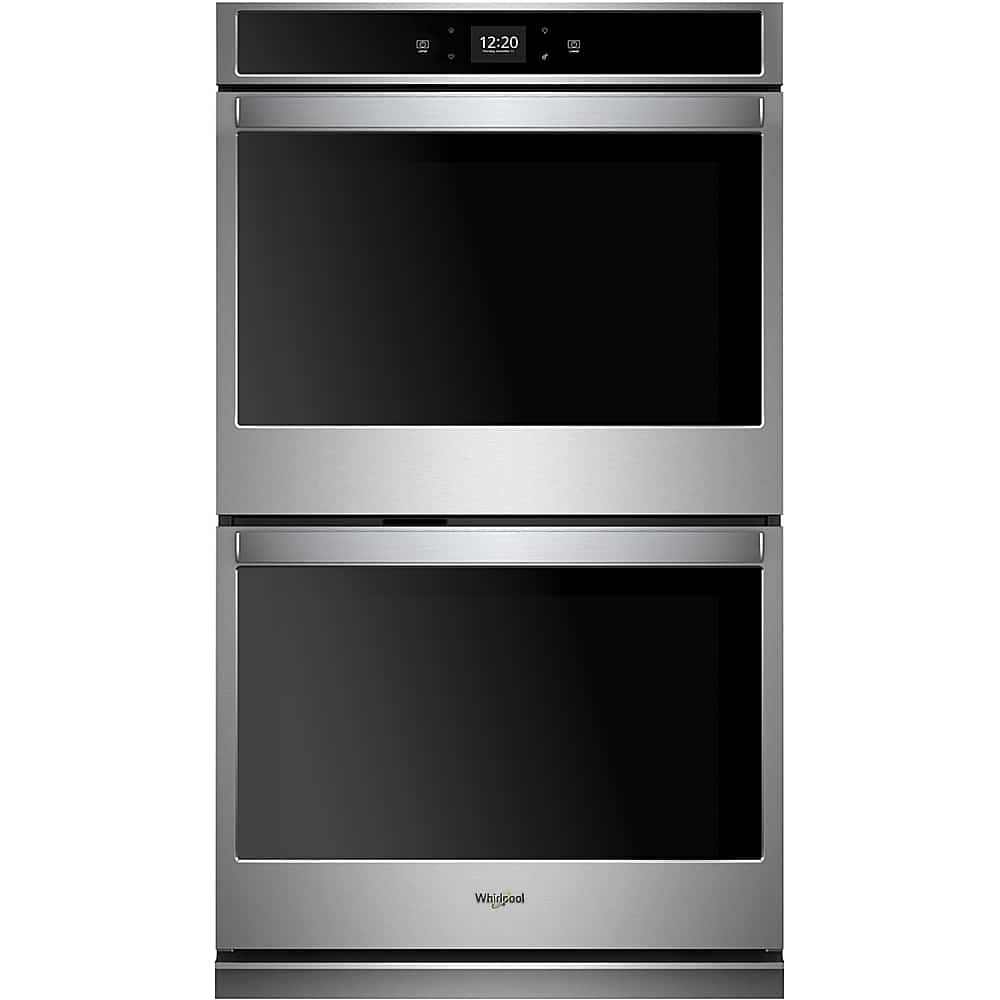 This oven is perfect for big families or people who love entertaining their friends regularly at home. It comes with two wall ovens with different heating and feature controls, making it pretty easy to cook two foods simultaneously.
The double oven is usually around 90cm tall and needs to be placed into eye-level cabinets. The smaller top oven usually has a grill, and the lower one is the main oven.
Pros
You can use the top and main oven at the same time.
You can cook foods at different temperatures at the same time.
Cons
It takes up more space than a double oven.
Fuel Type
Most people have a preference for the fuel type that they want to use in their homes. However, some people are not that lucky and do not have this option, depending on housing. The different types of ovens based on the heating method include:
Electric Oven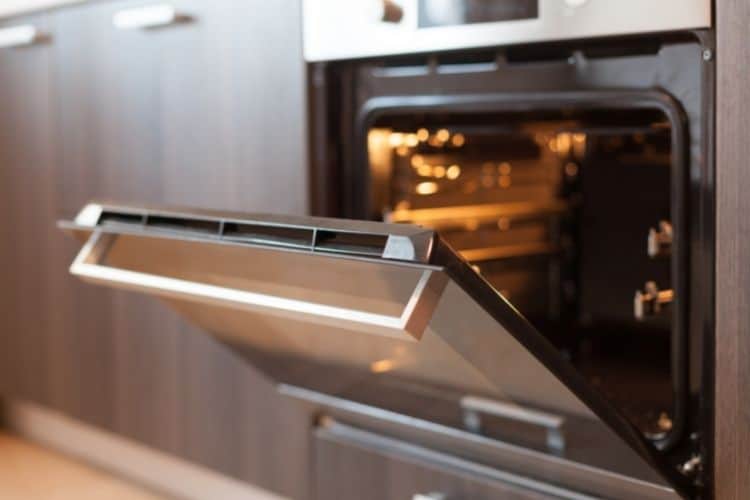 Many people prefer the electric oven over the gas one as the latter may be too hot for them. It is also easy to use, and you will not experience problems with pilot lights going out or blocked ports.
Pros
It is easy to use and quite reliable.
It is more common.
It provides more even heat distribution, especially if it has a fan.
It generates drier air which can help with browning and crisping of food.
It is easier to install.
It cooks with more moisture, hence perfect for cakes.
It is easier to maintain as it has fewer parts than an electric oven.
They are plenty of them to choose from than gas ovens.
Cons
It is more expensive to run an electric oven than a gas one.
It takes longer to heat.
You might notice some uneven heating spots in the oven.
Gas Oven
If you want an excellent oven at baking, then a gas oven is the type to go for. Contrary to the dry air produced by the electric oven, this gas oven produces moist heat; hence, it helps keep food from getting too dry. Gas ovens work by harnessing the power of electricity and converting it to heat. The food then cooks evenly without undercooking or burning it.
Pros
You will get maximum control over your cooking and set the temperature precisely to what you want to cook.
It cools down quickly when you turn it off.
The preheat time is shorter than the electric oven; thus, the oven gets heated up really fast.
There are no hot spots in the oven, so the cooking of food is even.
It is low maintenance as compared to electric ovens that need their faulty parts replaced quite often.
It is inexpensive.
Cons
It has a lingering gas smell due to delayed ignition or when the valve opens too early. Therefore, if this smell is too much for you, the gas oven might not be the best option for you.
You need a gas connection to operate it.
It has a higher initial price to set it up.
Steam Oven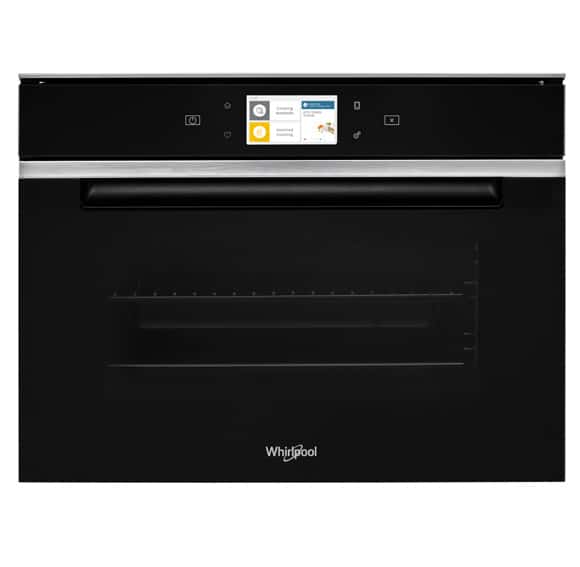 Steam ovens are still quite rare in domestic kitchens, but they are highly effective. They are becoming more popular due to their outstanding performance that outshines the standard oven. For example, they require less oil for cooking and cook food faster while retaining nutrients, hence perfect for people who have healthy lifestyles.
Steam ovens work by injecting steam into the chamber. There are two main types; standalone models with a refillable water reserve and those connected to a water supply. The chamber then creates steam that then heats the oven. Basically, steam ovens are dishwashers that use water to generate steam, and the heat cooks the food.
Pros
It reduces cooking time, hence making the food quite flavorful.
It reduces the need to use oil, making it a healthier alternative to electric or gas ovens.
It creates a moist environment in the oven.
It is easier to clean.
Cons
It is not the best option for you if you want crispy food.
It is more expensive than electric and gas ovens.
Type of Oven
The type of Whirlpool oven you choose will greatly impact your food texture, how well it cooks, and moisture levels.
Conventional Oven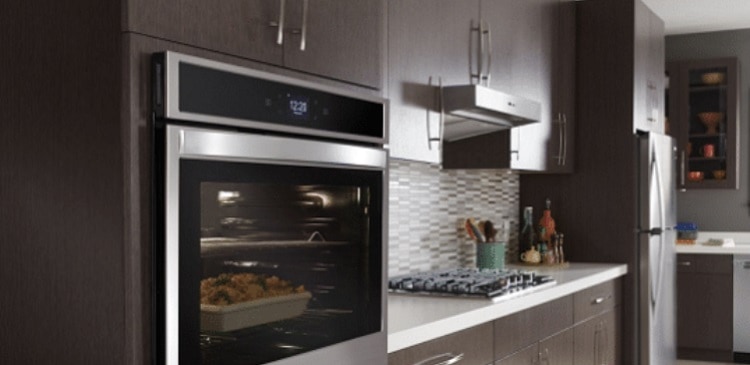 A conventional oven usually has a heat source at the bottom and the top. The bottom heat usually comes from a gas burner, while the top heat comes from an electric element.
The heating element at the bottom is used for cooking and baking, while that at the top is mainly used for broiling. Here, the dish that is closest to the heating element cooks the fastest.
It heats food with a stationary heating source. However, while the air circulates through natural convection, heat is not distributed evenly, causing hotspots.
Pros
It has easy operating functions.
It is reliable for heavy-duty use.
Most recipes are formulated for conventional ovens.
It is perfect for baking cakes and pastries.
Cons
It does not produce optimum browning and crisping of food. This happens because the gas combustion releases moisture in the air hence making it more humid.
It has uneven heating that creates pockets of cool air hence uneven cooking.
Convection Oven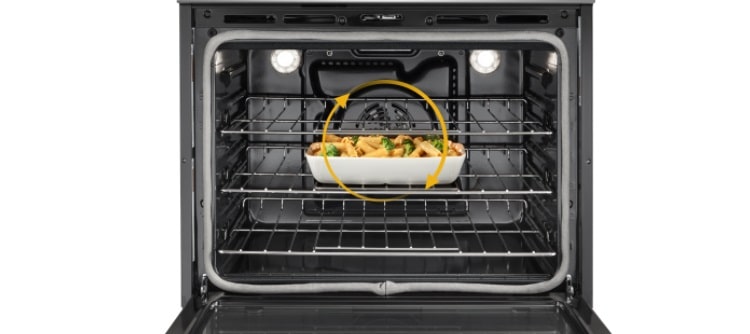 A convection oven has a valid advantage over a conventional oven in that it uses a fan and exhaust system to distribute the hot air evenly through the oven. This results in your food being evenly baked as it does not experience any cold or hot spots, as with the conventional oven.
Convection ovens also have a third heating element known as true convection that helps cook food faster. They have a convection setting that activates the latter, fan, and the exhaust system for efficient cooking. You can turn this setting on or off depending on your preferences, hence more versatility.
Pros
It has quick preheating.
It has faster baking and roasting times.
It has even baking and heat distribution.
It can cook multiple dishes at once better than conventional ovens.
It can run long baking cycles without drying the food out.
It browns and crisps food more efficiently.
Cons
Overcrowding with several dishes can lengthen the cooking time.
The recipe times have to be adjusted to ensure faster cooking rates.
Combination Oven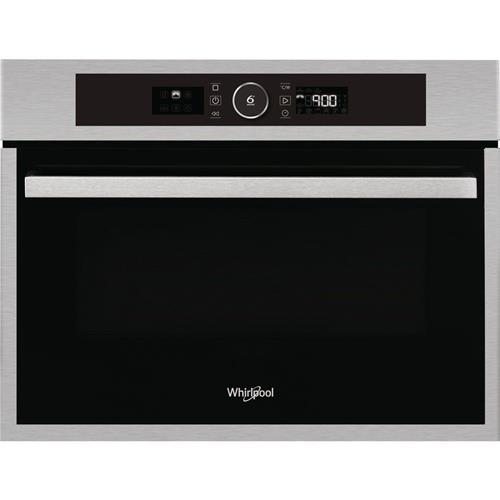 This type of oven has the convenience of combining convection features with conventional or steam heat in a single unit. It was created to increase the versatility and functionality of the standard oven.
Combination ovens are more expensive than regular ovens but can cook via steam, convection air, or both, providing three ovens in one unit.
Pros
It evenly cooks food.
It saves on floor space.
It is quite versatile.
It can be used as a slow cooker at low temperatures.
Cons
It is pretty expensive to purchase and operate.
Installation Options
It is important to understand the different oven types based on the installation method. Some of the examples include:
Freestanding Oven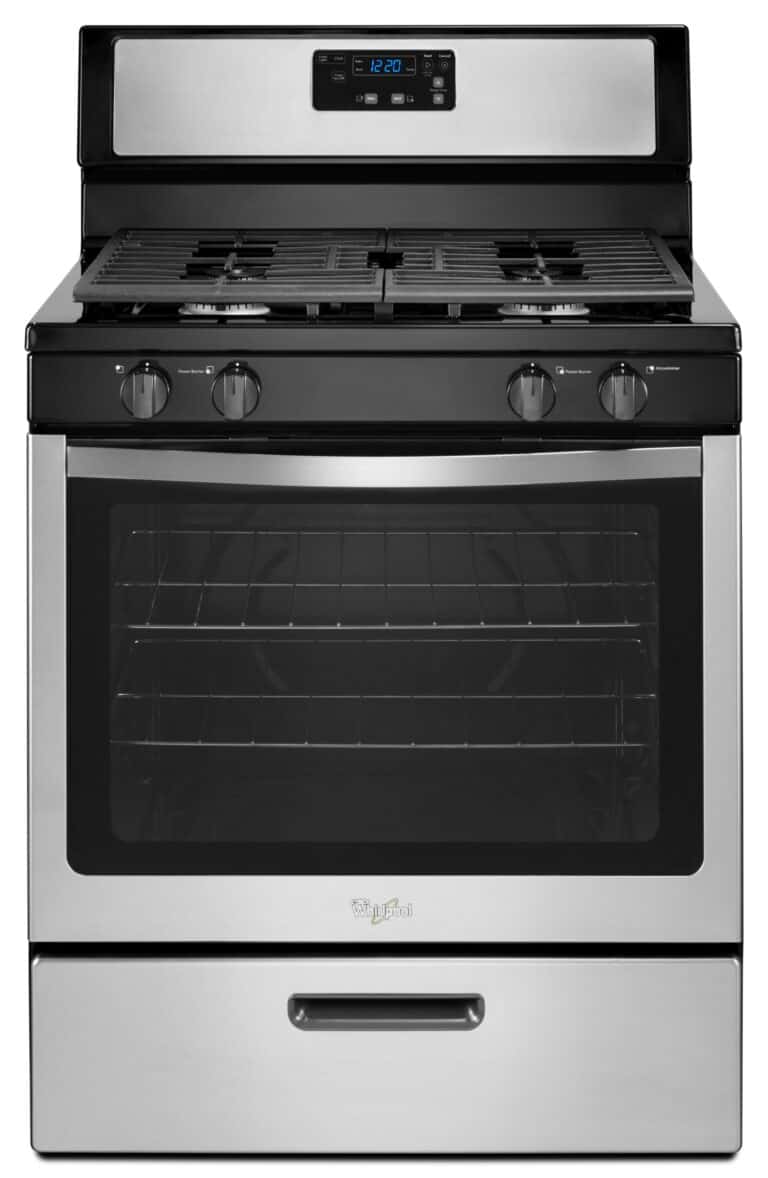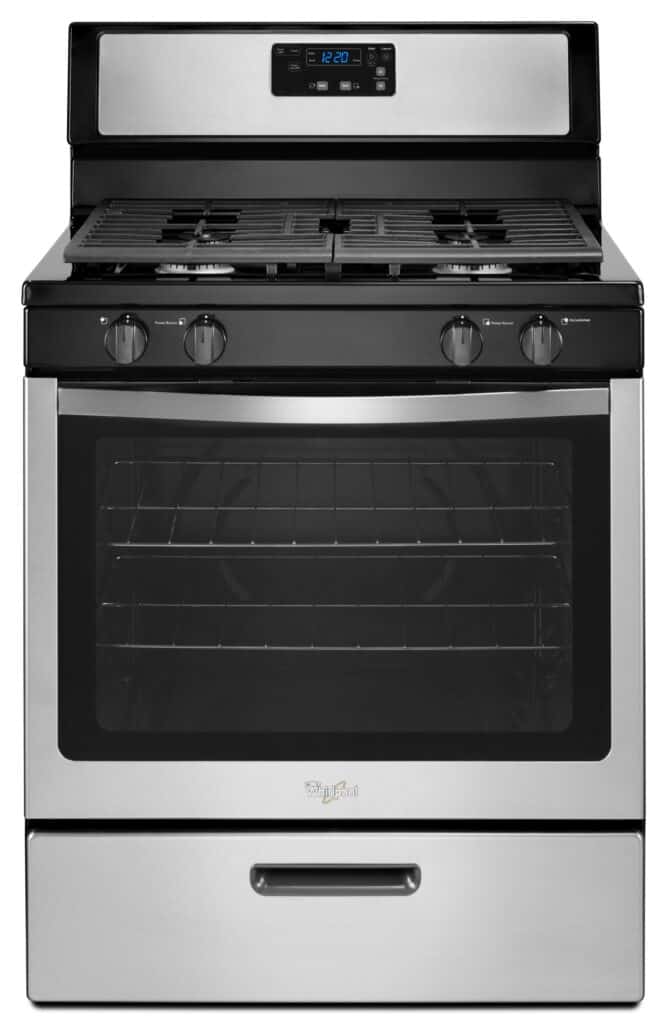 This oven features a built-in backguard where the oven controls are placed. It can be installed anywhere since it has finished sides; hence it can be a stand-alone, placed between cabinets or at the counter's edge.
Pros
It is the cheapest oven in this category.
It is easy to install.
It can be fitted in many kitchen designs.
Cons
You might have to bend down to access food in the oven, which could be tiring.
The gap between the cabinet and stove is hard to clean.
Slide-in Oven
This is the perfect oven if you have a designated spot for it. It is space-efficient as it fits between countertops and appliances. Since it does not have a backguard, this oven is ideal for installation in kitchen islands or against walls with a decorative backsplash.
However, the good news is that today's slide-in ovens have finished sides; hence they can be installed anywhere in the kitchen.
Pros
It is ideal for a small kitchen.
It is easy to install.
It reduces the gap between the oven and cabinet that allows crumbs to fall in.
Cons
It is more expensive than freestanding ovens.
Children can access the front controls.
Wall-Mounted Oven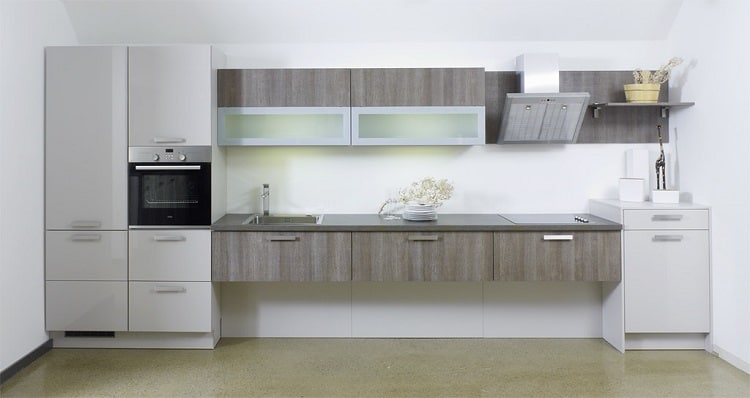 This type of oven is installed directly into cabinets for a built-in look. Most times, wall ovens are paired with a standalone cooktop to create clean lines in the kitchen.
Pros
It is easy to install.
It requires little space.
It is corded and cordless; hence you can wire or unwire the unit as you prefer.
Cons
It is more expensive than freestanding and wall-mounted ovens.
Cleaning Options
Let's face it; not many of us love the idea of cleaning the oven's interior that often. The good news is that there is a solution to this with the self-cleaning oven.
Self-Cleaning Oven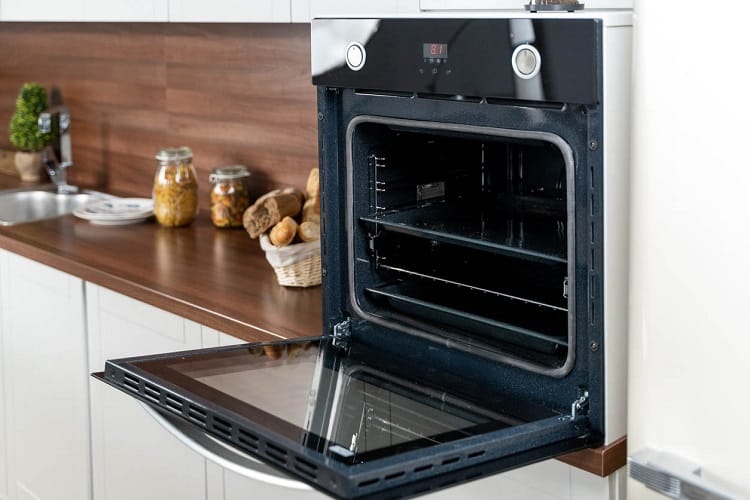 The self-cleaning oven helps reduce the residues and prevent buildup that makes manual cleaning quite a task. It has extra insulation to support the cleaning process. It comes in two types:
Pyrolytic Oven
It will heat up to 500 degrees Celsius, reducing the dirt to some fine ash that you can wipe away with a cloth. Amazing, right? It is quite effective and quite simple to use.
Catalytic Oven
It has a catalytic lining that absorbs the grease stains. It is activated by heating 220 degrees Celsius and oxidizes the grease, leaving the surface clean. For the best results, it is recommended that you use the self-cleaning program monthly.
Whirlpool Oven Buying Guide: Our Top Recommendations
Whirlpool's main priority is quality over quantity; hence you will be sure that whatever appliance you buy from them will have top-notch quality. Below are some of the best Whirlpool ovens that we highly recommend.
Whirlpool WFG320M0BS Oven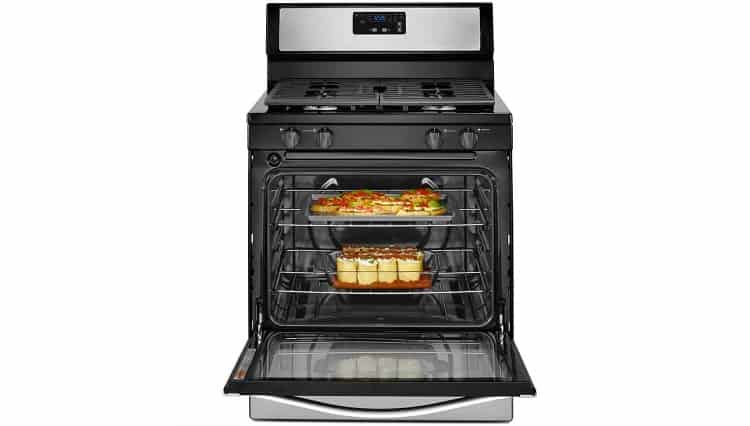 This is the best budget pick Whirlpool oven that we recommend. It is inexpensive, priced at around $799, but it gets the job done quite well. It also has more features than its cheaper counterparts.
It has a strong power burner and cast-iron grates than most of its competitors, which are hard to find with ovens at this price. It also has SpeedHeat burners that generate high heat needed for fast boiling, frying, and searing with power burners offering up to 15000 BTUs.
This 5.1 cu ft. capacity oven also has two adjustable oven racks that can be moved into various positions based on what you are cooking.
However, it lacks self-cleaning and convection features. It also does not have a number pad for control.
Whirlpool WFG320M0BW Oven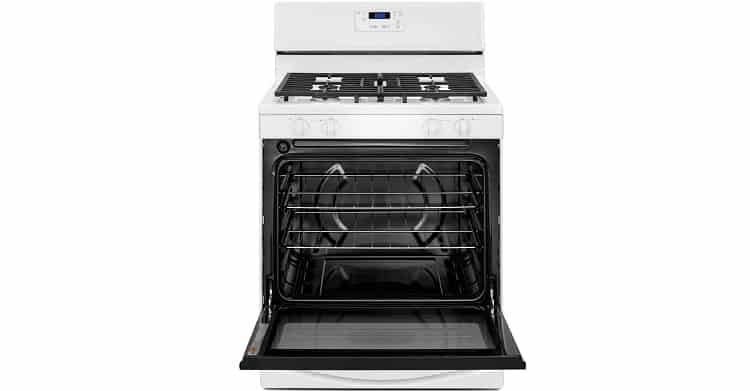 If you want a freestanding whirlpool gas oven that is highly effective and versatile, then the Whirlpool WFG320M0BW oven is the right pick for you. It has a 5.1 cu ft. capacity with four burners. It has a 29 7/8-inch width, depth of 27 inches, and 46-inch height. Its large capacity makes it perfect for preparing Sunday brunch at home for your guests.
It also has a 15000 BTU that comes with a 9500 BTU burner, perfect for high heat cooking procedures and everyday meals. It also has a 5000 BTU AccuSimmer burner that helps you precisely control the temperature, making it perfect for making sauces.
However, it does not have a self-cleaning property and a temperature probe. These downsides are not a deal-breaker; hence you can still enjoy this amazing oven. Moreover, it has an upswept porcelain Spill guard cooking top that ensures that you clean up easily after spills.
Whirlpool WOD51ES4ES 24 Inch Electric Double Wall Oven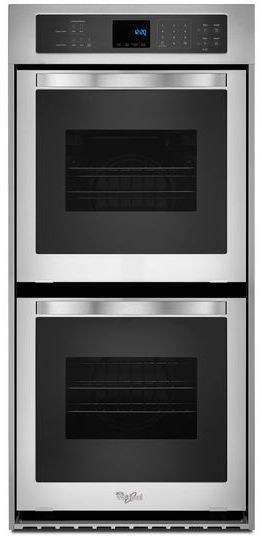 This 6.2 cu ft. capacity Whirlpool oven is perfect for large families. It is a 24-inch double oven that has lots of space to prepare multiple meals. It also has an AccuBake temperature control system that ensures that your food cooks evenly.
It also has a self-cleaning mode, four oven racks, and ten guide positions to offer flexibility. It also comes with a child lock feature to keep your children safe.
It also has a 12-hour delay-start that lets you begin cooking at the most convenient time for you. Therefore, you can enjoy freshly baked goods when you arrive from work or errands. It also has a sabbath mode that enables easy compliance with kosher practices.
Whirlpool WFG505M0BB Oven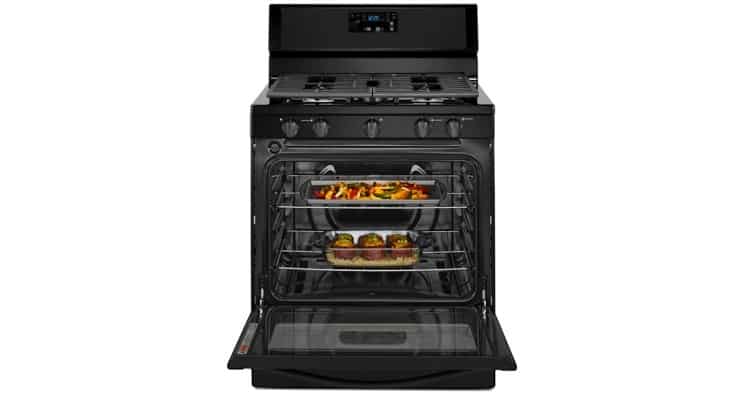 It is one of the best spacious Whirlpool ovens in the market. This 30-inch Whirlpool WFG505M0BB oven has five sealed burners and has a broiler drawer, speed heat burners, and AccuSimmer burner.
It has around 5.1 cu ft. capacity that makes it quite spacious. The other reason why we love it is that it is ADA compliant.
The power burners generate around 15000BTUs hence provide effective boiling, searing, and frying. The middle burner produces around 8000 BTU hence providing you with many options to choose from.
It also has a 5000 BTU AccuSimmer that ensures precise control of temperatures while cooking. The 9500 BTU burner also ensures that everyday dishes are a breeze. You can also enjoy the easy clean-up thanks to its porcelain spill guard cooktop.
Its downside, however, is that it is not a convection range. Also, the knob may get extremely hot when cooking.
Whirlpool WEEA2FH0HZ Oven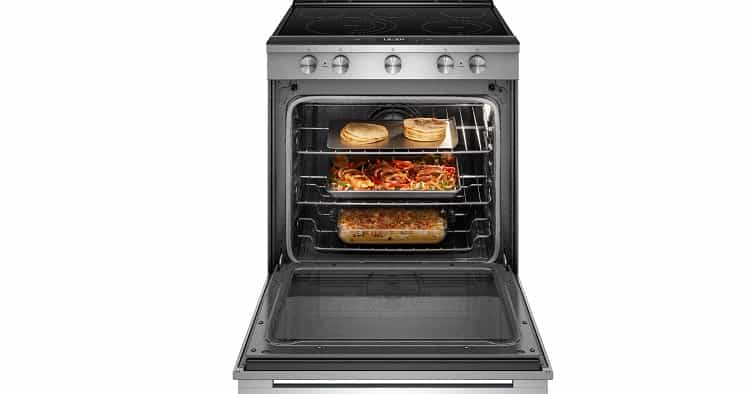 This is the best smart electric range Whirlpool oven in the market, hands down! It has a Scan-to-Cook feature that sets the cooking temperature when you scan the food's barcode.
Another amazing feature is integrating it with Google Assistant, Alexa, or Siri and using your smartphone to start the oven. How efficient is that?
This 6.4 cu ft. capacity oven also has a Frozen Bake technology that helps you skip preheating frozen foods. It also has preprogrammed settings that automatically adjust the cooking times for you.
It is also fingerprint resistant and has true convection cooking that distributes hot air evenly. It also comes with a FlexHeat triple radiant element that makes room for larger cookware. It has  6″, 9″, and 12″ outer rings that create more space for appliances.
It also has an AquaLift self-cleaning technology to clean the oven in around 40 minutes without any harsh chemicals. All you need to do is add water, run the cycle and then wipe all that is left once the cycle is done.
If you are having a lazy Sunday afternoon and do not know what to make, the oven will use the recipe app Yummly to sort you out. It will do this by using the image recognition feature to see what is in the fridge, choose a recipe and then have the app set the oven precisely for you.
Also, you can take advantage of the party mode when you have guests coming over. Here, the Keep Warm setting is automatically turned on to keep the dishes warm and ready to serve.
Whirlpool WEG745H0FS Oven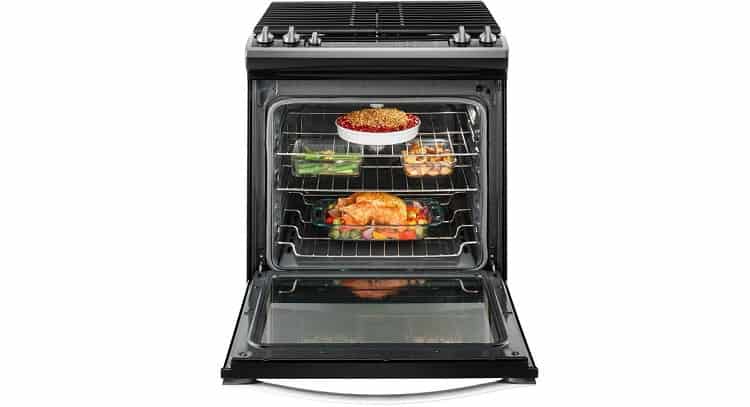 This 5.8 cu ft. capacity oven offers incredible results with its fan convection cooking range. This Whirlpool WEG745H0FS slide-in gas range has Frozen Bake technology that helps you cook food faster by skipping the preheating stage.
Its true convection feature that uses a third element and a fan ensures that your food gets ready in just a few minutes and cooks evenly, inside and outside.
Its EZ-2-Lift hinged cast-iron grates come in handy when cleaning as all you have to do is wipe up the skills with no hassles. You, therefore, do not have to remove them while wiping under the grates. Also, the grates are dishwasher safe, which is a win for you.
The 17000 BTU SpeedHeat burner provides high temperatures that enable faster cooking. This 30-inch oven comes with five sealed burners that come in handy when you have a large family or guests around. It also has a rapid preheat option that uses a rear fan that will help save you time when cooking. It comes with a temperature sensor that monitors the oven temperature and adjusts efficiently.
Its downside is that you will need to buy a separate trim kit and side panels as they are not sold with the product.
Whirlpool WGG745S0FS 6.0 Cu. Ft. Stainless Gas Double Oven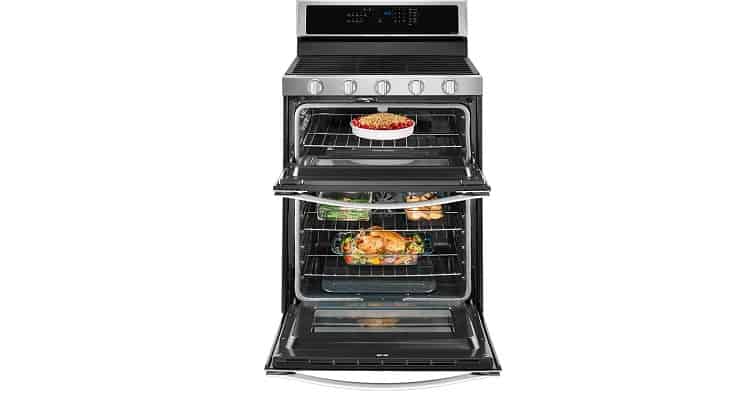 This 6.0 cu ft. capacity double oven will provide you with lots of space for cooking several dishes simultaneously. It also utilizes convection cooking which is a plus for you. The convection conversion will do the math for you while you relax and efficiently adjust the cooking times and temperatures.
It also comes with a Frozen Bake technology that will save you time on preheating. Also, you will enjoy its EZ-2-Lift hinged cast-iron grates that will make cleaning quite easy for you.
We also love its SteamClean option that saturates the mess with water, making it easier to wipe it.
FAQs
Question: How Often Should I Replace my Whirlpool Oven?
Answer: Whirlpool ovens are quite durable and will serve you for around 15 years, with proper maintenance. Gas ranges, however, last longer.
If you notice that your oven is not heating up evenly and has problems cooking your food, then maybe it is time to replace it. We recommend calling a qualified professional to help you out as ignoring these problems may be dangerous.
Question: How Do I Fix an F3 Error on my Whirlpool Oven?
Answer: F3 codes in Whirlpool ovens stand for Oven Temperature Sensor(RTD) or Warming Drawer Defect. If you see this error code, it is recommended to have your oven temperature sensor replaced.
Question: How Do I Unlock My Whirlpool Oven?
Answer: If you notice that your Whirlpool oven is locked, there is no need to worry. If the door is locked during the self-cleaning cycle, you need to do the following.
First, if a power interruption happened during the cycle, then select the Self Clean option and press Cancel. Give it a few minutes and start the cycle again.
Also, if the cycle was started by mistake, press the Cancel key to let it cool to around 200F before the door opens. Give it around one hour to cool, then unlock the door.
If the door is locked when starting or using the oven, you need to press the Cancel key to start a latch reset. Give it around 30 seconds and open the door.
Conclusion
There you have it! As you can see, Whirlpool ovens come with different features based on your cooking needs. Whichever Whirlpool oven you choose, you will be confident that you made the right decision.
We highly recommend the Whirlpool WFG320M0BS oven if you are looking for a budget-friendly appliance for your home. If you want to enjoy the latest technology, we recommend the Whirlpool WEEA2FH0HZ oven. Let us know in the comments how your experience is!