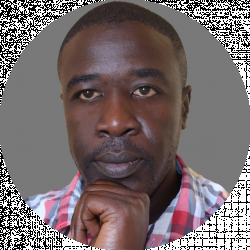 Latest posts by Barry Juma
(see all)
You're probably attracted to Thermador stoves because of their sleek look. Perhaps you're considering this brand because of the features that appeal to both professional chefs and domestic users. Whatever the reason may be, one thing's for sure; Thermador's stoves are known for their excellent quality coupled with a high price tag. If you're looking for premium appliances then Thermador is a brand to consider. 
Owned by the same company that owns Bosch, you'll notice similar luxury elements in both brands. As you'll see in this Thermador stove model guide, there are lots of innovative features in Thermador's stoves that make them worth their price. Keep reading to find out about these features as well as our recommendations for the best Thermador stoves.
Types of Thermador Stove Models
Thermador sells three types of stoves:
Slide-in ranges

Cooktops

Rangetops
Slide-in Range
A slide-in range is designed to stand in a designated space between kitchen cabinets to create a built-in look. Thermador's range models are all slide-ins but other brands have both slide-in and freestanding ranges. But, what's the difference between these two?
A freestanding range can stand anywhere in the kitchen – they don't have to sit in between cabinets. Their sides are finished and the controls are found on a backguard. 
Slide-in ranges, on the other hand, have unfinished sides because they'll be concealed by the cabinets. Therefore, slide-ins can't stand anywhere other than between cabinets. Also, slide-in ranges have their controls on the front face since they don't have backguards.
Since Thermador only has slide-in ranges, we'll focus on the pros and cons of these types to help you decide whether they're right for you.
Advantages of Slide-In Ranges
They give your kitchen a modern appeal because of their built-in look.

Because the controls are found at the front, you don't have to stretch over pots to reach them as you would in a freestanding range.

The stovetop sits flush with the countertop, leaving no gap through which food can spill. 

If you have a beautiful kitchen backsplash, it won't be concealed since these models don't have backguards.
Disadvantages of Slide-In Ranges
They're often more expensive than freestanding ranges.

The placement of the controls means that kids can easily reach them.
Find out more about the difference between a freestanding and slide-in range in this article.
Cooktops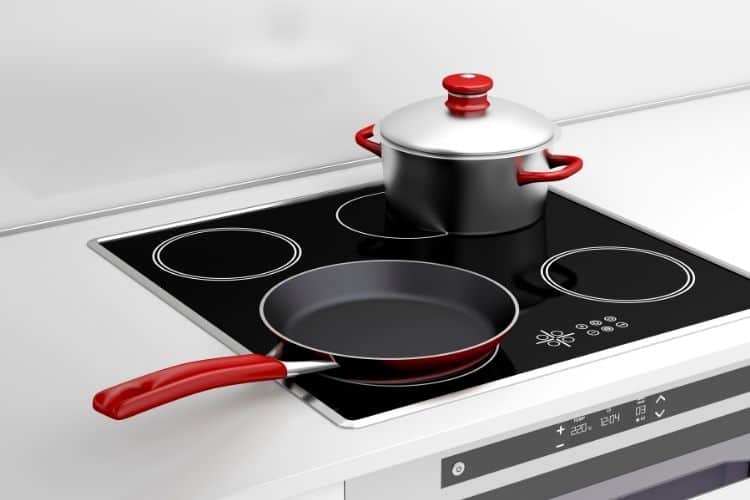 Thermador also sells different cooktop models. While ranges are complete units with a stovetop and an oven, cooktops are just a stovetop, and they're built into a cutout in the kitchen countertop. Therefore, they seamlessly blend with the counter for a modern aesthetic. If you don't want an oven or you already have a built-in one, then a cooktop would be an ideal choice. 
Advantages of Cooktops
The built-in look creates a modern and stylish aesthetic.

They save space and are good for compact kitchens.

Their knobs are placed on the top surface, making them out of reach of children.
Disadvantages of Cooktops
Buying a separate oven and stovetop is more expensive than buying a single range unit.
Rangetops
You can opt to buy one of Thermador's rangetops instead of a cooktop. What's the difference?
A rangetop, much like a cooktop, is only a stovetop unit without an oven. However, the difference is in the designs.
Rangetops are installed in a section removed between the countertops, allowing them to slide in and sit above the lower cabinets or drawers. This is unlike cooktops which are inserted in a cutout on the countertop. Therefore, rangetops have their controls placed on the front face, similar to slide-in ranges.
Advantages of Rangetops
They are meant for heavy use and are preferred by professionals.

These models have more advanced features.

The controls are easier to reach.
Disadvantages of Rangetops
Thermador only sells gas rangetops.

They're more expensive than their cooktop counterparts.

They take up more space than cooktops.
Fuel Options for Thermador Stove Models
Thermador's stoves can be either gas, electric, or dual-fuel.
Gas Stoves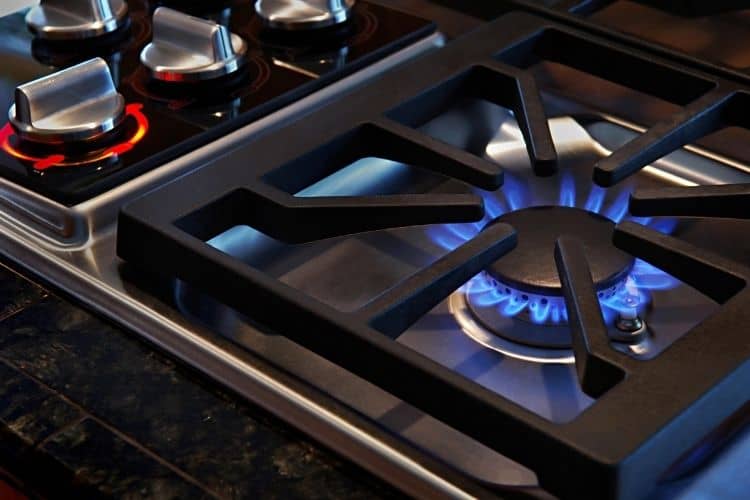 If you have a gas line connected to your home, then a gas stove might be the best option for you. Here are some advantages of gas stoves.
Pros of Gas Stoves
Gas is cheaper than electricity and these stoves will cost less to operate.

Gas stoves provide instant heat when turned on, making them faster at cooking.

They also offer instant temperature changes when the heat is increased or reduced.

You can use all types of cookware.

They're ideal for heavy use.

You can still use them in the event of a power outage.
Cons of Gas Stoves
The open flame poses a greater risk of fires.

There's also the risk of gas leaks.

It's expensive to install a gas stove if you don't have a gas line connected to your home.
Electric Stoves
Electric stove models are of three types: coil stoves, smooth top stoves, and induction stoves. Thermador has smooth top and induction models in their lineup.
Smooth top stove models have a black ceramic glass top and the heating elements are hidden underneath. Therefore, as the name implies, their surface is flat and smooth, with circles drawn to indicate the location of the elements. Here are Thermador's smooth top stove models.
Induction stoves look similar to smooth top models but the difference lies in the way they operate. Induction stove models have electromagnetic coils that use magnetic induction to transfer heat directly onto the cookware. Therefore, the stove surface doesn't heat up, only the pots/pans do. Check out Thermador's induction stove models here.
Let's take a look at the pros and cons of smooth top and induction stoves to help you decide which one is right for you.
Pros of Smooth Top Stoves
Glass smooth-top stoves are cheaper than induction stoves.

You can use most types of cookware.

They're easier to clean than gas stoves.

They're safer to use than gas stove models.
Cons of Smooth Top Stoves
They're not as efficient as induction stoves.

The cooking surface heats up, posing a risk of burns.

They take longer to heat the cookware than induction stoves.
Pros of Induction Stoves
Because heat is transferred directly to the cookware, induction stoves take less time to cook.

Less heat is lost making these stoves more energy efficient.

They provide more even heat distribution.

Since the stove's surface doesn't heat up, these stoves are safer to use.

They're also easy to clean.
Cons of Induction Stoves
They're more expensive than smooth top models. For example, Thermador's cheapest induction stove costs $2800 while their lowest-priced smooth top model costs $1500.

You can only use cookware that is attracted to magnets, for example, cast iron. However, you can't use aluminum or glass cookware.
Dual-Fuel Ranges
Thermador also sells dual-fuel ranges. These are models with a gas stove and an electric oven, allowing you the benefits of both fuel types. 
Electric ovens offer better heat distribution than gas ovens, resulting in more evenly browned food. These are, therefore, better for baking. 
Main Features of Thermador Stoves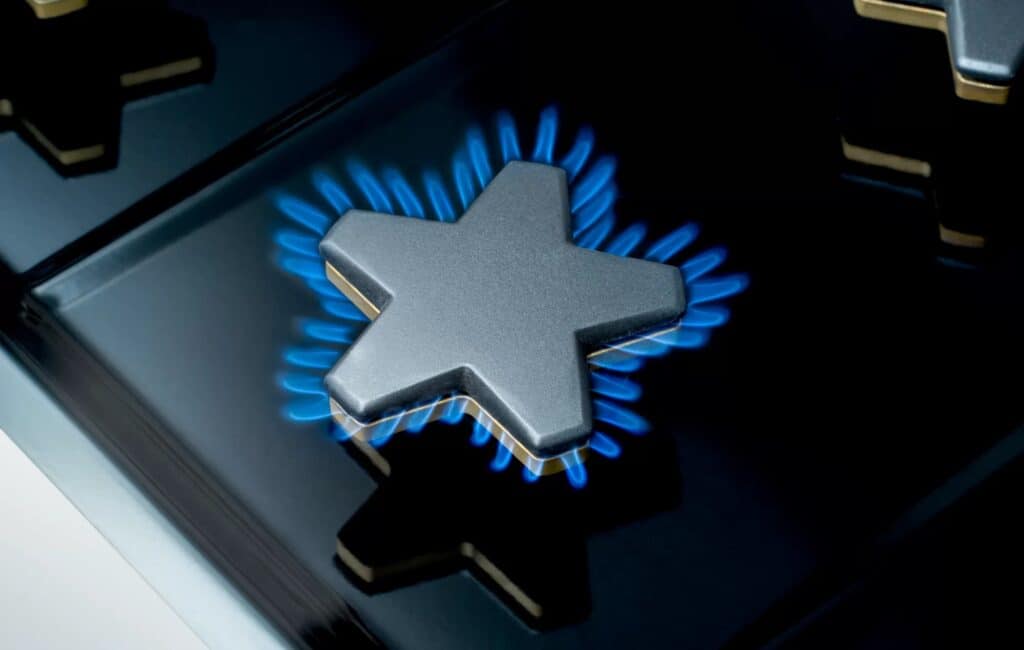 Burners
Thermador's gas stoves have different types of burners that are ideal for different cooking situations. Here's a look at the types of burners available.
Pedestal Burner
Thermador's pedestal burner is raised from the bottom of the stovetop, leaving a space in which you can fit your hand when cleaning. This design feature makes it easy to clean. 
Star Burner
Patented by Thermador, the star burner is star-shaped, an unconventional design that improves heat distribution. Circular burners usually direct the flame at the perimeter of cookware, meaning that there'll be more heat in this area. However, with a star burner, the heat is spread from the middle of the pot's base to the edges, following the shape of the star. As a result, there's uniform heating with fewer cold spots.
ExtraLow Simmer Burners
The ExtraLow burner is Thermador's low-heat setting that's perfect for simmering food. When a burner is set to this level, the flame will shift to a very low setting and it'll power on intermittently for 10 seconds every minute. This allows it to maintain a consistently low temperature. 
Grates
Thermador's gas ranges, rangetops and cooktops have cast-iron grates, which are known for being sturdy and resistant to high heat. Moreover, all of Thermador's gas stove models have continuous grates that seamlessly spread across the stovetop. This feature makes it easy to transfer heavy pots from one burner to another by simply sliding them over. 
Heating Elements
The heating elements are to electric stoves what burners are to gas stoves. Thermador's induction and smooth top models have different types of elements for varied use cases. Let's take a look at them below.
Dual-zone Bridge Element
All of Thermador's electric cooktops have a dual-zone bridge element. This is a feature that allows you to connect two heating elements to make them one long one. Bridge elements are best for griddles or oblong-shaped cookware.
Triple-Zone Element
This is a type of element whose area can be changed depending on the size of the pot you're using. As its name implies, it has three different sizes marked by circles that show the diameter of the three heating zones. This element makes it easy to use cookware of different sizes.
Freedom Induction
Thermador's most expensive induction cooktops have the company's Freedom induction feature. This is made up of up to 56 inductor elements that are spread out across the cooktop's surface. This makes the entire top surface one big cooking area, giving you the freedom to use whatever part of the cooktop you prefer – thus its name.
Cooktops with this feature are also equipped with pot detection tech that will know where a pot has been placed as well as its size. 
Liberty Induction
Liberty induction has a total of 11 inductor elements spread out across three cooking zones. The middle zone has three elements while the two on either end have four zones each.
This feature allows you to use cooking pots of different shapes and sizes within the cooking zones, and still get uniform heat. You can also use griddles or grills on these zones; Thermador tells us that a grill of up to 16 inches long can be used. 
Smart Features
Thermador's induction cooktops and some ranges are the company's only models with smart features. These cooktops have WiFi connectivity, allowing you to connect them to your home network. You can then connect your smartphone to the cooktop via the Home Connect app, allowing you to set cooking temperatures and get notifications when the food is ready. 
You'll also get maintenance tips for your cooktop via the app, and if there's an issue, you'll be able to use Home Connect to troubleshoot and find a solution.
Available Sizes
Stoves are measured according to their width with most being either 30 inches or 36 inches. Thermador's gas, electric and induction cooktops come in these two sizes (30 and 36 inches) but the company's rangetops have the two as well as 48-inch models.
The lineup of kitchen ranges, however, come in four sizes: 60, 48, 36, and 30 inches. 
What to Consider Before Buying a Thermador Stove
Your Budget
How much do you have to spend? Thermador's gas cooktops start at about $1500 with the most expensive costing about $2500. The company's cheapest electric cooktop costs about $1500 as well and they cost up to about $2000. 
If you're looking for an induction model, the cheapest one costs about $2800 and the prices go up to about $5400. Thermador's rangetops are also costly, with the lowest priced one going for $3300 and the most expensive one selling for about $4800.
For those looking for a range, the cheapest one – a 30-inch gas range – costs about $5600 and they can cost over $20,000 for a 60-inch model. 
Your Cooking Needs
If you're looking for a stove for home use, then a fancy $20,000 range would be overkill for you. Thermador's ranges and rangetops are tailored for professionals, thus their hefty price tags and advanced features. For basic use, consider their gas or electric cooktops.
If you want state-of-the-art features then Thermador's induction cooktops are excellent appliances to invest in. Induction technology is still making inroads in people's kitchen's and buying one now means future-proofing your kitchen. Their versatility also makes them great for people who love to cook.
If you don't do a lot of cooking then perhaps Thermador's may not have the best option for you. It's hard to justify spending over $1500 on an appliance you'll only use once or twice a week. For cheaper stove models, check out our Amana stove model guide.
Your Household Size
The number of people you cook for will determine the size and type of Thermador stove you choose. A 30-inch cooktop is okay for a small family and if you're more than four in your household then a 36-inch model might be more appropriate. 
Still, if you're one or two in your household, Thermador's stoves might be overkill for you as they're made for heavy use. 
Fuel Type
As we've seen, Thermador has both gas and electric stove models. If you have gas hookups already then a gas stove might be a good option for you. These are also best for those who live in areas that experience regular power outages. 
If you don't have a gas connection, getting one will be expensive and so an electric stove is your best bet. 
5 Recommended Thermador Stove Models
Selection Criteria
To choose the five recommended Thermador stove models, we considered the following:
Features: Our choice of stoves have top-notch features in their class, offering great functionality for home and professional users.
Value for money: Although Thermador's stoves are costly, the recommended stoves offer a high cost-benefit ratio, making them worth their high price tag.
Practicality: We considered stoves with features that Thermador's customers find useful rather than fancy features that don't often come in handy. We, therefore, overlooked some Thermador stove models with fancy features that most home users may not use.
Thermador Gas Rangetop 36" Stainless Steel PCG364WD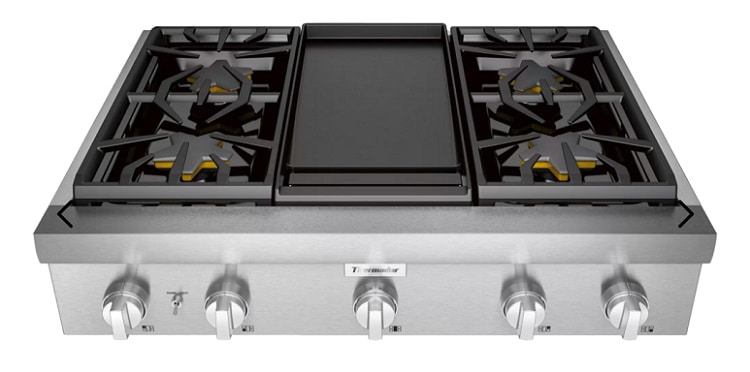 This Thermador gas rangetop is a bulky-looking 36-inch stove that is built for professionals. However, you can still buy this for your home if you love cooking multiple dishes at once. It has four burners – Thermador's Pedestal Star Burners no less. In between the two pairs of burners, there's a removable cast aluminum electric griddle for making pancakes among many other dishes.
This rangetop's rugged looks are marked by the stainless steel body and the cast-iron grates over the burners. I think it looks rather industrial but, don't get me wrong, that's a good thing. Thermador intended this to be an appliance for a busy kitchen and there's no doubt that it can handle the rigors of heavy use. Thermador describes the knobs as "restaurant-style".
There are two ExtraLow Simmer burners in this model, able to maintain a temperature of as low as 100 degrees Fahrenheit (37 degrees Celsius). But the four burners can also get quite hot if you need them to; their total heat is 18,000 BTU. 
Worried about cleaning the stove? Thankfully, it's easy to clean this rangetop. The cooking surface is made of porcelain and the pedestal design makes it easy to wipe off spills that make their way below the burners. 
Main Features
This is a Thermador gas rangetop.

It has a width of 36 inches.

The body is made of stainless steel.

There are four Pedestal Star burners. 

Two of its burners have the ExtraLow Simmer feature.

The stove gives a total of 18,000 BTU of heat.

There's a non-stick cast-aluminum griddle.
Pros
This rangetop can handle heavy use.

It has an automatic electric re-ignition that lights the flame if it goes out.

It's easy to clean.

This rangetop can be used to prepare a variety of dishes thanks to the griddle, burners, and the ExtraLow Simmer feature.

You can replace the griddle with a grill that's bought separately.
Cons
It's too expensive for those who want a stove for general home use.
Thermador Gas Cooktop 36" Stainless Steel SGSP365TS
Compared to Thermador's rangetops, the gas cooktops are a little bit cheaper, with this one costing just slightly over $2000. Its stainless steel body and cast iron grates give the first inkling that this is a premium product. 
There are five Star Pedestal burners with the center one able to give off 18000 BTU of heat. In total, the burners can produce a whopping 60,200 BTU of heat to allow you to prepare whatever dish you please. The knobs are made of die-cast metal, which endows them with durability and, of course, a stylish appeal.
As is the case with Thermador's stoves, this model is endowed with the company's QuickClean Base, which is a coating on the base that keeps spills from caking on, making them easy to wipe off.
Main Features
This gas cooktop has a width of 36 inches.

It has five Pedestal Star burners with a high-heat center burner that gives off 18,000 BTUs of heat.

The cooktops burners produce a total of 60,200 BTUs of heat. 

The cooktop's body is made of stainless steel.

It has cast-iron continuous grates.

There's an indicator light to show when a burner is on.
Pros
The cooktop has a premium build.

Its Star burners spread heat more uniformly at the base of the cookware.

The powerful center burner makes it easy to prepare dishes that require high heat.

Its continuous grates allow you to easily slide heavy pots from one burner to the next.
Cons
There's no ExtraLow Simmer burner. 
Thermador Liberty® Induction Cooktop 36" Titanium Gray CIT367XGS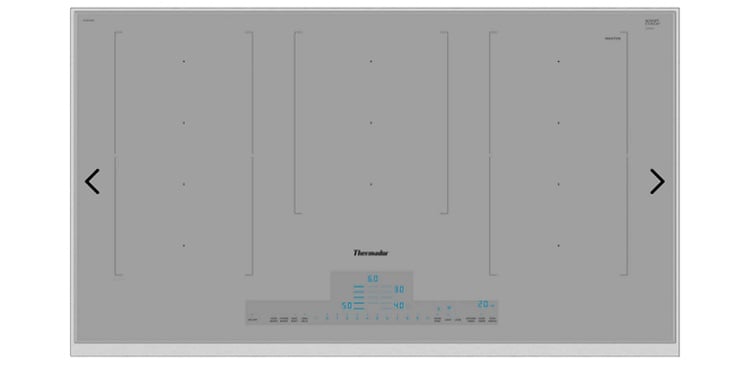 Thermador has several induction cooktop models with some fascinating features. However, most of them are quite expensive, costing over $4000. This model, however, costs just under the $4000 mark, retailing for about $3900. That's one reason why we considered it, but it's not the only reason – it also has some excellent features.
Certainly, this isn't an affordable cooktop compared to other brands in the market. However, you're probably considering Thermador because you want to splurge on an induction cooktop that's sleek and boasts the company's latest cooking technology. 
This model has Thermador's Liberty cooking zones; three zones with a total of 11 inductor elements. This feature allows you to use cookware of varied sizes on the zones and still get even heating.
There's also the nifty MoveMode feature, which makes it easy to transfer the settings you're using in one zone to another when you move a pot. There are also five pre-set temperatures for common frying recipes, making it easy for you to prepare different dishes without worrying about setting the correct heat level. 
Of course, this cooktop also has WiFi connectivity, granting it smart features. Via the Home Connect app, you can remotely set cooking temperatures and get notifications when food is ready.
Main Features
This is a 36-inch induction cooktop.

It has Thermador's Liberty cooking zones.

There are a total of 11 induction elements in the three cooking zones.

It has a touch control panel.

The cooktop has WiFi connectivity and can be controlled remotely via Thermador's Home Connect app.

It comes in a titanium grey color.

It has a stainless steel frame.
Pros
You can use cookware of varied shapes and sizes on the cooking zones.

Thanks to WiFi connectivity, you're able to get notifications when your food is ready or set temperatures from your phone.

The control panel is easy to use.
Cons
Thermador Touch Control Electric Cooktop 36" Black CET366TB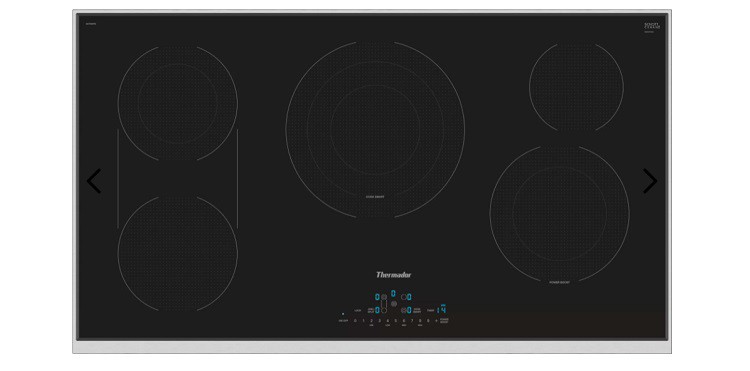 For those looking for an electric cooktop, this Thermador model is the best in its class. However, as you'd expect, it costs a premium, retailing at about $2000. For much less than this, you can get an electric cooktop from Whirlpool or GE. But Thermador's cooking technology makes this a good buy if your budget can stretch that far.
The cooktop has five heating elements of different sizes, allowing you to use cookware of varied sizes. There's also a dual-zone bridge element on the extreme left, which can function as two separate cooking zones or a single long one. So, if you like to cook on griddles or you have oblong-shaped cookware, this is the perfect place for using them. 
In the middle, there's a triple-zone element whose size can be altered to fit the pot size. The three sizes are marked by three circles that show the different heating zone sizes. To help keep you from getting burned, there's an indicator that not only shows when an element is on but also lets you know when an element is still hot when turned off. 
Main Features
This is a 36-inch cooktop with five elements.

There's a dual-zone bridge element.

It also has a triple-zone element.

There are a total of ten cooking zones in the five elements.

It has a touch-sensitive control panel.

The cooktop has a heat indicator. 
Pros
The residual-heat indicator helps keep you from getting burned.

This cooktop is easy to clean.

You can use cookware of different sizes.
Cons
Thermador Dual Fuel Professional Range 30" Pro Harmony® Standard Depth Stainless Steel PRD304WHU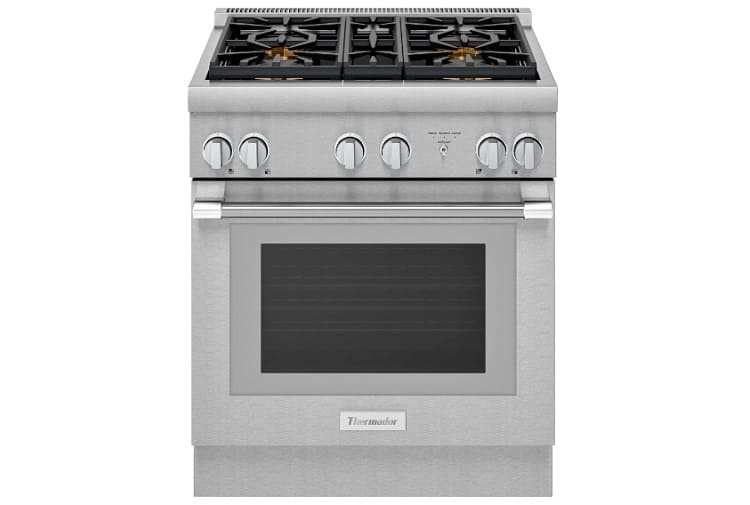 Finally, if you're looking for a Thermador slide-in range, the company has several really good models available. This is our choice because it's just the right size for home use, with a width of 30 inches and four Star burners. It bears the typical Thermador look, with a stainless steel body and a rugged, boxy design. As we've already established, Thermador's stoves are meant for heavy use and this range is no different.
There's a continuous grate that's made of cast iron, underscoring its professional pedigree. Underneath these burners are the innovative Star burners which include an ExtraLow one for consistently low temperatures ideal for simmering. 
This is a dual-fuel model, so the oven is electrically powered, allowing you to enjoy the benefits of both gas and electricity. The oven also has nifty features like self-cleaning and convection baking. To own this range, you'll have to part with a staggering $6300.
Main Features
This Thermador range has a 24-inch cabinet depth and a width of 30 inches.

Its body is made of stainless steel.

The range has four Star burners.

There's an ExtraLow burner feature.

It has a cast-iron grate.

The front burners give 18000 BTUs of heat each.

The oven has a convection bake feature.
Pros
The continuous grate makes it easy to shift heavy pots from one burner to another.

This range can handle heavy use.

Its cabinet depth gives it a built-in look.

Food is evenly browned in the oven thanks to the convection feature.
Cons
This range is very expensive.
FAQs
Question: Are Thermador Appliances High-End? 
Answer: Yes, Thermador's appliances are high-end, luxury appliances that offer superior quality and innovative features. 
Question: Are High-End Ranges Worth It?
Answer: High-end ranges are worth it if you do a lot of cooking and require a high-quality appliance that will handle heavy use while offering excellent cooking results. They, however, aren't worth it if you don't cook a lot and won't use the advanced features.
Question: Is Thermador Made in the USA?
Answer: Yes, Thermador is made in the USA, at their factory in La Follette, Tennessee.
Bottom Line
Thermador's stove models are of superior quality with innovative features that improve cooking results. They, however, come with a hefty price tag that is hard to justify if you want a stove for basic home use.
Thermador seems to target the professionals and heavy users, so if you do a lot of cooking then their models might be just what you need. However, for everyone else, consider cheaper models from a reliable brand like Whirlpool. Check out our Whirlpool stove model guide here.