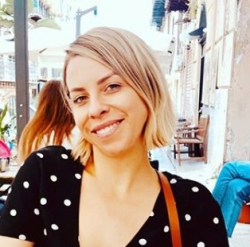 Latest posts by Jodie Chiffey
(see all)
Dishwashers are some of the most durable kitchen appliances as their average lifespan is between 10 and 15 years. Hence, you'll only have to look for the best replacement dishwasher drain hose if the original part gets damaged. Some professionals recommend replacing the dishwasher's waterline every five years, but there's no need to do this if the one you're currently using is still in good condition.
Also, you need to rule out all other potential reasons why your dishwasher isn't working properly before you decide to change its hose.
So, in this article, we're going to show you how to determine if you need a replacement dishwasher drain hose and suggest several models that will restore your appliance back to normal. Browse through our Asko dishwasher model guide if you're looking for a new kitchen dishwasher.
At a Glance – 5 Best Replacement Dishwasher Drain Hoses
Selection Criteria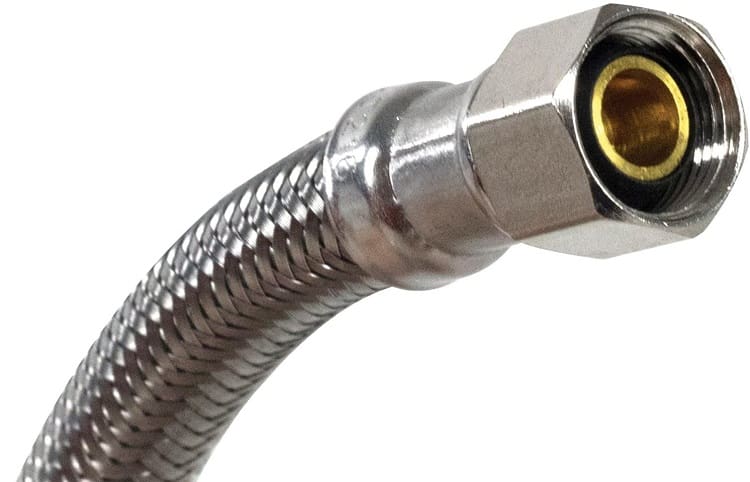 The process of choosing a replacement dishwasher drain hose is simple since you just need to know the dimensions of the appliance's drain port and the size of the pipe you're connecting the hose to. Despite this, you shouldn't go through the selection process alone, and ultimately you should get a replacement hose recommended by your plumber.
We're going to take you through the parameters we utilized to pick the models featured in this article since they might make your search for a replacement dishwasher hose easier.
Hose material – All dishwasher hoses are made of flexible and pressure-resistant materials. In most cases, you'll have the choice between steel mash and plastic models. That's why our selection included hoses made of either of these materials.
Compatibility – You can either opt for an OEM hose that is designed for dishwashers manufactured by a single brand or a universal one that fits on all types of dishwashers.
Check out our GE dishwasher model guide for more information about the brand's latest models.
Determining if You Need a New Dishwasher Hose
Some of the most common symptoms of a faulty dishwasher hose are lowered cleaning quality, static water inside of the appliance, and water leaks.
However, these symptoms sometimes overlap with symptoms of a clogged hose. Clogging is usually caused by food leftovers that get stuck in the hose. That's why you need to inspect the hose for cracks and physical damage and check if its connectors are loose or damaged.
You can try cleaning the air gap or adding a solution of vinegar and baking soda to the basket at the bottom of the appliance and then flushing it with hot water if you think that the waterline is clogged. If none of these efforts produces the desired results, you should start searching for a replacement hose for your dishwasher. Read our Amana dishwasher model guide if you're considering replacing your dishwasher.
Types of Dishwasher Hoses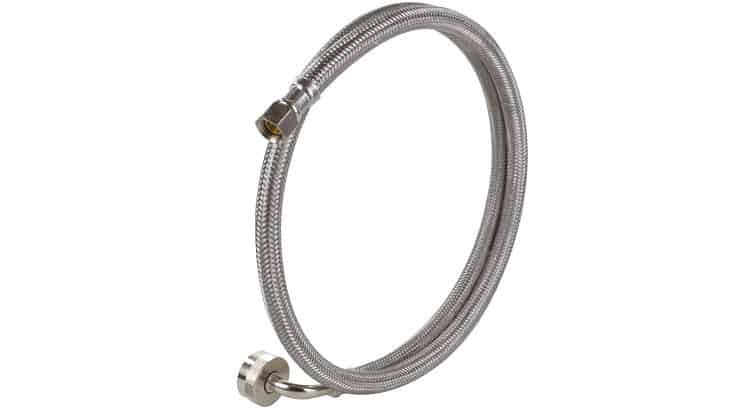 In terms of the features they offer, all replacement dishwasher hoses are the same as they contain a pair of valves on each end and the flexible tubing that connects the valves.
The sizes of the valves differ from model to model, and you need to know the diameter of the appliance's drain hookup to choose the correct model.
Most models have ½-inch hookups, and they come with a built-in matching hose. Moreover, some brands have standardized connection diameters and hose lengths, so for instance, a GE dishwasher will always have a 5/8-inch drain hook up and a 78-inch long hose.
That's why the easiest way to find a replacement hose is to search for an OEM part that is designed to fit on the dishwasher model you have. Optionally, you can choose a universal hose that fits ½, ¾, 5/8, and 7/8 inch connections.
Go through our Whirlpool dishwasher model guide to learn more about what Whirlpool's dishwashers have to offer.
Removing a Faulty Dishwasher Hose
All kitchen dishwashers come with a built-in hose, which enables you to connect the device to the kitchen sink drain and start using it. You will have to detach the hose from the device and the drain if you want to remove an old hose.
This process can be demanding because you have to open the dishwasher to disconnect the drain hose from the drain pump. You shouldn't try to replace a dishwasher hose by yourself if you're not familiar with the process, and it is best to hire a professional to do the job for you.
You'll also need the right tools to remove the old hose and install its replacement. Even though the entire process doesn't last long, dealing with different screws and opening spring clips can be an overwhelming task for someone who never removed a drain hose from a dishwasher.
Read our guide to home refrigeration if you need help finding the best appliances for your kitchen.
Reliability of Replacement Dishwasher Hoses
The replacement hose you choose needs to be flexible and sturdy enough to withstand contact with different materials. In most cases, you'll have to cut holes in the cabinet in order to create a route for the hose.
Plastic and metal are the most common materials used to manufacture replacement hoses for dishwashers. If maintained properly, models made of either material can last for up to ten years, so you won't have to worry about changing them often.
Most manufacturers of replacement dishwasher hoses offer warranties that last for five to ten years and cover all defects of the product during that period. Go through our guide to the best trash compactors to discover ways to dispose of food from the plates you put in your dishwasher.
The Most Important Factors to Consider While Choosing a Replacement Dishwasher Hose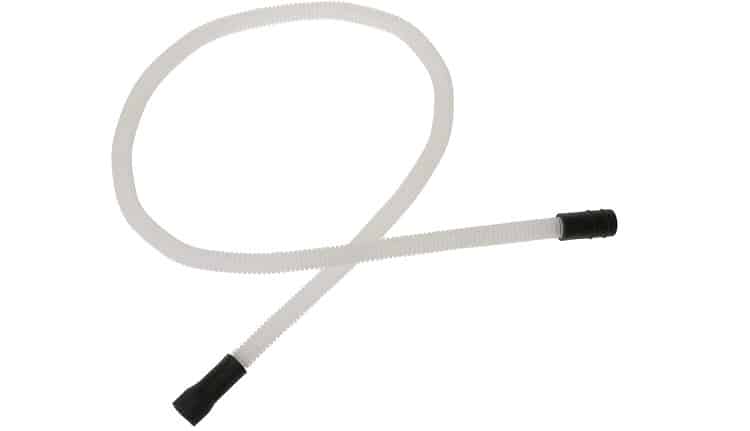 Although factory dishwasher hoses are durable, they're not indestructible, and over time they might start to leak. Unfortunately, the only way to fix a leaking hose is to replace it, and in most cases, the safest option is to get an OEM part recommended by the manufacturer.
Even though the selection process of replacement dishwasher hoses is straightforward, there are still several factors you have to consider while deciding which model to pick.
The Length of the Hose
To know how long the replacement hose should be, you have to measure the distance between the appliance and the kitchen sink drain. You can choose between the models between five and ten feet long but keep in mind that shortening a hose that is too long isn't an option.
Despite this, getting a hose that is longer than it needs to be can be beneficial because it enables you to create a high loop that will prevent the backflow of contaminated water. On the other hand, if a hose is too short, you can extend its length, but keep in mind that doing so can be difficult.
Adjustable Sizing
The connection diameter on both sizes depends on the model, and it varies from ½-inch to 7/8-inch. Hoses manufactured for specific dishwasher models have standard valve sizing, so you won't have to worry if they can create tight seals on both ends.
Universal hoses feature a rubber boot that allows you to adjust their size to the outlet you're connecting them to. These rubber boots have markers that inform you where to cut if you want to use a hose with ½-inch, ¾-inch, or 1-inch drain hose connectors.
Backflow Prevention Options
The most efficient way to prevent the dirty water from flowing back into a dishwasher is to connect its hose to a dishwasher air gap. These accessories prevent backflow by separating two branches of the hose and inserting a gap of air between them, which in turn eliminates all chances of cross-contamination.
Besides dishwasher air gaps, you can also create a high loop underneath the sink using the waterline, but doing so is only possible if the distance between the top of the loop and the floor is larger than 32 inches.
Hose Material
The vast majority of replacement dishwasher hoses are made of flexible plastic, so you won't have any trouble bending them to meet the requirements of the space. Models made of steel mesh and similar materials are slightly less flexible than those made of plastic, but they're more durable.
Some models can also have 90-degree elbow fittings that make connecting the hose to the kitchen sink drain easier. Moreover, you should remember to check the model's working temperature range and pressure rating if the manufacturer makes the information available.
Keep in mind that dishwasher and washing machine hoses aren't always compatible, and you should only use industrial-grade washing machine hoses on a dishwasher.
Price Range and Warranty Duration
Unlike other dishwasher parts, replacement hoses are inexpensive. Most models cost between $10 and $20, but installation costs depend on the dishwasher brand and model. The diagnostics and installation of a new hose usually cost between $100 and $150.
Nearly all universal and OEM replacement hoses come with a warranty that covers all defects for periods of up to ten years. It is worth noting that the original replacement parts are usually more expensive than a universal model, but they're not necessarily more durable.
The Pros and Cons of Replacement Dishwasher Hoses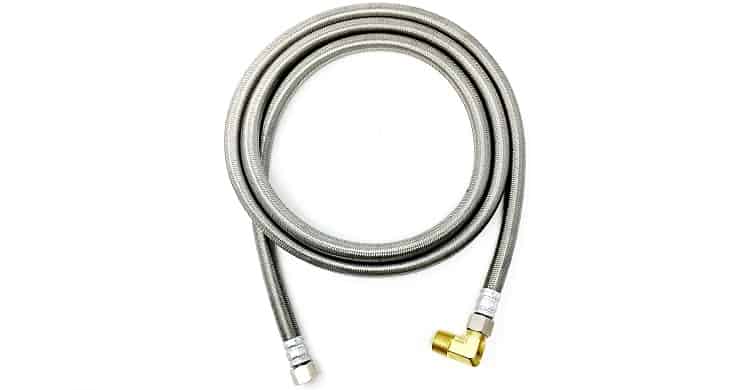 Pros
Available in different sizes
Made of sturdy and flexible materials
Improve the dishwasher's cleaning efficiency
Affordable prices and long warranty periods
Cons
Complicated installation process
 Some models might freeze at low temperatures
Top 5 Replacement Dishwasher Drain Hoses
Horsemen Shark Dishwasher Hose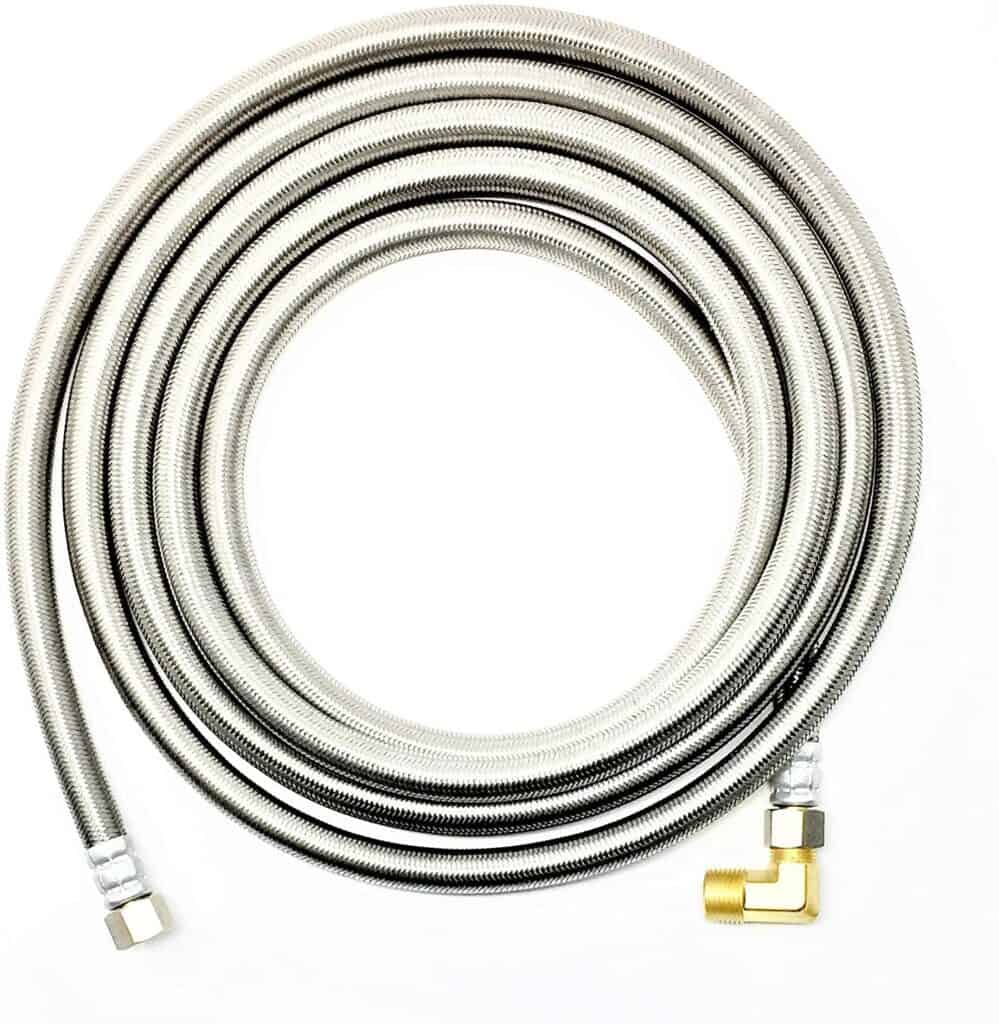 The combination of durability and flexibility makes the Horseman Shark Dishwasher Hose one of the best replacement hoses on the market. This model is compatible with 3/8-inch drain outlets, and you cannot use it with dishwashers that have larger or smaller outlets.
The Horsemen Shark's hose has a braided stainless steel outer cover and a 2-layer PVC core. It is 10 feet long, and it can withstand exposure to pressure in the range of 290psi to 1500psi.
This replacement dishwasher hose isn't affected by low or high temperatures, and it usually functions at temperatures higher than -40F or lower than 210F.
Pros
High-pressure rating
The hose is ten feet long
10-year warranty
Inexpensive
Cons
Only compatible with 3/8-inch drain outlets
Some fittings must be purchased separately
Frigidaire 807117001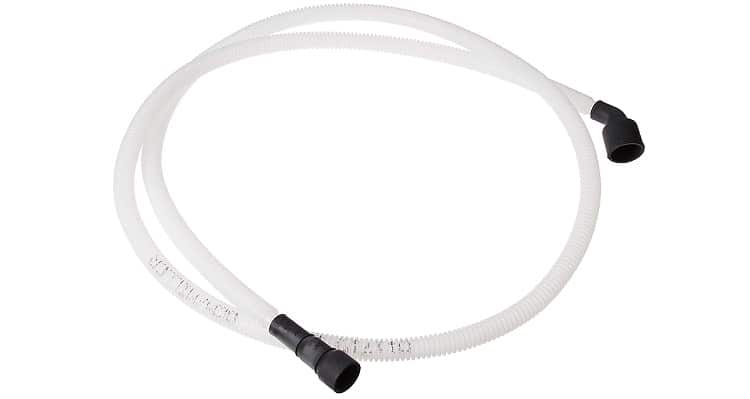 Even though it is designed as a replacement part for Frigidaire's dishwashers, the Frigidaire 87117001 can also be used with Electrolux dishwashers. This hose matches the specifications of ten different models, so you need to check if it is compatible with your Frigidaire or Electrolux dishwasher.
This hose is made from plastic, and it features a rubber fitting that is glued to it on each end. It fits 1-1/4 inch dishwasher drain ports, while the end that connects to the sink drain can be used with 7/8, 5/8, or ¾-inch connections.
Pros
Compatible with a wide range of dishwashers
Creates a leak-proof seal on both ends
Highly flexible and durable
The installation process isn't complicated
Cons
The manufacturer doesn't offer pressure rating information
No warranty
GE WD24X10062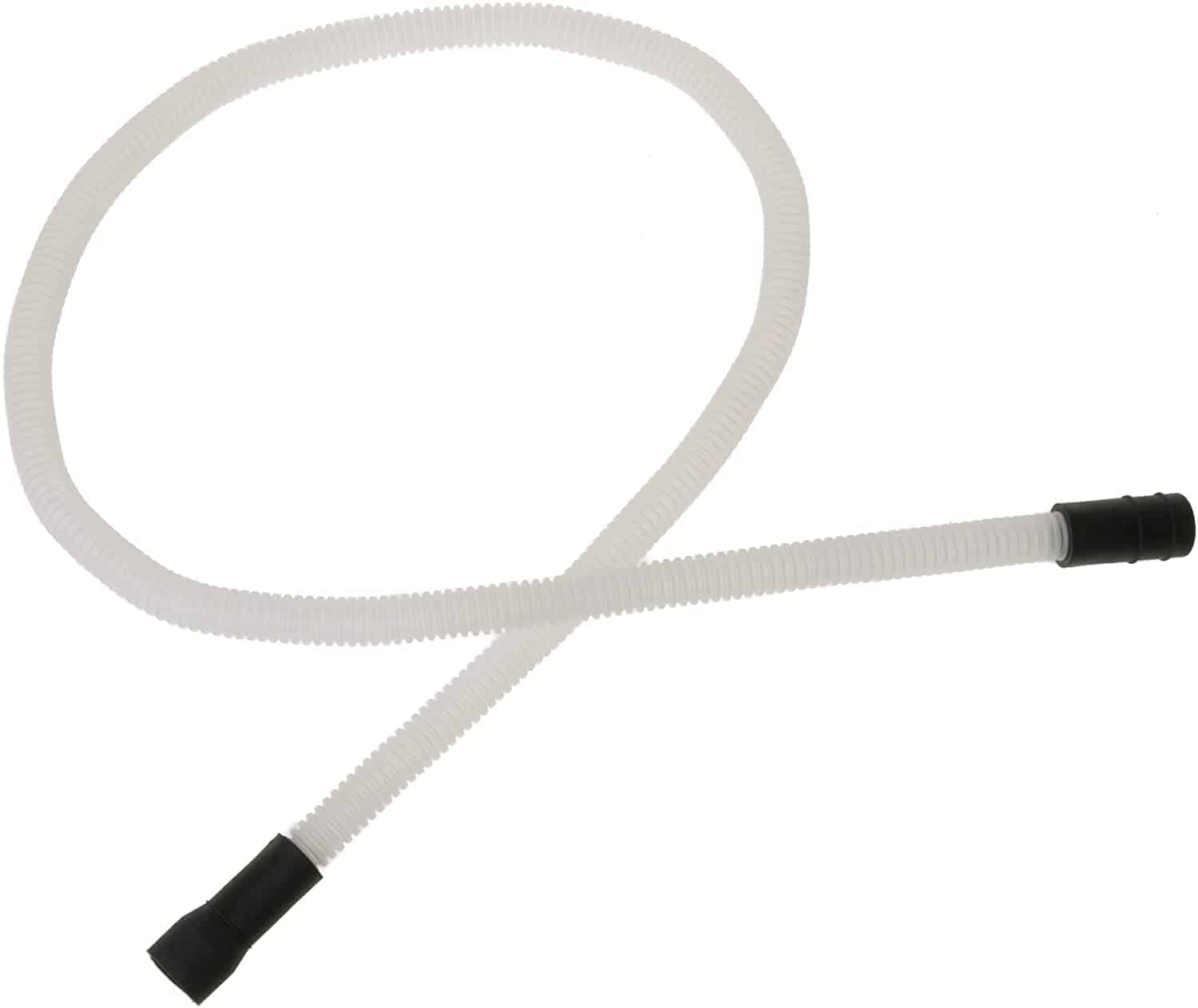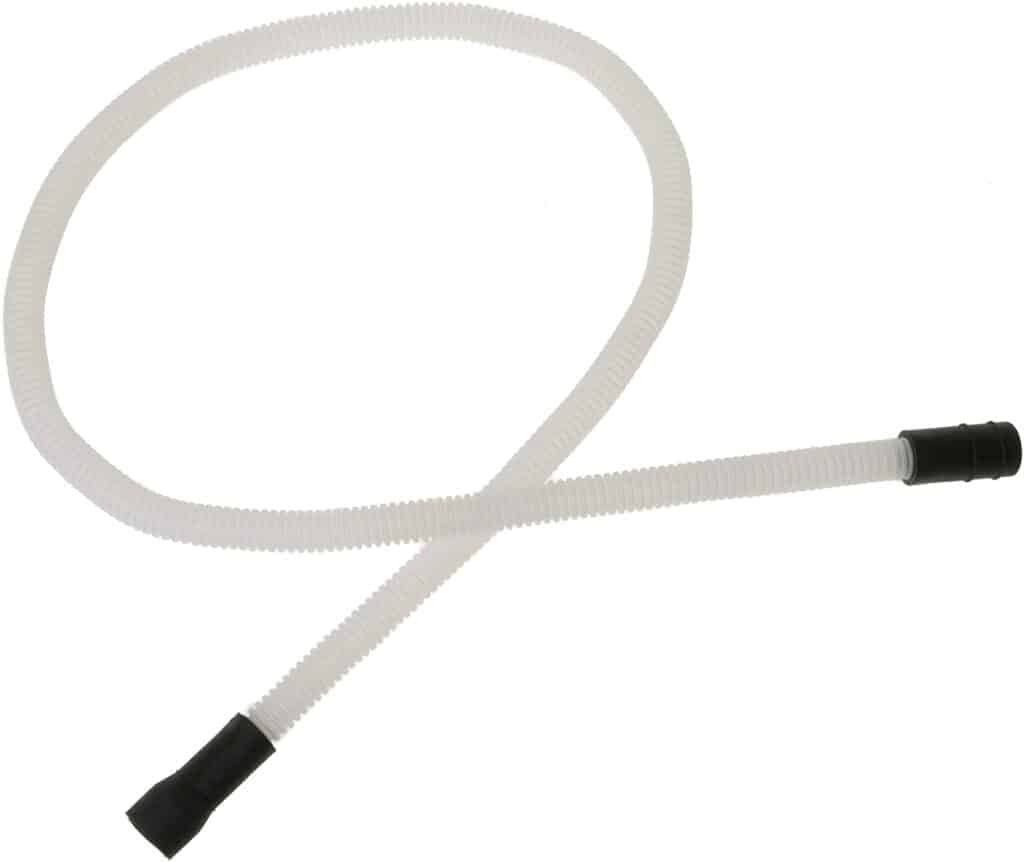 You should only consider getting the GE WD24X10062 if you need a replacement hose for a GE dishwasher. This OEM part is compatible with a broad range of brand dishwasher models, but you still have to check if you can use it with your dishwasher.
Its rubber fittings are designed to be used with 5/8-inch drain outlets and ¾-inch sink drain connections. This hose is only 5 feet long, so it might not be an ideal solution for you if your dishwasher is more than 5 feet away from the sink.
Pros
Affordable price
It can be used to extend the dishwasher's original hose
Made in accordance with GE's standards
Creates a tight seal
Cons
Compatible with GE dishwashers
No backflow protection
Certified Appliance Accessories Dishwasher Hose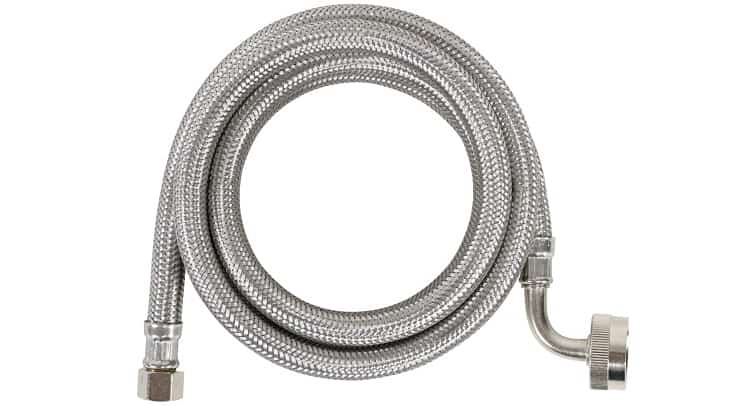 You shouldn't have too much trouble fitting the Certified Appliance Accessories Dishwasher Hose on most standard dishwashers. You can attach it to 3/8-inch and ¾-inch connections, while the 90-degree elbow simplifies the installation process.
The hose's core is made of PVC that is protected by a layer of clear vinyl. The outer cover is made of braided stainless steel that protects the core from physical damage. The hose is 6 feet long, so you may not be able to create a high loop with it if the dishwasher isn't next to the sink.
Pros
Sturdy construction
Excellent performance in cold and warm conditions
Suitable for dishwashers manufactured by different brands
5-year warranty
Cons
The size of the fittings isn't adjustable
The outer cover isn't corrosion resistant
TT Flex Universal Dishwasher Hose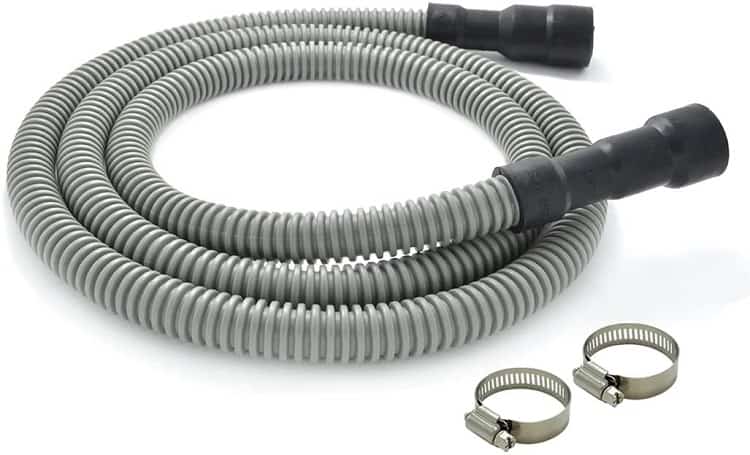 Getting the TT Flex Universal Dishwasher Hose is your best option if you can't determine the size of the dishwasher's drain outlet. This corrugated universal hose allows you to trim its fittings to 1-inch, ¾-inch, or 5/inch, depending on your needs.
The TT Flex's model is made of industrial-grade polypropylene that is both durable and flexible. However, the hose doesn't have any built-in backflow properties, and it is only 6-feet long, so the only way to prevent cross-contamination is to pair it with a dishwasher air gap, as it is too short of creating a high loop.
Pros
Compatible with all types of dishwashers
Ships with two steel clamps
Complies with all plumbing codes
10-year warranty
Cons
It might be too short for some settings
Requires additional backflow protection
FAQs
Question: How Often Should I Replace a Dishwasher Hose?
Answer: The general recommendation is to replace the hose after five years, although most original dishwasher hoses can last much longer.
Question: Can Food Leftovers Damage a Replacement Dishwasher Hose?
Answer: Yes, they can, which is the reason why you should always rinse the dishes before putting them in a dishwasher.
Question: How to Know Which Replacement Dishwasher Hose Size I Need?
Answer: Go through the dishwasher's instruction manual to find out the size of its drain port or get a universal replacement hose that fits all standard connections.
Question: Can Low Temperatures Affect a Replacement Dishwasher Hose?
Answer: A dishwasher hose can freeze at low temperatures, and you should never expose it to temperatures below 50F.
Best Replacement Dishwasher Drain Hose Guide: Final Thoughts
Excessive leakage lowered cleaning capacity, and improper water disposal are some of the sure signs that the dishwasher's hose is faulty. However, finding a suitable replacement shouldn't be too hard, as you'll have a wide range of options at your disposal.
Getting the manufacturer-approved OEM hose is probably your best option because you won't have to worry whether it will fit on your dishwasher or not. That's why we recommend getting the GE WD24X10062 or the Frigidaire 87117001 if you own a dishwasher produced by one of these brands.
A model like the TT Flex Universal Dishwasher Hose might be a good solution if you're not sure which hose size you need. Was this guide to the best replacement dishwasher hoses useful?
Let us know in the comments, or continue reading our Bosh refrigerator model guide if you're in the process of replacing your kitchen appliances.
Read More: