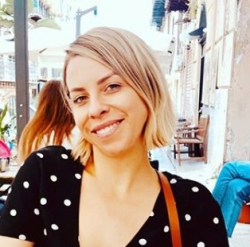 Latest posts by Jodie Chiffey
(see all)
If you're after a new dryer for your home, you might be interested in the Whirlpool Cabrio. Whirlpool has a good reputation when it comes to dryers, making reliable, hard-wearing appliances that can withstand the test of time. The question is – is the Whirlpool Cabrio Dryer worth the money? Does it have enough features to justify the price? What is the drying power like, and how easy is it to run?
We'll answer all those questions, but the bottom line upfront is this: we think the Whirlpool Cabrio Dryer is well worth a look. Solid and reliable, it's a good dryer that works well for most families. Although it does have its downsides – mainly the price and the lack of a steam function – but we'll get into that a little later.
First up, we'll take a look at the key specs and details you need to know about this appliance. Then we'll go into the main points in more detail, including the key features that we like and what we think could be improved. We'll give you some alternatives to check out if you don't like the look of the Whirlpool Cabrio and answer some frequently asked questions before we land on our final verdict.
Let's start with those all-important specs in this Whirlpool Cabrio dryer review.
Whirlpool Cabrio Dryer – Key Specs
Here are the key specs you need to know about for the Whirlpool Cabrio Dryer:
Product Height: 43 ⅜ inches
Product Width: 29 inches
Product Depth: 28 ¼ inches
Depth With Door Open: 51 inches
Capacity: 7 cubic feet
Steam Function: No
Dryer Heating Source: Electric
Moisture Sensor: Yes
Matching Washer Model Number: WTW5000DW
Stackable: No
App-Controlled: No
Color Finish: White
Price: See latest price here
Whirlpool Cabrio – The Main Features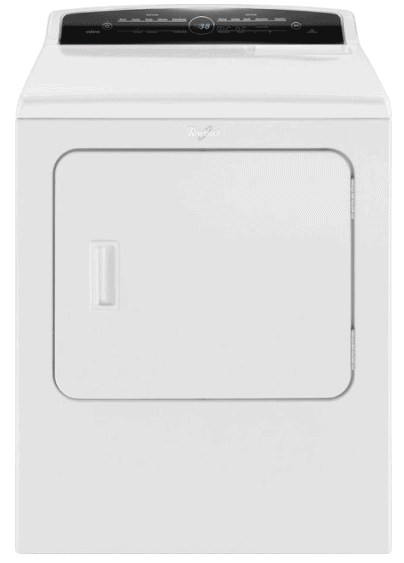 Let's take a look at the main features of the Whirlpool Cabrio.
Drying Power
The Whirlpool Cabrio has an AccuDry sensor drying system. This means every load will be evenly dried, with the sensory drying system measuring moisture and temperature levels. This means you'll avoid overdrying your clothes, so they'll be nice and soft when you get them out.
The machine will automatically adjust drying time, so you won't have to worry about knowing when to get your clothes out. It will beep to let you know the cycle is done, so you can reload it on time. It has 13 cycles, with five temperature options. This means you can set the temperature for different types of fabric. Settings include damp dry, delicates, and jeans.
It also has a wrinkle guard. This means it will occasionally tumble the contents to stop wrinkles from forming, so if you forget to remove your clothes after they've dried, you won't have to worry about them getting wrinkly.
It does lack a steam function. This is useful in a dryer, as it uses steam at strategic moments, stopping wrinkles from forming and preventing static. It's a shame that this isn't included, but the anti-wrinkle function makes up for this a little.
Capacity
The Whirlpool Cabrio has a capacity of 7.0 cubic feet. This is about the right size for a family, as it allows for plenty of washing in one go. It's also roomy enough for bedlinens, which is great, especially if you don't have the option of line-drying your sheets.
Appearance
The Cabrio comes in white, and thanks to the powder coating on the exterior, you can wipe it down easily. So you shouldn't have to worry about it getting rusty, either.
It's a pretty basic-looking tumble dryer, and it doesn't come in any other color options. The downside is that it's not stackable – so while it fits nicely next to a washing machine, if you're tight on space, you won't be able to stack it.
Ease of Use
It's really easy to use the Cabrio Dryer. You can set controls using the dials on the top, and while there are plenty of settings to choose from, there's not an overwhelming amount – it feels intuitive to use. The door opens downward, and it opens really wide, giving you plenty of space to scoop up your clothing after a cycle.
The downside is it may take a little while to install in your home, and it's a little complicated, so you may have to pay a little extra to have someone install it for you unless you're experienced in installing dryers already. Overall, it's a reliable, durable machine that works well – if you want to invest in a dryer that is going to last you a long time, this could be the one.
Ventilation
The Cabrio uses a vent system, with an air vent coming from the back of the unit. This is pretty standard, and the ventilation works well. The lint filter is easy to get to, so you can take it apart and clean it regularly.
Pricing and Warranty
It has to be said that the Cabrio is on the expensive side. Given that it's not stackable and it doesn't have a steam function, it does feel pricey for what you get.
However, it is a reliable machine and should last for a long time to come. Sometimes buying a cheaper appliance comes with the downside of having to replace it quicker, so you may be tempted to go for this one so you can use it for years to come if you maintain it well.
Whirlpool offers a 2-year warranty on manufacturing defects and a 10-year warranty on parts, which is pretty good.
Whirlpool Cabrio – Pros and Cons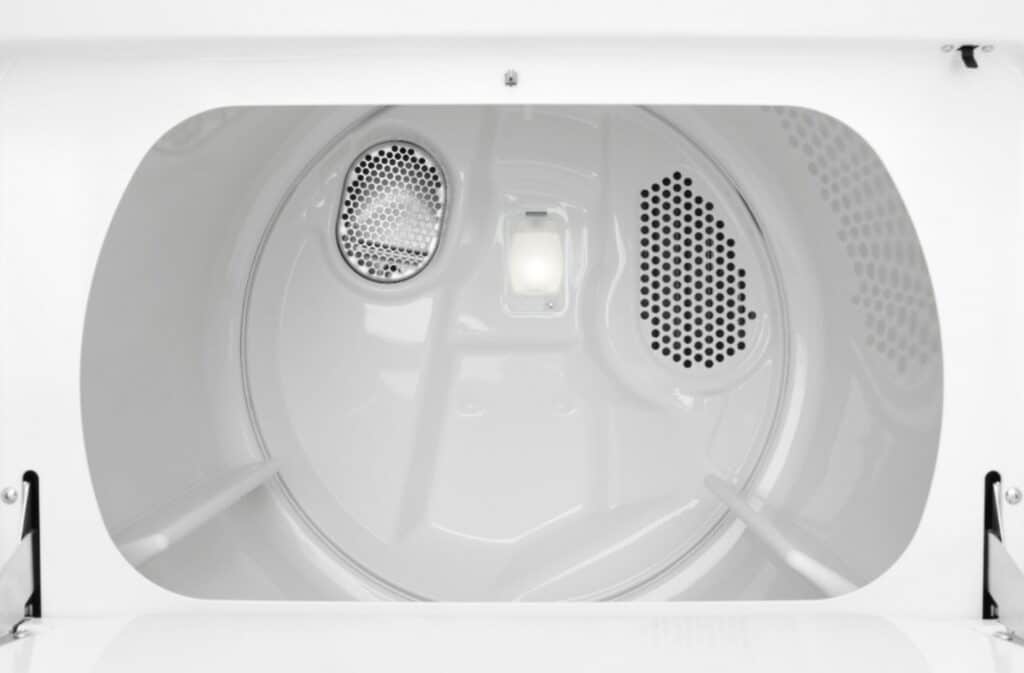 Here's an overview of the highlights of the Cabrio, as well as the areas that we think could be improved:
Pros
Enough settings to suit most fabrics
Decent capacity for a family
Easy to use
Good ventilation
Automatically calculates how long your clothes will take to dry
Wrinkle guard function stops your clothes from getting wrinkly if you forget about it
Durable and reliable
Good warranty
Cons
Fairly expensive
It lacks a steam function
Not stackable, so no good if you have a tight space
Whirlpool Cabrio – Alternatives to Try
Not convinced by the Cabrio? There are some alternatives you can try out:
Whirlpool Smart Electric Dryer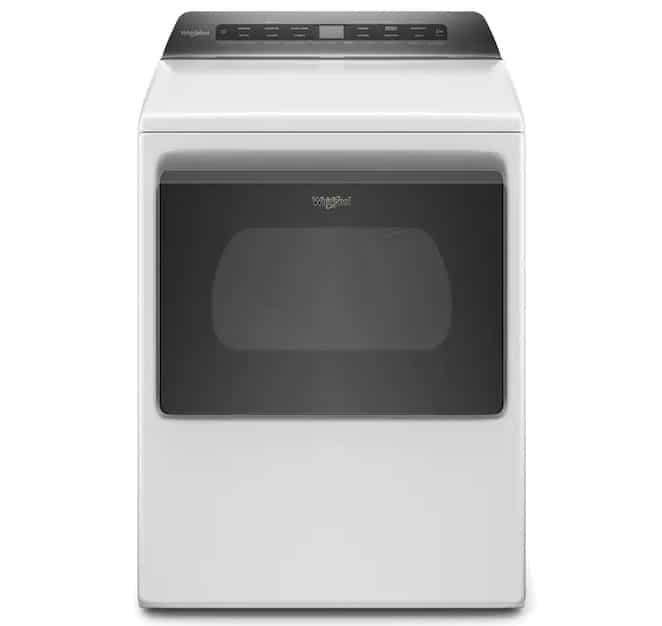 If you like Whirlpool but you'd like some more features, you could go for the Whirlpool Smart Electric Dryer. It prevents overdrying using the Advanced Moisture Sensing feature, and it has plenty of intelligent features available with a subscription plan.
You can also create customized cycles in a few touches with easy-to-use controls. You can read more about it in our Whirlpool Dryer Guide.
Frigidaire White Free Standing Electric Dryer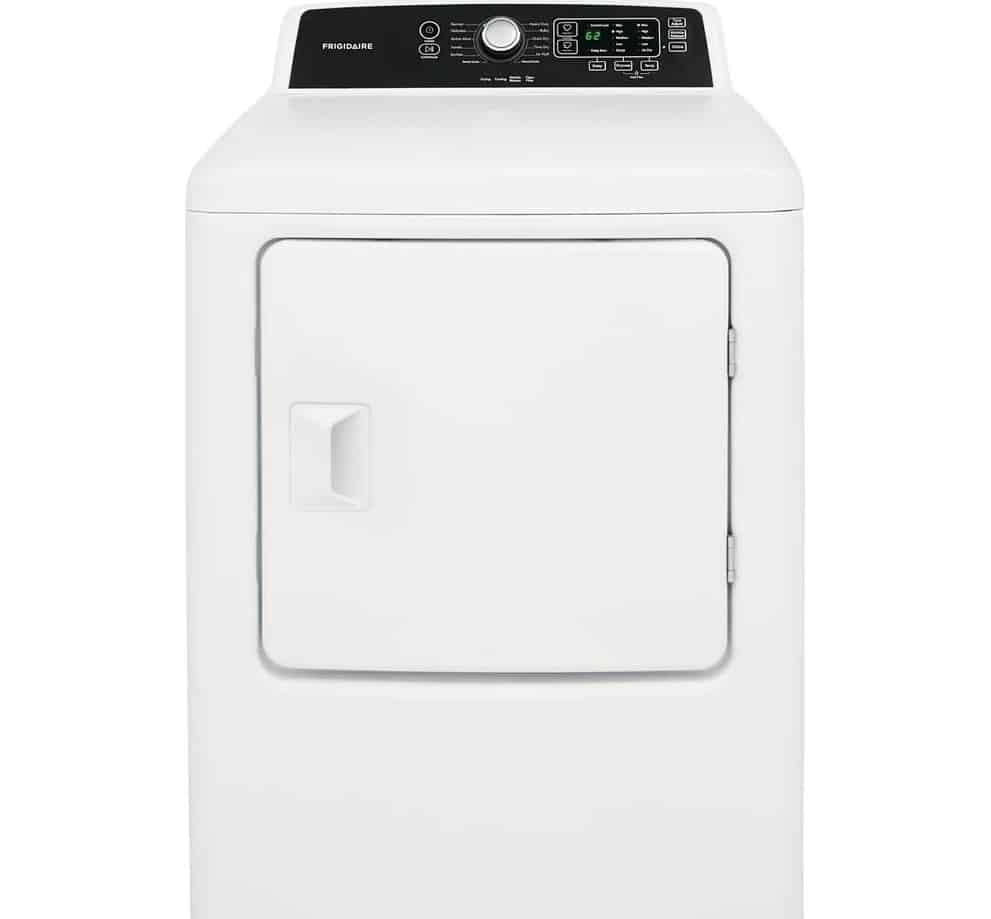 Frigidaire is another good brand for dryers, and the Frigidaire White Free Standing Dryer is no exception. It has ten cycles, including Quick Dry, Bulky, Active Wear, and Sanitize. In addition, it has an anti-wrinkle option to help reduce creases, and it has a reversible door, which opens up some possibilities in terms of installation.
You can read more about it in our Frigidaire Dryer Guide.
Maytag White Electric Dryer With Wrinkle Control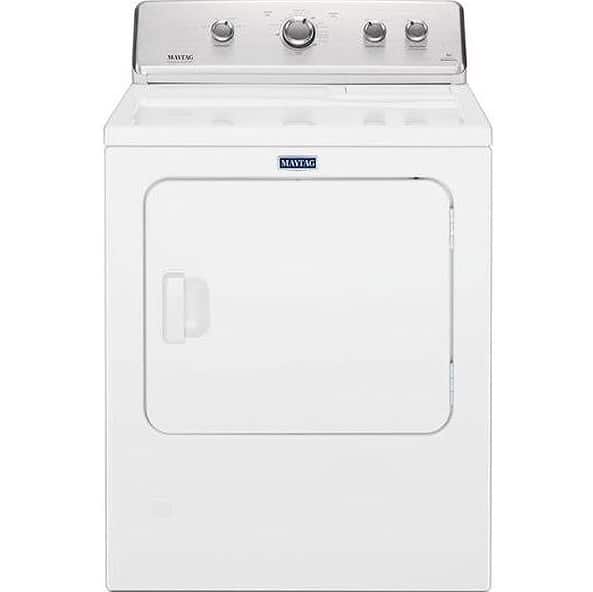 If you want something with reasonable wrinkle control, the Maytag White Electric Dryer With Wrinkle Control may be what you're looking for.
It tumbles clothes without heat after the cycle has ended, and it sets moisture control and air temperature for consistent results. It can handle heavy loads, too. You can read more about it in our Maytag Dryer Guide.
Samsung Fingerprint Resistant Black Stainless Steel Dryer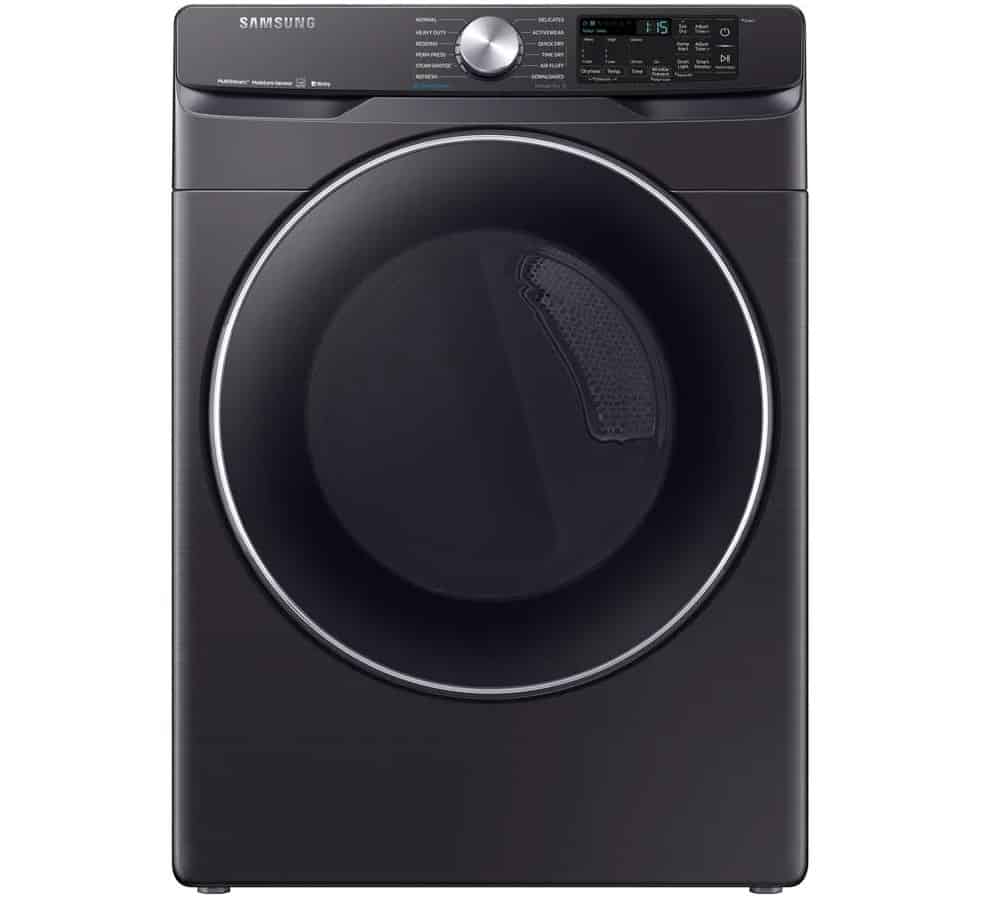 Want something with plenty of extra features? The Samsung Fingerprint Resistant Black Stainless Steel Dryer may be the one for you. The Steam Sanitize+ cycle removes 99.9% of germs and bacteria, over 95% of pollen, and kills 100% of dust mites – so if you need something hypoallergenic, it's a good choice. It also has smart care, so you can troubleshoot any issues from your phone.
FAQs
Question: Is it better to buy a washer and a dryer together?
Answer: Ideally, it would be best to buy them together. You could get a discount if purchased at the same time, you can get them installed together, and they'll match each other – which means they'll look neater in your laundry room. This is especially important if you want them to stack on top of each other.
However, that doesn't mean you're stuck if you have a washer you already like – just check the dimensions to see if your new dryer will fit into the space you have available.
Question: Does the Whirlpool Cabrio have a light inside it?
Answer: Yes, it has a light inside it that switches on when you open the door, so you can easily see the contents.
Question: Can I use a timer if I don't want to use the automatic sensor?
Answer: Yes – if you like, you can use a dial at the top to set the timer yourself, rather than rely on the sensor.
Question: How can I maintain my dryer?
Answer: In an ideal world, you would clean the filter after every load of washing. However, you should also take it out and clean it thoroughly every three months.
If lint starts to build up, it becomes a fire hazard, so it's essential to keep on top of it so you can notice if a lot of lint begins to pile up.
You can also wipe down the dryer on the inside and outside regularly to keep it nice and clean. You should also make sure the dryer hose doesn't have any kinks or tears to keep it running smoothly.
Question: Is the Whirlpool Cabrio Energy Star Rated?
Answer: No, it is not Energy Star rated – this means it may not be as efficient in energy use.
Question: Can I dry a king-size blanket in the Whirlpool Cabrio?
Answer: Yes, you should be able to fit a king-size blanket in the Cabrio, but you may not be able to fit anything else in it at the same time!
Question: Can I get a pedestal for the Whirlpool Cabrio?
Answer: Some dryers can be used with a pedestal, making it easier to use as you won't have to stoop down to reach it. Unfortunately, Whirlpool doesn't make a pedestal to match the Cabrio.
Whirlpool Cabrio Dryer Review: To Sum Up

In a word: yes. If you want a reliable dryer that works exactly the way you need it to, and you want something that's going to last a long time, Whirlpool is a good brand to go for, and the Whirlpool Cabrio Dryer is a solid choice.
While the automatic sensor is great if you want to throw in your clothes and forget about it, you have the option of using a timer too. It has enough settings to keep most people happy, so you won't have to worry about accidentally ruining delicate fabrics.
It's also pretty easy to maintain – the filter is relatively easy to get to, so you can clean it regularly. It's also easy to wipe clean thanks to the powder-coated exterior, so you shouldn't have to worry about it going rusty.
The downside is that it doesn't have a steam function, which some newer tumble dryers have. This would elevate the Whirlpool Cabrio dryer to the next level. Having said that, you may prefer to keep things simple anyway, and the anti-wrinkle function works pretty well anyway.
Basically, if you want something reliable and easy to use – this is the one to go for. The warranty is pretty good, too, so even if something does go wrong, you'll be covered. Hopefully, this has helped you to figure out whether the Whirlpool Cabrio Dryer is the right one for you!
Read More: