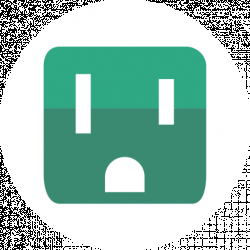 Latest posts by Appliance FAQs Team
(see all)
One of the best inventions ever introduced was the top load washer. As the name of this washing machine suggests, clothes are loaded from the top since the tab sits vertically inside the machine. Note that this washing machine has one tube that is used both for washing and drying. You don't need to keep moving the clothes between the tabs. The top load washer machine is attached to a water inlet tap that opens and closes automatically.
Even though this washing machine model does exceptional work compared to its counterparts, it has very few wash programs.
The washer is easy to set up and use due to the availability of few washing programs. Many brands manufacture these washers, but the one we love and highly recommend is Maytag. You will get value for money with the best features. Who wouldn't want that? Below is a comprehensive guide on the best Maytag top load washer options.
The Capacity Of A Washing Machine
The capacity of a washer depends on the number of people you have in the family. It is usually measured in Kilograms which is then linked to the number of clothes you intend to wash. Besides, certain clothes are light in weight, although they occupy a larger space, such as blankets.
Also, other clothes consume very little space although they are much heavier, like jeans. It is advisable to fill a little water in the drum to move easily to enhance washing quality. If you have many people in your family, consider washing clothes once or twice per week. In this case, you will require a washing machine with a larger capacity to fit your washing needs.
When you intend to wash your clothes after one or two days, go for a medium-size washing machine. However, you will be forced to divide your clothes into multiple wash cycles, thus consuming much of your time. Also, if you choose a small washing machine, you will still be on the safe side.
Factors to Consider Before Purchasing A Top Load Washing Machine
Wash Settings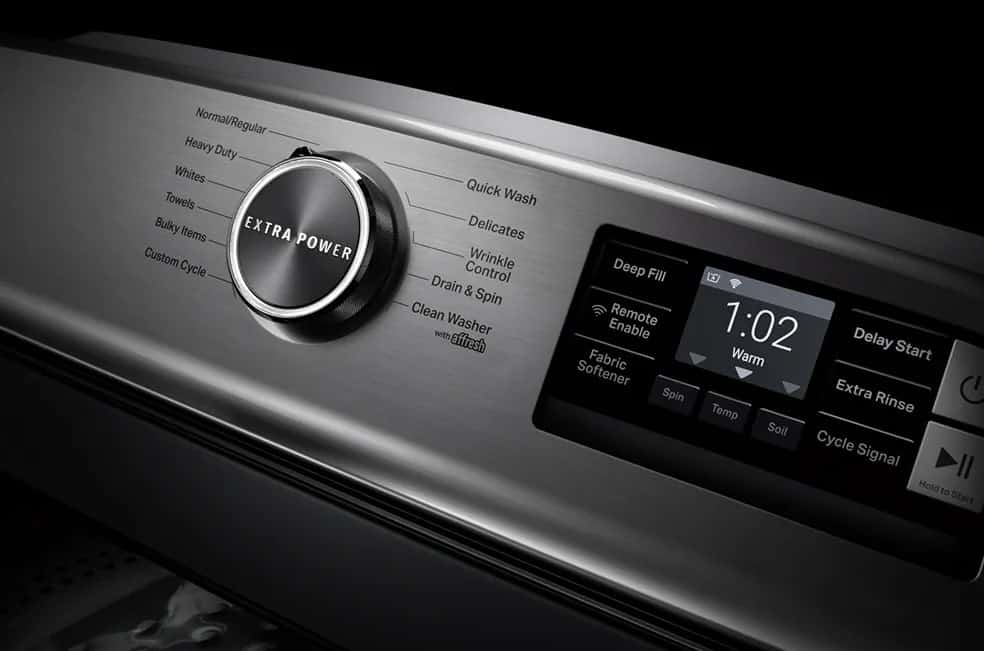 Most washing machines have different wash programs, such as water level alternatives and gentle wash used in frail clothes. All washing machines give you a chance to customize and save your favorite washing program that works well on your clothes. The settings can be easily adjusted on the touchpad or rotary controls available. Note that a washing machine that comes with wash settings is the cheapest.
Fuzzy Logic
This feature is responsible for automatically selecting the best washing condition that works well depending on the quality of the clothes that have been inserted into the machine. The feature also estimates the weight of the clothes and determines the amount of time, water, and detergent required to complete the washing process. Acquiring a washing machine that has this feature eliminates the need to set up the machine.
Material of the Tub/Drum
The tub is mainly made from porcelain-enamel, plastic, or stainless steel. Note that the tubs made from plastic last longer than those made from enamel since they rust easily. Also, stainless steel tubs are the best since they can sustain high spin speeds and are durable.
Temperature Control Features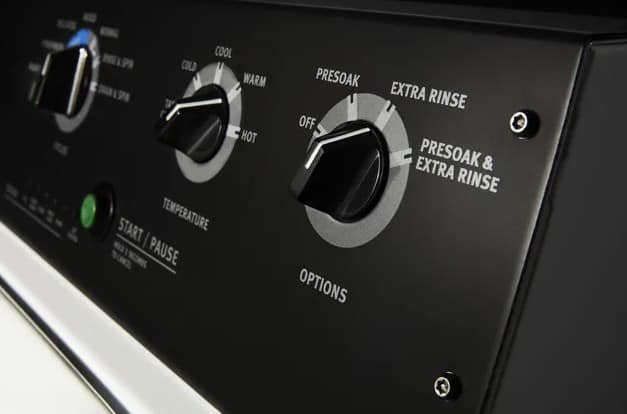 This helps you in controlling the water temperature, especially in washing machines that come with in-built heaters.
Note that this setting is very important during the winter season. Remember that hot water cleans your clothes in a better manner compared to cold water. Some washing machines come with steam settings that are meant to fight dirt and stains.
Spin Cycle
This setting is used when drying clothes measured depending on the revolutions made per minute. The higher the number of revolutions made every minute, the better the drying quality. However, this depends on the type of clothes inserted inside the machine.
Time Delay
Time delay is a feature that allows you to load the washing machine before you start it afterward. The feature enables you to soak your clothes before the machine starts washing. Also, time delay becomes important when you don't want noise while preparing for the washing process.
Energy Consumption
Washing machines use electricity to run ad execute washing commands. Always consider power consumption features such as the energy star before making a buying decision.
Design/Finish
Even though when choosing a washing machine, you mainly focus on function; there is no harm in opting for a device with a good appearance. Many washing machines come in different finishes and colors; however, matte black is more appealing.
Price
It doesn't matter how good a washing machine looks; it does not make sense if you can't afford its price. Before you go to buy a washing machine, set aside a budget that suits the depth of your pocket, as this will save you from digging deep inside your bank account.
Best Maytag Top Load Washer Options
Maytag top load washers are the most recommended models of top load washing machines. This is due to good customer reviews from those who have already used the appliances. High-quality output also falls in line, as well as effective pricing of the machines. Let's roll down and analyze some of the best Maytag top load washer options in the market.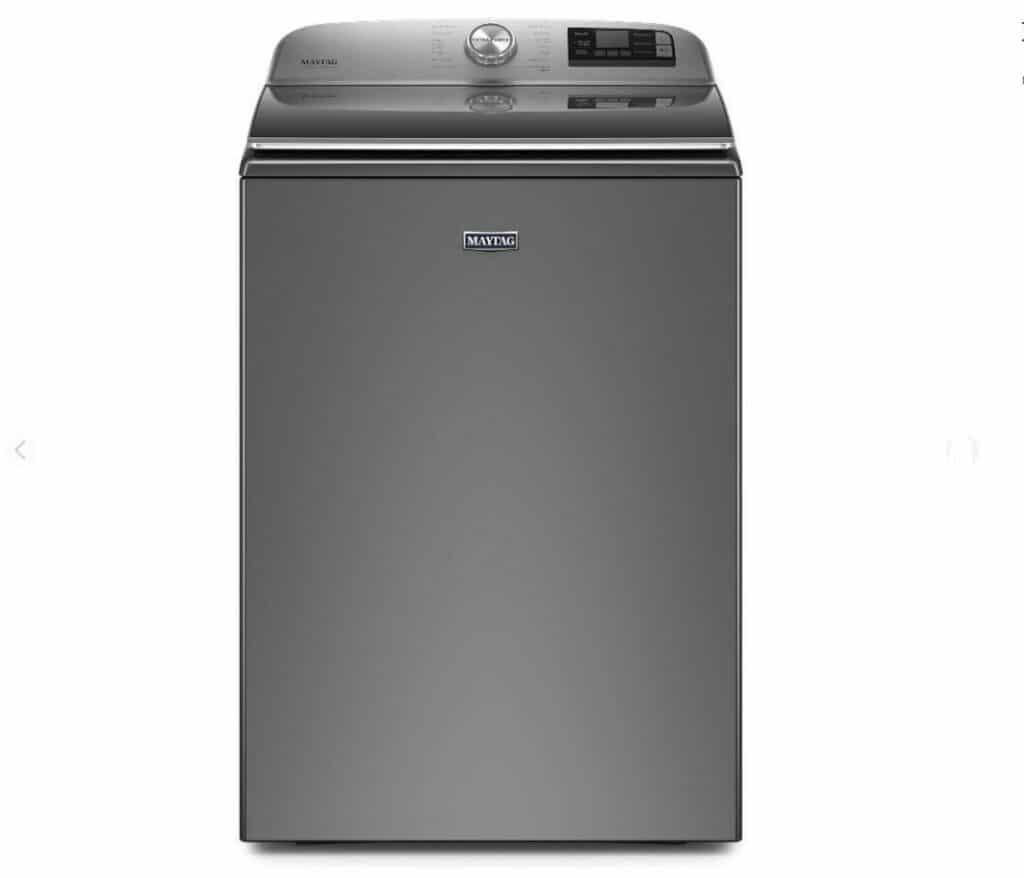 Are you looking for a larger wash that will sort out all your family washing needs? Maytag MVW8230HC is an extensive washer of about 5.2 Cu. Ft. capacity that can help you get the entire job done. It has a stainless steel finish, smart features, and a control panel with buttons and a dial pad. The washer is a combination of old-school material and new tech features.
The washing machine has incredible stain removal power with a heavy-duty cycle. The cycles are very gentle, thus generating exceptional wash quality. The gentle cycles guarantee perfect wash, and your clothes won't wear out after several washes. If you realize you always have very dirty laundry from time to time, this Maytag model has all your needs covered. It goes for $1,244.
Pros
 It has an in-built faucet.
 It is gentle on clothes.
 It has deep fill options.
 It removes severe stains.
Cons
 It consumes a lot of electricity.
 It is costly.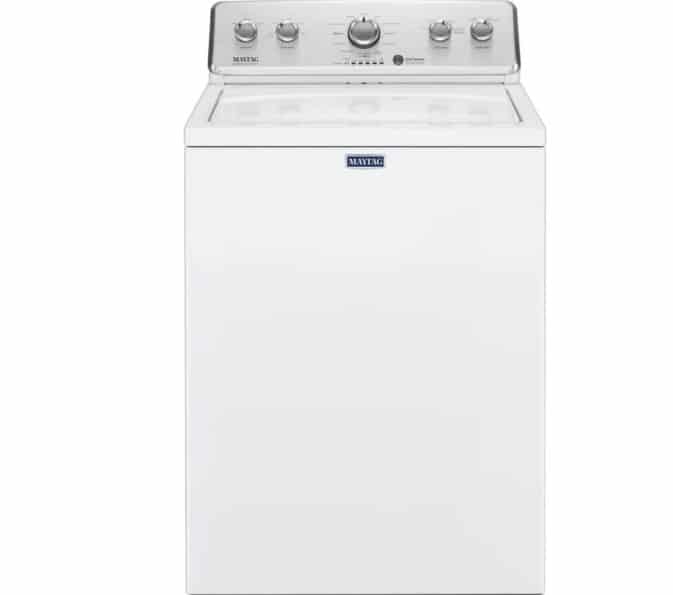 This washing machine was primarily manufactured for individuals who wanted an advanced top load washer with a traditional taste. The washer has a bunch of smart features with a conventional agitator. It has a PowerWash system that does an incredible washing job removing stains, although it takes over one hour to complete the entire process.
Sometimes, the washer might take the shortest time possible, although the clothes won't get clean as expected. The control panel has numerous features with three setting knobs. The knobs are meant for regulating the washing temperature, cycle selecting, and rinse options. The washing machine has a status light system that enables you to check on the progress of the cycles.
This Maytag top load washer model works well for individuals with a small family due to its smaller capacity. It retails at an estimated price of $744.
Pros
It has excellent stain removal features.
It has deep fill options that deal with heavy soils on clothes.
It is relatively cheap.
Cons
 It has a small washing capacity.
 It consumes large amounts of energy.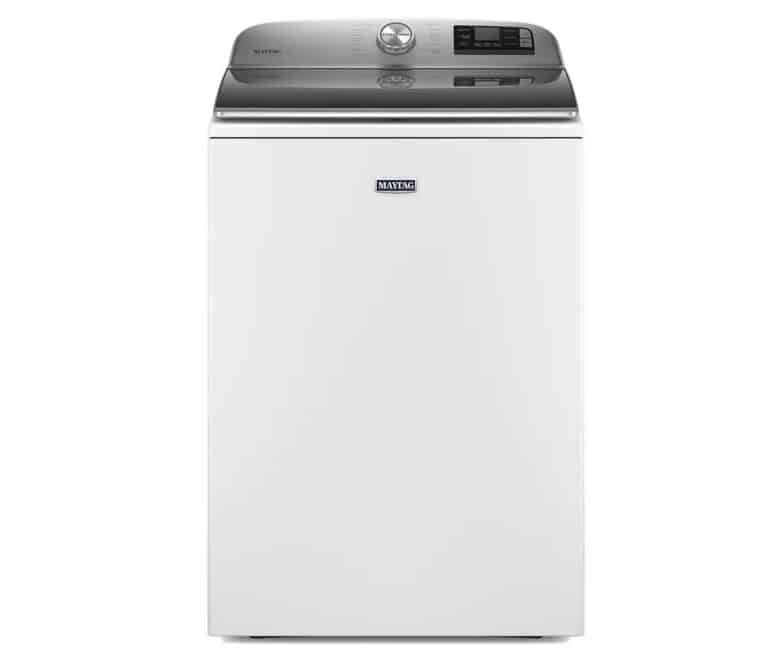 This model incorporates a great mix of both old-school and new technology features that enhances its functionality. It has a capacity of 5.3 Cu. Ft. and an advanced power stain removal system. The Maytag MVW7232HW model can handle significant loads of clothes without taking a hit on the quality of cleaning output.
This washer model comes with a deep fill option for people concerned with the amount of water to use in their wash. This allows you to add varying amounts of water to your wash cycle. When it comes to stain removal, MVW7232HW comes with both standard and heavy-duty cycles that enhance stain removal capabilities.
The top load washer is gentle on clothes and the cycle times are longer than those of other washers available in the market. This top load washer model goes for $1,044.
Pros
 It has exceptional cleaning capabilities.
 It comes with a massive drum.
 Deep fill options.
 It has advanced features of stain removal.
Cons
 It isn't quiet.
 The cycles are slow.
 It is expensive.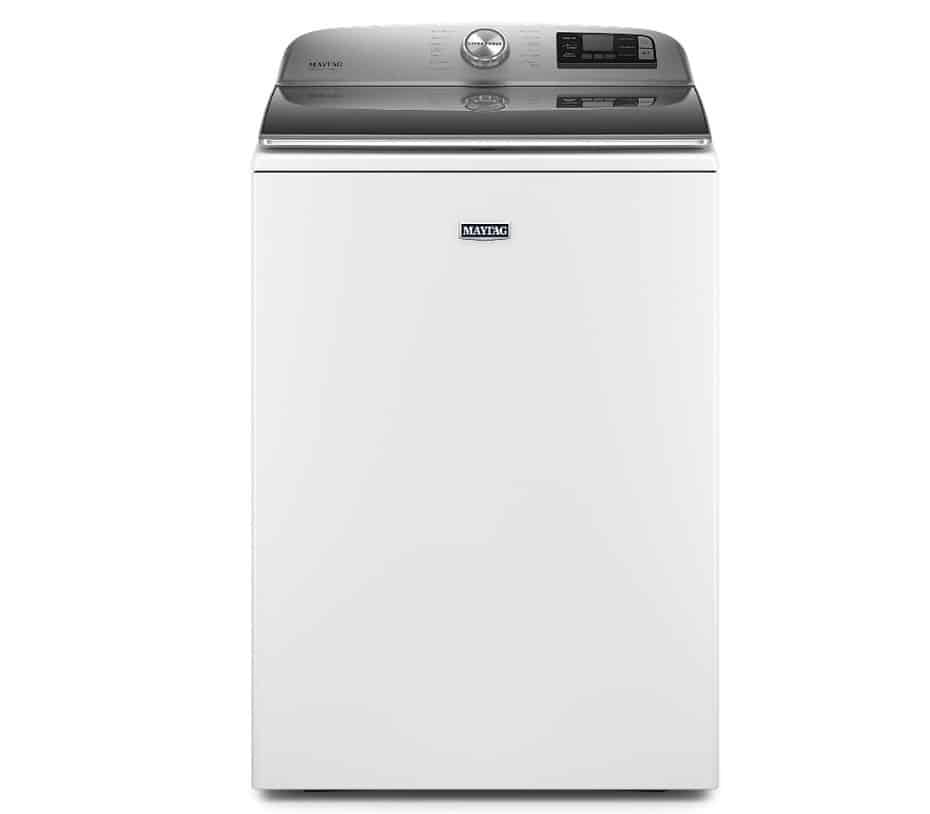 This Maytag top load washer model is one of the best top load washing machines available in the market. It has an incredible washing performance that will leave your clothes sparkling clean. The washer comes with tons of automated features that give you a wonderful experience while washing.
Maytag MVW7230HW model has smart and automated features that make it easy to remove stains and enhance the cleaning quality. It comes with an extensive drum that allows it to wash many clothes at a time, thus suitable for big families. This top load washer model goes for $1,044.
Pros
 It has a 10-year warranty.
 It comes with an in-built faucet.
 It generates high-quality cleaning output.
 Impressive stain removal capabilities.
Cons
 It is expensive.
 It is tough on clothes.
 Its level of energy consumption is high.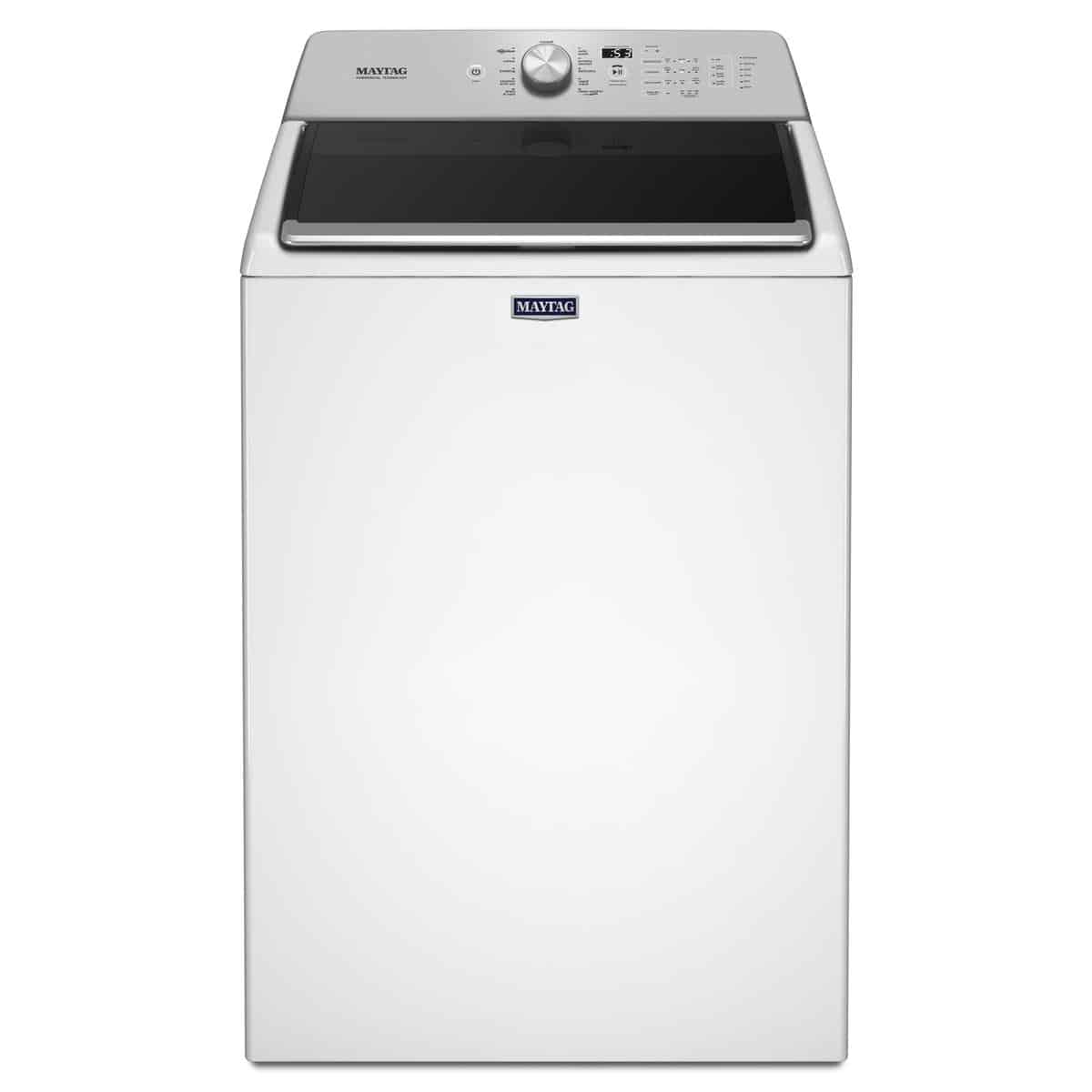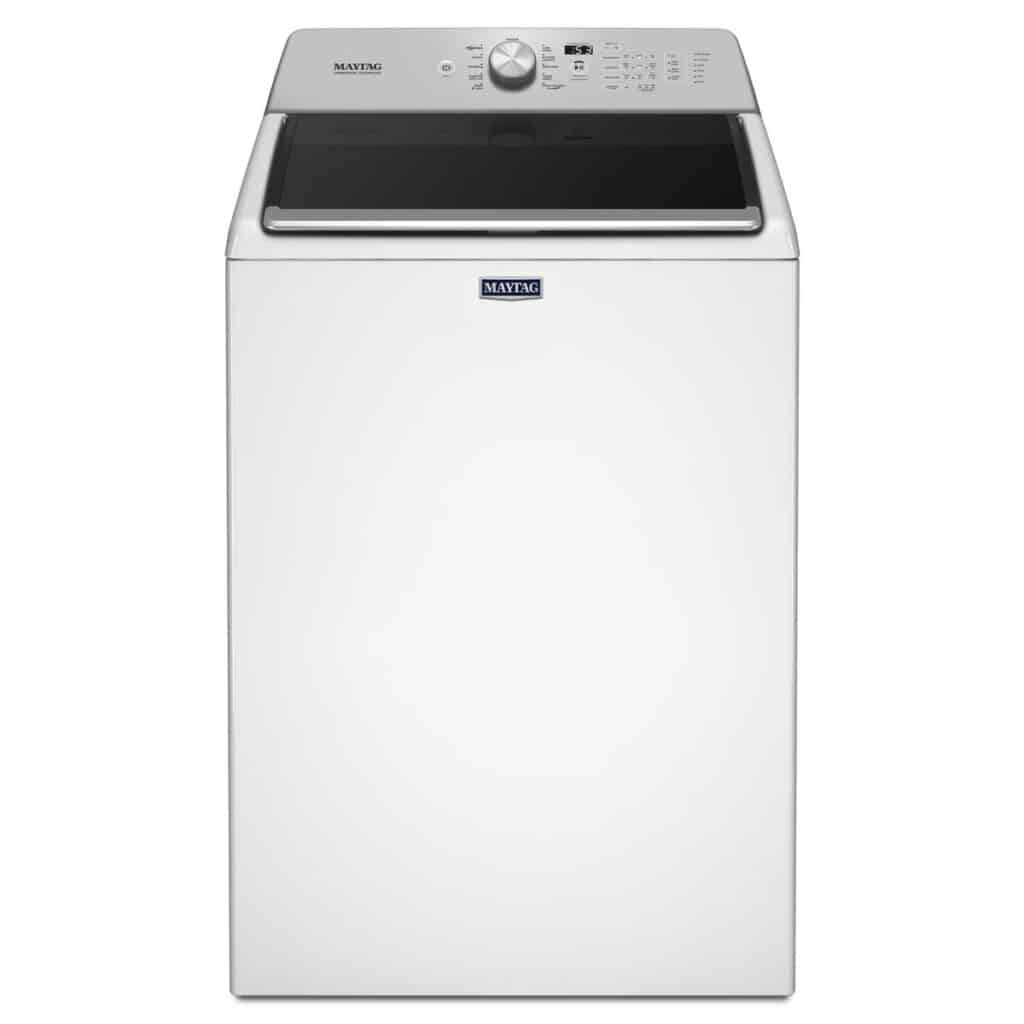 The MVWB765FW was manufactured with a keen eye on technology features and the quality of washing. This model empress all the modern features that people look for when searching Maytag top load washers. However, the washing machine has the aggregates of old school models, including the agitator and a single knob for selecting cycles.
The washer has a deep fill option that works well to add more water to the cycle. It has a capacity of 4.7 Cu. Ft. that allows you to clean super-sized loads without struggling. It has the PowerWash cycle, which has superior stain removal capabilities enhancing the cleaning quality. This washing machine goes for $808.19.
Pros
 Excellent stain removal power.
 They have advanced technology features.
 Exceptional cleaning output.
 It has an extensive cleaning room.
Cons
 It has long cycles.
 It isn't quiet.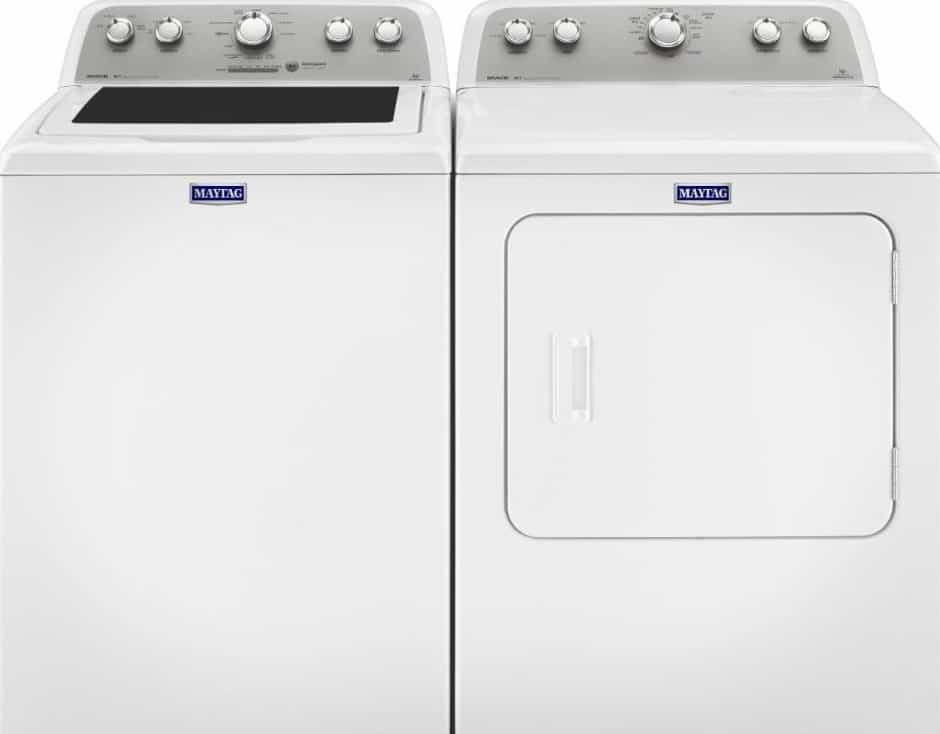 While other top load washer models are stuffed with extraneous bells and whistles, the MVWX655DW model portrays a direct, dial-driven user experience and extraordinary cleaning capabilities. This top load washing machine is ranked among the best models due to the cleaning output it generates.
The washing machine has powerful stain removal capabilities with a soft touch to prevent wear and tear of your clothes. This top load washer has all your cleaning needs covered without much struggling. The washing machine goes for $719.99.
Pros
 It has advanced stain removal capabilities.
 It has automated smart features.
 It is affordable.
 It has numerous smart features for settings.
Cons
 Sometimes the detergent remains in the dispenser.
  It consumes a lot of energy.
FAQs
Question: Is the Maytag top load washer better than other brands?
Answer: There are numerous top load washers in the market that work well. However, if you are looking for a top load washer with advanced features and extra power wash, the Maytag model is the best with all your needs covered.
Question: Is the older Maytag top load washer better quality?
Answer: Note that most older machines are heavier and long-lasting. This is because they were built on high-quality and lasting materials. They have an extended lifespan compared to other models that are currently available in the market. If the older Maytag top load washer can be fixed, it is the best option available.
Question: How long can Maytag top load washers last?
Answer: A brand new Maytag washing machine has an average life expectancy of about eleven years. Note that this duration will depend on the maintenance and care of the washing machine.
Question: What are the most common problems related to washing machines?
Answer: Every appliance has both its positive and negative ends. Most problems related to washing machines include being noisy, leaking soap in the soap drawer, vibration during operations, and the device not starting. When you experience such challenges, it is crucial to invite a certified technician to help you sort out the problem.
Final Verdict!
Maytag is one of the oldest brands in the market, producing top load washers. However, it is good to have first-hand information regarding the top load washing machine model you intend to buy. Maytag MVW7232HW and MVW8230HC are the best and recommended top load washers in the market. This is due to their high cleaning capabilities and efficiency. They also have advanced technology features that make your washing experience epic.
Read More: