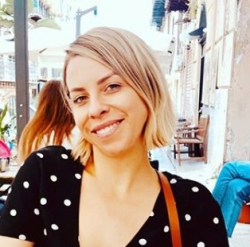 Latest posts by Jodie Chiffey
(see all)
Samsung refrigerators have a pretty good reputation for being sleek, functional, and packed with extra features. In our Samsung RF23R6201SR Refrigerator review, we'll see just how well this refrigerator stacks up compared to the competition.
To give you a hint: we think this model is definitely worth a look. It's a good all-rounder, and the pros (the organization, stylish but subtle look, and CoolSelect Pantry feature) far outweigh the cons. Keep reading to find out our honest thoughts, but overall, we think this one is a winner – especially if you're a foodie.
We'll be looking at the key specs of the RF23R6201SR, as well as the main features of this refrigerator. We'll also give you the honest lowdown of the pros and cons, and we'll give you a few other models to look at if you don't think this one's for you.
Finally, we'll go through a few of the most commonly asked questions about this model.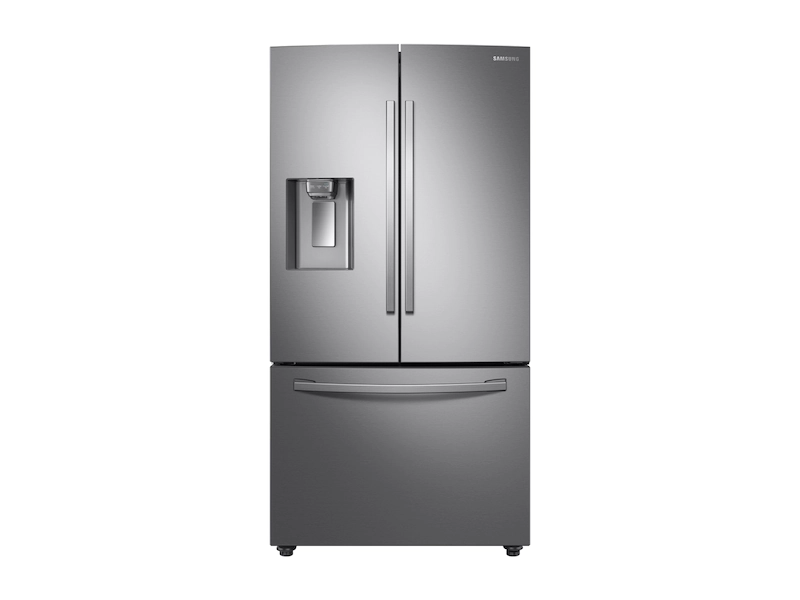 First, let's take a look at the key specs that you need to know.
Key Specs
Let's check out the key specs for the Samsung RF23R6201SR:
Product Height: 70 inches
Product Width: 35 ¾ inches
Height to Top of Refrigerator (Without Hinges): 68 7/8inches
Height to Top of Door Hinge: 70 inches
Depth Without Handle: 28 ½ inches
Depth With Handle: 31 inches
Total Capacity: 22.6 cubic feet
Refrigerator Style: French Door
Lighting Type: LED
Ice Maker: Yes
App Compatible: Yes
Works With: Bixby and SmartThings
Color Options: Stainless Steel, Black Stainless Steel
Latest Price: Check the latest price here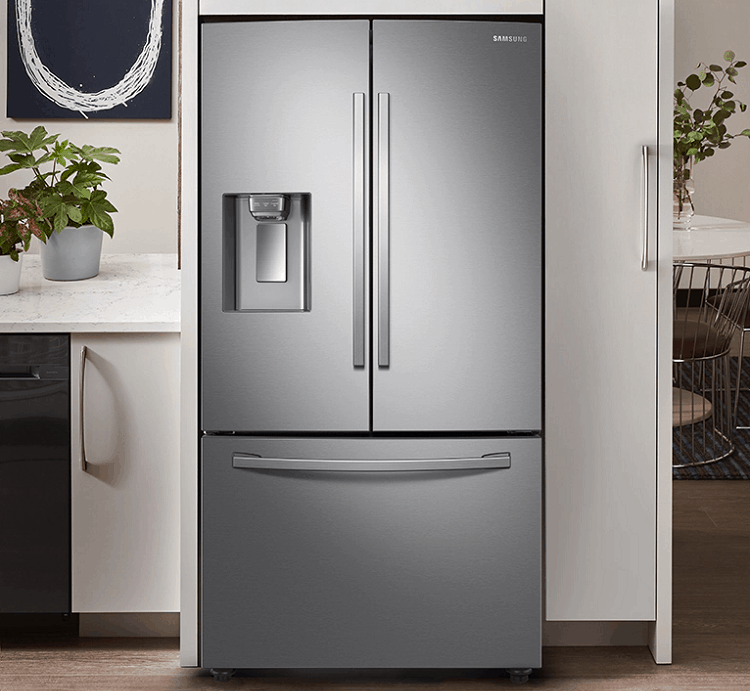 Let's have a look at the RF23R6201SR in more detail.
Cooling Power
If you're in the market for a new home refrigerator, the first thing to note is the cooling power of your potential new appliance. The RF23R6201SR uses Samsung's Twin Cooling Plus system, which keeps food fresher for longer. Essentially, this means one compressor controls the refrigerator, and another controls the freezer, plus a special 3-way valve, which improves the airflow between both compartments.
Extra Features
There's also the CoolSelect Pantry feature. It's a pull-out drawer with temperature controls, with three settings: beverage, deli, and wine. This is a luxurious extra touch, ideal for foodies who like their food temperature to be just right. This is controlled by an app (more on that shortly).
The Ice Max section is worth a mention. With a compact design, it actually provides a good amount of storage space for ice – it can produce up to 5.2lbs (2.4kg) of ice per day and store up to 2.7lbs (1.3kg) of ice.
The downside is that it can build up with residual ice pretty quickly, so it needs defrosting regularly to help it to run smoothly. There's a water dispenser too, so if you want cold, freshly filtered water at any moment, you'll like this model.
Storage and Organization
Let's talk about storage. How much food can this refrigerator store? It comes in one size, and it's a large one. There's plenty of space to keep the contents organized with several storage compartments on the inside of the doors, large shelves, and two large produce boxes.
The freezer section has one shallow drawer and one deep drawer, which are split in half to help separate the contents into sections. Overall, the organization is pretty good, and the shelves are easy to clean.
App Compatibility
We should also talk about app compatibility. Working with the apps Bixby and SmartThings, you can control a few things with an app.
For example, you can check the temperature of the refrigerator and freezer sections, read and write memos (no excuses for anyone forgetting to pick up milk – you can just add items to the list as you need them), change the Cool Select Zone temperature depending on the contents, keep an eye on ice levels, and get alerts if the door is left open. Lots of helpful features here, which may appeal to you if you like smart appliances.
Appearance
The last thing to talk about is appearance. Available in 2 colors (stainless steel and black stainless steel), this refrigerator has a fingerprint-resistant finish. It's not a large, shiny stainless steel appliance – it has a 'matte' look, designed to blend in with the rest of your kitchen.
It has two large handles on the doors and one large horizontal drawer handle. It's a nice-looking refrigerator, especially if you want something stylish but inconspicuous. The lighting works really well, and it makes a nice 'chiming' noise when it opens.
It has a counter-depth design, which means it is designed to line up with your work surfaces rather than stick out. If you're tight on space or you want something that blends in nicely, again, this model is a great one to go for. (You can read more about counter-depth refrigerators in our LG Counter Depth Refrigerator Guide).
Warranty and Pricing
The last thing to note is that it comes with a 1-year warranty. Not the longest, admittedly, but still enough to figure out if you have any manufacturing problems to get fixed.
Pricing-wise, this is on the more expensive side. Coming in at over $2000, this is a pricier investment. If you consider the fact that you can get a basic Hotpoint refrigerator (more on that in a moment) for around $700, it's quite a lot more.
You might find it's worth it because of the sleek looks and extra features. It really depends on your budget and how much you're willing to spend on these features.
Samsung RF23R6201SR – Pros and Cons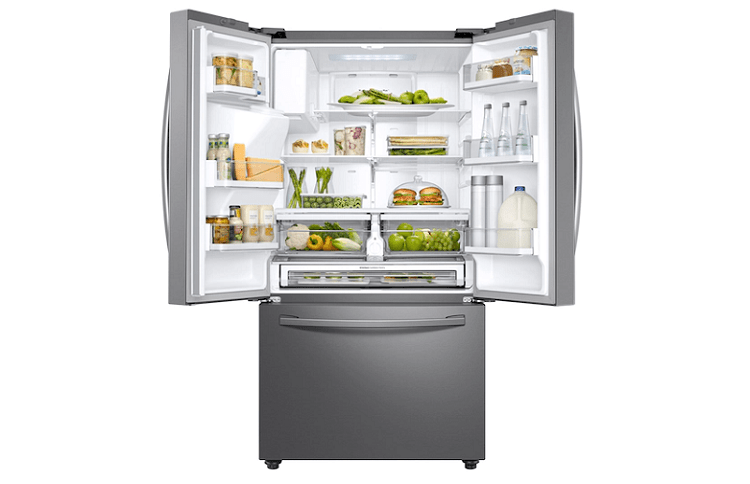 Let's take a look at the pros and cons:
Pros
Good airflow in refrigerator and freezer sections
Large ice storage compartment
Plenty of smart features
Lots of storage compartments
Matte look, designed to blend in with your kitchen
Fingerprint-resistant materials to avoid smudges
Cons
Ice storage area gets frosted up pretty quickly
Warranty is only one year
Samsung RF23R6201SR – Alternatives to Try
Not sold on this one? There are a few similar alternatives that you could take a look at:
LG Electronics LSXS26366S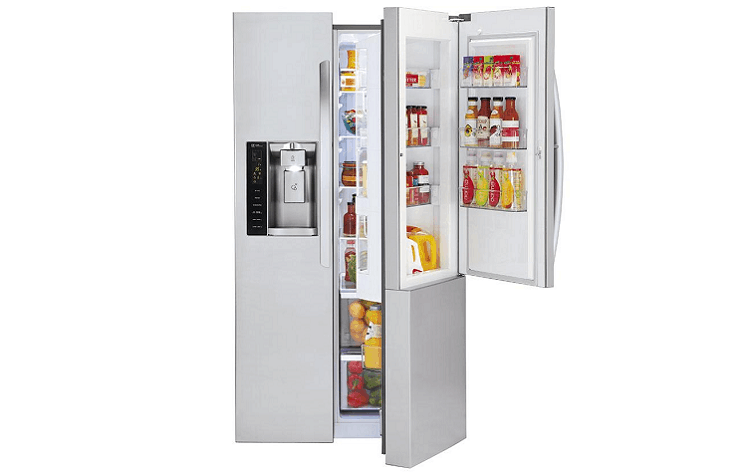 If you like to keep your food super-organized, the LSXS26366S is a good one to check out. With a door-in-door storage area, you can keep your family's snacks at hand in the door of the refrigerator without having to rummage through the main storage area.
It also has some great features, including a tilting door bin and an exterior ice/water dispenser. It's a large appliance, so if you're tight on space, this one may not work for you.
You can read more about this (and other LG appliances) in our LG Refrigerator Guide.
Hotpoint HPS16BTNRWW
If you want something a little more basic, the Hotpoint HPS16BTNRWW is worth a look. It's great for storage, with decent interior space, but it's not too bulky, so ideal if you're tight on space.
It has plenty of sections to keep things organized, with movable racks. It's a good one if you're on a tight budget and you're not worried about your refrigerator being app compatible. You can read more about it in our Hotpoint Refrigerator Guide.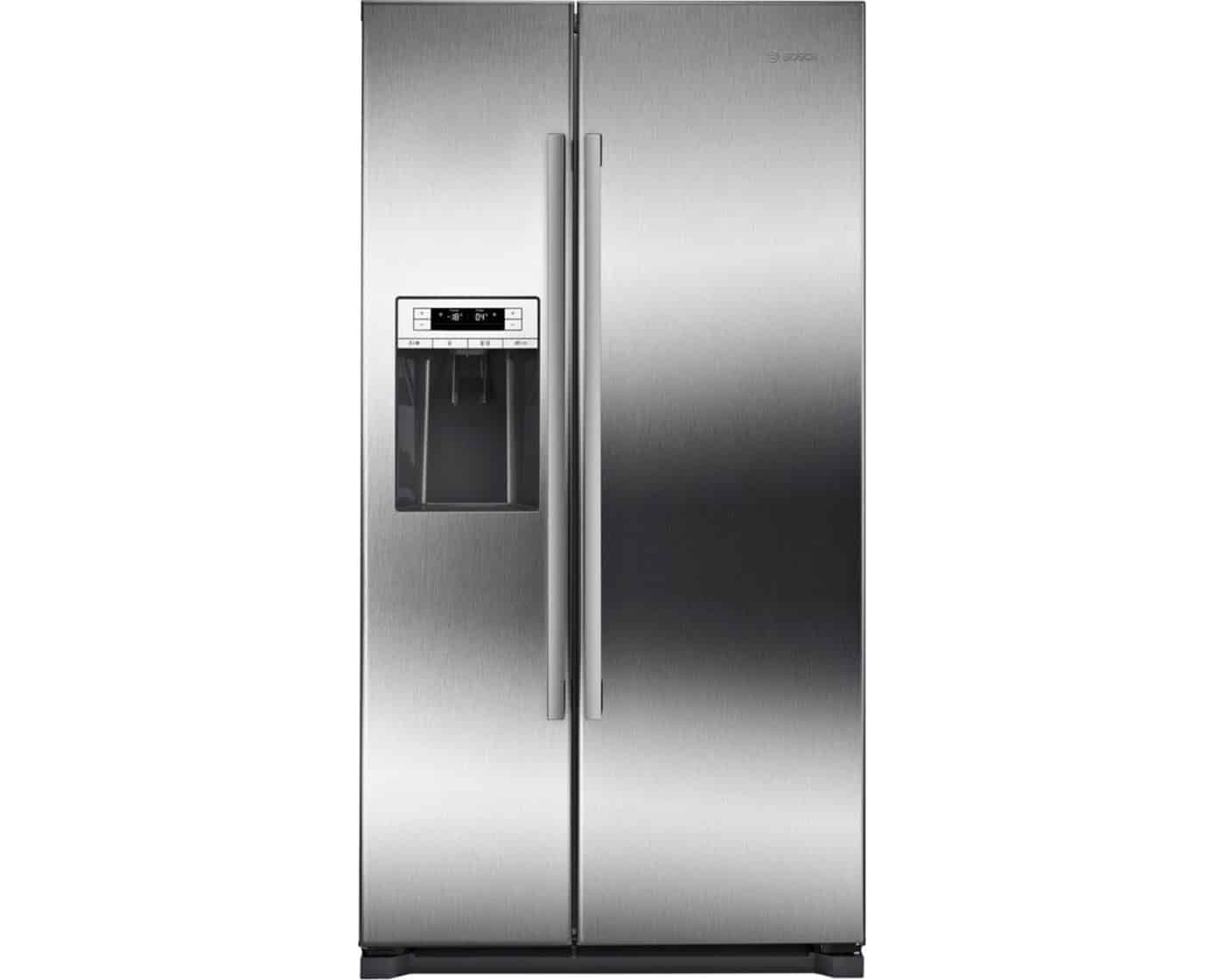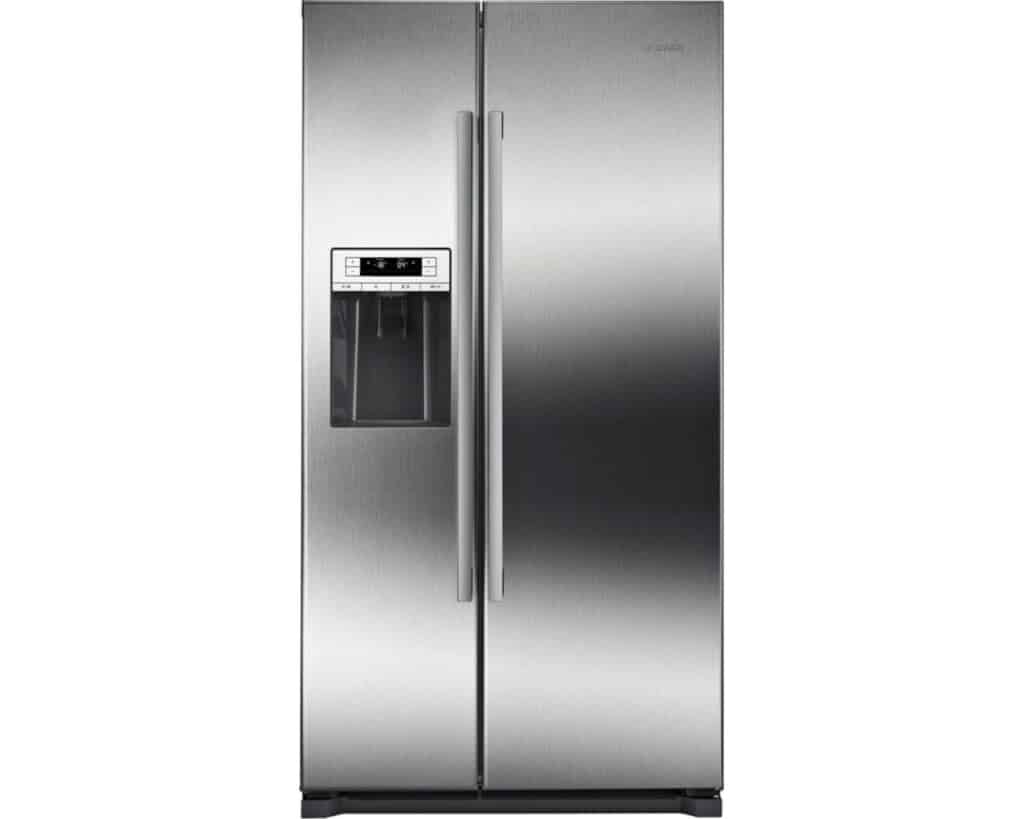 If you like a sleek-looking refrigerator, you could check out the Bosch B20CS30SNS. It's a stainless steel refrigerator with plenty of space, with a counter-depth design to help it fit seamlessly into your kitchen. It has great cooling features, and it comes with a water/ice dispenser too. You can find out more in our Bosch Refrigerator Guide.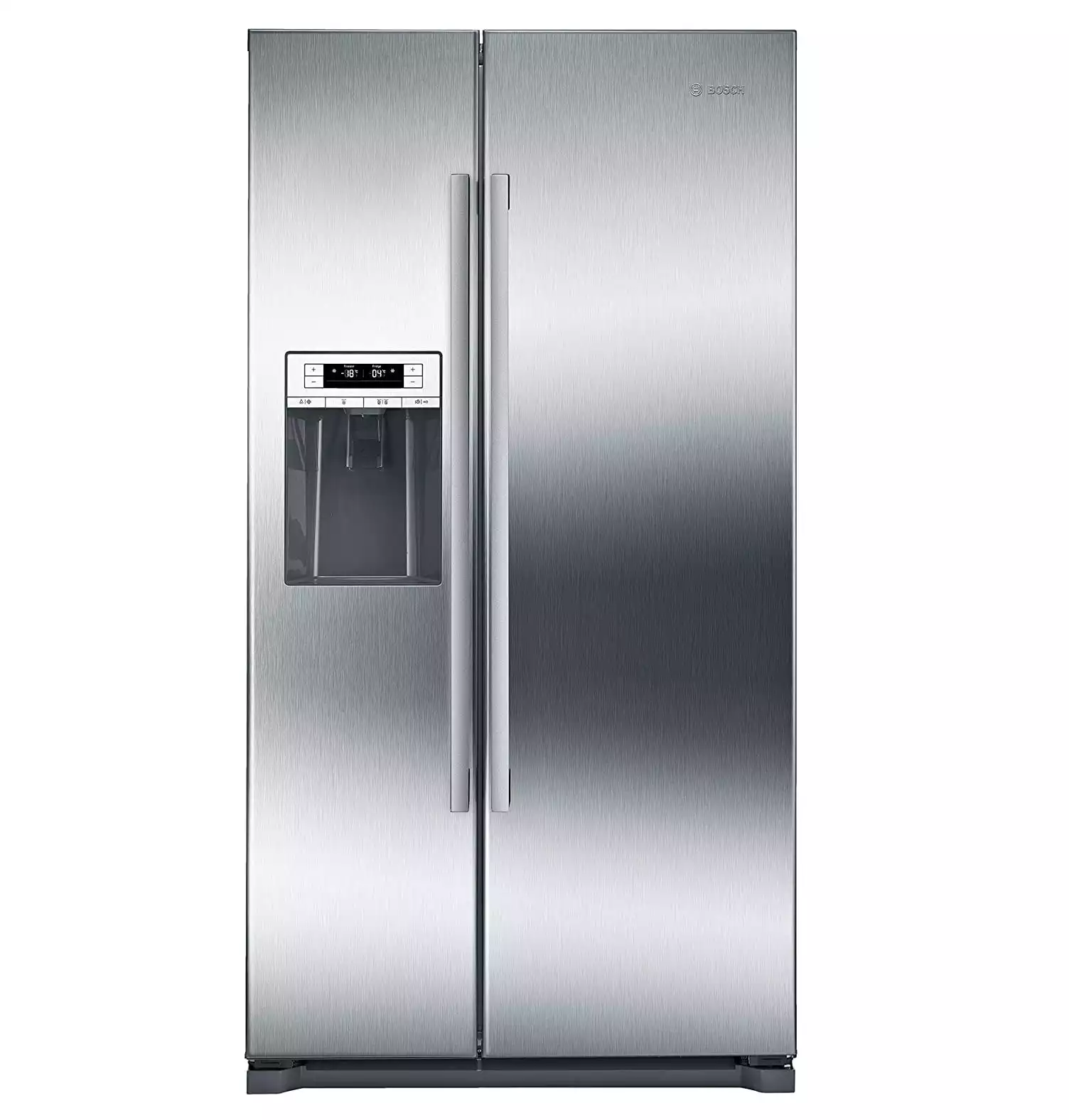 Bosch B20CS30SNS Refrigerator | Amazon
20.2 cu.ft. - Anti-fingerprint stainless steel resists smudges and cleans easily. - MultiAirFlow cooling system boosts air circulation for even temperature throughout. - ENERGY STAR qualified for energy efficiency. - LED lighting and transparent storage provide ideal visibility throughout. - Dispenses fresh-tasting filtered water, crushed ice and cubed ice.
Buy at Amazon
We earn a commission if you make a purchase, at no additional cost to you.
11/04/2023 01:29 am GMT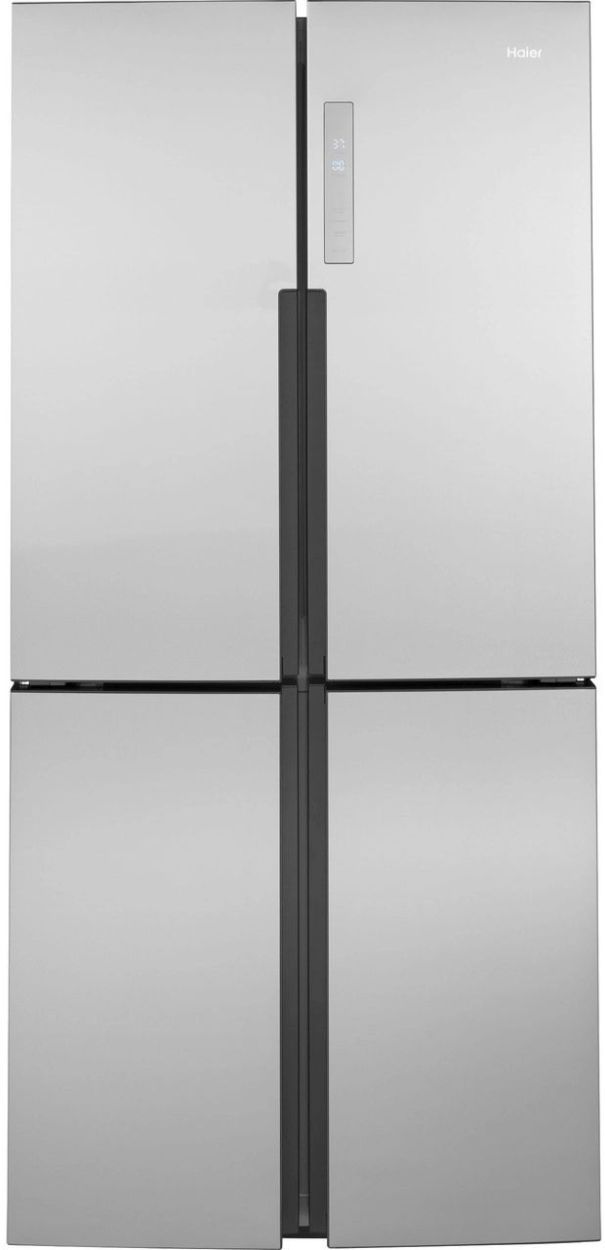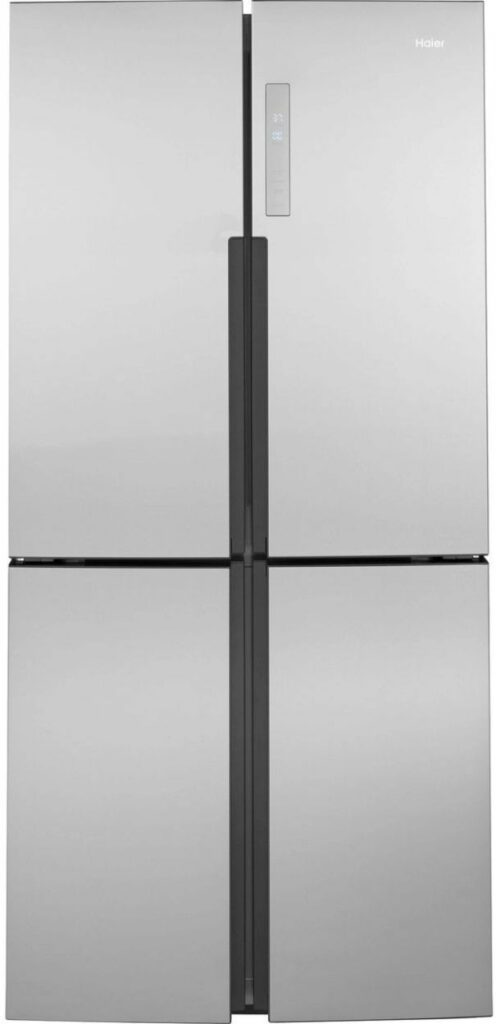 Want something a bit different? You could go for the Haier QHE16HYPFS, with a quad-door design. Two doors at the top and two at the bottom, it's really easy to access the contents, and it comes with plenty of storage space to keep things organized.
You can adjust the shelves to your needs, including in the freezer section. It has a brushed stainless steel finish with a counter-depth design, too. You can read more about it in our Haier Refrigerator Guide.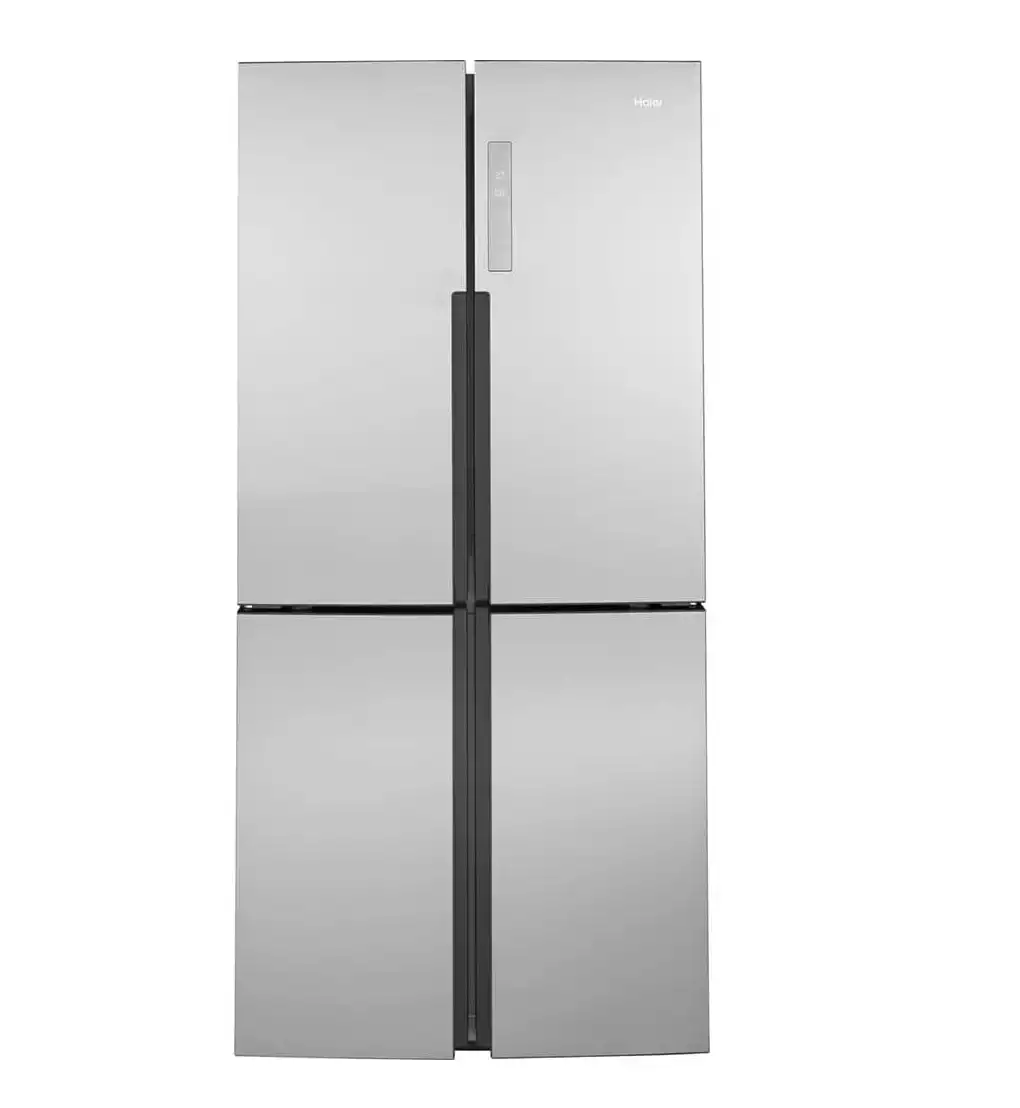 FAQs
Question: What do I Need to do to Maintain the Samsung RF23R6201SR?
Answer: As well as regular cleaning as you would do with any refrigerator, there are a few things you'll need to do to keep this refrigerator running. The water filters need replacing every six months, and the ice section will need defrosting whenever you notice ice beginning to build up.
Question: Does the Samsung RF23R6201 Defrost Itself?
Answer: No. You will need to manually defrost this refrigerator. Ideally, you should do this at least once a year or sooner if you notice ice building up in the freezer section.
Question: How Can I Keep my Samsung RF23R6201 Organized?
Answer: You can do the following:
• Keep the door section for items that don't spoil easily – think sauces, ketchup, etc
• The top shelves are warmer than the lower shelves. Keep items like cheese, yogurt, and snacks on the top shelves
• The lower shelves are cooler, so ideal for meat and fish
• The crisper drawers keep produce fresh for longer, so it's an ideal place to store your fruit and veg
You can also buy internal storage, like small plastic boxes or a lazy Susan, to keep smaller items organized.
Question: How Can I Keep My New Refrigerator Clean?
Answer: The best thing you can do is to keep an eye on spoiled items, removing them as soon as you spot them.
Make sure to wipe up spills as soon as they happen to stop them from hardening, and rotate items, putting older items at the front and newer ones at the back – this will help you to use up food in the right order.
You can also remove the shelves and crisper drawers, giving them a good clean with soapy water. This can be done whenever you notice the refrigerator looking a little grubby. If you notice a smell lingering, you can put some baking soda in a dish inside to help absorb the odor.
You should also dump old ice every other week – this helps to keep the ice fresh and stop it from tasting 'freezer burn' from being in there too long. If you keep ice in there for too long, it may start to clump together and won't be able to fit through the ice dispenser.
Question: How Can I Connect the Samsung RF23R6201 to my Phone?
Answer: Samsung recommends that you use the SmartThings app, and they have a step-by-step guide on how to get it running here.
Samsung RF23R6201SR Refrigerator Review: Final Verdict
Honest answer: yes, we think so!
The Samsung RF23R6201 isn't perfect. The ice dispenser does tend to suffer from a build-up of frost, which means you may find yourself having to clean it out more often than you'd like.
This is a small thing but might be pretty frustrating over time. Also, the warranty is just one year. Not unusual for these kinds of appliances, but not ideal if something breaks down in the first few years.
However, we think the pros far outweigh the cons. If you're a foodie, you'll love this refrigerator, especially the CoolMax pull-out shelf.
You can keep your deli items, beverages, and wine at the exact right temperature. If you love a bit of technology with your appliances, being able to control the temperature in this section is a great feature.
You may also enjoy having freshly filtered water and ice on tap (despite the ice drawer problems, the actual ice dispensing works well).
The last thing to note for us is appearance. It's subtle but sophisticated. If you don't want a big shiny chunky appliance in your kitchen, the counter-depth design and fingerprint-resistant stainless steel will appeal to you. It's big enough to store a lot of food but won't stick out in your kitchen.
Is it worth buying? If you're a foodie, a tech-lover, or you just want a subtle-looking refrigerator, absolutely. If you're on a budget, you may want to keep looking – there are plenty of refrigerators out there without extra features that may suit you better.
If you're interested in buying, you can check out the latest price for the Samsung RF23R6201 here.