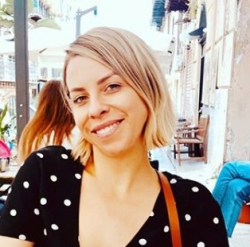 Latest posts by Jodie Chiffey
(see all)
Samsung dryers are some of the most popular and reliable appliances in their category. Nevertheless, even the best equipment can eventually break or wear out. Do you know which parts need to be replaced when these dryers malfunction? Our Samsung dryer parts and replacement guide will make it much clearer.
This article sheds light on some of the most common issues you might experience with Samsung dryers. You'll learn about the best options you have when your dryer doesn't do what it should, how to identify the responsible components, and where to look for the replacement parts you need.
Let's start with a brief introduction to the most popular models and types of Samsung dryers.
Most Popular Types of Samsung Dryers
| | |
| --- | --- |
| Top-load Samsung dryers | If you're dealing with limited space, a top-load dryer is a great solution. It is also usually the cheapest type of dryer, although there are some high-end top-load models too. If you already have a top-load Samsung washer, this is a perfect match. |
| Front-load Samsung dryers | Front-load dryers by Samsung often look exactly the same as washers from the same range. People sometimes like to stack one upon the other or place them side by side. They are convenient, boast a large capacity, and look pretty neat. |
| Electric Samsung dryers | Electric dryers are perfectly versatile and super-easy to install – all you need is a 240V outlet. They are also relatively cheap, although they usually come with higher operational costs due to the price of electricity. Expect them to be somewhat slower and less effective, though. |
| Gas Samsung dryers | Gas dryers provide lower operational costs, and they also dry clothes faster thanks to their high temperature. On the other hand, they are quite expensive, and you always need a certified professional to install or repair them. They are also believed to last shorter. |
| Ventless Samsung dryers | These dryers don't get as hot as some of their counterparts, making them great for extra-fragile textiles. The drying, however, takes longer, and their capacity is usually smaller too. Ventless dryers are also quite expensive. |
Different Types of Samsung Dryer Parts
Although each dryer is slightly different, most of the components you can find inside them are very similar. If you want to know how your Samsung dryer works (or why it suddenly doesn't), this brief overview of the key parts and components may come in handy.
Sensors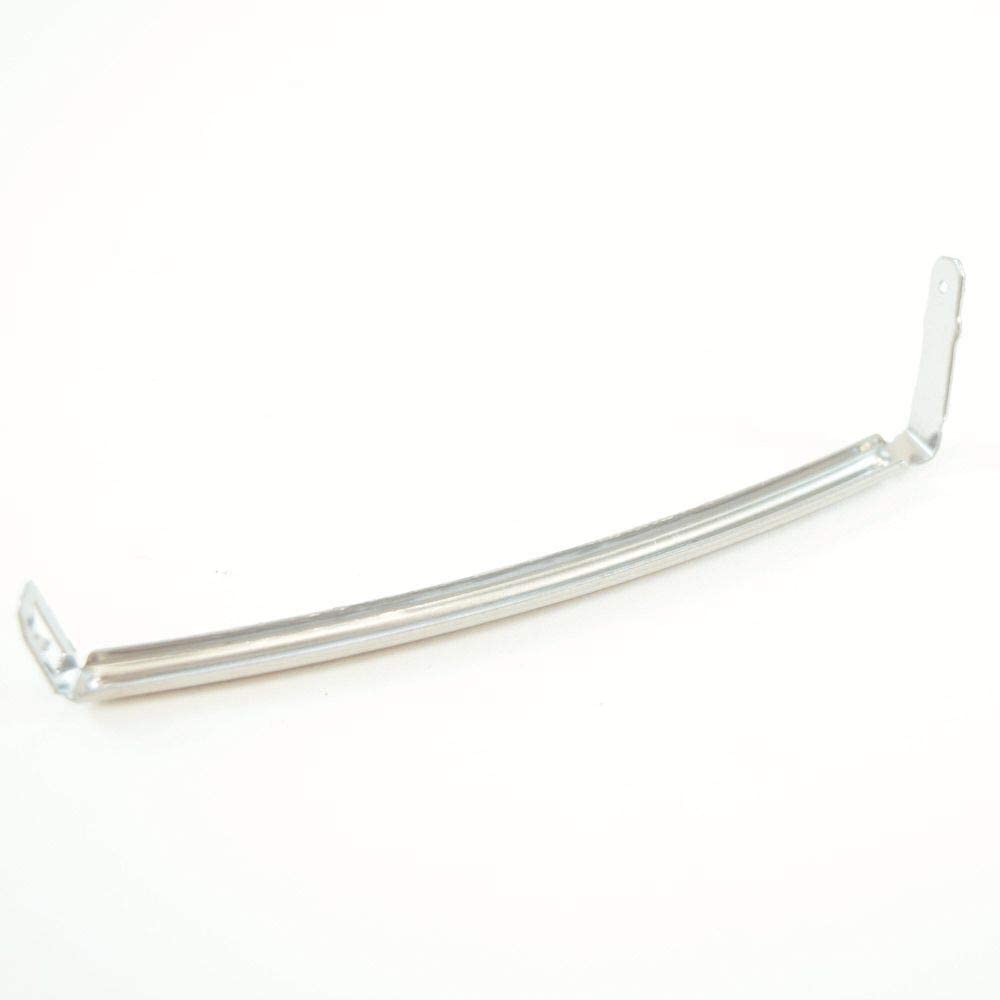 Wondering how a machine can distinguish between dry and wet clothes? Samsung's dryers are equipped with sophisticated moisture sensors that can evaluate the exact dampness of the textiles quite accurately. Based on their measurements, the dryer will assess the best program (combination of time and temperature) for the task.
A good sensor also saves energy and your money – once it detects that your clothes are perfectly dry, it orders the machine to stop its operation. This also saves your clothes from potential damage caused by over-drying. Some Samsung dryers also have vent sensors that measure the temperature and pressure of the released air. This helps with the early detection of clogging that might cause serious problems if undetected.
Heating Element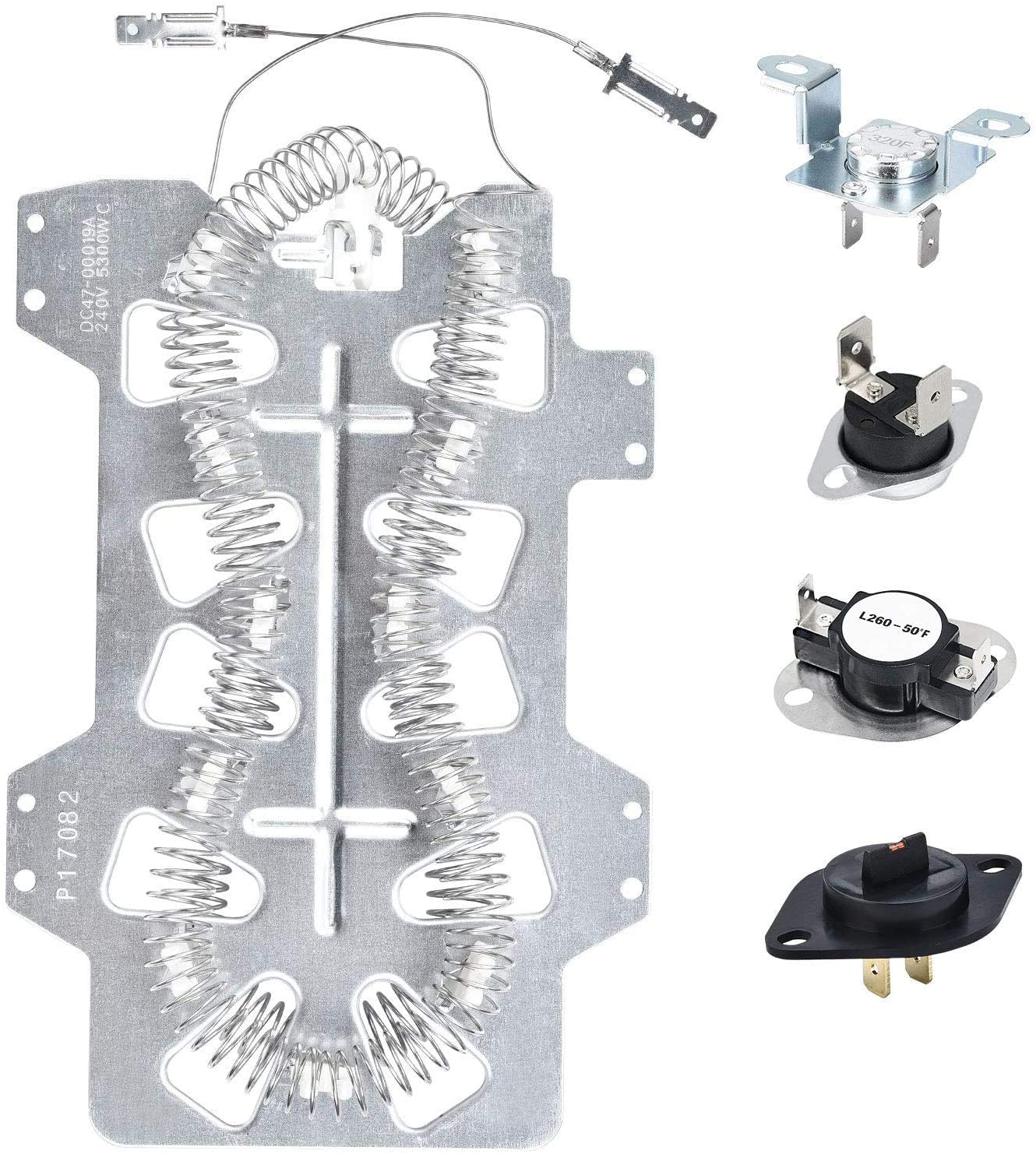 As you surely know, your Samsung dryer needs to produce a certain amount of heat in order to dry your clothes properly. This is provided through a simple yet absolutely crucial heating element, which is also one of the most commonly malfunctioning components in this type of appliance.
A heating element can be cheap (tens of dollars) or expensive (several hundred), depending on your dryer's actual type and model. It basically operates on the very same principle as the coil in an electric heater. There's an uninsulated metal conductor which heats up in contact with electric current. If the coil gets too hot, it will burn out, which should be prevented by a functional fuse.
Belt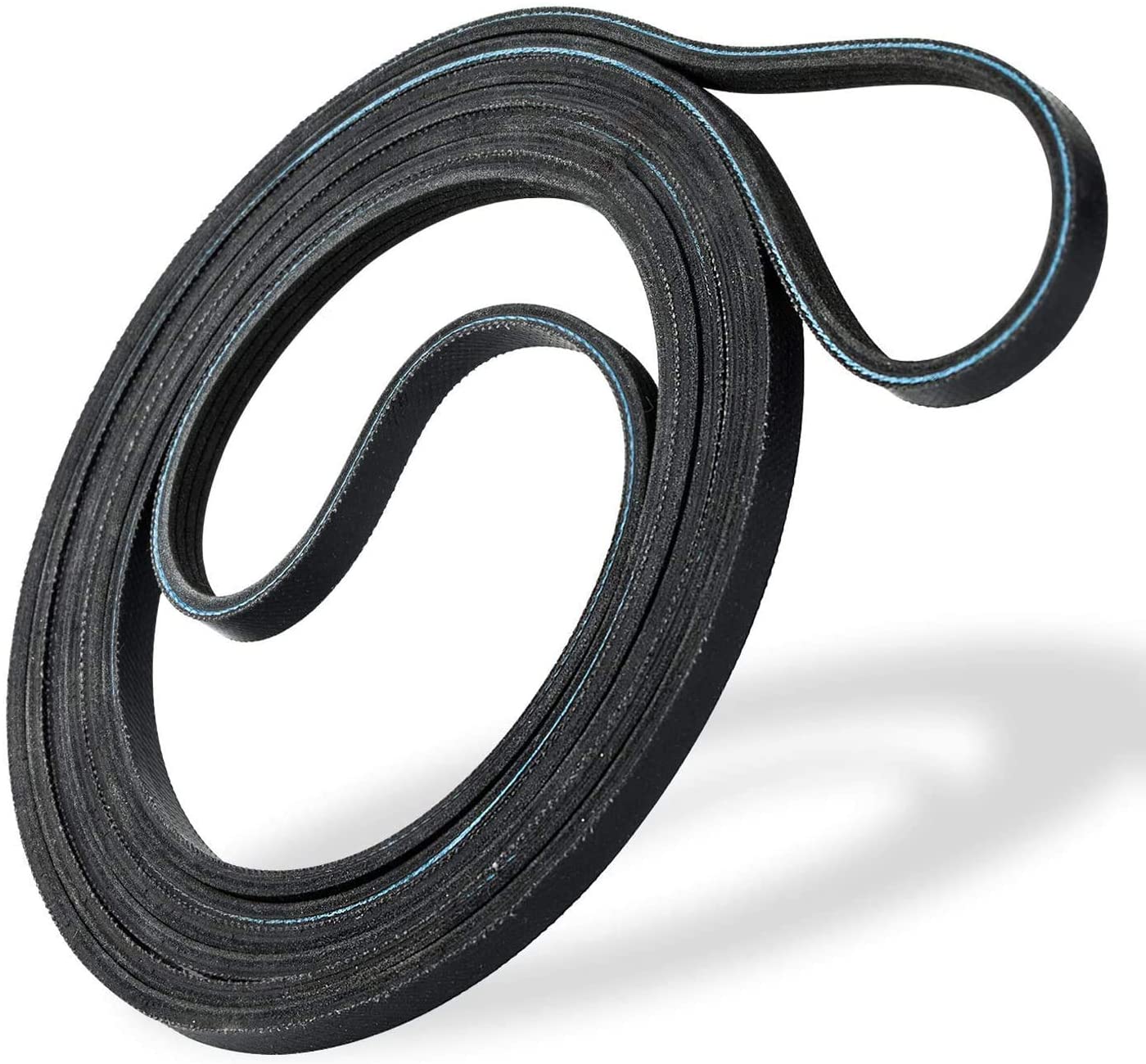 The dryer belt can be found wrapped around the outer housing of the dryer drum. It is looped onto a dedicated drive pulley which is attached to the motor shaft. The drive pulley moves the belt, whereas an idler pulley provides the belt with the required tension.
Although the belt itself is a very simple (and pretty cheap) component, it essentially rotates the drum inside the dryer. If it gets stuck, loosened, or broken, your dryer will not be able to work properly. The good news is that replacing a belt is one of the simplest operations – with some basic skills, you can do it on your own almost effortlessly.
Control Board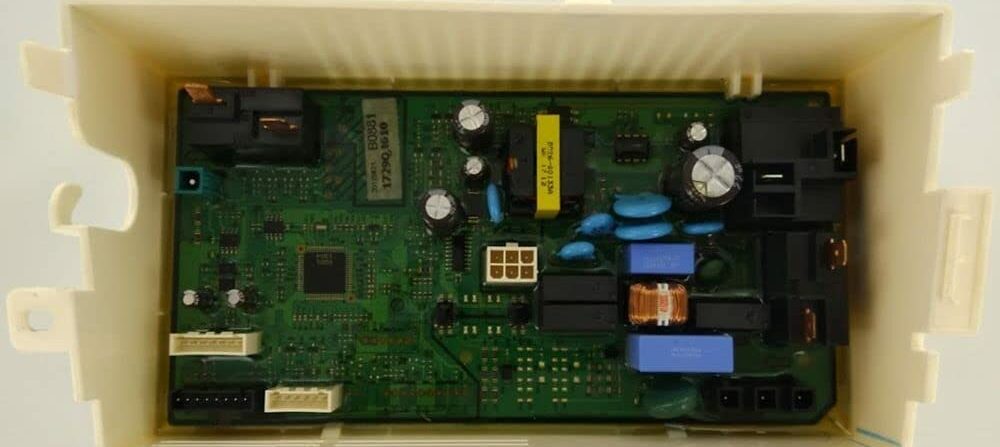 A control board is like the brain of your appliance. This is the place where your dryer controls the timing and temperature of each cycle based on your orders or the data it receives from the sensors. This electronic device can occasionally malfunction, particularly as a result of a short circuit or some other similar issue.
Control boards are some of the most expensive replacement parts, and it's not recommendable to replace them on your own unless you have some previous experience with electronics repairs.
Motor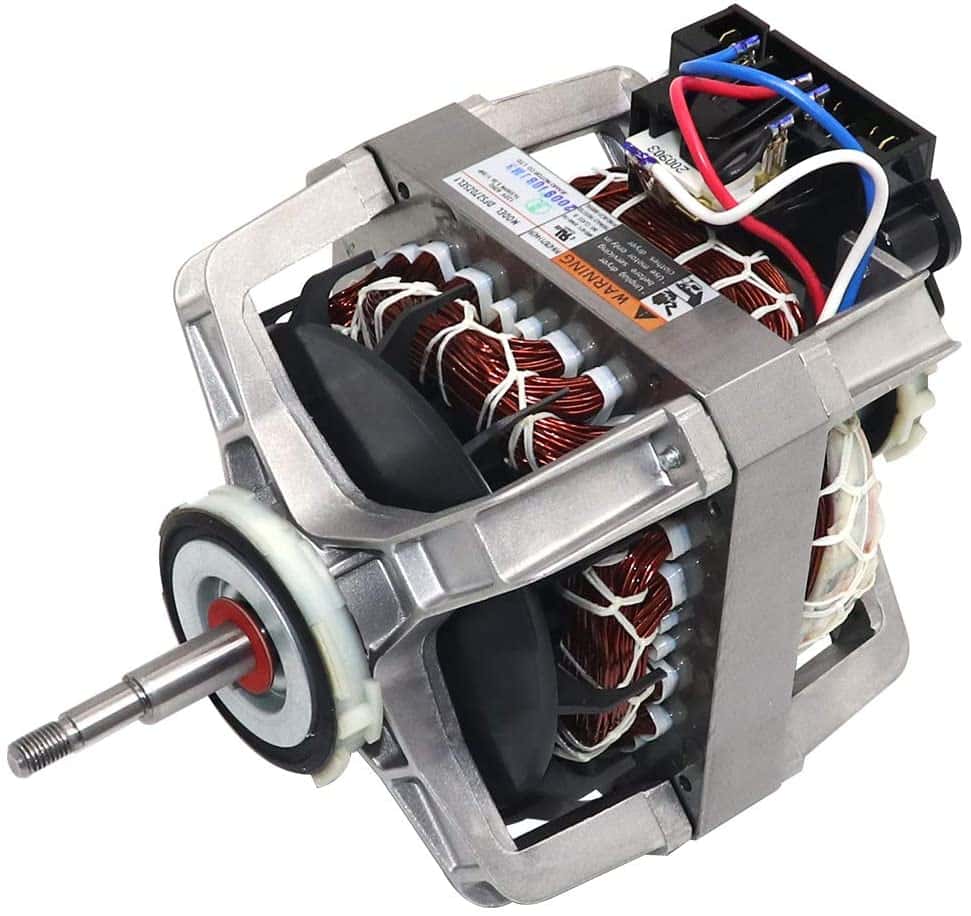 Samsung dryers are driven by exceptionally strong and reliable motors that are not particularly prone to damage or faults. Nevertheless, if you use your dryer more or less daily and/or frequently test its upper load limits, the motor can eventually wear out (in practice, this usually means that it burns up the internal windings).
Fortunately, replacement motors for Samsung dryers are usually not as expensive as you might probably think. Also, the replacement itself is quite fast and simple.
Filters, Blower Wheels, Screens, Seals & More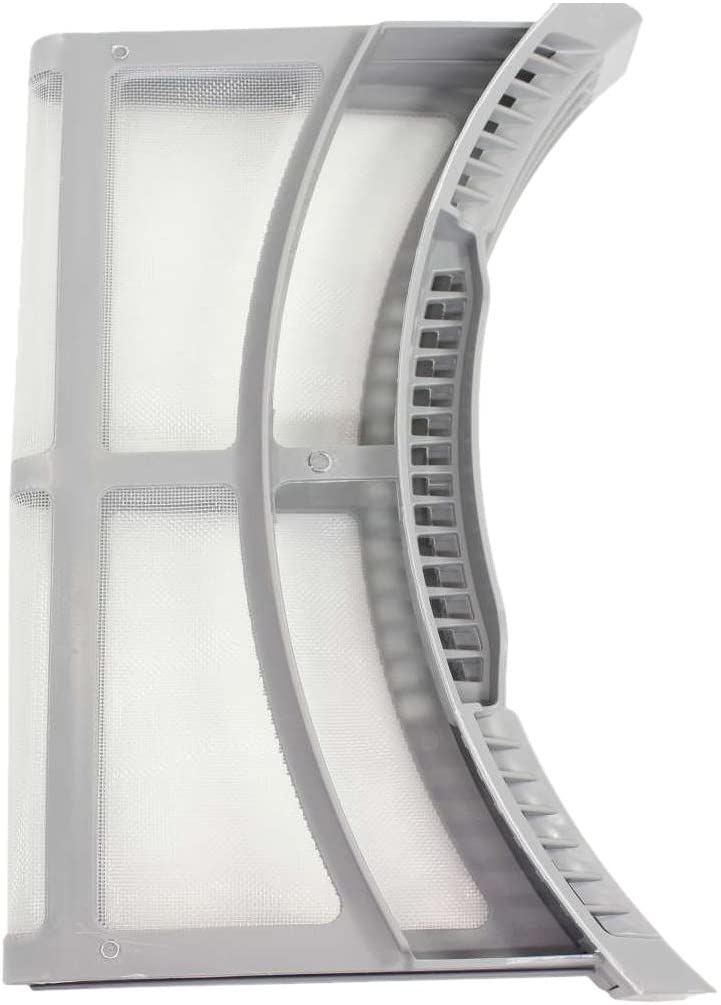 Besides various sophisticated electronic components, sensors, and modules, Samsung dryers also consist of dozens of mechanical parts responsible for filtration, impermeability, rotation, etc.
Some might have a shorter lifespan than the dryer itself, and others might get broken due to the rougher manipulation or overloading. Their prices vary depending on the type and originality of the part. Many can be replaced relatively easily at home, though.
What to Do When Your Samsung Dryer Breaks?
Your Samsung dryer suddenly stops working or starts acting strange. What should you do? Before you bring out your DIY kit and disassemble the poor thing to the last screw and nut, check out the options you have:
1. Check Your Warranty
Samsung dryers usually come with a comprehensive warranty that should cover your appliance for several years from the purchase. Although these plans can have fairly strict terms and conditions if you're sure you've manipulated the dryer properly, used it carefully, and didn't cause the fault yourself, submit your claim and wait for the response.
Keep in mind, though, that once you start tampering with the dryer yourself, your warranty will most likely be voided!
2. Check the Recalls
From time to time, manufacturers have to recall some of their models due to a factory fault or weak point that was discovered only once the appliance reached the market. If your dryer malfunctions without any apparent reason after a relatively short time from purchase, there's a good chance this is your case too.
Recall lists will help you find out if your dryer was affected. You can also register your dryer with Samsung so that the manufacturer can reach out to you directly if your appliance is recalled. Of course, any repairs or replacements of recalled dryers are financed by the manufacturer.
3. Check the Troubleshooting Guides
None of the above-mentioned options apply to you? If you're up for a little DIY job, maybe you'll be able to cope with the situation on your own. Before you start looking for professional help, check out all the available troubleshooting guides and try to find out what might be wrong with your Samsung dryer.
Sometimes all you really need is to replace one small and affordable component. But even if you eventually won't be able to cope with the issue on your own, at least you'll know how complicated and expensive it will be to repair – and whether it's even worth it.
4. Call an Authorized Repairman
If you cannot deal with the situation yourself, it's time to call a professional. First, make sure that you're dealing with an authorized Samsung repairman who knows your type of dryer well.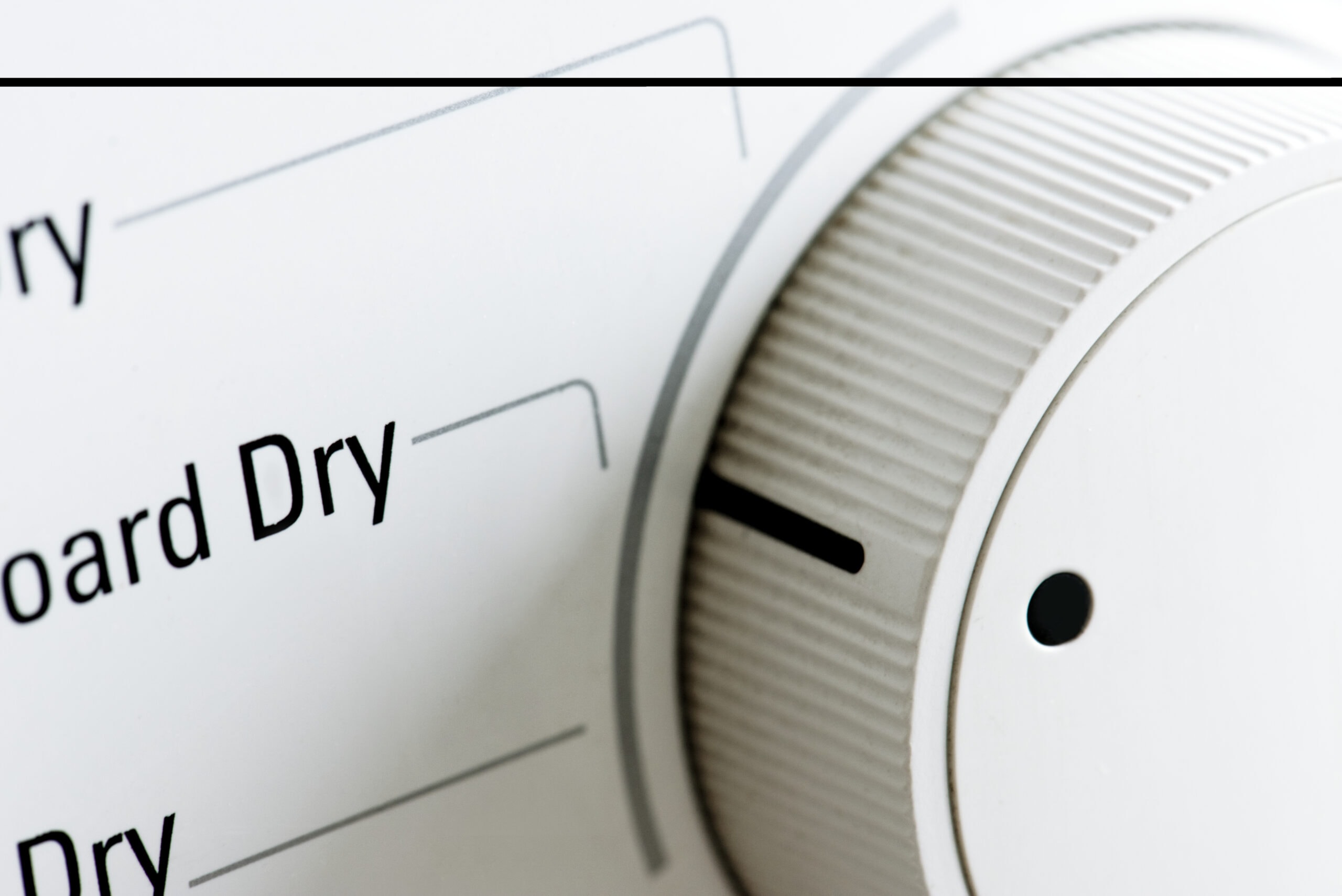 Troubleshooting Guide: What Samsung Dryer Parts Do You Need?
Here's a brief troubleshooting guide that might help you understand what's wrong with your Samsung dryer and how to fix it. Look for specialized manuals for your exact model for detailed information, as some of these tips might not be universally applicable to all Samsung dryers.
Clothes Remain Wet After Using the Samsung Dryer
First, check if the dryer is heating normally. If it does, but the clothes stay damp anyway, your vent might be blocked. If the dryer stops drying very soon, although the clothes are still wet, you can also deal with a broken or blocked moisture sensor.
Controls on Samsung Dryer Do Not Respond
If your dryer features a Child Lock, check if it is not turned on – this is the most common (and totally innocent) reason for disabled controls. If this is not the case, though, your dryer can have a faulty control board. This will usually require a professional repair or replacement.
Samsung Dryer Leaks Water
Leaks might result from several different issues. If you had your dryer installed or reinstalled just recently, it might be caused by improper installation of water lines. Otherwise, it might be caused by a broken water supply hose or cracked gaskets.
Samsung Dryer Makes Too Much Noise
Dryers can be quite noisy, but Samsung appliances are some of the quietest on the market. If your dryer suddenly starts making much more noise than before, it might indicate a serious issue.
First, check the dryer for any loose or unevenly attached components (legs, vents, hoses, etc.). Make sure the sound is not produced by an object rattling inside the drum (coins, buttons). If none of the above helps, your dryer might be showing the first signs of 'tiredness', which is usually caused by frequent overloading or aging of the appliance.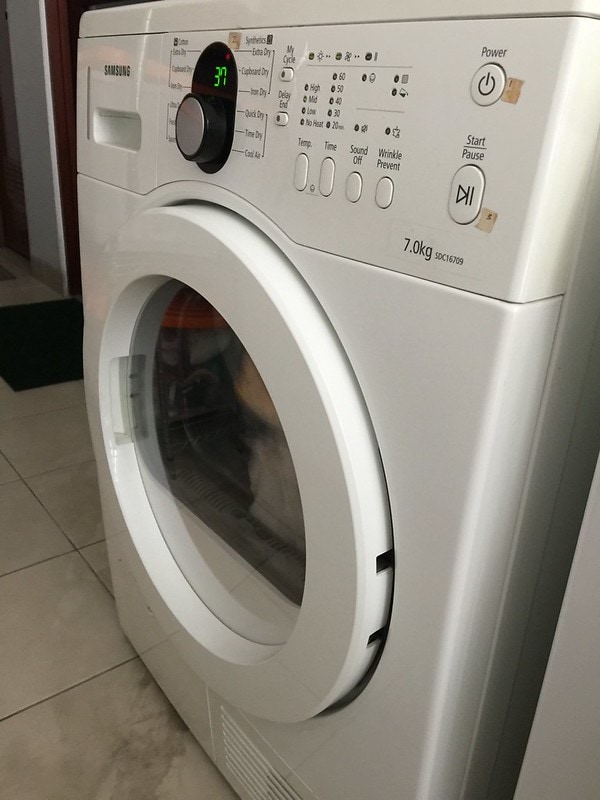 Top 3 Places to Buy Samsung Dryer Replacements Parts
By now, you probably already know what you're looking for. But where to search for your Samsung replacement parts? Here's a quick review of three online sources you might come around: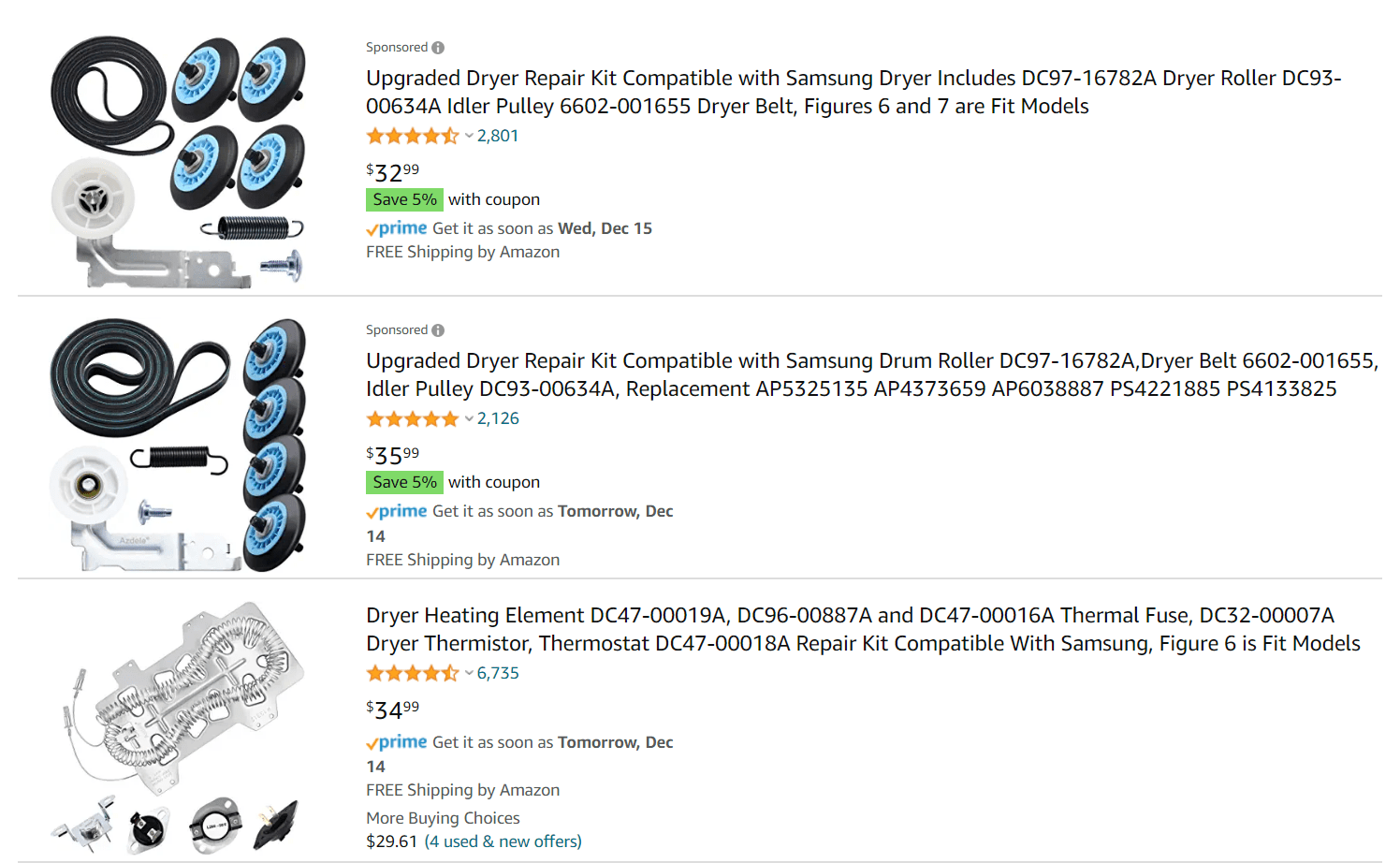 Amazon surely doesn't need any introduction – this platform is a go-to source for everything from clothes and books to toys and electronics. But maybe you've never realized before that this international e-market has a huge database of Samsung dryer replacement parts too.
Whether you're looking for whole repair kits and motor assemblies or you're only after a single tiny gasket for your Samsung dryer, there's a good chance that Amazon has what you need. Since this platform connects buyers and sellers from all around the world, you can sometimes even find some officially discontinued or sold-out products here.
On the other hand, you should always double-check if you're buying real OEM (originally produced by the manufacturer) parts here. Generic alternatives are often cheaper but do not always work or fit as well as the original.
Pros
Wide range of replacement parts
Competitive prices
Simple ordering process
Detailed descriptions
User reviews
Cons
Not all parts here are OEM
Returns are complicated when you're buying from foreign sellers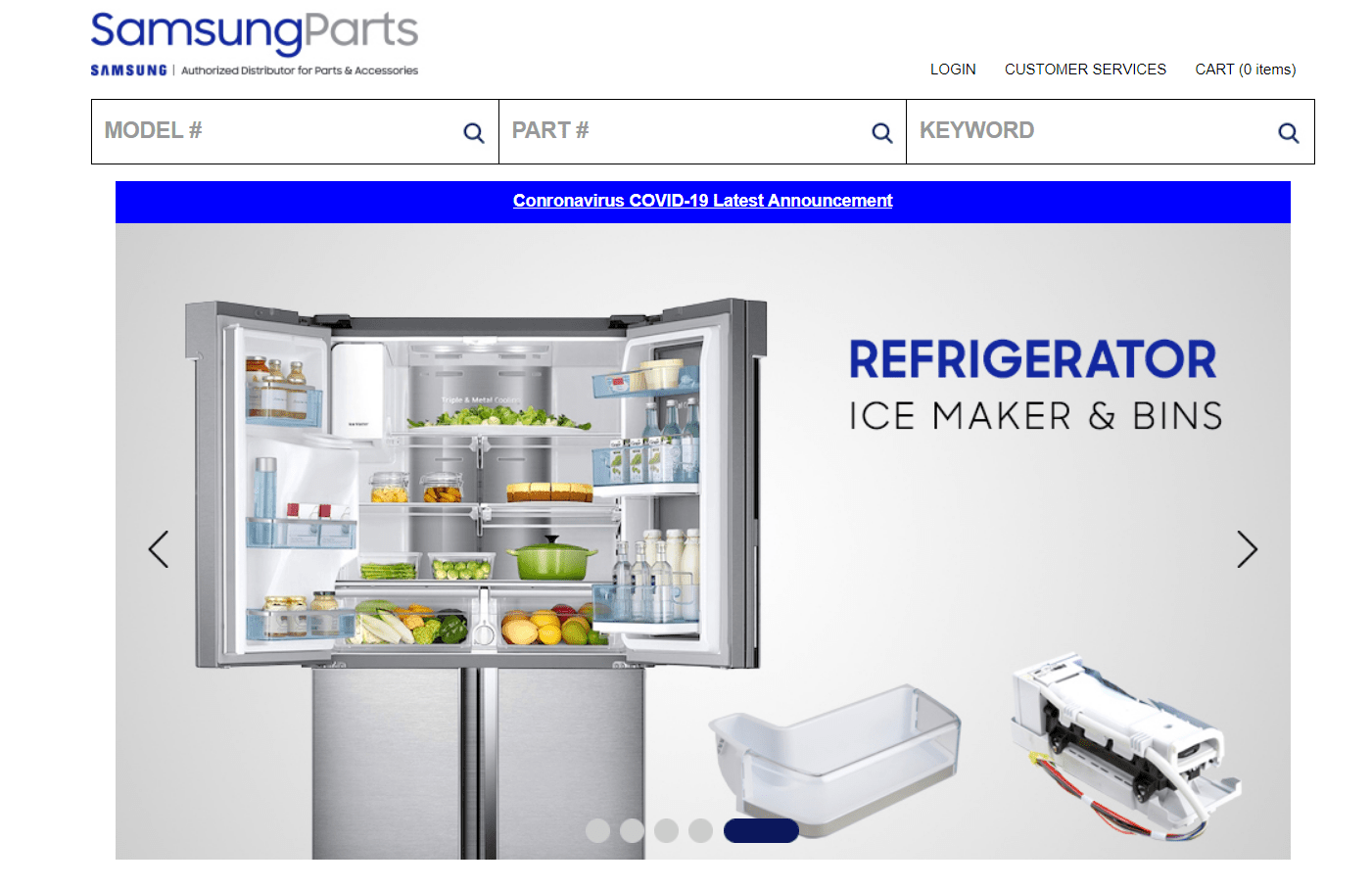 Are you looking for a 100% reliable source of original replacement parts for your Samsung dryer? Samsung has its officially authorized online store called Samsungparts.com, and it has tons of components and spares for pretty much any recent model from the brand's portfolio.
The store is very easy to navigate – just enter the serial number/code of your dryer, and you'll immediately see a list of all the available parts. Each product comes with a detailed description, accurate compatibility information, and information on its availability.
Prices might be slightly higher here, but the difference is not great enough to be a dealbreaker. Beware that customers are not always satisfied with the responsiveness of the customer service, though.
Pros
Official distribution of Samsung components and spares
Wide range of products on offer
Straightforward navigation
Genuine parts directly from the manufacturer
Cons
Prices might be a bit higher
Customer service could improve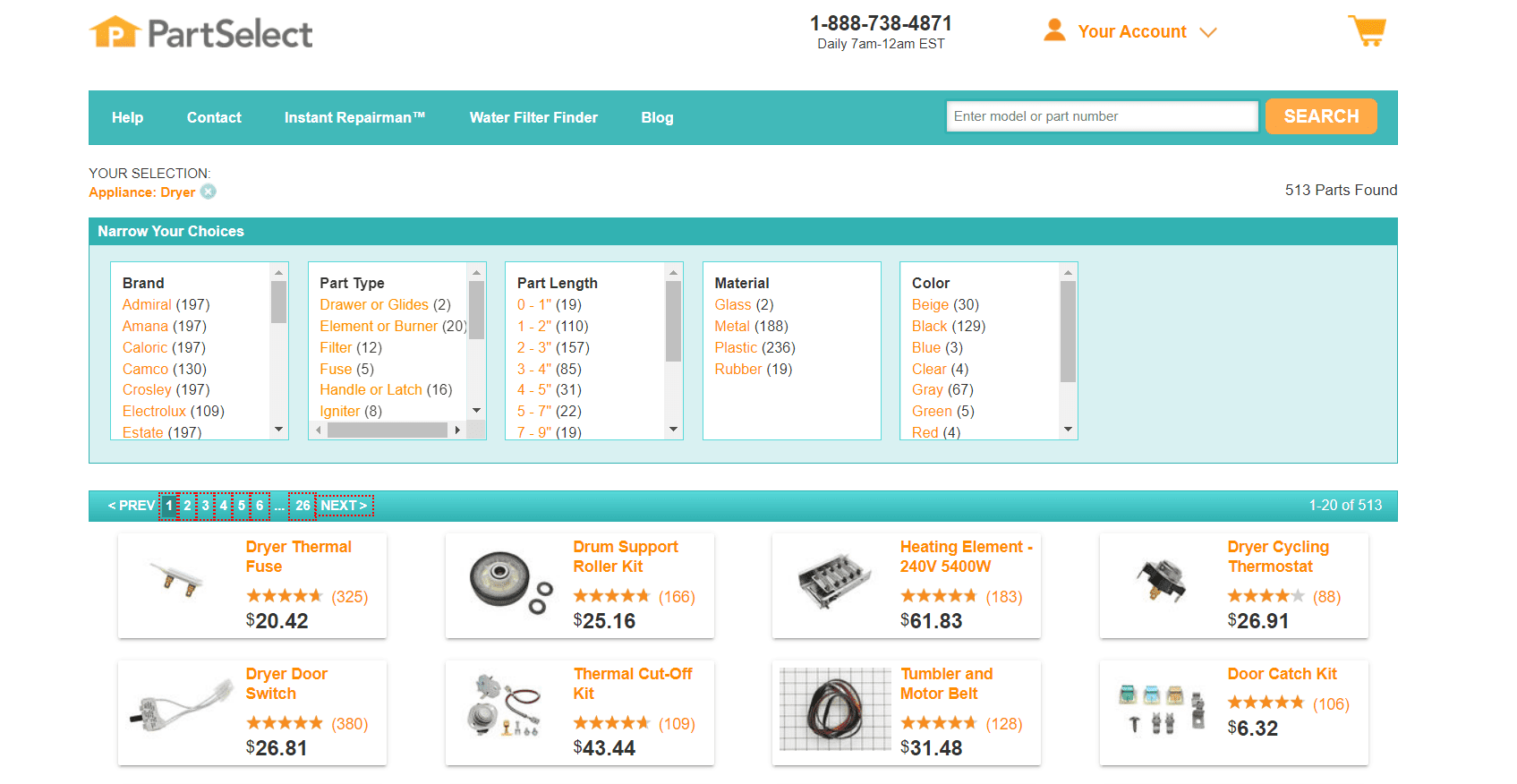 PartSelect is a prime go-to source for many DIY fans, but it's also visited by many professional repairmen when they struggle to find the replacement part they need. This platform has thousands of readily available parts for all the major appliance brands, but the Samsung logo at the head of the website clearly indicates its main focus and partnership.
Besides a neat catalog of many useful Samsung dryer parts, this website also has thousands of installation instructions and instructional videos that can come in handy when you plan to repair the dryer yourself.
Moreover, PartSelect boasts great customer reviews too. Most of the customers praise the store for its hassle-free ordering process, fast delivery, and fair prices too.
Pros
Reputable store with great customer feedback
Large portfolio of products
Competitive prices
Thousands of instructions and installation videos are available
Fast deliveries
A reliable source of original parts
Cons
Beware that the store also resells used parts
FAQs
Question: How do I know if my Samsung dryer needs repair?
Answer: When your dryer is not in its best condition, it can manifest itself in various ways. Most commonly, you'll hear a weird or unusually loud sound, notice water leaks or increased condensation, or the dryer simply won't perform as well as it should. In some cases, your dryer might stop operating completely, which usually suggests an electrical fault.
Question: Is it worth repairing a Samsung dryer?
Answer: That depends on several factors. First, you have to identify the problem and research its possible solution. Then compare the investment to the purchase price of a new comparable dryer. Don't forget to take the dryer's age into account, too – if you're dealing with an old machine, you might experience other technical issues soon again.
Question: How long does a Samsung dryer last?
Answer: Samsung dryers last from 8 to 18 years depending on the particular model, intensity and frequency of use, and some other conditions. On average, users report their appliances lasted from 10 to 13 years.
Bottom Line
Samsung dryers are reliable, effective, and modern machines that will most likely serve you well for many years after purchase. Nevertheless, no appliances are completely immune to electrical faults, mechanical damage, or some inevitable signs of aging.
The good news is that replacement parts for these machines are widely available, they usually come at a reasonable price, and you're able to make some of the needed repairs on your own.
I hope that this article helps you understand how your Samsung dryer works, what components does it contain, and which of them might probably cause the problem you're experiencing.
Would you like to learn more about dryers? Maybe you'll find some of these articles interesting too: