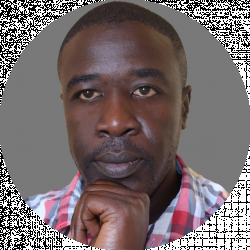 Latest posts by Barry Juma
(see all)
If you're looking for a French-door refrigerator, the Whirlpool WRF535SWHZ is a good choice for one who wants simplicity and reliability. This model has a plain French-door design that doesn't have fancy external features like a water dispenser or a high-tech control panel. Whirlpool opted to keep it as basic as a French-door refrigerator can be, and I think that this is a good thing. 
I spent some time learning everything about this refrigerator before writing this in-depth Whirlpool WRF535SWHZ review and guide. This piece has information on the main features of the WRF535WHZ and what I like and don't like about the refrigerator.
Plus, if you're not entirely set on the Whirlpool model, I've put together a quick list of some alternative refrigerators that you may consider. 
Bottom Line Up Front
The Whirlpool WRF535SWHZ French-door refrigerator is a reliable appliance that offers top performance. I love its sleek exterior and spacious interior with lots of storage compartments. It's certainly worth considering if you're looking for a French-door refrigerator.
At a Glance: Whirlpool WRF535SWHZ Features
French-door design.

25.2 cu ft capacity.

36-inch width, 70-inch height, and 33-inch depth.

Fingerprint-resistant stainless steel finish.

Internal water dispenser.

Temperature-controlled deli drawer.

Humidity-controlled crisper drawers.

Adjustable glass shelves.

Gallon door bins.

Energy Star certified
Main Features
Exterior Design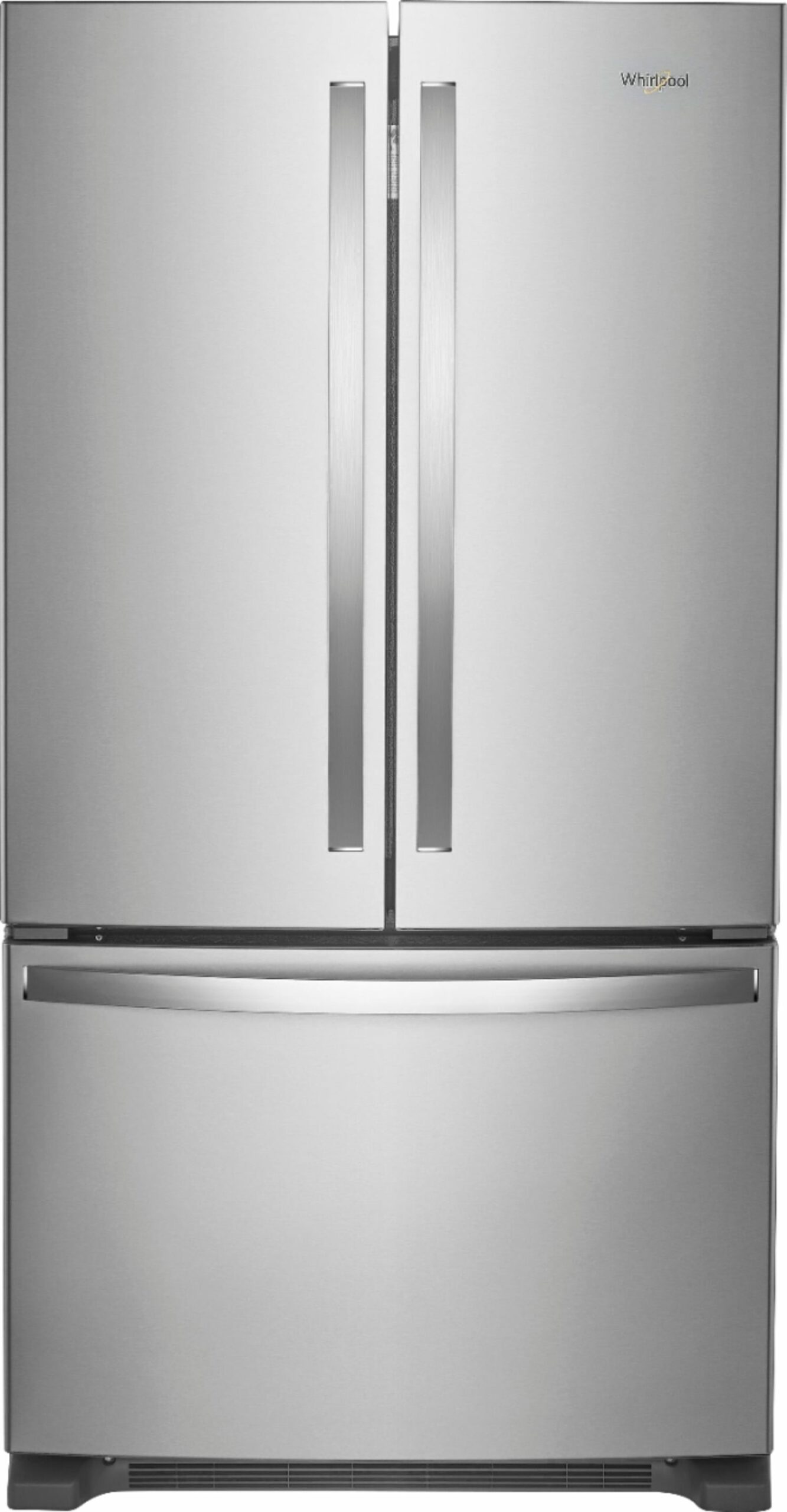 This refrigerator is as plain as a French-door refrigerator can be. Don't get me wrong, it's not dull, it's just simple but stylish. The fingerprint-resistant stainless steel gives the WRF535SWHZ a sleek look. There's also a black stainless steel option, but this color attracts smudges and it just doesn't look as classy as its counterpart, in my opinion.
If you're a fan of an exterior water dispenser then you might be disappointed by the lack of one on this model. Unfortunately, you'll have to open the door to access the dispenser. The freezer has a drawer configuration, which makes it easy for owners to access food without bending too much. It's designed to smoothly glide out and back in even when heavy. 
This Whirlpool refrigerator has a height of about 70 inches and a width of 36 inches. Its design makes it easy for anyone to access both the fridge and freezer, although shorter people might struggle to access the fridge's top shelf. 
Note that this isn't a cabinet-depth refrigerator; it protrudes past the cabinets. If you prefer the built-in look, this model won't offer that. However, it'll still look sleek in your kitchen.
Refrigerator Performance
The refrigerator has a capacity of 25 cubic feet: 17.75 cu ft in the refrigerator and 7.4 cu ft in the freezer. However, according to reviewers, the actual usable space is much less than this, with the refrigerator only getting 10.34 cubic feet and the freezer getting 3.65 cubic feet. This is because of the numerous compartments within the refrigerator, which take up some capacity.
Still, these compartments do more good than harm, offering lots of room to organize your food. The glass shelves are convenient, but I particularly love the temperature-controlled deli drawer and the humidity-regulated crispers. 
These compartments are effective at keeping meats, cheeses, and greens fresh for much longer than average refrigerators. Incidentally, Whirlpool calls the crisper a FreshFlow Produce Preserver. Temperatures in the WRF535SWHZ remain constant when the doors are closed, and it quickly regulates the temperature when you open the doors thanks to the Accu-Chill feature. 
When tested, this Whirlpool refrigerator was found to maintain a temperature of 38.5 degrees Fahrenheit (3.6 Celsius) in the fridge and 0.4 degrees Fahrenheit (-17.5 Celsius) in the freezer. These are optimum temperatures for keeping food fresh for days.
There's an ice maker in the freezer, which always has ice cubes whenever you need them. I love that the ice maker does its job automatically. 
Food Organization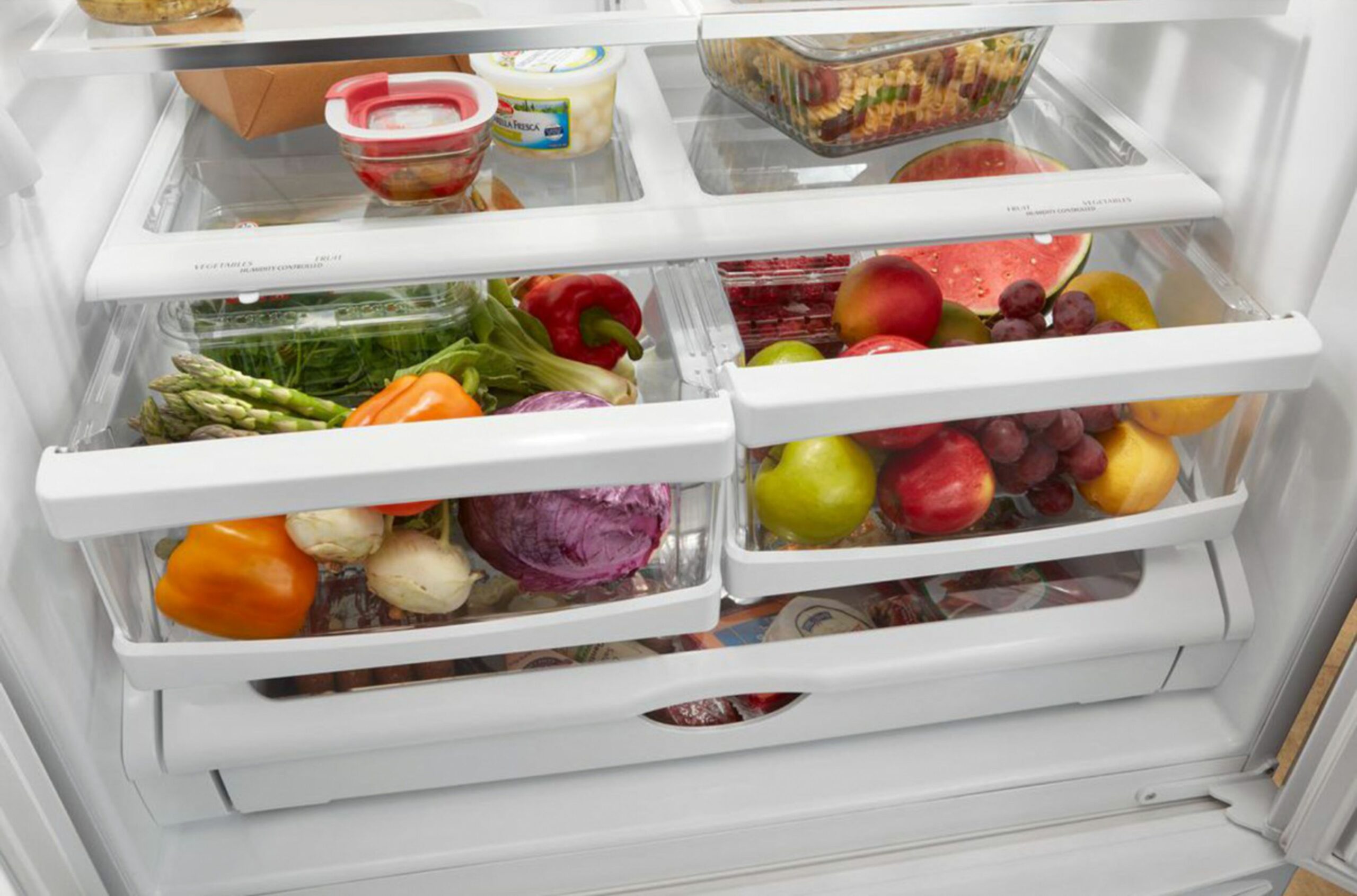 You get ample food storage compartments that help you organize your food. I've already mentioned the crisper drawers (the FreshFlow Produce Preserver), of which there are two. Whirlpool also included a full-width deli drawer at the bottom of the refrigerator section.
Sadly, these two compartments limit the shelf space, so your only get three rows of shelves. The glass shelves aren't full width; there are four adjustable shelves. This gives you the flexibility to configure the space in different ways. 
There are gallon door bins behind each refrigerator door and a filtered-water dispenser on the left side. The dispenser works well; it's just a shame that we have to open the doors to access it. The freezer also has drawers, baskets, and compartments for easy food organization. However, it feels a bit small for a French-door refrigerator. Still, for a small household, this will do.
Internal Features
Electronic Temperature Control:

This model's temperature controls are found in the refrigerator section at the top. It's very easy to use, with buttons for adjusting the temperature and humidity. 

Adaptive Defrost:

This feature prevents the buildup of ice in the freezer by intermittently activating the defrost heater whenever the refrigerator is in use.

LED Light:

The refrigerator has a bright LED light mounted at the top. This brightly illuminates the interior. Sadly, there's no light in the freezer section, but you might not need one there.
Energy Efficiency
The Whirlpool WRF535SWHZ is an Energy Star certified refrigerator and a CEE Tier 1 appliance. According to its Energy Guide Label, it consumes an average of 615 kWh of electricity annually, amounting to an estimated running cost of $74 per year.
Pros and Cons of the Whirlpool WRF535SWHZ
What I Like
It has a stylish look.

There's a fingerprint-resistant stainless steel option.

It has a bright internal LED.

You get lots of food storage compartments.

The door bins are large.

There's a water dispenser.

It is Energy Star certified.

The crisper drawers are humidity controlled.
What I Don't Like
The refrigerator's internal capacity is taken up by the storage drawers.

You have to open the fridge to access the water dispenser.

The freezer is rather small.
Where to Buy the Whirlpool WRF535SWHZ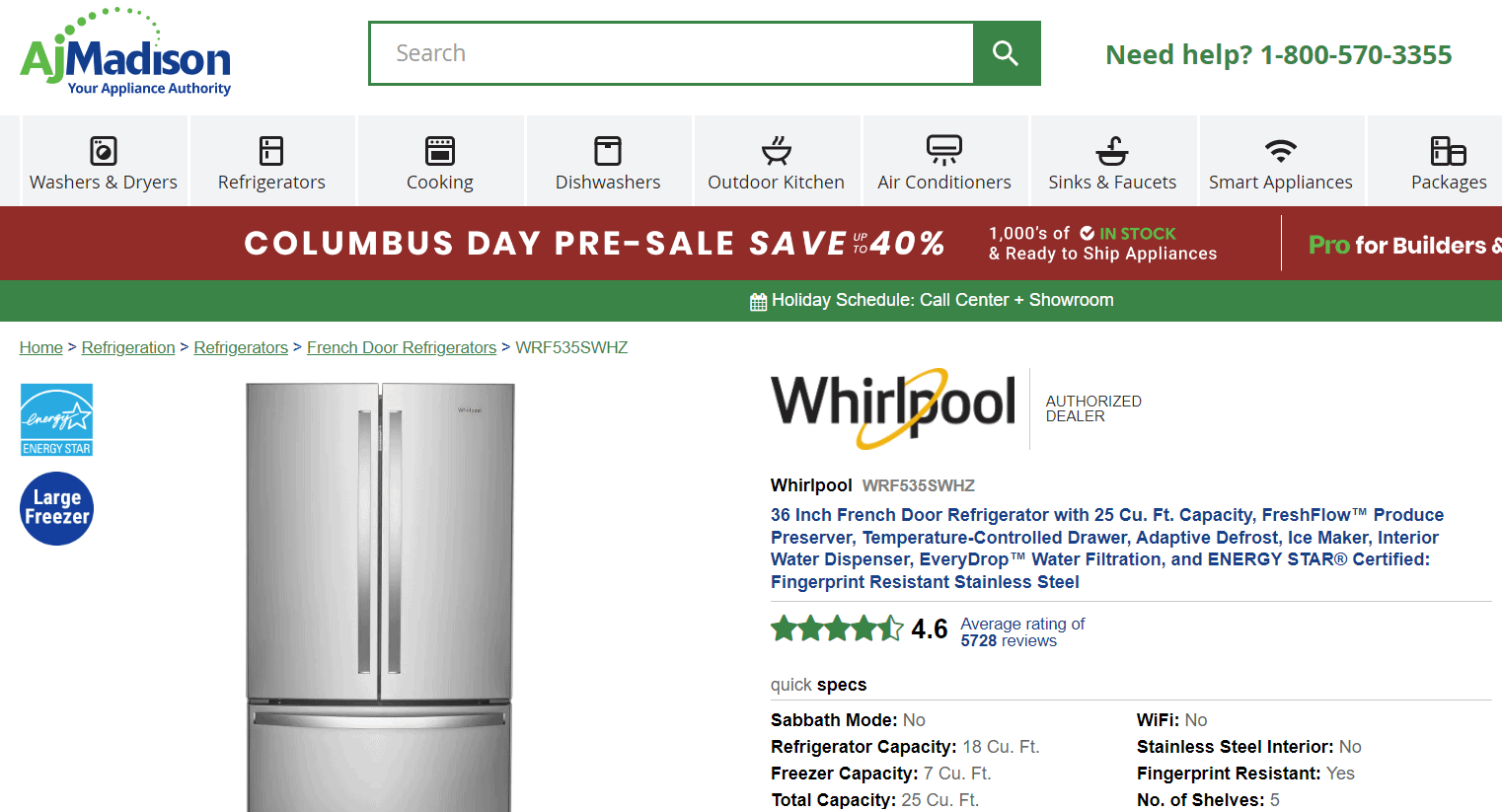 The Whirlpool WRF535SWHZ is no longer available on Whirlpool's website, a sign that it may have been discontinued. However, it's still available at Best Buy and Home Depot for about $2100. You can also find this model on Aj Madison and Appliances Connection for about the same price of $2100.
How to Install the Whirlpool WRF535SWHZ
This refrigerator needs to be installed near a water supply as it requires a water connection to run the dispenser and ice maker. Whirlpool advises that the water pressure should be between 35 and 120 psi. When installing, make sure the dedicated space is at least 37 inches wide to allow ventilation space of at least half an inch on either side. You should also leave a space of at least half an inch above the refrigerator.
If you'll stand the refrigerator next to a wall, leave at least 2.5 inches from the wall to accommodate the hinge and door swing. Behind, there should be at least 2 inches to accommodate the water and power connections. Thankfully, Whirlpool provides detailed installation instructions when you buy your new refrigerator.
What to Consider Before Buying a Refrigerator
We wrote a detailed article on how to find the best refrigerator that you should check out. But, real quick, I'll share with you what I think you should consider before settling on the Whirlpool WRF535SWHZ.
Size and Capacity
Experts advise allocating about 5 cubic feet of refrigerator capacity for each adult in your household. I would also allocate about 2.5 to 3 cubic feet for each child. So, the Whirlpool WRF535SWHZ is ideal for a household of about five people.
Is this refrigerator too big (or small) for your needs? The capacity will help you determine the answer to this. If you're more than five, I think this Whirlpool refrigerator might be too small for your needs. However, it's perfect for five or fewer.
Also, consider the available space in your home and whether your preferred refrigerator can fit. Make sure there's enough room through which you'll carry the refrigerator when it's delivered. If you have a small apartment with a compact kitchen, the WHirlpool WRF535SWHZ might not be the ideal model for you. Consider this before buying.
Your Needs
What are your food buying habits? If you love meat and cheeses, then a refrigerator with a deli drawer would be a good fit for you. If you love fruits and veggies, then consider a model with a roomy crisper drawer. If you do a lot of meal prepping, then consider a model with a spacious freezer.
Be clear about your daily needs, then look for a refrigerator that fits these needs. For instance, the Whirlpool WRF535SWHZ has two crisper drawers making it ideal for lovers of fruits and veggies. On the flip side, this model's freezer is rather small, so those who batch cook might not be satisfied.
Your Budget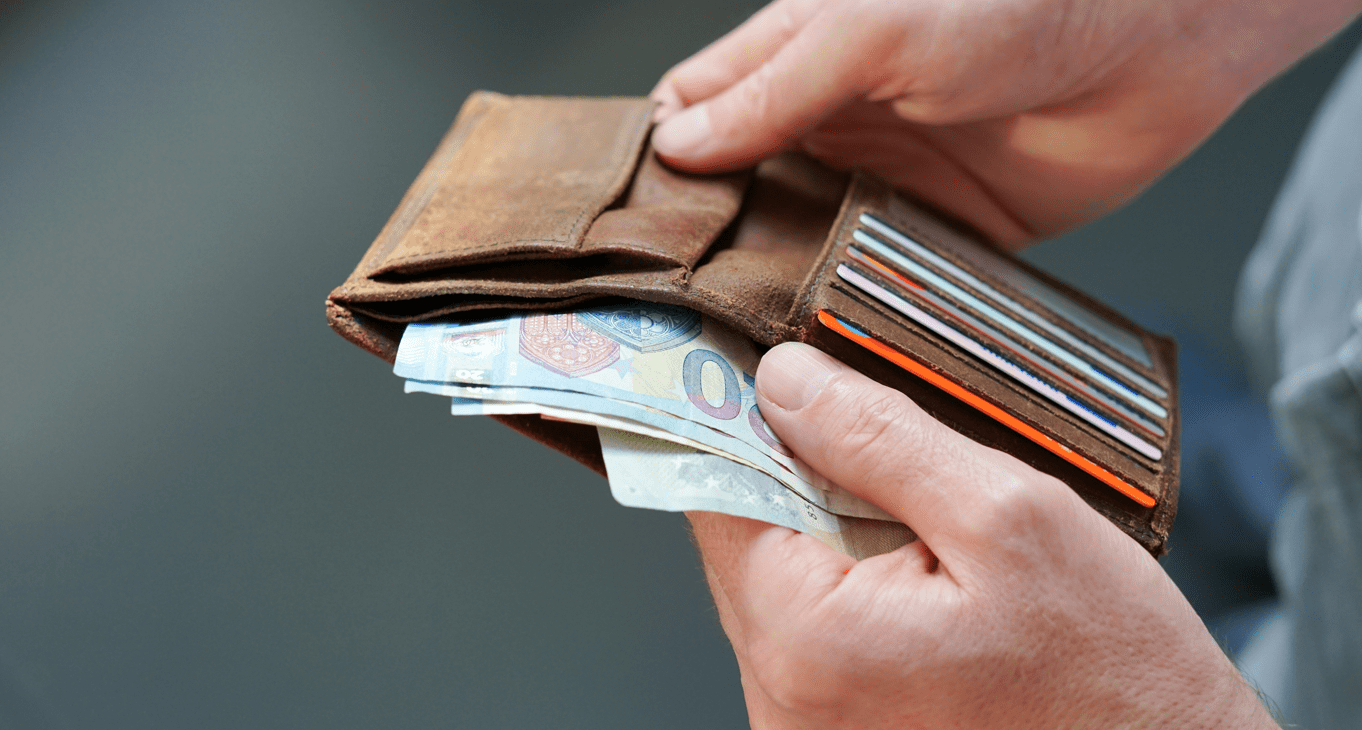 This Whirlpool refrigerator costs about $2100. If your budget is below $2000, then you might want to look elsewhere for your ideal refrigerator. As you'll see on my list of alternative refrigerator models, there are models that cost less than $2000 but offer similar functionality. 
If your budget is more than $2000, I would advise you to think about your needs first before springing for a more expensive refrigerator. It's likely you don't need the fancy bells and whistles in higher-priced models. If so, save your cash and get a cheaper model.
Alternatives to the Whirlpool WRF535SWHZ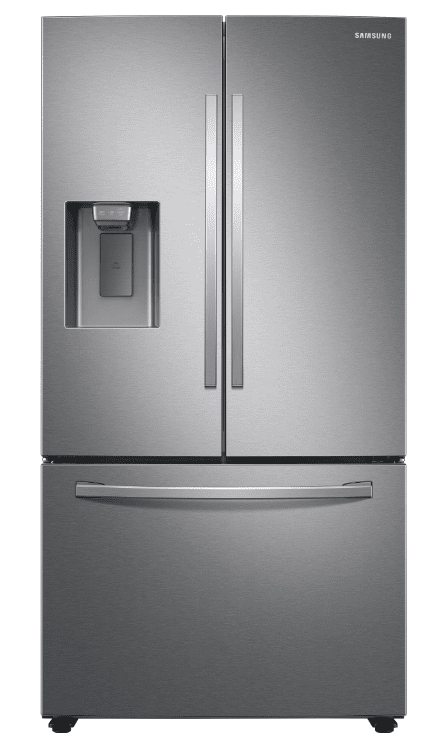 Samsung's reliability is undoubted, with consistent top rankings in JD Power's appliance satisfaction studies. This French-door refrigerator is a testament to the brand's quality and value. It costs about $2600, admittedly more than the Whirlpool WRF535SWHZ. However, I think this Samsung refrigerator offers greater value for money, offering a larger capacity and an external water/ice dispenser. 
Inside, you get a spacious fridge section with three rows of glass shelving, two crisper drawers, and a full-width deli drawer. This refrigerator offers more space for food on the shelves thanks to its 27-cubic-foot capacity.  An LED is found at the top of the fridge section, but I think that it's easy for it to be blocked when the refrigerator is completely full.
The Freezer is also slightly bigger than that of the Whirlpool model, but only marginally. So, you might find this space rather restrictive if you love to batch cook. However, for a household of 5, it's just fine. 
Samsung offers three color options for this refrigerator: fingerprint-resistant black stainless steel, fingerprint-resistant stainless steel, and white. Interestingly, the stainless steel and white models cost the same, so I would recommend the former. If you opt for black stainless steel, you'll have to pay about $100 more. 
Pros
It has an external water/ice dispenser so you don't have to open the refrigerator to access these.

The black stainless steel and stainless steel models look sleek.

This refrigerator has ample space in the fridge.
Cons
The freezer is rather small for meal preppers.

It costs more than the Whirlpool model.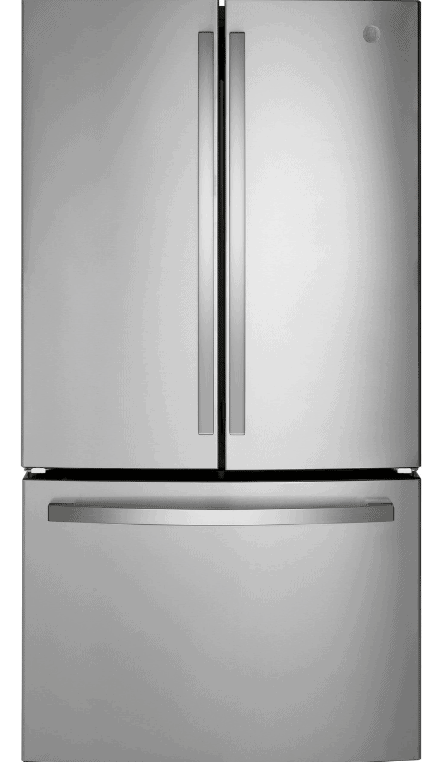 I don't know when you're reading this (hopefully within the decade) but at the time of writing, this French-door refrigerator costs $1200. This is after a 39% discount; its regular price is $2000. If you're lucky to still find this sale, then the GE® GNE27EYMFS is an easy recommendation. Even without the sale, I still think that this GE refrigerator offers greater value for money than the Whirlpool model.
Top on its list of features is a 27-cubic-foot capacity – 2 cubic feet more than the Whirlpool WRF535SWHZ. Its exterior look similar to its Whirlpool competitor, with a fingerprint-resistant stainless steel finish. In fact, if it weren't for the GE logo, you might confuse this refrigerator for the Whirlpool model.
Inside, you'll notice a few differences. First, this model doesn't have a deli drawer, just two humidity-controlled crisper drawers. Plus, the control panel is found on the top edge of the fridge section, which I think is a better placement. However, shorter people might struggle to reach these controls since this is a 70-inch-tall refrigerator. 
Sadly, this refrigerator also doesn't have a water dispenser, but I'm sure that's a feature that you can forego at this price point.
Pros
The GE® GNE27EYMFS has an affordable price even before the discount.

This refrigerator looks stylish because of its stainless steel finish.

It has a spacious fridge section.
Cons
There's no deli drawer.

This model doesn't have a water dispenser.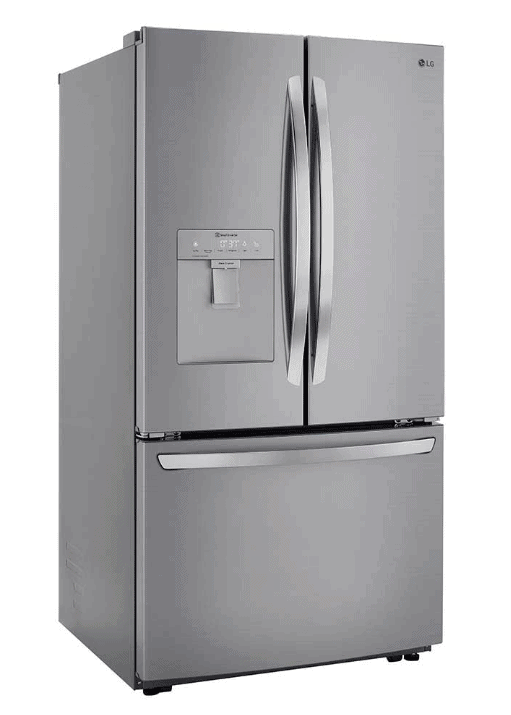 JD Power ranked LG's French door refrigerators number one in their 2022 customer satisfaction index. With models like the LRFWS2906V, I don't doubt their findings. This model has a regular retail price of $2100, similar to the Whirlpool WRF535SWHZ model.
However, this one has a capacity of 29 cubic feet as opposed to 25 cubic feet in the Whirlpool refrigerator. This is significantly more spacious in both the fridge and freezer, offering 19.5 cu ft and 9.5 cu ft respectively. Its exterior is as sleek as its competitors on this list. It has a stainless steel body with a fingerprint-resistant finish that LG calls PrintProof. 
This model also has a water dispenser on the left door, with a control panel right above the dispenser.  I love this refrigerator's Linear Cooling feature, which ensures that the internal temperature remains constant with no more than 1 degree Fahrenheit fluctuations. Inside, you get creature comforts like an automatic ice maker, a deli drawer, and two crisper drawers.
Pros
This LG refrigerator is reasonably priced.

It has a spacious fridge and freezer.

There's an unobtrusive water dispenser on the left door.
Cons
The controls are on the exterior, so it's easy for kids to meddle with the settings.
FAQs
Question: Which refrigerator brand is best?
Answer: According to the 2022 JD Power customer satisfaction study, LG has the best French-door refrigerators, and Samsung has the best side-by-side and top-mount freezer refrigerators. This study also ranks Whirlpool, GE, and Frigidaire refrigerators among the top 5. 
Question: Which refrigerator brand consumes the least electricity?
Answer: According to Energy Star, Insignia top-freezer refrigerators, Beko bottom-freezer refrigerators, and Forno side-by-side refrigerators consume the least electricity. However, this also depends on the refrigerator's capacity, as larger models will consume more electricity.
Question: Which style of refrigerator is the most energy efficient?
Answer: Top-freezer refrigerators are the most energy efficient, according to findings by Energy Star.
Is the Whirlpool WRF535SWHZ Worth Buying?
The Whirlpool WRF535SWHZ is a reliable refrigerator that offers excellent performance. It's certainly worth buying if you have a budget of $2000. However, I still think that you'll get greater value for your money from the LG LRFWS2906V French-door refrigerator, which offers a larger capacity, an external water dispenser, and top performance at a lower price. 
If you're not firm on buying a Whirlpool refrigerator, then I recommend the LG model.
Read More: