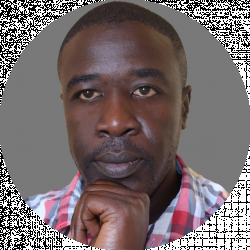 Latest posts by Barry Juma
(see all)
Whirlpool washers are among the most reliable in the market, with the brand consistently ranking at the top of customer satisfaction lists like this one by JD Power. It's, therefore, no wonder why the Whirlpool WTW5000DW was (and still is) a popular washer model that continues to garner demand from buyers such as yourself. 
Perhaps this is why the washer is no longer in stock on popular retail sites like Amazon and Lowes. Even Whirlpool's own website no longer has the WTW5000DW in stock. 
In this Whirlpool WTW5000DW review and guide, you'll find out why this top-load washer is so popular and I'll share what I think about it. You'll also learn about the highs and lows of this model, where to buy it, and why it deserves your attention. 
Bottom Line Up Front
The Whirlpool WTW5000DW has excellent washing performance and desirable features at a reasonable price. However, I don't like its low spin speed of 660 RPM. Still, this washer offers great value for its price. 
Whirlpool WTW5000DW Specifications
Top-load design.

4.3-cubic-foot capacity.

27.5-inch width, 42.25-inch height, and 28-inch depth.

Stainless steel tub with impeller.

White finish.

12 wash cycles.

4 Rinse options.

660 RPM maximum spin speed.

High-efficiency washer.
Main Features of the Whirlpool WTW5000DW
Design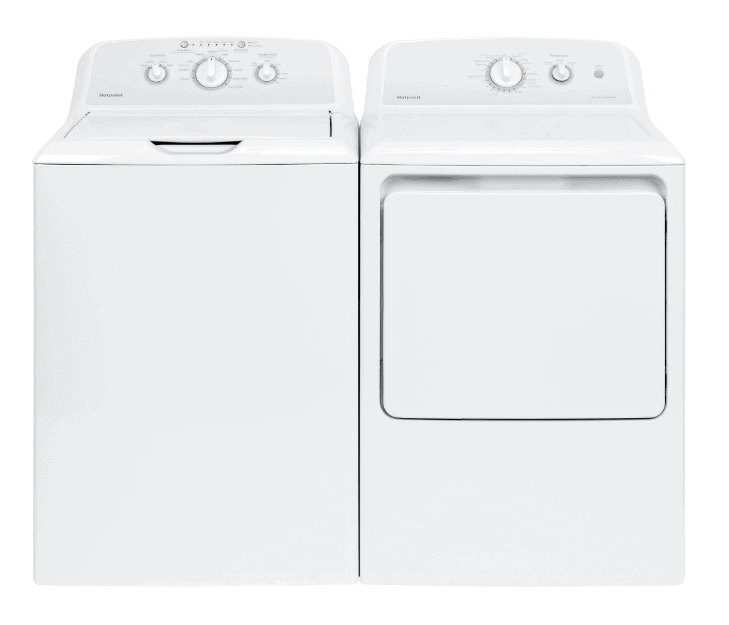 This is a classic top-load washer with an uninspiring design that, to be fair, is tried and true. Whirlpool didn't want to reinvent the wheel in the design, and that's not an issue. There's one color option for the WTW5000DW – white. If you're looking for a washer that looks sleek, then perhaps this isn't the model for you. 
Its control panel is located on the back guard, as it usually is on top-load washers. There are five knobs; the middle one is the cycle selector, and it's the largest. The two knobs on either side are for the soil level, wash temperature, rinse options, and presoak option, respectively. 
All knobs are easy to turn, offering a tactile response. There's also a power button right below the cycle knob. This button feels rather stiff and feels a bit difficult to push.
Overall, the WTW5000DW has a simple design that has nothing to write home about.
Tub/Wash Basket
Inside, it has a stainless steel tub. I'm impressed that Whirlpool offered this high-quality tub in a sub-$800 washer. 
As you might already know, stainless steel is a superior material for washer tubs; the lesser version is polymer plastic or porcelain-coated steel, which are used in cheaper washers. Stainless steel is resistant to wear and can withstand higher temperatures. 
This washer uses an impeller instead of an agitator. I, for one, prefer impellers because they don't take up a lot of tub space and are gentler on clothes. The impeller also allows the washer to spin at higher RPMs – this one has a maximum RPM of 660. I delve deeper into the spin speed in the performance review below.
The tub's capacity is 4.3 cubic feet. This size is ideal for a household that washes a load of 12 to 16 lbs per cycle, ideally a small family.
Wash Cycles and Options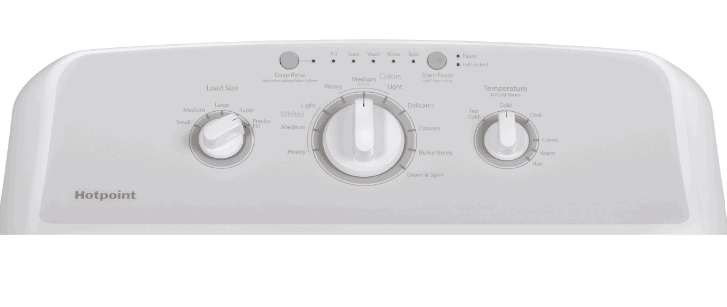 There are 12 wash cycles, 4 soil levels, and 4 washing temperatures. You also get four rinse options. I've summarized the cycles in the table below, as well as what items each cycle is designed to wash. 
| | |
| --- | --- |
| Cycle | What to Wash |
| Normal | Cottons and linens with a normal soil level. |
| Deep Water Wash | Heavily soiled loads. |
| Heavy Duty | Heavily soiled loads with towels, jeans, and tough fabrics. |
| Bulky Items/Sheets | Bedsheets, small comforters, jackets, and small rags. |
| Drain & Spin | For loads that require an extra spin. |
| Rinse & Spin | For loads that only require rinsing. |
| Cold Wash | Use for colorfast fabrics. |
| Casual | Meant for fabrics that don't require ironing. |
| Delicate | For silk garments and fabrics meant to be hand-washed. |
| Quick Wash | For small loads with a light soil level. |
| Soak | Meant for heavily soiled loads. |
| Clean Washer | Uses Affresh washer cleaner tablets to clean the washer's tub. |
I like that there are enough cycles for different types of loads, so you'll be able to wash whatever garment you have. 
The washer also has an automatic water-fill feature, that determines how much water is required for a specific load. This helps to save water by using less for a smaller load or lightly soiled clothes.
You also get the option to rinse the load once or twice, with or without softener. The WTW5000DW also allows you to select five wash temperature levels: tap cold, cold, cool, warm, and hot. This is quite handy to have as some washers don't allow users to select the temperature.
Wash Performance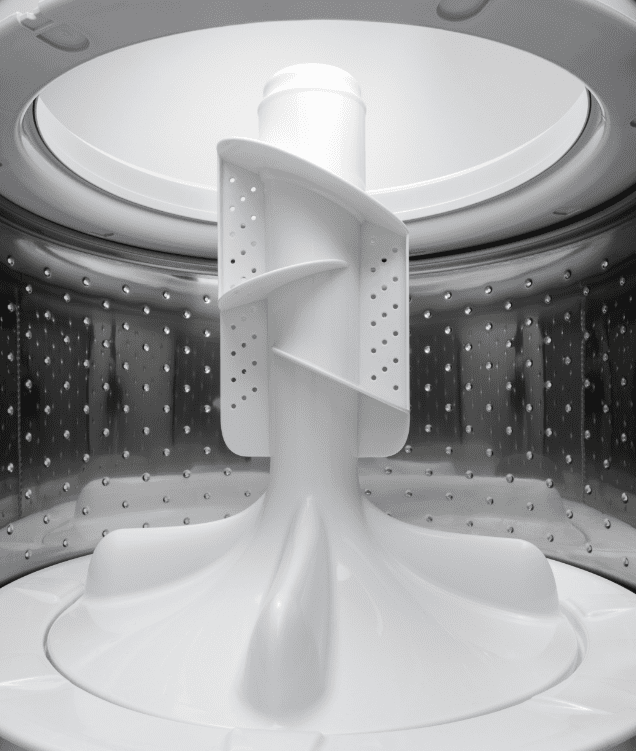 A lot of people worry when a top-load washer lacks an agitator, but impellers have advanced to offer as effective clean as their counterparts. The WTW5000DW doesn't disappoint, either.
Whirlpool recommends using only high-efficiency detergents because the washer uses less water. Regular detergents end up leaving soap deposits on clothes, requiring an extra rinse, thus defeating the purpose of water efficiency. 
There are load sensors that help to determine the water level. For these sensors to work properly, the washer locks the lid once you start the cycle. So, you can't add extra items when the washer has started running. Still, you can pause the cycle for the lid to unlock, so this shouldn't be an issue.
Sadly, the load-sensing step takes a couple of minutes, and you might be confused to thinking that the cycle hasn't started. But, once you've used the washer for a while, this won't bother you as much.
The pre-soak option allows you to soak your load for 30 minutes before the cycle. This feature ensures that heavily soiled loads come out clean without the washer using a lot of electricity. I mentioned earlier that the washer has a spin speed of 660 RPM. This, sadly, is among the slowest spins, and clothes often come out feeling damp. Heavier garments, in particular, require an extra spin after the cycle.
Energy Use
Sadly, the Whirlpool WTW5000DW isn't Energy Star certified. However, it's still considered an efficient washer, using about 300 kWh annually. According to the washer's Energy Guide label, this amounts to a cost of about $36 annually – about $3 per month. 
Pros and Cons of the Whirlpool WTW5000DW
Pros
The Whirlpool WTW5000DW is affordable.

It has a stainless steel tub.

The washer is easy to use.

It has 12 wash cycles.

It has automatic load sensors that determine the amount of water required per load.

This washer has excellent wash performance.

It saves water.
Cons
This washer isn't Energy Star certified.

Its maximum spin speed of 660 RPM is too slow, and clothes come out soggy.

It has a dull design.

There's no detergent dispenser.
Whirlpool WTW5000DW Installation
It's easy to install the Whirlpool WTW5000DW washer as long as you have the right tools for the job and some help to move the appliance. The main tools you'll need are a wrench, pliers, a level, and a measuring tape. 
If you're installing the washer in an enclosed space like a closet, make sure that there's at least an inch of room on either side and 4 inches at the back. Also, leave at least 19 inches above the washer as an allowance for opening the lid.
Whirlpool also advises that the floor should have a maximum slope of 1 inch if it isn't completely level. You can connect the drain system to a floor drain, standpipe drainage, or laundry tub. If you're using a standpipe or laundry tub, make sure that the drain hose doesn't rise higher than 96 inches from the floor. 
Thankfully, you get detailed installation instructions when you buy the washer, and this information is also available online.
Where to Buy the Whirlpool WTW5000DW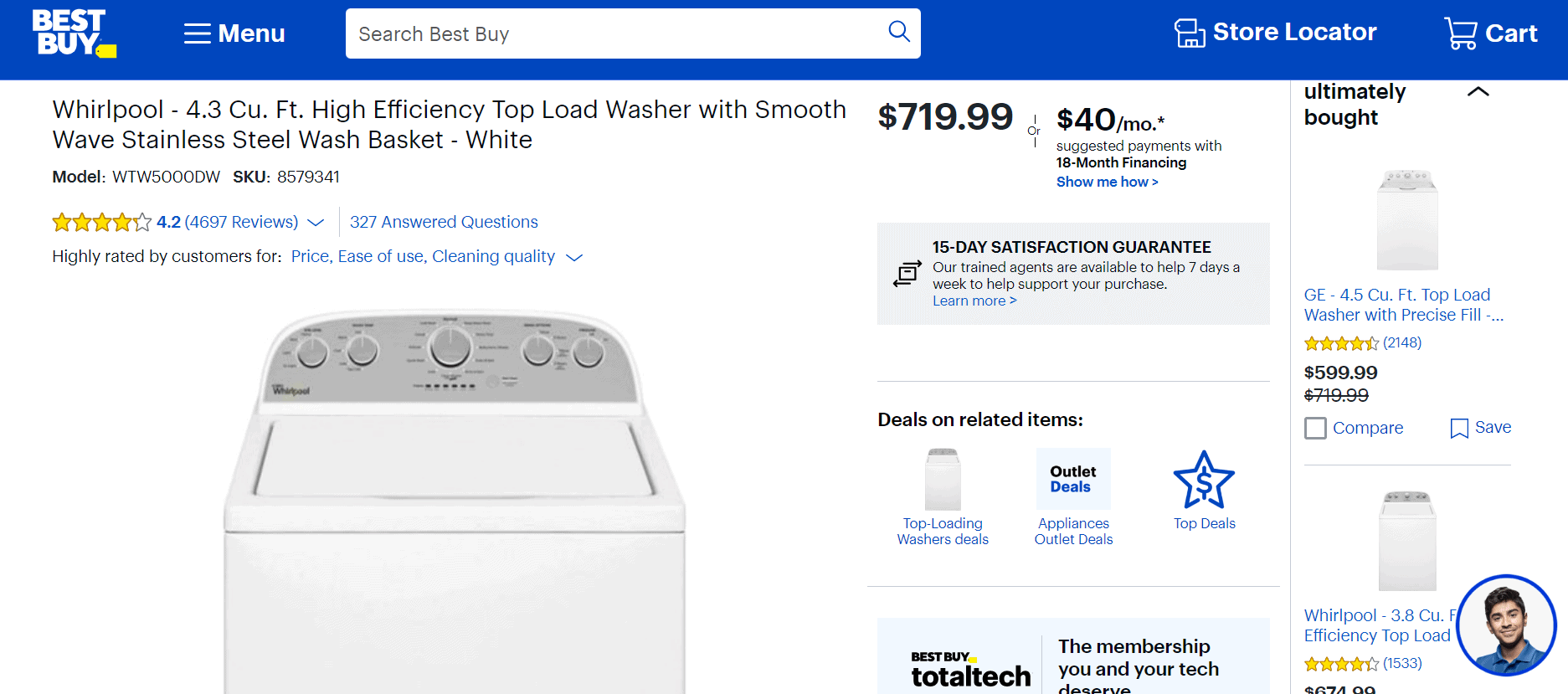 Unfortunately, Whirlpool discontinued the WTW5000DW, so a lot of retailers no longer have this model in stock. However, I pored through the stocklist of online retailers and found this model available at Best Buy and Spencers TV & Appliances. 
Interestingly, when I started writing this piece, Lowes had this washer in stock, but by the time I completed writing, it was no longer available. This goes to show how popular the WTW5000DW still is. The lowest price you can get this washer is $600, as Spencers TV & Appliances. Best Buy has it listed for $720. 
In case you can't find this Whirlpool washer for sale, I've listed three alternatives later in this article.
What to Consider Before Buying a Washer
As you think about buying the Whirlpool WTW5000DW, there are a few things that you should consider to make sure that this is the right washer for your needs. I took a deeper dive into these considerations in my article on how to find the best washer, but here's a brief look at a few of them.
Type of Washer
The Whirlpool WTW5000DW, as you already know, is a top-load washing machine. However, a front loader might be a better fit for your needs. Front-load washers are more water-efficient, and most offer better cleaning performance than their top-load counterparts. 
Both types of washers have their pros and cons, which are listed in depth in this article. 
Spin Speed
As I mentioned earlier, the WTW5000DW has a top spin speed of 660 RPM, which I consider slow. A higher spin speed means that clothes spend less time in the dryer, thus saving energy. If you have lots of heavy items, then I recommend a washer with at least 1000 maximum RPM. However, this Whirlpool washer would be ideal if you only have lighter garments or don't mind soggier loads after a wash.
Sound Level
I mentioned in this article that some of the quietest washers have a sound level of 50dB or less. If you have a dedicated laundry room that's isolated from the rest of your home then the sound level might not be your top concern. However, if you have a small home, avoid washers with more than 50dB. 
Whirlpool doesn't specify the decibel level of the WTW5000DW but several reviewers have mentioned that it can be a bit noisy, but not unbearable.
Your Budget
Finally, the amount of money you have to spend will determine the washer you get. The WTW5000DW costs about $700, so it might be out of your reach if your budget is lower than this. 
This is, perhaps, the first thing you should think about (although I've written it last) when buying a washer. 
Alternative Washer Models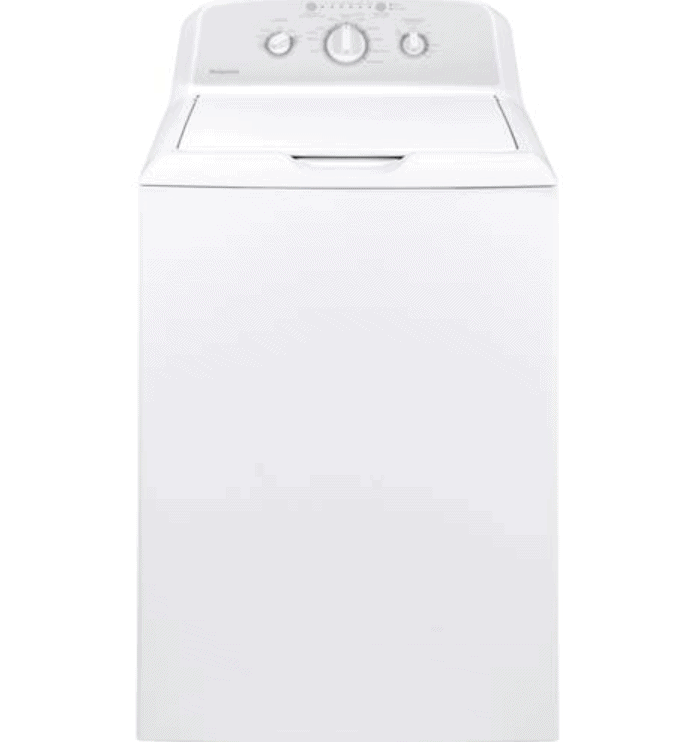 This Hotpoint washer is a cheaper alternative to the Whirlpool WTW5000DW that it has similar features to its competitor. But, let's start with the differences. First, this washer has a capacity of 3.8 cubic feet as opposed to 4.3 in the Whirlpool washer. Granted, this is just a difference of 0.5 cubic feet, but this one has another setback in capacity; it has an agitator, which takes up space. 
If you prefer an agitator, then the drawback I've mentioned isn't an issue for you. Hotpoint actually calls this a heavy-duty agitator that, as the company puts it, thoroughly cleans each load.
While we're still talking about the interior, there's a stainless steel basket in this model, just like in the Whirlpool washer – a plus for Hotpoint. 
Where the Hotpoint wins over the Whirlpool is in spin speed; this model has a maximum of 700 RPM. I admit that this is impressive for a washer with an agitator, but I still think that it's on the lower side.
Pros
It's reasonably priced.

The washer is easy to use.

It has an effective agitator.

There's a stainless steel basket.
Cons
The agitator takes up some internal capacity.

The spin speed is on the lower side.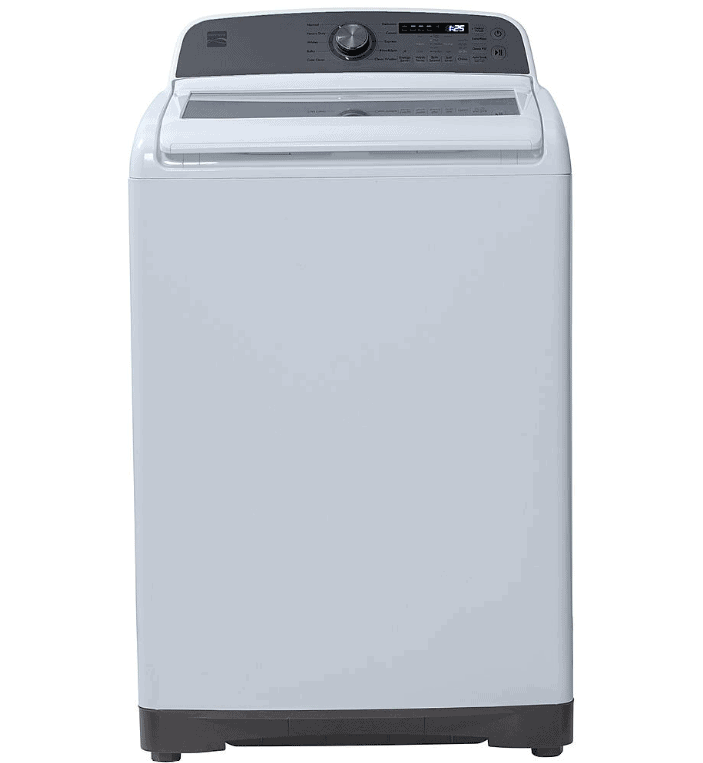 There's a sale on this washer on the Sears website at the time of writing, with a retail price of $720. This places it within the same price point as the Whirlpool WTW5000DW, although it offers a little bit more.
For starters, this Kenmore washer has a capacity of 4.5 cubic feet, which some might say isn't much of a difference from 4.3 cu. ft, but I say that it's still more. Inside, there's no agitator like in the Hotpoint (thankfully); there's a Triple Action Impeller. These actions refer to the impeller's motions during a cycle.
The basket is made of stainless steel, which I fully endorse. Driving this basket is a direct-drive motor. This motor has fewer components between it and the tub, thus using less energy to drive the wash basket. Because of this, the Kenmore 29142 takes the spin speed a notch higher, offering a maximum RPM of 800 – that's more like it! 
Thankfully, this washer is also Energy Star certified, with estimated annual electricity consumption of 127 kWh. According to the Energy Guide label, you'll spend just $15 annually on electricity, more than half what you'll spend running the Whirlpool WTW5000DW washer.
Pros
It's Energy Star certified.

The washer has an RPM of 800.

It's reasonably priced.

It has a large capacity.

It has a glass lid.
Cons
The washer's price might go up after the sale.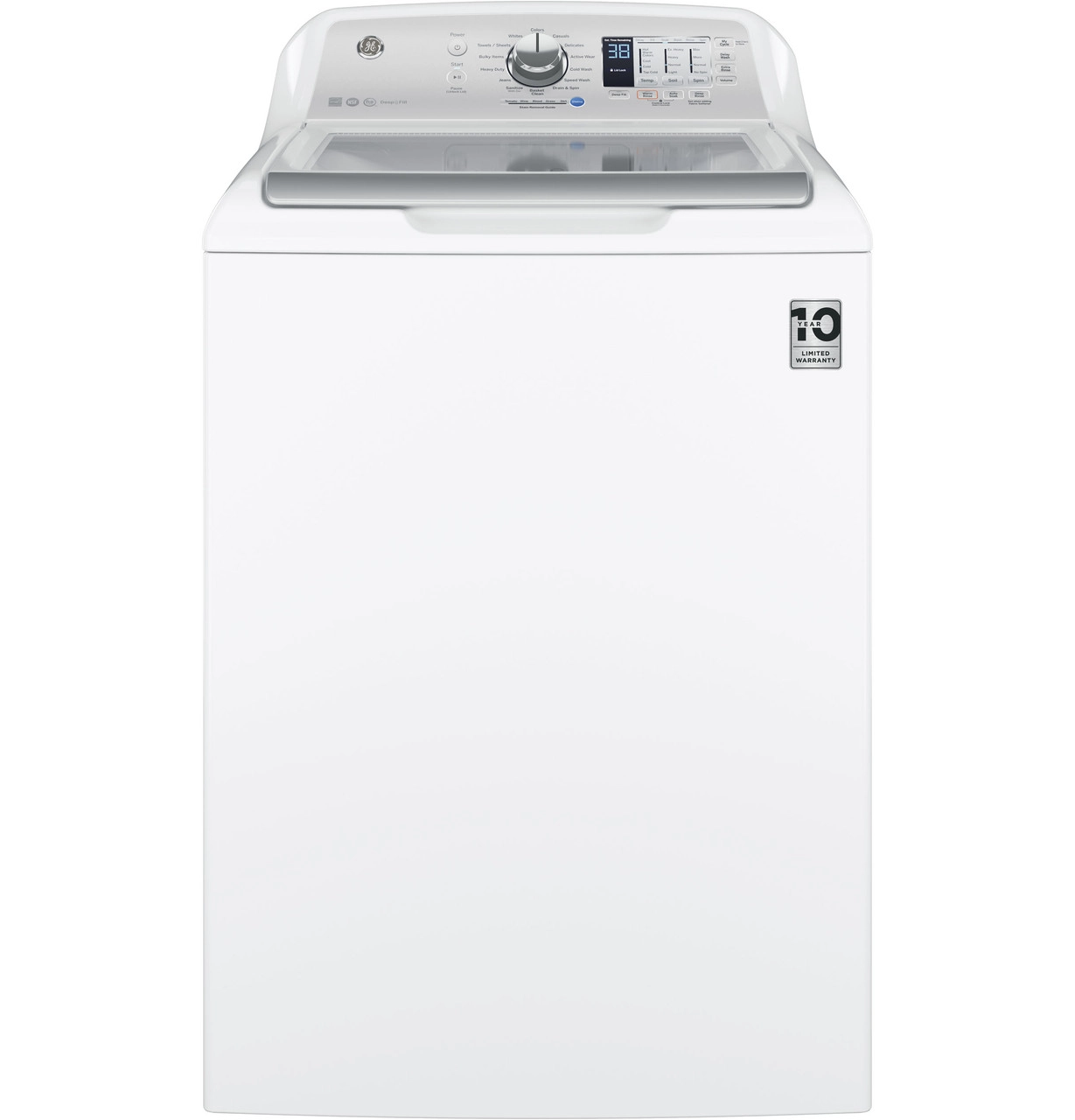 If you're looking for a washer with an agitator, you might want to consider the GE GTW685BSLWS. You will, however, need a budget of $800, which is the washer's current retail price. 
I recommend this model because it's a GE washer, a brand known for reliability. This is underscored by their 10-year warranty on this appliance. 
I like the design of this washer, which isn't as bland as the Whirlpool. Don't get me wrong, it's not unique by any stretch, but its sleek control panel gives it an edge. This model also has a glass lid, allowing you to stare at your load as it whirls inside the basket.
Speaking of the basket, this one is also stainless steel, but that goes without saying at this price point. 
There are 14 wash cycles, one of them being Sanitize with Oxi that, as GE assures us, kills 99.9% of bacteria. You also get Speed Wash, which is GE's version of quick wash. 
Pros
It has a glass lid.

It has a large capacity of 4.5 cubic feet.

There's a powerful agitator.

You get a 10-year warranty.
Cons
FAQs
Question: Are Whirlpools good washers?
Answer: Yes, Whirlpools are good washers, with high rankings in annual customer satisfaction studies. According to the 2022 JD Power appliance satisfaction study, both top-load and front-load Whirlpool washers ranked second overall.
Question: How long does a whirlpool quick wash take?
Answer: Whirlpool's quick wash takes 25 to 30 minutes to complete a wash.
Question: Which is quieter, front load or top load?
Answer: Front load washers are quieter than their top load counterparts.
Whirpool WTW5000DW Review: Final Thoughts
The quick answer is yes, if you can find one in stock. Currently, the Whirlpool WTW5000DW is unavailable in most online retailers except Best Buy and Spencers TV & Appliances, and who knows how long they'll be available there. Granted, you can find used models, but I wouldn't advise buying it used if you want a long-term washer.
Still, if you can find one for sale, you'll enjoy value for money as this washer offers excellent washing performance.