Latest posts by Jodie Chiffey
(see all)
If you're considering an LG refrigerator, then reading this LG FXC22526S review will help. It's an innovative, stylish, and handy refrigerator – but is it worth the cost? Does it run efficiently? And what extra features does it have?
We'll answer all these questions, and we'll give you our honest thoughts on what we think could be improved. But to give you the gist upfront: we like the LG FXC22526S. It works well at keeping food cool, it has some handy extra features, and it has an extra-large ice compartment – perfect if you get through a lot of ice in your household.
The smart app compatibility is good for the tech geeks out there, and the counter-depth design means it should fit into your kitchen nicely. It's not perfect, and there are a couple of small issues that we'd like to see improved, so keep reading to find out more!
We'll be looking at key specs for the LG FXC22526S, as well as the main features (like cooling power, extra features, storage, and pricing), as well as the pros and cons, some alternatives to look at, and some frequently asked questions.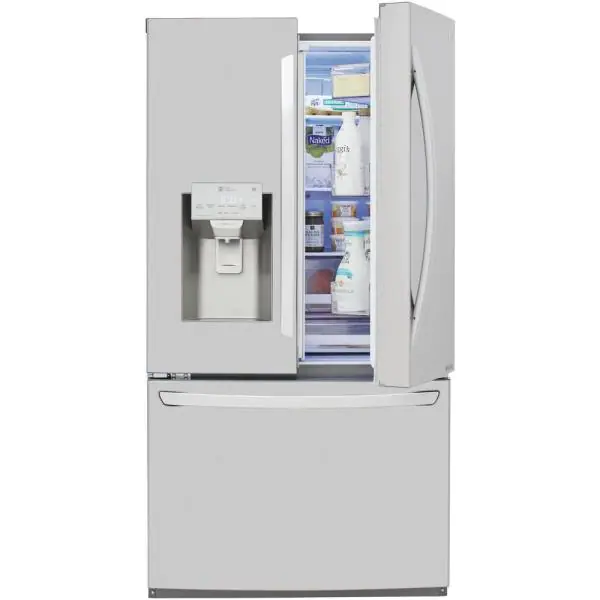 Let's start by looking at those vital specs.
Key Specs
Here's a quick look at the key specs:
Product Height: 69.75 inches
Product Width: 35.75 inches
Height to Top of Refrigerator: 68.38 inches
Height to Top of Door Hinge: 69.75 inches
Depth Without Handle: 28.75 inches
Depth With Handle: 31.25 inches
Total Capacity: 14.8 cubic feet
Refrigerator Style: French Door
Lighting Type: LED
Ice Maker: Yes
App Compatible: Yes
Works With: Alexa, Google, ThinQ
Color Options: Stainless Steel, Black Stainless Steel
Latest Price: Check the latest price here
LG FXC22526S – the Main Features
Now, let's take a look at the main features of the LG FXC22526S in more detail.
Cooling Power
The first thing to take note of is the cooling power of this refrigerator. It has a Smart Cooling system designed to maintain consistent temperatures. In addition, it has a Linear Compressor, which helps to deal with temperature fluctuations.
It also has air vents in each section. This means your food will stay cool no matter which shelf you put it on, so you won't have to think about which food belongs in which section.
Extra Features
The ice maker in this refrigerator is worth a mention. It's designed to produce large amounts of ice, storing it in the freezer section. If you get through a lot of ice, you'll like this. However, the ice compartment is slimline, so it won't steal a ton of storage space in your freezer.
There is a slight downside to this in that the ice will occasionally get stuck, which means you may have to go into your freezer section to break the ice cubes apart gently. Otherwise, they may not fit through the dispenser. The water dispenser is designed to fit all kinds of glasses and water bottles – it's one of the tallest around, measuring 12.6 inches.
It uses LG's water filter, which is NSF certified – this means it's proven to reduce more contaminants than LG's old water filters. If you want fresh-tasting water, this is a good one to go for.
It comes with LG's Glide'N'Serve Drawer – this is a temperature-controlled drawer that can hold things at a slightly different temperature than the rest of the refrigerator. This is excellent for deli items and trays of party food. If you're a foodie, you'll like having this tray there as an option.
It also has two humidity-controlled crispers for fruit and vegetables. This will help to keep things nice and fresh. The downside is that these are on the smaller side, so if you have a lot of fruit and veggies, you may need to spread them out in other sections.
Storage and Organization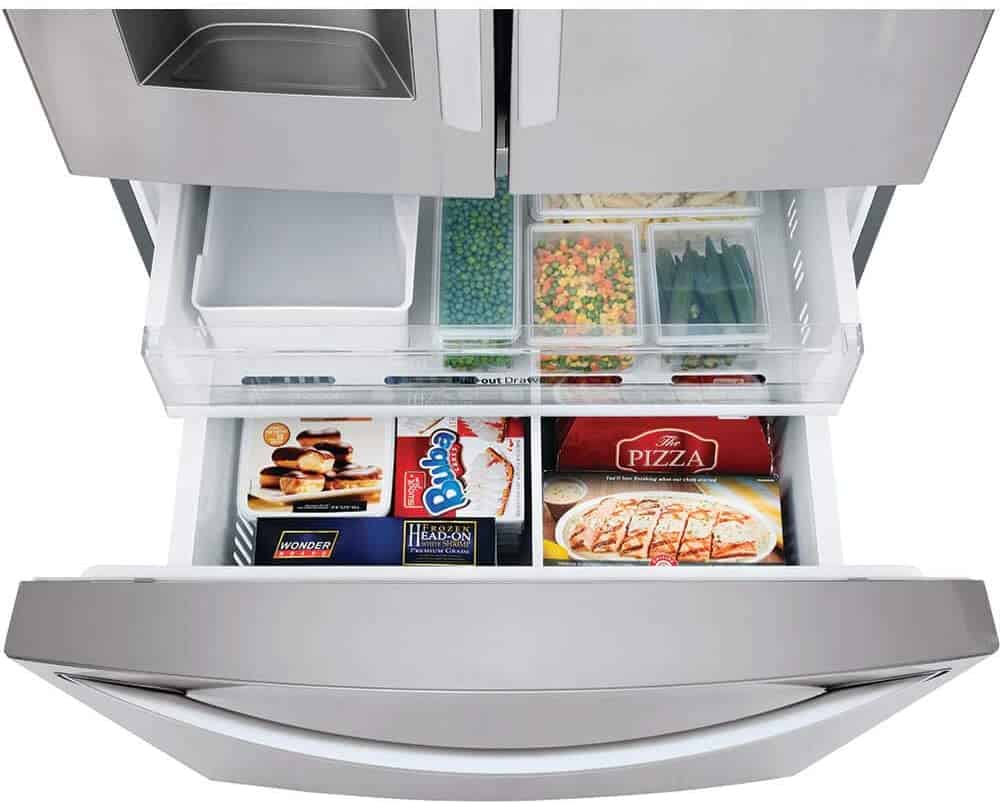 There are plenty of shelves and storage compartments in the LG FXC22526S. For example, the French doors contain three shelves on each side (although these are pretty small too), and several shelves are in the refrigerator. The large freezer drawer opens up to reveal multiple compartments, perfect for keeping your frozen food organized.
App Compatibility
You can use the ThinQ app to connect to your refrigerator. This allows you to manage the temperature in your refrigerator and receive maintenance tips and usage reports. You'll also get an alert if something starts to go wrong, and an alarm will beep if you leave the door open for more than 10 minutes.
You can control your refrigerator using Alexa and Google, which is handy if you prefer to go hands-free.
Appearance
This refrigerator has a stainless steel finish and is designed to be both fingerprint and smudge resistant. It's easy to clean with a soft, dry cloth. This is helpful, especially if you have kids in the house!
It's a counter-depth refrigerator, which means it can stand flush with your countertops. It won't stick out or look too intrusive in your kitchen. Overall, it's a nice, stylish-looking fridge – it'll fit in nicely in your kitchen without being too obtrusive, which is nice.
Warranty and Pricing
So, what about pricing?
It's on the high side for a refrigerator. Coming in at around $2,400, it's more expensive than some other brands (for example, Hotpoint sells some budget refrigerators of the same size at around $700). It's similar in price to brands like Samsung, Haier, and Bosch. Nevertheless, you may think it's worth it, thanks to the reliability of LG, as well as the extra features, like the deli food tray, smart compatibility, and smudge-resistant look.
It comes with a pretty good warranty – 1-year parts and labor, five years for the sealed system and compressor (parts and labor), and 6-10 years for the linear compressor (parts only). So if something does go wrong with the parts, you'll have a bit of reassurance that LG will help you out.
LG FXC22526S – Pros and Cons
Here's a summary of the highlights of the LG FXC22526S, as well as a few things we think could be improved:
Pros
It can produce large amounts of ice but doesn't get in the way of storing extra food.
Lots of compartments and shelves to keep things organized
The slide-out tray is ideal for deli items or party food
Easy to clean stainless steel finish
Counter-depth means it won't stick out into your kitchen
Good water filter included
Great warranty on parts
It can be used with Alexa, Google, or ThinQ app
Cons
Crisper drawers and door shelves could be bigger
Ice sometimes clumps together, making it difficult to fit through the dispenser.
Not good for those on a tight budget
LG FXC2552526S – Alternatives to Try
Not feeling this one? There are a few others you could take a look at of a similar size:
Hotpoint HPS18BTNRWW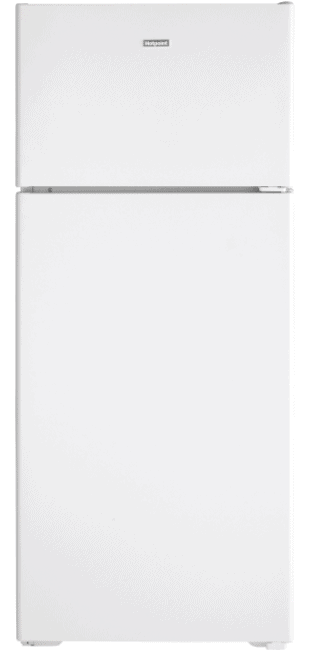 Hotpoint is a good brand to go for if you're on a tighter budget, and the Hotpoint HPS18BTNRWW is no exception. It's basic – you won't find slide-out deli drawers or app compatibility here – but it comes at a lower price point, and it has plenty of interior space with sections to keep things organized. Read more about it in our Hotpoint Refrigerator Guide.
Haier QHE16HYPFS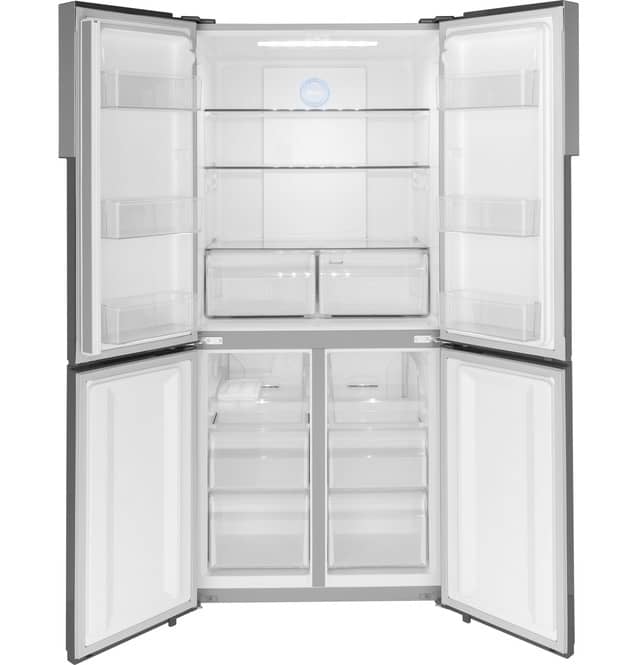 If it's space you're after, you could go for the Haier QHE16HYPFS. With a quad-door design, this refrigerator makes it easy to access your food, and it has plenty of storage space. You can adjust the shelves to meet your needs, and it looks stylish and sleek. If you want something a bit different, it's worth checking this one out. You can find out more in our Haier Refrigerator Guide.
Bosch BS0CS30SNS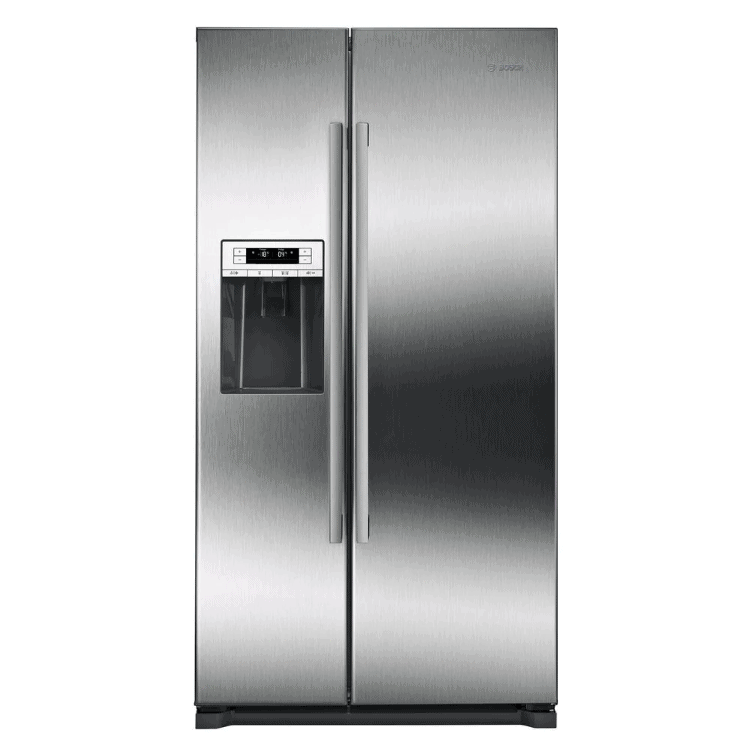 The Bosch BS0CS30SNS is a great-looking refrigerator. It has plenty of space, it comes with an ice/water dispenser, and it looks stylish without being too intrusive in your kitchen. A good all-rounder. You can read more in our Bosch Refrigerator Guide.
FAQs
Question: Is the smart app compatibility worth using?
Answer: That depends on how much you're into smart appliances. The most useful thing is the notifications – you'll be notified if the doors are left open for more than 10 minutes, and if something does go wrong, you should get a heads up. It's also helpful in tracking your refrigerator's power consumption. It will track how many times you open and close the doors, which is useful in terms of seeing how this impacts power levels.
In short, if you like to be informed on how well your appliances are working for you, you'll enjoy using this app.
Question: Can I fit a gallon of milk on the door shelves?
Answer: No, a standard gallon of milk will not fit on the door shelves – you'll have to put them in the main fridge area instead.
Question: What is a counter-depth refrigerator? Is it worth having one?
Answer: A counter-depth refrigerator usually has a depth of around 24 inches. This means they will sit flush with your kitchen counters, meaning your refrigerator will integrate seamlessly into your kitchen. If you're tight on space, this will be particularly useful, as you won't have to worry about maneuvering around a big appliance while you cook. You can read more about them in our counter-depth refrigerator guide.
Question: How do I maintain the LG FXC22526S?
Answer: The LG FXC22526S is pretty straightforward to maintain. Regular cleaning of the shelves and bins will help keep things hygienic, which can be done easily with soapy water. Your refrigerator will need defrosting, usually once a year or whenever you notice ice building up in the freezer section.
You should regularly rotate your food, keeping the oldest at the front – this will help you to use things up, saving food waste and preventing odors from developing. The doors are easy to wipe clean with a soft dry cloth and should be fingerprint and smudge resistant. The other thing you should do is to occasionally check on the ice compartment, breaking up any large clumps of ice so that the dispenser runs smoothly.
Question: How often should I replace the water filter?
Answer: The filters for the water dispenser should be changed at least every six months.
LG LFXC22526S Refrigerator Review: Our Final Thoughts 
In short: yes, we think so! This isn't a perfect refrigerator by any means. You'll have to deal with a bit of ice clumping from time to time, and the crisper drawers (and the door shelves) could stand with being a bit roomier. Those are the drawbacks.
However, overall, it's a great appliance. The cooling power is excellent, with vents in each section, so you won't have to worry about your food getting too warm if you don't put it on the right shelf. The slide-out drawer is a useful feature for foodies and can be kept at a separate temperature. This is ideal if you've got a lot of party food you want to hold at a specific temperature.
We also like the large capacity when it comes to ice – if you get through a lot of ice, you'll like this one. The water dispenser works well too.
We like that it's not too intrusive – it's designed to blend in seamlessly with your kitchen, rather than being a stand-out feature. The doors are so easy to clean, too, so if you're fed up with dealing with sticky fingerprints, you'll be tempted by this one.
If you love a good smart appliance, you'll like this – being notified if you leave the door open, for example, is a handy feature. If you prefer to go hands-free, you can set up this refrigerator to connect to Alexa or Google. Ideal for tech-savvy people.
So, overall, we think you should definitely check out the LG FXC22526S if you want to invest in a refrigerator with extra features. If you're on a tight budget, you may want to keep looking. Otherwise, this one is well worth a look.