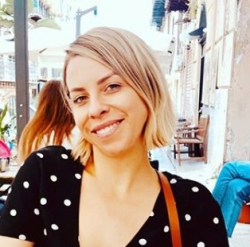 Latest posts by Jodie Chiffey
(see all)
If you're looking to buy a refrigerator, you've probably seen the word "amp" crop up a few times. But what exactly does it mean, and how many amps does a refrigerator use? In this guide, I will cover everything you need to know.
With tons of modern gadgets cluttering our homes nowadays, it's easy to get confused by complicated terms – sometimes, their meaning isn't important, whereas other times – as is the case with amps – it's worthwhile doing a little research.
Why might you ask? Well, amps can affect your electricity bill, which ultimately costs you money. That's why it's important to consider not only how your fridge looks and how spacious it is but also how powerful and energy-efficient it is.
Refrigerators use the most energy out of all household appliances because they run all the time, but washing machines, cooktops, and dryers can use a lot of electricity too. Fortunately, there are plenty of energy-saving options out there when it comes to refrigerators, and I'll make sure to cover some of the best ones in this guide. In the meantime, let's get stuck in!
| Product Image | Product Name / Primary Rating / Price | Primary Button |
| --- | --- | --- |
| | | |
| | | |
| | | |
05/10/2023 12:02 am GMT
If you're looking to buy a refrigerator but don't know where to start, check out our Guide to Home Refrigeration for Every Household.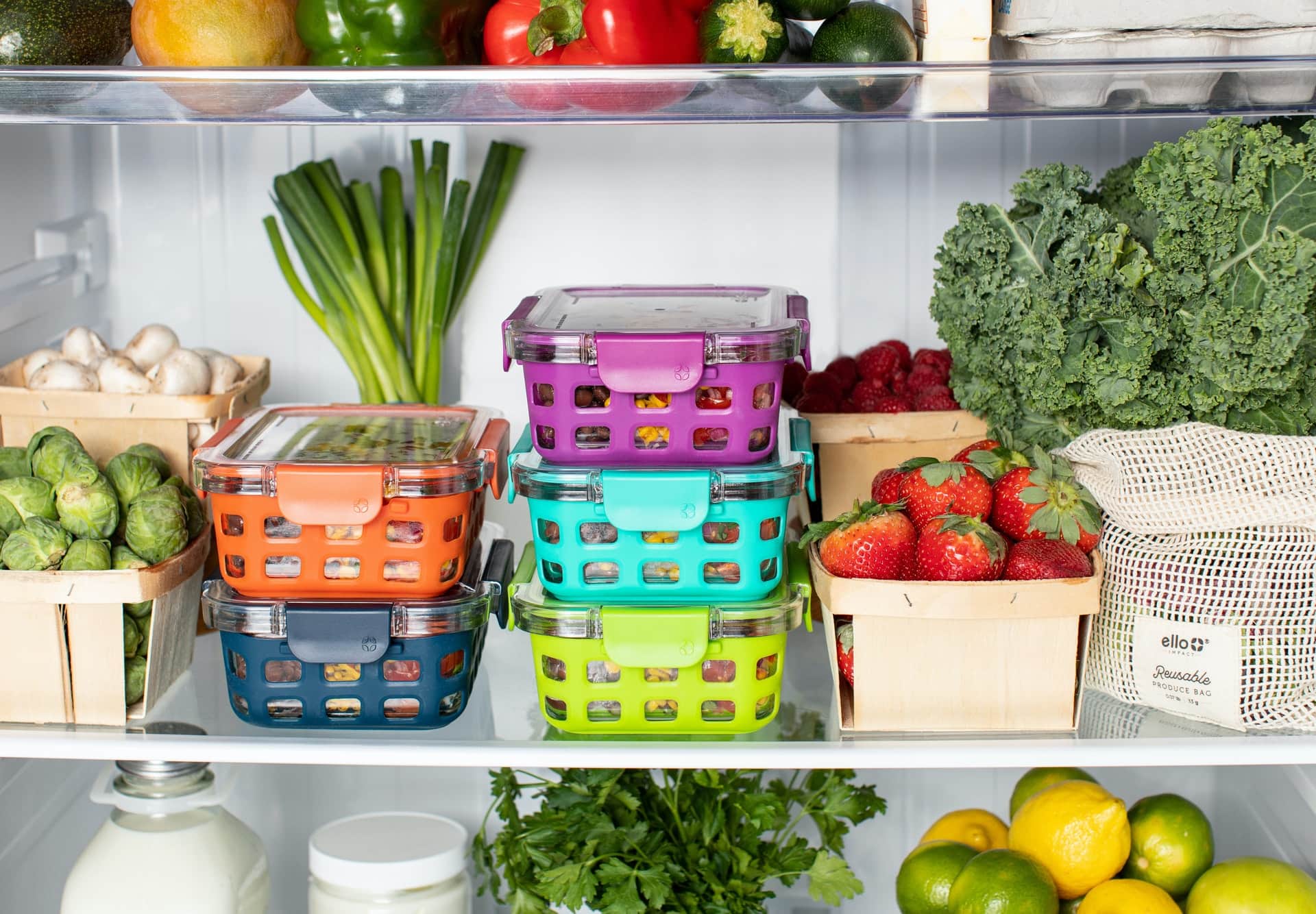 What Is an Amp?
An amp, short for ampere, represents one unit of constant electrical current. The term "amperage" refers to the strength of the current, which is expressed, as you might have guessed, in amps. This unit of measurement can be used to gauge how much electricity an appliance, like a refrigerator, uses. Refrigerator amps refer to the amount of electrical current the appliance's compressor uses to cool its interior.
The Difference Between Amperage, Wattage, and Voltage
These terms can quickly become confusing, and it's easy to mix them up, which is why I'm going to explain what each one means briefly. It's time for a quick physics lesson! (I'll try to make it as painless as possible.)
Amperage
Amperage is the strength of an electric current. It's measured in amps, as you might expect, and can tell you the amount of energy that an appliance is using.
Wattage
Wattage refers to the amount of power a given appliance requires to run. Manufacturers must state the wattage somewhere on their product by government regulations.
Voltage
This one is a little bit more complicated to explain, but put simply, voltage is what makes electric charges move. It's measured in volts, and higher voltages cause more electricity to flow to an appliance.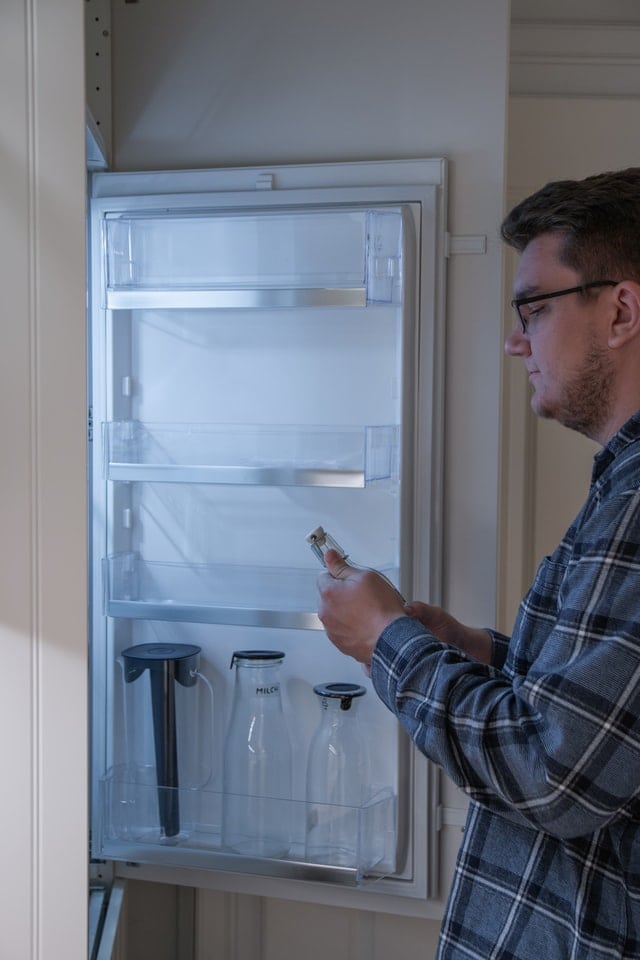 Why Amps Matter
In any device that uses a source of electricity, the current is supplied either by a power supply (for example, via a plug socket in your house) or a charger. The product or appliance will then use as much current as it requires; this is why it's vital to make sure that your power supply can provide enough current for whatever appliance you're trying to use.
When the appliance in question is being plugged into a socket in your house, this is less of a concern – the appliance will take however many amps it needs, and the power supply to your house will provide it. You might think, then, that it doesn't matter how many amps your refrigerator uses because it's not like you're not going to have enough electricity.
However, you'd be wrong. Amps matter when you're choosing a refrigerator because they will have a big impact on how much money you spend each month on your electricity bill.
The bigger and more powerful your fridge, the more electricity it's likely to use, and the more money you'll end up paying. Moreover, fridges with a higher amperage requirement will need thicker cables, which can impact how you layout your kitchen and use the space.
How Many Amps a Refrigerator Uses on Average
Based on a voltage of 120, many household refrigerators use between 5 and 10 amps, but this figure is usually tripled during the start-up surge, requiring a 15 to 20 amp dedicated circuit. The size of the appliance and any extra features it has will have an impact on how much electricity and amps it uses.
However, some large, modern refrigerators have been designed to be energy efficient and may use less than older and smaller refrigerators as a result. Because of this, you should always check how much electricity and how many amps your refrigerator specifically uses.
How to Calculate How Many Amps a Refrigerator Uses
You might not necessarily need to calculate how many amps your refrigerator uses since some appliances come with a manual that contains this information. That being said, it's worthwhile knowing the necessary calculation just in case it's ever needed.
The number of watts a refrigerator uses will vary based on a number of things, including size and function. According to the US Department of Energy, a regular refrigerator uses 720 watts. Usually, the bottom rear of the appliance is where you'll find the compressor. On it, there should be a tag or label displaying the wattage. Make a note of this number.
To calculate your refrigerator's amperage, you need to know the voltage of your power supply. For most homes, this is 120 volts. Then, simply divide the wattage noted on your fridge's compressor by 120v.
How to Reduce the Energy Consumption of your Refrigerator
Fridges are a necessary evil when it comes to energy consumption; they're demanding because they run all the time, but we couldn't live without them. Here are a few tips to help reduce the energy consumption of your refrigerator.
Close the Door
This sounds very basic, but the longer you keep the door of your refrigerator open, the more power it will use and the more it'll end up costing when it's time to pay the bills. So avoid leaving the door open for extended periods of time if you can, and make sure there's nothing inside the fridge that could prevent it from closing properly.
Choose a Good Location
If possible, try to avoid placing your refrigerator near any sources of heat, like an oven. Instead, aim for a cool place that's out of sunlight.
You should also check your owner's manual to see if it specifies a room temperature at which the appliance works best.
Select the Right Temperature
Set your refrigerator at or below 40°F. You should be aware that the colder you set it, the more energy it will use as a result.
Maintain Your Refrigerator
Maintenance should involve defrosting your freezer compartment at least once a year if ice builds up, regularly dusting the radiator at the back; ensuring air can circulate, and making sure door seals are in good working order at all times.
Best Energy-efficient Refrigerators – My Top 3 Recommendations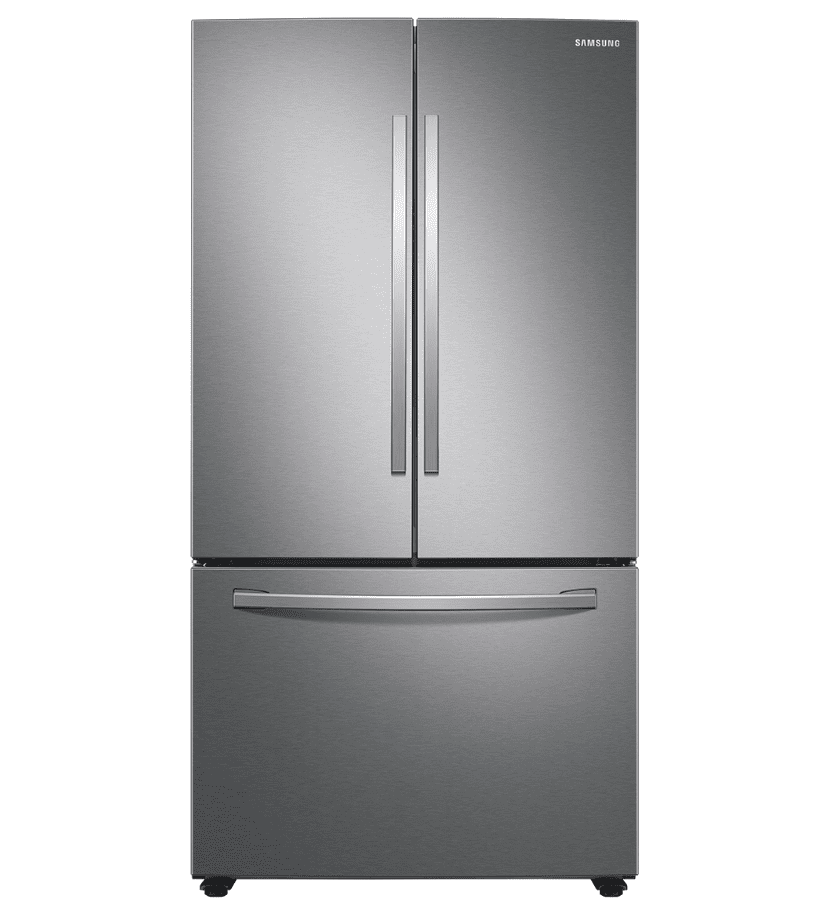 This beautiful French door refrigerator by Samsung is not only stylish, but it's also highly efficient, utilizing the climate-friendly R600a refrigerant. In addition, it's Energy Star certified, uses high efficiency LED lighting, and has an energy consumption of 645 kWh/year.
Pros
Multi-vent technology for all-around cooling
Fingerprint resistant finish
Modern design
Internal water dispenser
Spacious
High efficiency LED lighting
Cons
The water dispenser has a small capacity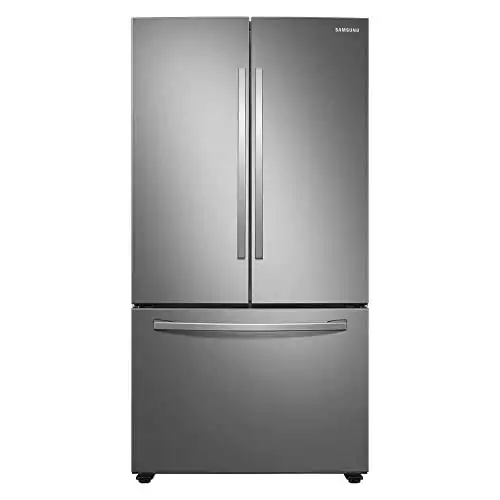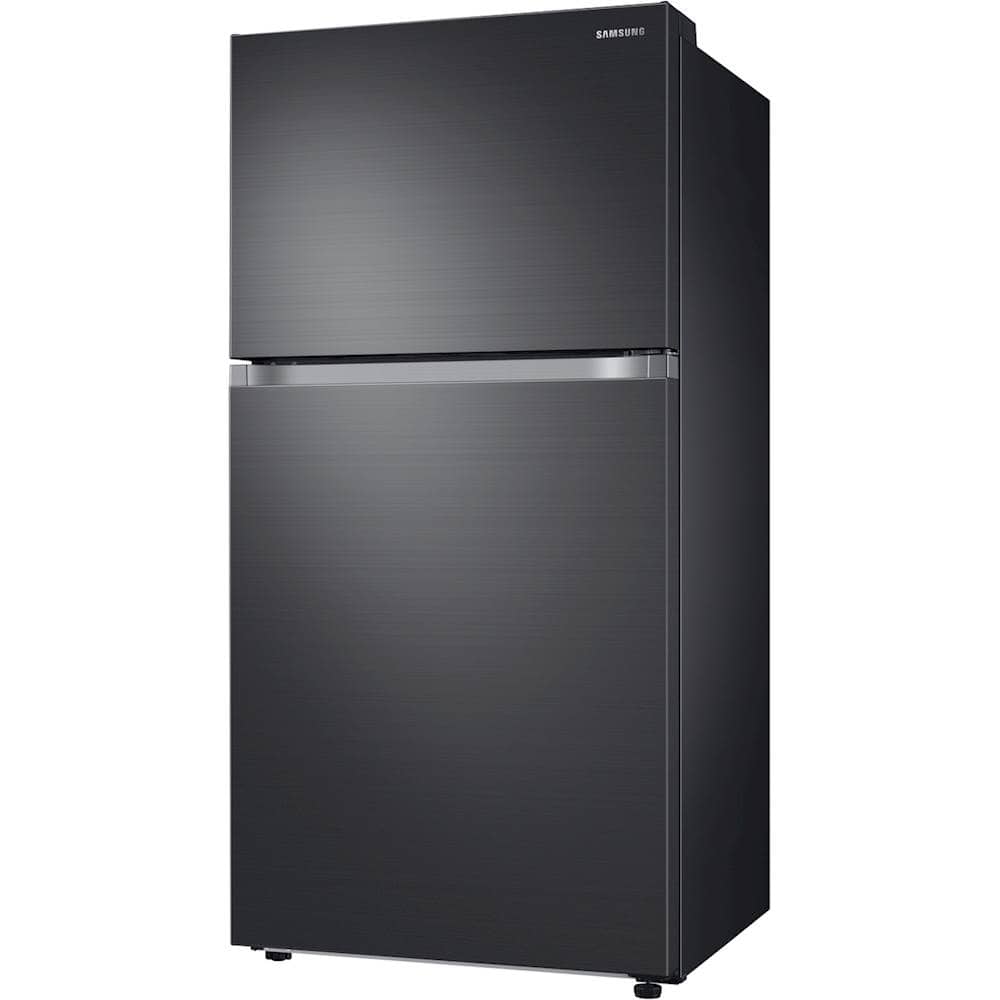 Samsung is one of the best brands out there for building efficient appliances, as is clear from the RT21M6213SG. It uses R600a refrigerant and comes in a sleek black stainless steel finish, offering both style and economy. The best thing about this refrigerator is that you can choose whether the top door is a fridge or freezer, allowing you to maximize space.
Pros
FlexiZone for versatile storage
Energy consumption of 394 kWh/year, working out at roughly $47
High efficiency LED lighting
Twin cooling plus
Large capacity
No frost technology
Fingerprint resistant coating
Cons
Not fingerprint resistant
Noisy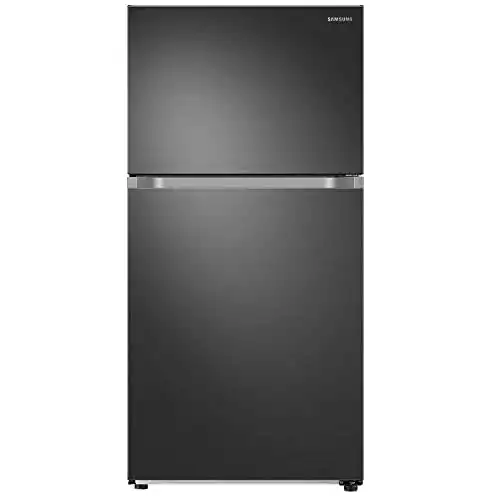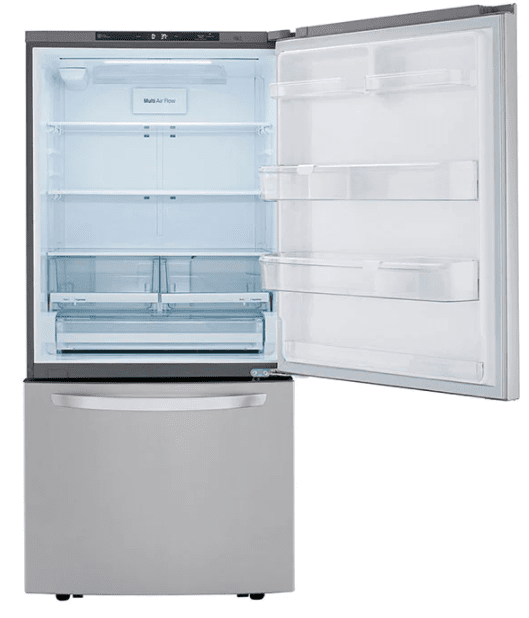 The LGLRDCS2603S might look average on the outside, however, on the inside, it's anything but. Its estimated energy use is only 562 kWh/year, and it comes with a ton of features that mean you get plenty of value for your money, such as WiFi connectivity and a smart cooling system.
Pros
Multi airflow
Energy star rated
Linear compressor
App-controlled
Humidity controlled crispers
Large capacity
10-year warranty on compressor
Cons
The freezer compartment is small
Can be noisy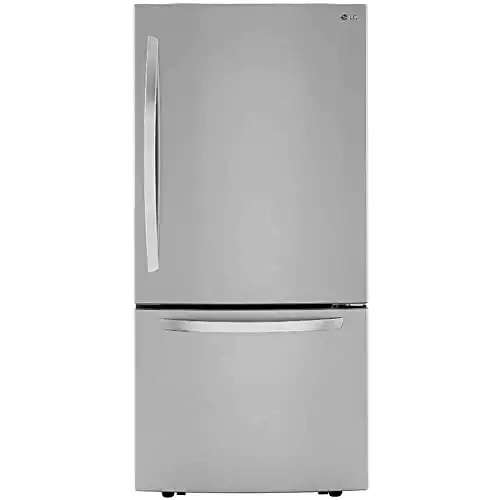 To Sum Up: How Many Amps Does a Refrigerator Use?
As I mentioned earlier, there is, unfortunately, no straightforward answer to this question. Each refrigerator is different, which is why you need to pay attention to the individual specifications of your model
Nevertheless, it's safe to say that the vast majority of refrigerators use between 5 and 10 amps, but because this figure is significantly higher when the fridge first starts up, you should use a 15 to 20 amp dedicated circuit.
FAQs
Question: What happens if you use the wrong size cables to power a refrigerator?
Answer: Thankfully, most refrigerators come with the correct size cables attached, and these can't be removed, but it's worth noting that if you use cables that are too thin to power a high amp fridge, this poses a serious safety risk because they could become hot and burn.
Question: Which refrigerator style is the most energy-efficient?
Answer: The most efficient style is the top mount, but the energy use can vary from one appliance to another depending on, for example, whether they have ice makers or not.
Question: How many amps does a refrigerator use when it starts up?
Answer: It varies from one refrigerator to another, but generally between 10 and 20. However, this only lasts a few seconds.
Question: Do I need to run my refrigerator on its own circuit?
Answer: You don't have to, and there are no specific laws requiring that you do, however, it is considered best practice for homeowners. This is because it's always a good idea to prepare for the worst-case scenario, and while most refrigerators run at less than 10 amps, this number can sometimes spike a lot higher.
By having your appliance running on its own circuit, you avoid the risk of electrical overload, making your household much safer.
Question: What is an amp breaker?
Answer: Particularly in older homes, if you run too many appliances on one circuit, it could short out, meaning all connected appliances will stop working instantly. Circuit or amp breakers are designed to help solve this problem. They do this by interrupting the flow of electricity in particular areas of your home.
Question: What amp breaker do I need for a refrigerator?
Answer: For a refrigerator, you should have a 115 or 120 volts grounded branch circuit, as well as a 15 or 20 amp circuit breaker. You could also use a time-delay fuse.
Suggested reading: