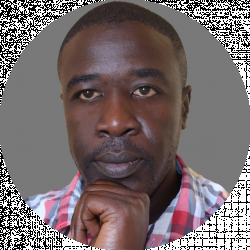 Latest posts by Barry Juma
(see all)
Whirlpool may own the Maytag brand, but that doesn't mean that their washers are similar. In fact, this couldn't be farther from the truth, as both washer brands offer different designs, features, and even prices. But which brand is better? 
I've researched and written dozens of articles on both Maytag vs Whirlpool washers right here on Appliance FAQ. I can tell you right off the bat that both brands offer top-washing performance and enjoy high-reliability ratings. So, the choice boils down to the features you find useful, your budget, and your design preferences.
In this Maytag vs Whirlpool washers comparison article, you'll find out about the brands' lineup, prices, unique features, and reliability ratings. I've also put together a list of some washer models that I recommend, plus some alternative brands to consider.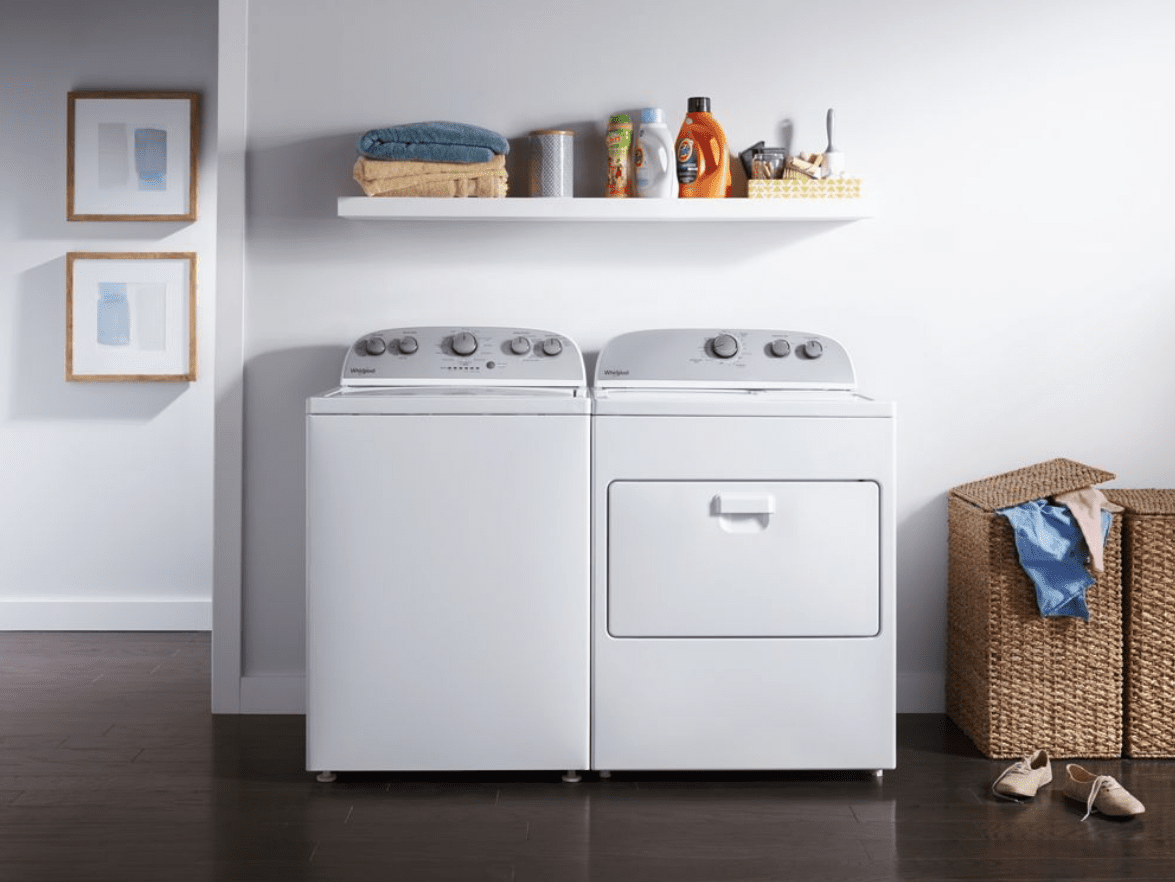 Bottom Line Up Front
Both Maytag and Whirlpool washers are among the most reliable, so you'll get a good-quality appliance, whichever you choose. However, Maytag's front-load washers are better, and I recommend these if you're looking for a front-loader. On the other hand, Whirlpool's top-load washers offer greater value for money and should be your first choice if you need a top-loader.
Main Differences Between Maytag vs Whirlpool Washers
The main differences between Maytag vs Whirlpool washers are:
Maytag currently has 12 washers in its lineup, whereas Whirlpool currently has 19 washers.

The smallest Whirlpool washer has a capacity of 1.6 cubic feet, whereas the smallest Maytag washer has a capacity of 3.5 cubic feet.

Whirlpool's cheapest washer costs $700, whereas Maytag's cheapest model costs $800.

The most expensive washer in Maytag's lineup costs $1400, whereas Whirlpool's most expensive model costs $1650.

Whirlpool has a washer/dryer combo model, whereas Maytag only has dedicated washers and dryers.

Whirlpool sells stacked laundry-center models, whereas Maytag doesn't sell laundry centers.
Key Features of Maytag vs Whirlpool Washers
Price
Both Maytag and Whirlpool washers fall within the same price range, so these two brands target the same market segment. Maytag's cheapest washer costs $800, but at the time of writing, there's a sale with washer prices as low as $570. If you're lucky to find this sale, you'll save up to 30%. 
On the other hand, Whirlpool's lowest-priced washer is $700 at the time of writing. Just like Maytag, there is a sale with up to 30% off on regular prices. So, with the discount, you can get a washer for as low as $580. Granted, these sales are only temporary, so we'll focus this piece on the regular washer prices and the value the washers give. 
The cheapest washers in Maytag's lineup are top-loaders; one has a capacity of 4.5 cubic feet while the other has 3.8 cubic feet. It's the same story in Whirlpool's lineup. The cheapest models have capacities of 3.8 and 3.9 cubic feet. We'll delve deeper into the capacities later.
On the lower end of the price scale, I would choose a Whirlpool washer and spend $100 less. However, Maytag offers more value for money on the higher end. For $1500, you can get a smart front-load Maytag washer with a large capacity, yet to get a smart Whirlpool front-load washer, you'll have to spend almost $1800. 
Still, both brands have smart top-load washers in their lineups, with almost similar prices.
If I have less than $1000, I would buy a Whirlpool washer but would go for a Maytag if I have a budget of more than $1000.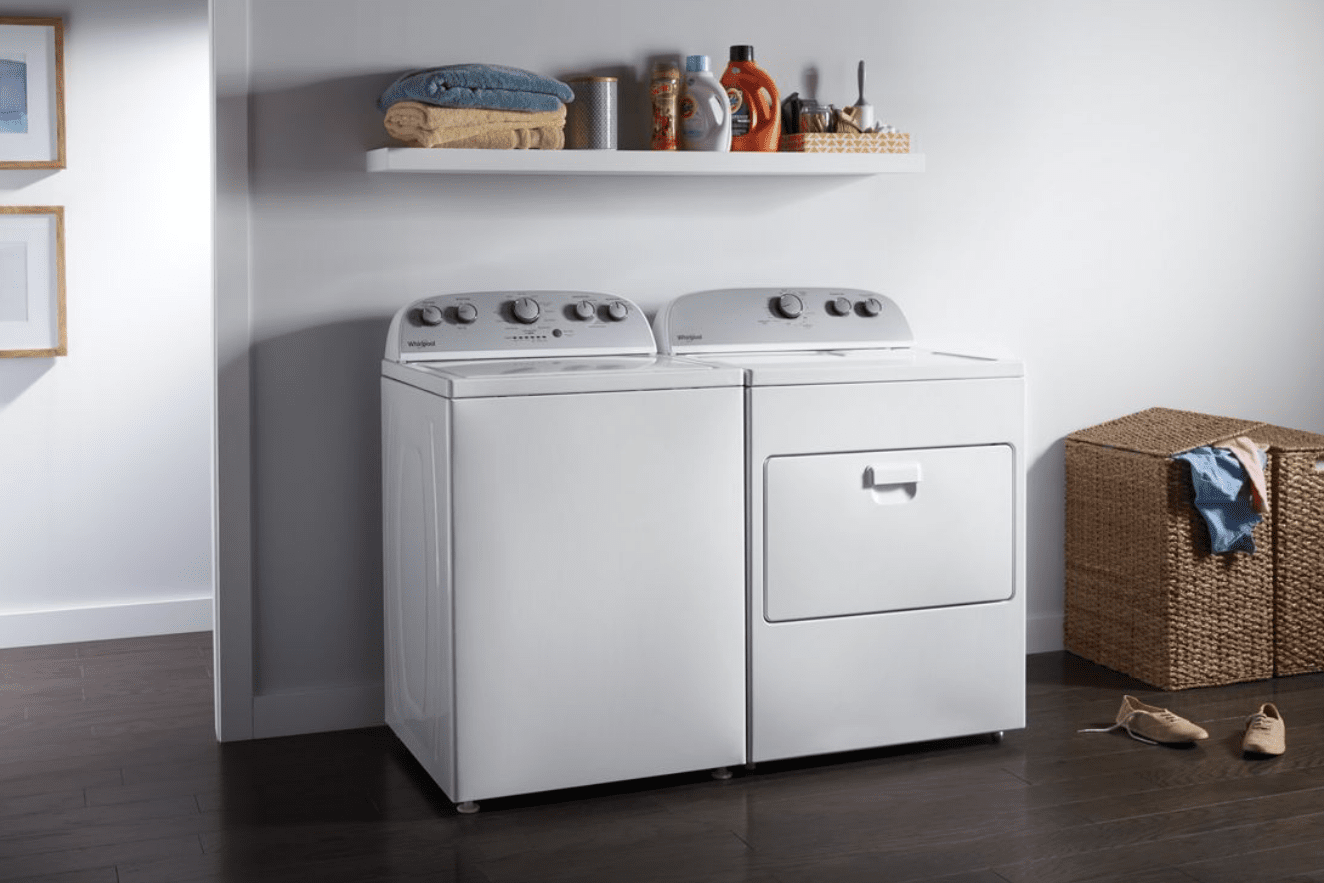 Washer Lineup
Whirlpool has a lineup of 19 washers at the time of writing, and these are made up of 13 top-loaders and 6 front-loaders. Meanwhile, Maytag has 12 washer models available; 9 of these are top-loaders. 
Since there are only three front-load Maytag washers (two of those are currently out of stock), you'll have a better chance of getting an ideal front-load washer from Whirlpool. Incidentally, Whirlpool also has stacked laundry centers, which are considered inexpensive washer/dryer combos. Sadly, Maytag doesn't have these models.
I think Maytag's front-loaders offer more value for money as they have better features at the same price as their Whirlpool counterparts. Judge for yourself between this Maytag washer and this Whirlpool front-loader. I would, however, buy a top-load Whirlpool over a Maytag top-loader.
Available Capacities
Here's a quick table breakdown of the available capacities of Maytag and Whirlpool washers. The (✔) sign shows that the capacity is available, while the (✘) symbol shows that it isn't available.
| | | |
| --- | --- | --- |
| Capacities (cubic feet) | Maytag | Whirlpool |
| 1.9 | ✘ | ✔ |
| 2.3 | ✘ | ✔ |
| 3.5 | ✔ | ✘ |
| 3.8 | ✔ | ✔ |
| 3.9 | ✘ | ✔ |
| 4.2 | ✔ | ✘ |
| 4.3 | ✘ | ✔ |
| 4.5 | ✔ | ✔ |
| 4.6 | ✘ | ✔ |
| 4.7 | ✔ | ✔ |
| 4.8 | ✔ | ✔ |
| 5.0 | ✔ | ✔ |
| 5.2 | ✔ | ✔ |
| 5.3 | ✔ | ✔ |
What you notice is that Whirlpool has a wider variety of washer capacities to choose from, but Maytag's options also aren't limited. Still, if you're looking for a compact washer, Whirlpool is the only brand of the two that offers a model with less than two cubic feet.
Both brands have closet-depth front-load washers, which are ideal for small apartments. However, Whirlpool's wider variety of front-loaders makes it the brand of choice for those looking for closet-depth front-load washers to install within kitchen cabinetry.
Design
I think most of Maytag's top-load washers (not all) have a boxy, spartan design that may be a preference for those who love the old-school washer look. However, I prefer a more modern-looking washer with more rounded edges. That's why I would choose Whirlpool's top-loaders. But, don't get me wrong, there are some stylish-looking top-load Maytag washers as well, but not among the lowest-priced models. 
Conversely, Maytag's front-load washers have a more premium design that deviates from the standard circular door of most washers. Maytag's front-load washers, therefore, are more stylish than Whirlpool's models. 
Both brands offer both white and metallic/chrome color options, nothing obtrusive. I think these are enough options.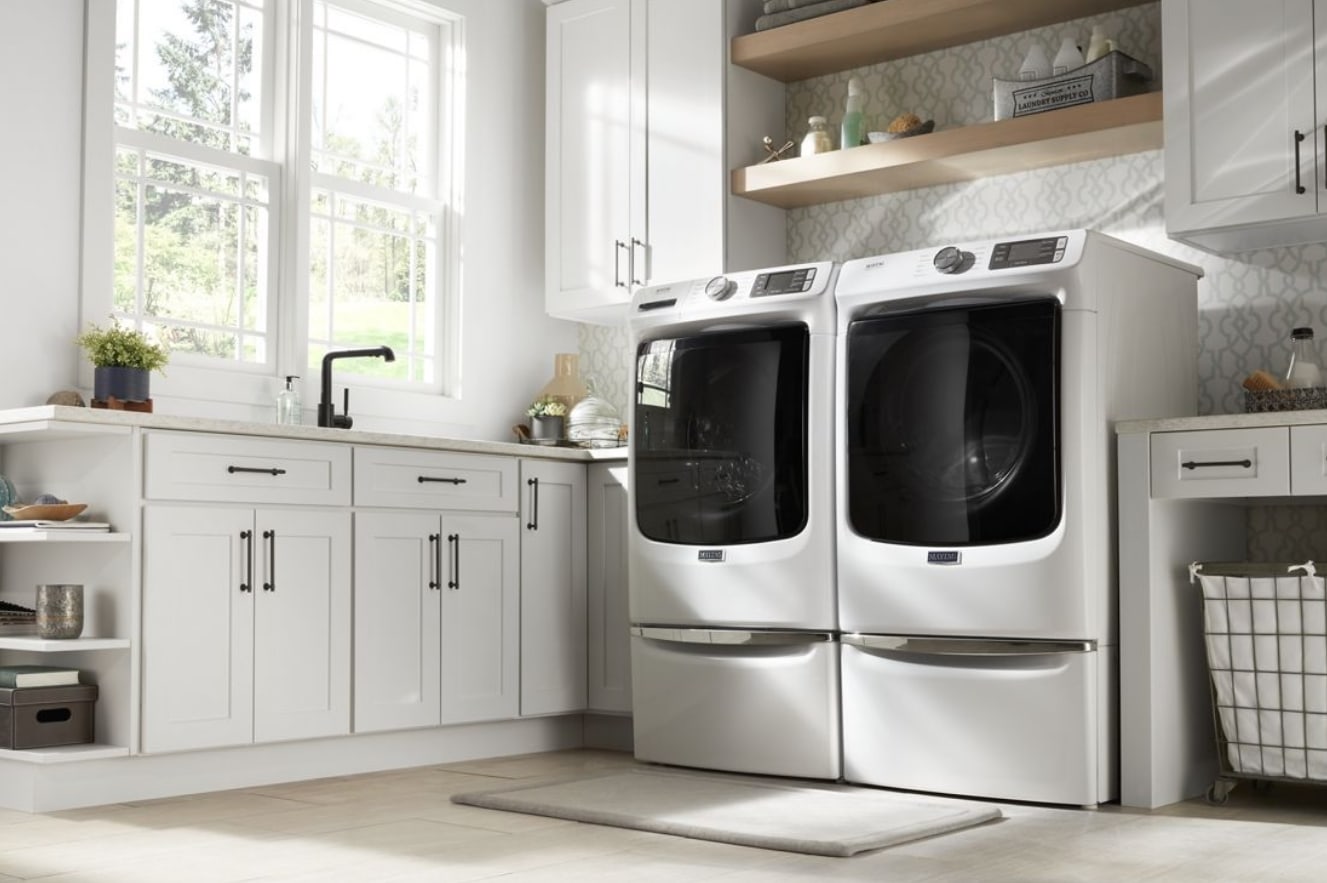 Unique Features
Both brands have standout features that are worth considering that improve their performance. Here's a list of the standout features of both brands.
Maytag
Extra Power Button

– Found in both the washers and dryers, the Extra Power feature does exactly what it says; it boosts the washer's power to increase performance. 

Steam Option

– Some models can use the power of steam for a deeper clean.

Deep Fill Option

– It's found in some top-load washers, allowing you to choose the water level for the cycle. 

Late Add Featur

e – This feature makes it possible to add some items into the washer after the cycle has started, even in front-load washers.

Built-In Water Faucet

– Some top-load Maytag washers have a water faucet that you can use to rinse some clothes before throwing them in the tub.
Check out this Maytag washer model guide to learn more about the washers' features.
Whirlpool
Removable Agitator

– This is a fascinating feature found on some top-load Whirlpool washers. There's always a debate about whether an agitator is better than an impeller. But, with this feature, you can enjoy both by removing the agitator when you don't need it and re-installing it when you want it.

Load & Go Dispenser

– Whirlpool's Load & Go Dispenser allows you to load enough detergent for multiple cycles, so you don't have to load before each wash.

Intuitive Controls

– These controls help you choose the right wash cycle for your specific load. All you need to do is select what you're washing, and the controls will select the right cycle. 

Steam Clean Option

– This option uses steam in the cycle to improve stain removal.
More information about Whirlpool's features is in our Whirlpool washer model guide. The brand you choose depends on the features you find compelling. I, for one, love the Extra Power Button in Maytag washers, which would sway me towards a Maytag over a Whirlpool.
Reliability
Both Maytag and Whirlpool are considered reliable brands; this is no surprise as they're both owned by the same company. 
According to the 2022 JD Power Appliance Satisfaction Study, Maytag and Whirlpool ranked as the most reliable front-load washer brands, both tying in the first place. The same study found Whirlpool to be the second most reliable top-load washer brand, ranking after Samsung, while Maytag was number five. 
These findings show us that whether you choose a Maytag or a Whirlpool washer, you'll get a reliable appliance that's bound to last for years.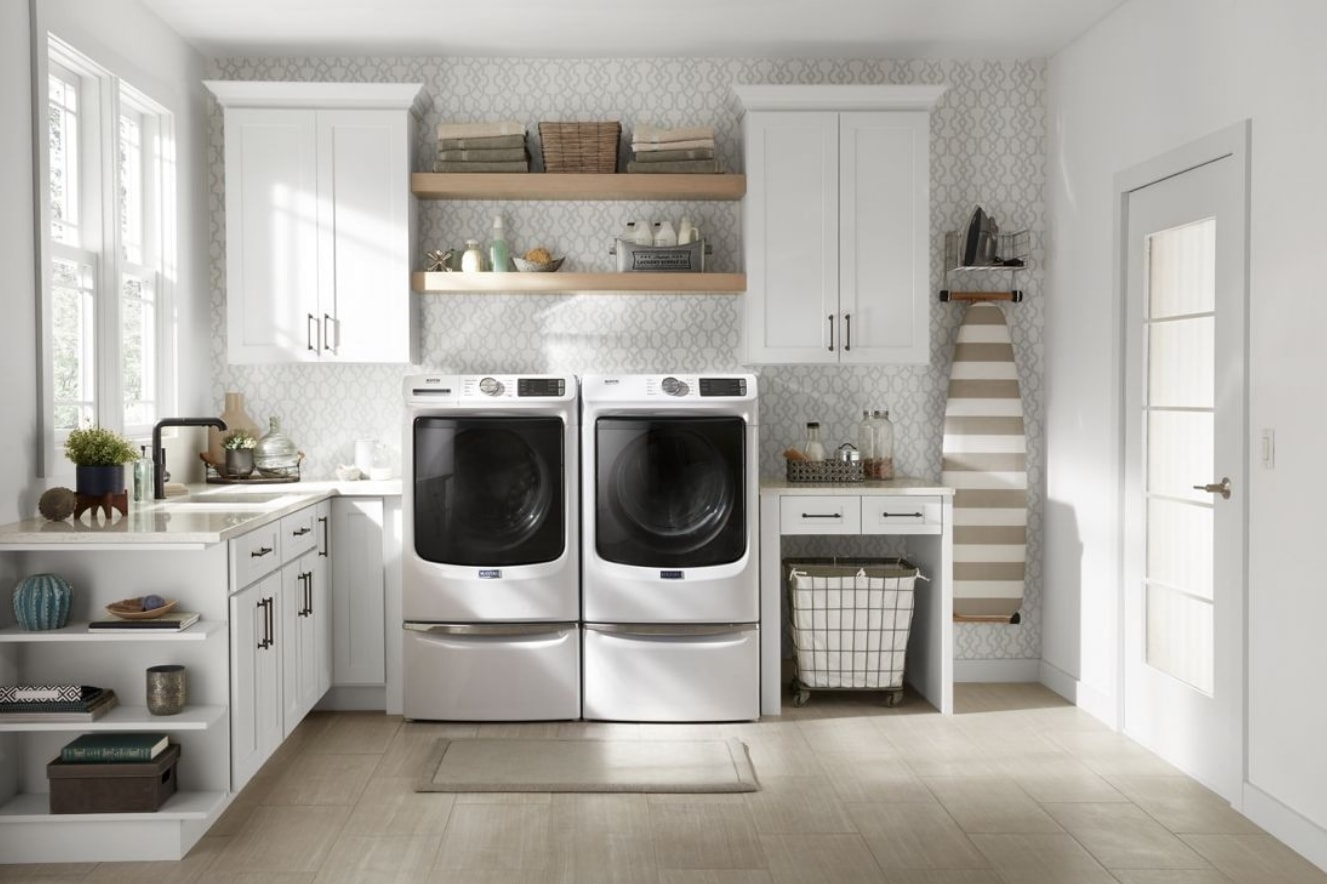 Pros and Cons of Maytag Washers
Pros
Maytag washers are affordable.

They have regular sales offering high discounts.

Maytag's washers are reliable.

The high-end washers offer great value for money.
Cons
Maytag's cheapest top-load washers have a spartan design.

There's no compact washer in Maytag's lineup.
Pros and Cons of Whirlpool Washers
Pros
Whirlpool washers are affordable.

You get value for money in the lower-end washers.

Whirlpool is a reliable brand.

There are several models from which to choose.
Cons
Whirlpool's higher-end washers don't offer as much value for money as Maytag's higher-end models.
Recommended Washer Models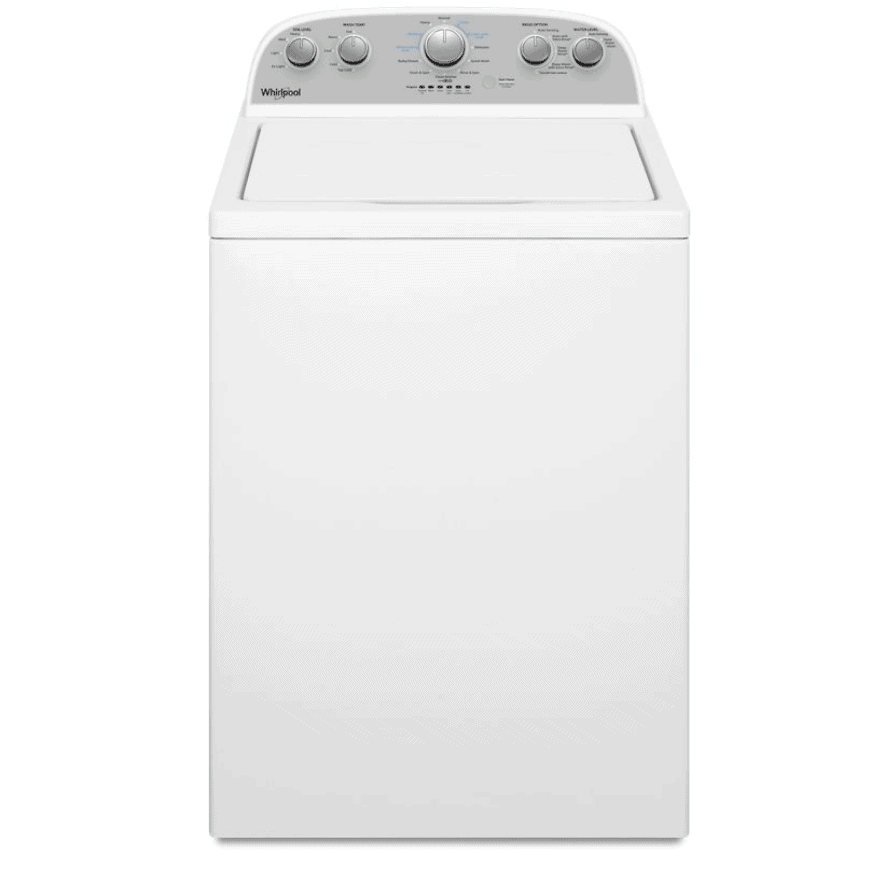 This top-load Whirlpool washer is the most popular in Whirlpool's lineup, and it retails at $750. However, Whirlpool is offering a 22% discount on this washer at the time of writing. But that's not why I recommend it, although the price is a good reason to consider the WTW4955HW.
I've selected this Whirlpool washer model because it has a decent 3.8-cubic-foot capacity with an agitator that cleans clothes each time. Although I admit, I prefer washers with impellers since the agitator makes it difficult to wash bulkier items like comforters. 
Users love how quiet this washer is, which is a quality I look for in a washer.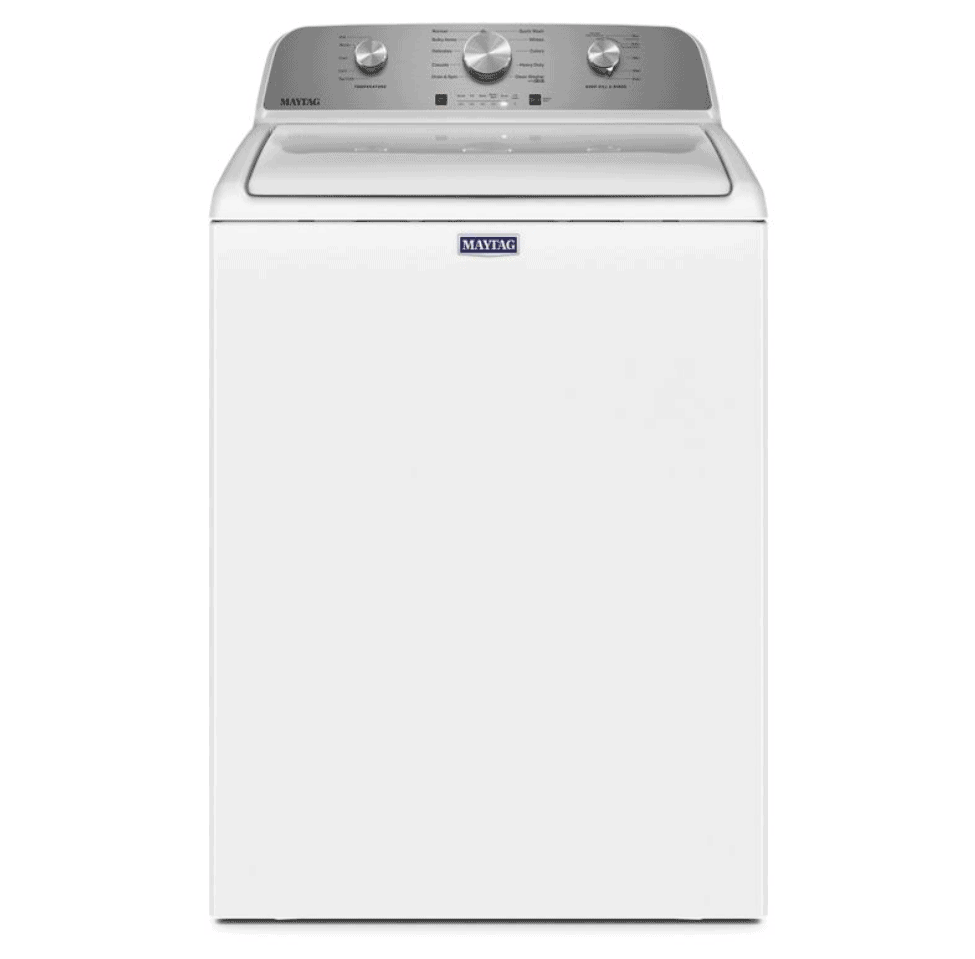 I mentioned that Maytag's top-loaders have a spartan design, not this one. I think it looks modern and stylish, unlike its lower-priced siblings. However, its looks wouldn't matter if it didn't perform well. It does! 
Thanks to Maytag's Power™ agitator, this washer can easily remove stubborn stains from clothes. Plus, with its 11 wash cycles, there's always a cycle for your specific load of laundry. Indeed, as you already know, I'm no fan of agitators, but even I admit they're effective despite taking up tub space. 
Speaking of tub space, this one has a capacity of 4.5 cubic feet. But, before you compare it to the Whirlpool model above, you should know that this one costs $150 more, although Maytag is currently offering a discount of 18%.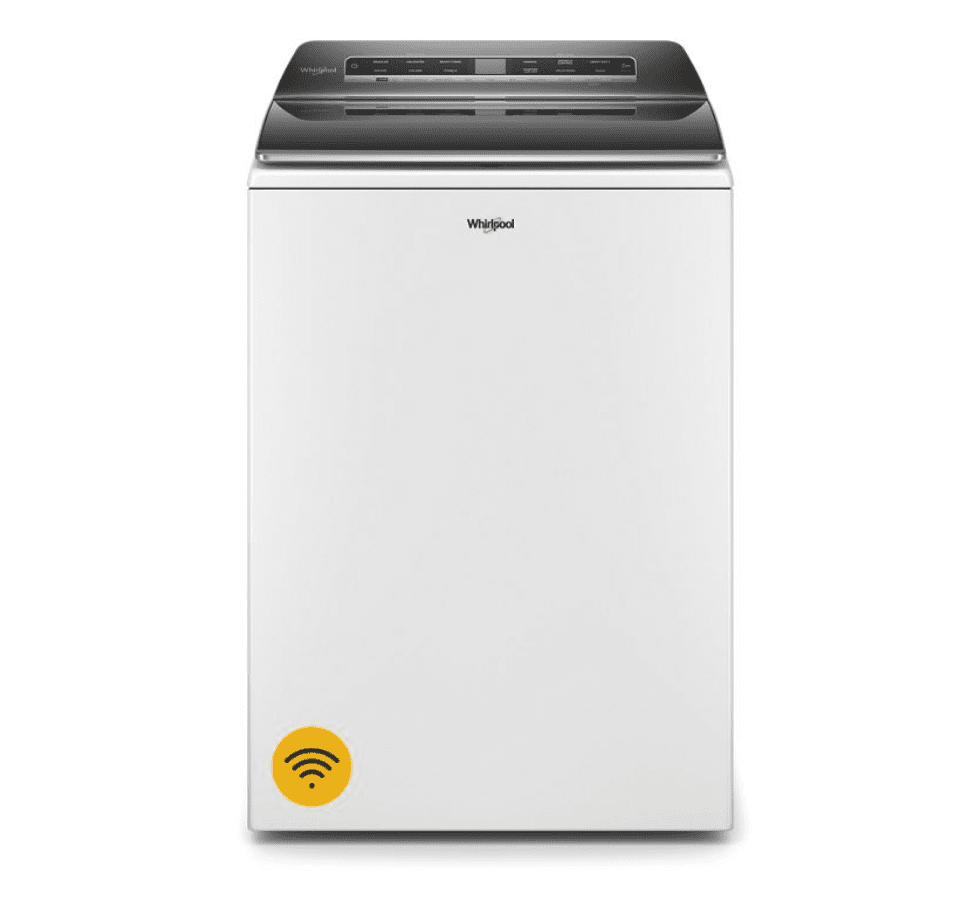 I love this Whirlpool top-loader because of its removable agitator. This is a revolutionary feature that I haven't seen in any other washer from other brands. So, if you're like me and find agitators kind of troublesome, you can remove them from this washer and enjoy the benefits of an impeller. Then, when you need the effective cleaning action of an agitator, just reattach it, and you're good to go. With the agitator, you get a capacity of 5.2 cubic feet and 5.3 cubic feet without it. 
This model also has a Pretreat Station, which comes with a small brush and a faucet. It's built to help you pre-scrub stains before the wash cycle. This model costs $1300, but a smaller 4.8-cubic-foot model with almost similar features retails at $900. If you don't mind the smaller tub, don't need the Pretreat Station, and don't care for WiFi connectivity, then I highly recommend the cheaper one.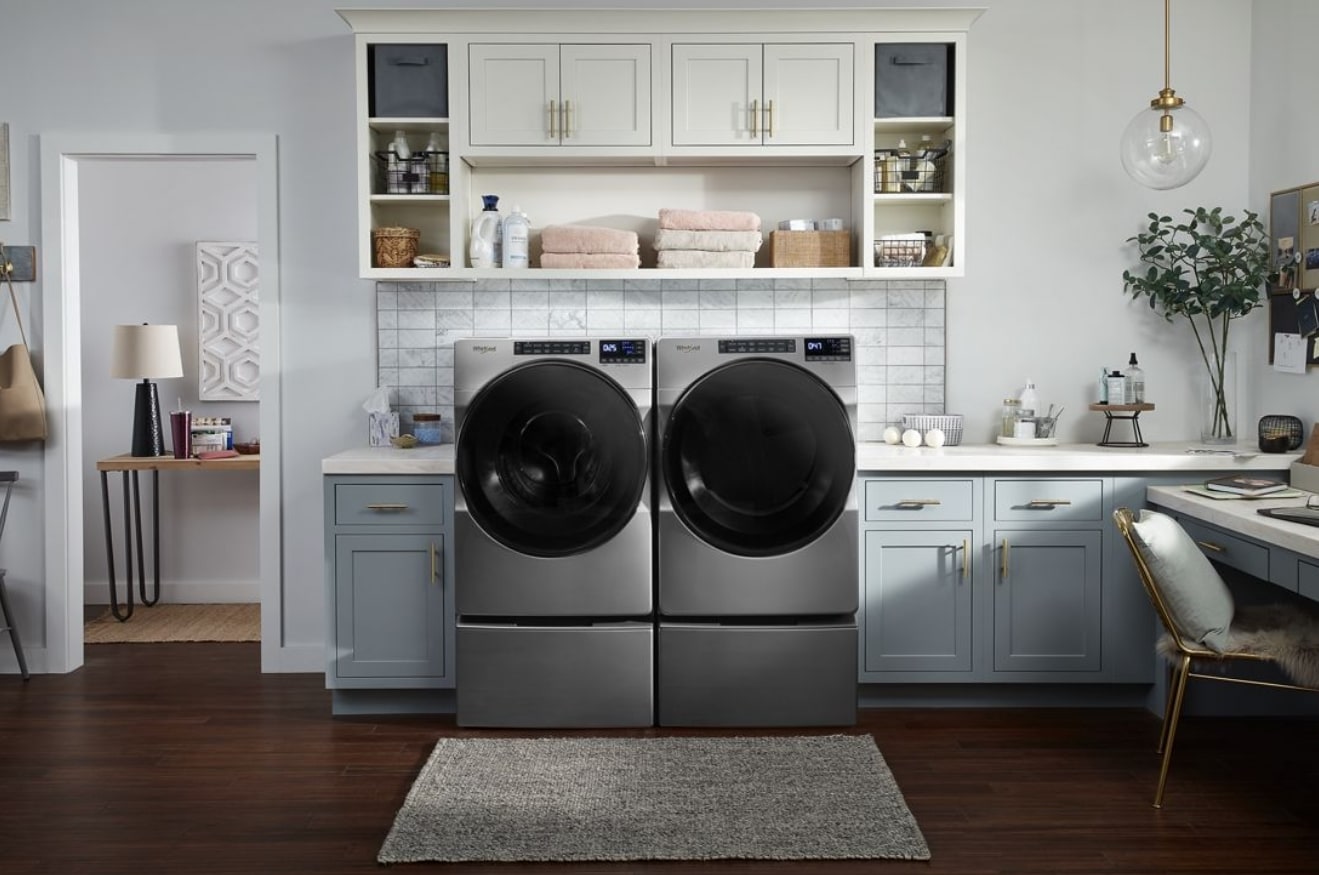 This Whirlpool front-load washer has a large capacity of 5.0 cubic feet, ideal for a large household. I think this model offers the greatest value for money compared to Whirlpool's other front-loaders, and I'll explain why.
For starters, it's priced lower than washers with a smaller capacity, including this compact washer, which costs about $150 more. Granted, it doesn't have features like a Load & Go dispenser or WiFi connectivity, but these don't take away from its performance. They just reduce certain conveniences. 
You do get options like Steam Clean and TumbleFresh, which improve the quality of the wash. Plus, this model is Energy Star certified, so you don't have to worry about high electricity bills.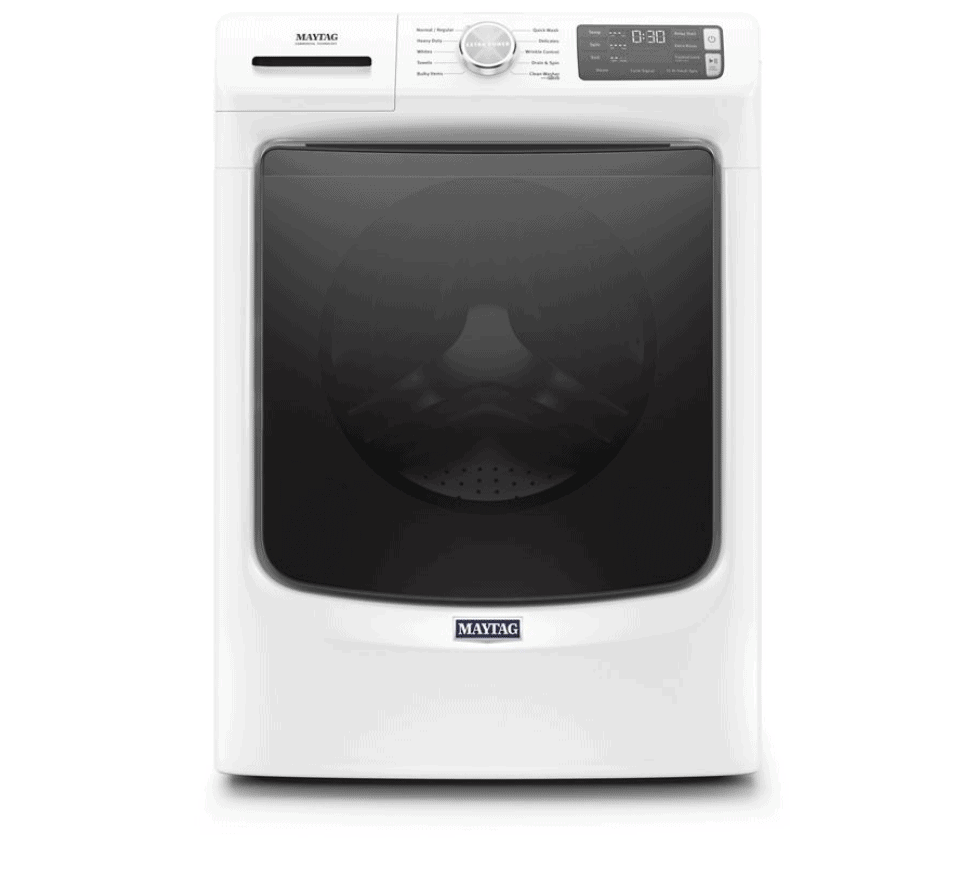 I love the design of Maytag front-load washers; I think the rectangular door is unique and stylish. But I'm more inclined towards Maytag front-loaders because they offer greater value for money than Whirlpool's front-load washers. 
For instance, this model costs $1000 (listed as $999), but it has almost similar features to the Whirlpool model featured above. At the top of the list of features is Extra Power, which boosts this washer's performance. Interestingly, this feature is found in higher-priced models as well, so it's a welcome feature at this price point. 
There's also a Steam Option here, as well as a Fresh Spin Option. The latter keeps clothes fresh and wrinkle-free inside the tub for up to 12 hours by intermittently tumbling the load. 
Alternative Brands to Consider
If you're not set on getting either a Whirlpool or Maytag washer, I recommend considering either Samsung, LG, or GE.
Samsung

Samsung has consistently ranked among the most reliable washers over the last couple of years. I'm sure you agree that Samsung makes beautiful appliances and their washers are no different. I particularly love the variety of finishes available across their lineup plus the Bespoke collection. The washers also have cutting-edge features like WiFi connectivity, and most of the models are Energy Star certified.
Check out our Samsung washer model guide to find out more about this brand.
LG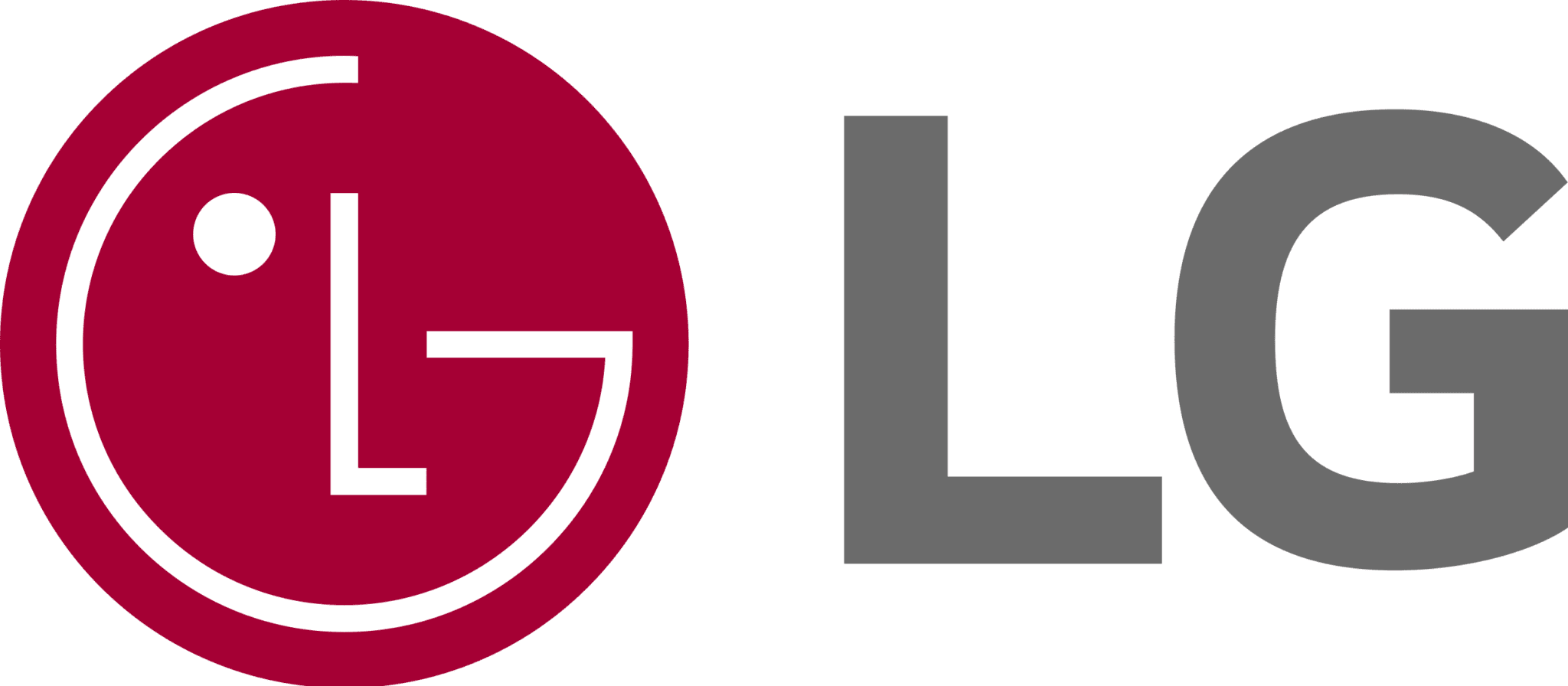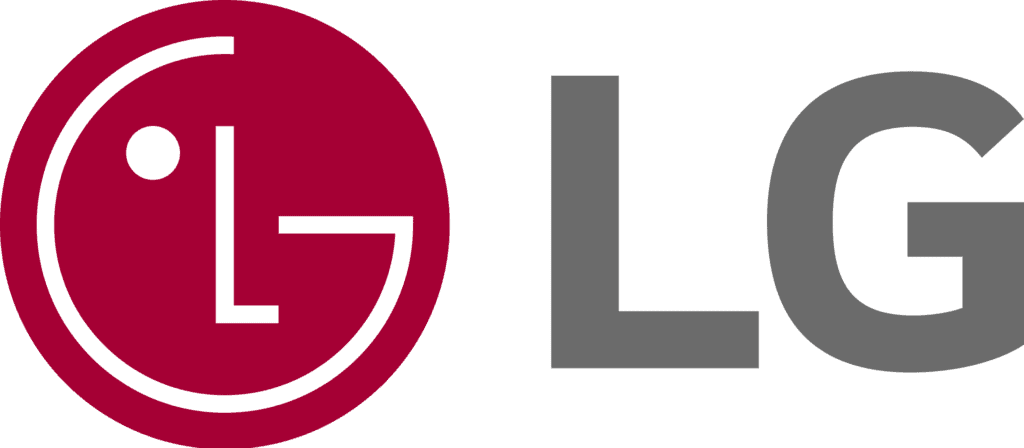 For affordability, style, and bleeding-edge features, you can't go wrong with an LG washer. This brand is also loved for its reliability, so you won't compromise on quality. Unlike Maytag and Whirlpool, LG has over 50 washers, so there's a variety for you to choose from. And if you have over $1000 to spend, you'll get a stunning LG washer like this model.
Find out about other models in our LG washer model guide.
GE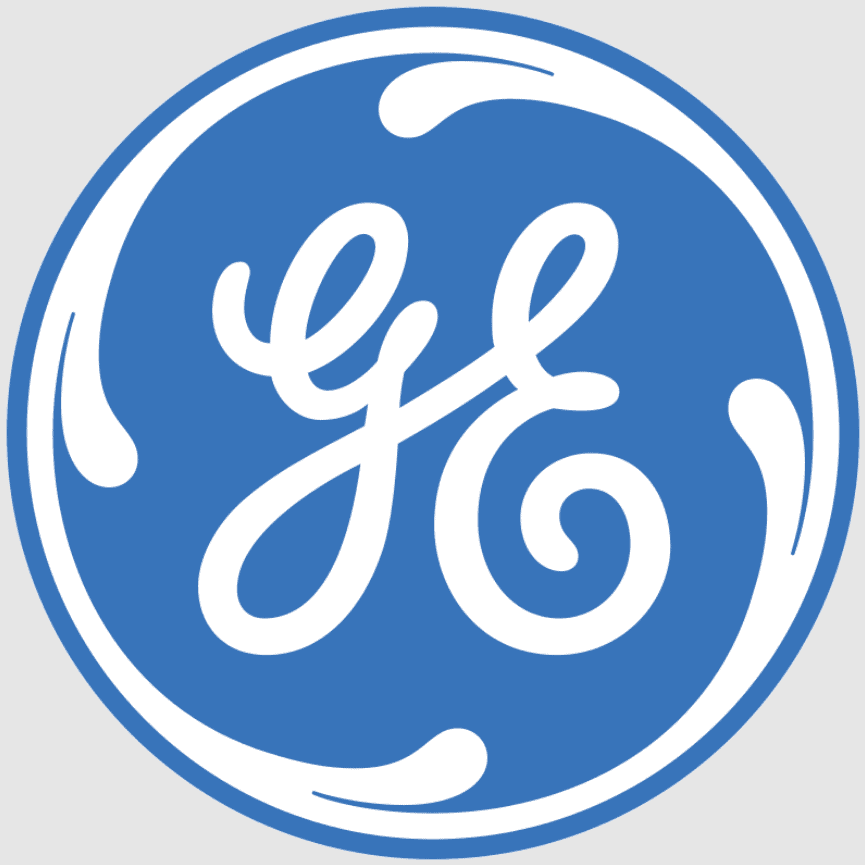 GE is a well-known US appliance manufacturer and they've mastered the art of building reliable appliances. The company's washers are reasonably-priced and they boast handy features like Sanitize cycles among others. These washers are worth considering if you're looking for an alternative to the Maytags and Whirlpools. Take a look at our GE washer model guide for more information on this brand.
FAQs
Question: Are Whirlpool and Maytag washers the same?
Answer: Although the Whirlpool Corporation owns Maytag, Whirlpool and Maytag washers are not the same. They offer different designs and features that appeal to different preferences. 
Question: Do Maytag and Whirlpool washers use the same parts?
Answer: No, Maytag and Whirlpool washers don't use the same parts because the two brands have different washers. This is because Maytag remains independent in manufacturing despite being owned by Whirlpool. 
Question: Is Maytag higher end than Whirlpool?
Answer: In terms of price, both Maytag and Whirlpool appliances have the same average cost. However, Maytag offers better features compared to similarly priced Whirlpool appliances.
Which Brand Is Better?
There's no direct answer to this question because both Maytag and Whirlpool washers stand out in different areas. If you're on a tight budget, you'll get more value if you choose a Whirlpool washer. However, consider Maytag if you have at least $1000 to spend. 
I prefer Maytag's front-loaders because I think they have a better design and features. However, I would rather buy Whirlpool's top-loaders because they aren't as spartan as Maytag's, and they offer greater value for money.
Read More: