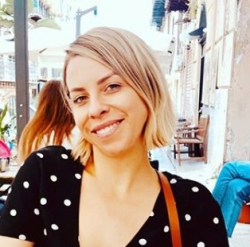 Latest posts by Jodie Chiffey
(see all)
Wondering what to do when the door switch on your Whirlpool dryer breaks? This Whirlpool dryer door switch replacement guide will instruct you on how to cope with the problem step by step.
Whirlpool dryers are some of the most acclaimed products in their category. They come in many different sizes, models, types, and price ranges, but what they all have in common is their reliability, efficiency, and user-friendliness.
Nevertheless, even the best appliances have their weaker points. Usually, these are the most stressed components – like the dryer door switch that engages each and every time when you open or close the dryer door. When such a small and simple yet absolutely crucial component breaks, you most likely won't consider replacing the whole appliance. So how do you deal with the switch replacement?
This article will guide you through the whole process.
Most Popular Types of Whirlpool Dryers
Although Whirlpool dryers differ from model to model in many details, their door switches are often interchangeable or at least very similar, so you can consider most of the instructions in this guide universally applicable.
Below I've briefly summarized some of the most popular Whirlpool dryers currently on the market.
| | |
| --- | --- |
| Whirlpool WED5000W | A popular top load electric dryer with 7.0 cubic feet load capacity. Its smaller dimensions make it an excellent choice for tight spaces. It features an AccuDry system for immediate detection of dry clothes and improved efficiency. Additionally, the Wrinkle Shield feature prevents wrinkles and saves you from lengthy ironing. |
| Whirlpool WGD5000DW | A reliable 7.0 cubic feet capacity dryer for those who prefer gas to electricity. An energy-efficient appliance with compact dimensions and numerous modern features, including the AccuDry system of sensors and Wrinkle Shield to minimize wrinkles. |
| Whirlpool WED8120HW | If you need a large-capacity dryer, this is your no. 1 choice. This electric dryer comes with an 8.8 cubic-foot drum, making it one of the largest appliances in its category. Ideal for large families or smaller businesses! Moreover, this innovative appliance can also be turned into a smart dryer combined with the dedicated App. |
| Whirlpool LDR3822PQ | If you find even the 7.0 cubic feet dryers above too big, this is an ideal mini dryer for you. With just 3.4 cubic feet of capacity, this model is a great fit for RVs, studios, or chalets – it's also perfectly portable. The drying may take longer, however, since it doesn't produce as much heat as some of the larger models. |
How Does a Whirlpool Dryer Door Switch Work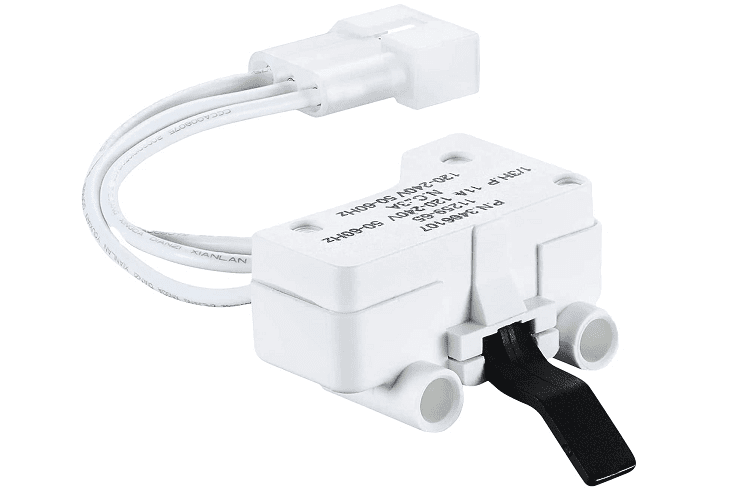 Trying to resolve the problem with your dryer door switch on your own? Start by learning how this component works and how it practically affects the operation of your dryer.
A door switch is basically just a simple mechanism that prevents the dryer from operating when the door is not properly closed. Measuring just about an inch in length, the door switch is one of the smallest components in the dryer. It also usually has just two positions – ON and OFF.
Most of the dryer switches are either white or black. They consist of a small switch box with plastic housing and two or three protruding metal terminals (or prongs).
So, how does this component work? Unlike a purely mechanical latch, the dryer door switch does more than just lock the door in the closed position. When pressed, the switch automatically initiates an electrical connection that "tells" your dryer that the door was closed and it's safe to start the drying cycle.
As you probably already know by now, even though this component is very tiny and straightforward, its malfunction can easily prevent your whole dryer from working.
Troubleshooting: How to Know if Your Whirlpool Dryer Door Switch Needs Replacement?
A dryer door switch informs your dryer that the door is fully closed. But if this impulse won't come, your dryer will act as if the door was still open. For safety reasons, the appliance won't initiate the drying cycle, so you cannot really miss that there's something wrong with the switch.
On the other hand, when your dryer won't start drying, there are also numerous other possible explanations. How can you verify if the door switch is responsible for the problem you're experiencing? Here's a brief troubleshooting guide that may help you:
Double-Check if the Dryer is Plugged-in Correctly
Before you proceed with the diagnostics and testing, do yourself a quick favor and check if your dryer is properly plugged into the mains. Although it might sound a bit silly, this is one of the most probable explanations why your dryer doesn't work.
Sometimes the plug is just slightly pulled out of the socket, which might not be visible – pressing the plug firmly against the socket with your hand is much more reliable than just visually checking the connection.
Check the Connecting Prong First

Turn the dryer off and remove the plug from the socket before proceeding with any diagnostics. Now it's time to check the prong that's supposed to connect with the door switch on the side of the appliance.
Visually inspect the area and make sure that it doesn't show any signs of mechanical damage or oxidation. Look for some possible obstruction, too (dirt, fibers, etc.). If this component is faulty, it would have the same effect as a broken door switch, but replacing the switch won't help, so it's important to rule this possibility out first.
Check the Switch Visually and Manually
Locating the Whirlpool dryer door switch should be quite easy. Just open the dryer door and take a good look around the opening – you should be able to see a small protruding plastic lever somewhere in the corner. The switch should be firm and slightly erected when the door is open, so if it appears to be loosened or flat, it's usually a sign that it's broken.
But even if the switch seems to be fine visually, you should check its condition manually too. Slightly press the lever against the appliance – you should hear a clear clicking sound and feel slight resistance. If the switch doesn't click or pose any resistance, it's the most likely reason why your dryer won't start.
Remove the Switch and Test it with a Multimeter
If you want to be 100% sure that your dryer door switch is (or isn't) faulty, you will have to take the switch module out of the appliance and test it with a multimeter. Never did this before? Don't worry. The switch is perfectly accessible, and removing it is a straightforward operation. It consists of three simple steps:
Removing the lid
Before you do anything else, make sure that your dryer is turned off and unplugged from the mains. Now locate the lint screen filter on the top of the dryer and pull it out. In the empty compartment, you should see two screws that need to be removed.
Now you need to loosen two mechanical clips that hold the dryer's lid closed. They are usually located under the opposite front corners of the lid, and you can push them open with a putty knife or something similar. Next, lean the open lid against the wall or attach it in an upright position with a string/cord to some stable object around you to avoid any damage.
Removing the switch
The door switch is usually located in the corner, and it holds on to a wiring harness. This must be removed first by disengaging the locking tabs. Now open the dryer door and look for the front side of the switch. Two more screws have to be unscrewed here. Hold the switch with your free hand while loosening the last screw so that it doesn't fall somewhere out of reach.
Testing the switch
Now you're going to need a multimeter to test the prongs on the door switch you've just extracted from the dryer. Both analog and digital meters will work fine for this purpose. Just make sure that the range selection dial is in the lowest position for ohms of resistance before you begin.
Place the black multimeter probe to one of the protruding metal prongs on the switch and the red probe to the other. Now press the switch pole. If the switch is good, the meter should drop to zero. If the multimeter doesn't drop, the switch is faulty and must be replaced.
Whirlpool Dryer Door Switch Replacement: Step by Step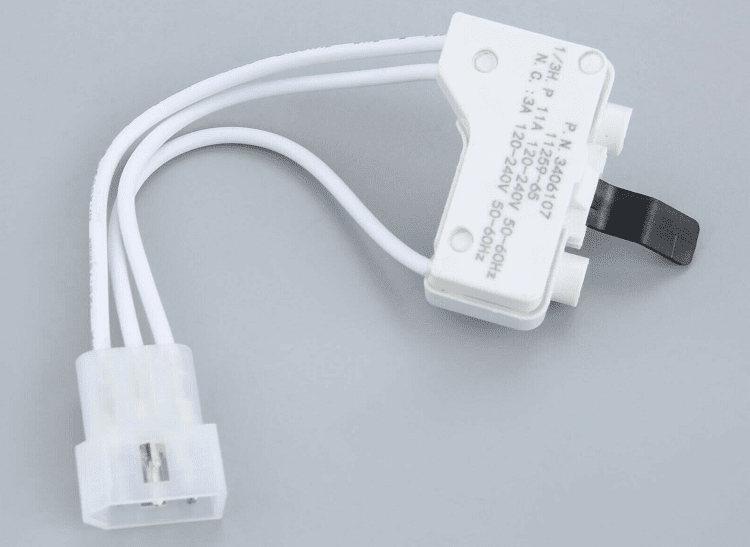 Now that you're sure that you need to replace your door switch, the whole process becomes very simple and straightforward. If you're replacing the switch immediately after testing, you can just proceed with the reinstallation of the new switch. If you need to remove the old switch first, check out the previous section and follow steps 1-2.
Here's how you install a new replacement dryer door switch on your Whirlpool dryer:
Position a new switch box in your hand so that the lever is turned in the correct direction against the dryer lid.
Slide the lever carefully into the open slot where the faulty switch was before.
Line up the screw holes and return the screws back while holding the switch with your free hand. Don't over tighten the screws but make sure that they are firmly attached.
Check if the switch can be smoothly clicked on/off from the front.
Reinstall the wire harness that connects the component – just push the connectors together.
Now close the lid carefully and press the retaining clips on both sides to enclose it firmly.
Return the remaining screws from the lint filter compartment back in their place and insert the filter where it's supposed to be.
Reconnect the power plug, turn the dryer on and test your replacement.
Top 3 Places to Buy Whirlpool Dryer Door Switch Replacement
Now you know how to replace a faulty Whirlpool dryer door switch on your own. But before you put your knowledge into practice, you have to get the correct replacement component first. Not sure where to buy it? These are the three popular online stores where you should be able to get what you're looking for:
Amazon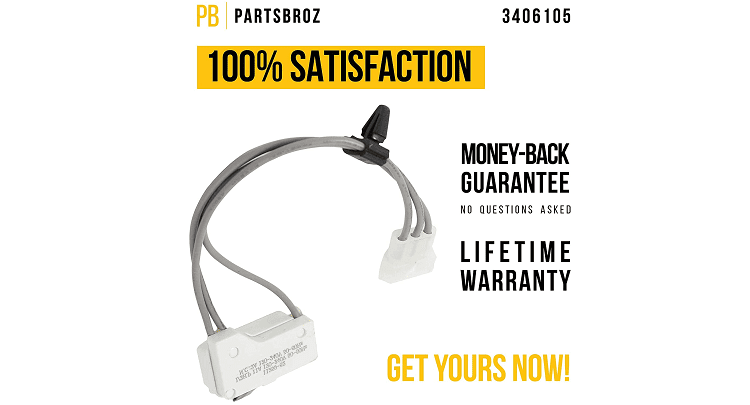 Amazon is a great source of spares and replacement parts for any type of home or professional appliance. It also offers dozens of door switches that should be compatible with your Whirlpool dryer – both OEM and generic replacements from other manufacturers.
The platform is available in many different countries and language versions, it's super easy to navigate, and it provides you with various helpful filtering and comparison tools. It also hosts thousands of customer reviews that can help you instantly recognize a good product from a lame one.
Since this virtual marketplace connects buyers and sellers from all over the world, it's a particularly great source of parts for older appliances that might be already discontinued or sold out in your area. On the other hand, not all products and vendors here are equally reputable, and resolving a dispute with a seller from abroad can be quite complicated.
Pros
Wide range of replacement parts for Whirlpool dryers
Competitive prices – often some of the lowest on the market
User-friendly platform with intuitive navigation
Connects buyers and sellers from all around the world
Reviews help you recognize good products from bad
Cons
Watch out for less reputable sellers and low-quality products
Delivery times can be longer depending on the vendor location
WhirlpoolParts.com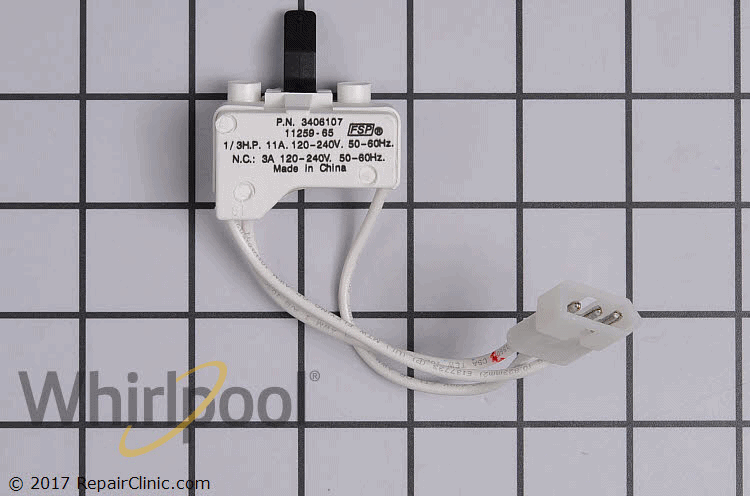 WhirlpoolParts is an authorized online reseller of authentic Whirlpool spare parts and components. The store is run by Repair Clinic, Inc., which also runs some other aftermarket stores. The website is neat and simple, so it's very easy to find the components you need in just a few seconds.
Pictures and descriptions help you evaluate if the part you're looking at is really what you need. If you're not sure, you can call the technical assistance with the model number of a selected part, and they will verify the compatibility with the manufacturer.
The store even has instructional videos that can help you throughout the installation of your new dryer door switch.
On the other hand, according to the customer reviews, this store is known for relatively slow shipping and not-so-responsive customer service. Even the products that should be in stock (and shipped in 24 hours) can eventually arrive late despite the high shipment fees.
Pros
Official distributor of original Whirlpool components
Reliable top quality replacement parts
Simple navigation and good product descriptions
Wide offer of replacement parts
Technical assistance can verify compatibility over the phone
Cons
Prices are a bit higher than elsewhere
Delivery often takes longer than anticipated
Shipping fees are quite high
PartSelect.com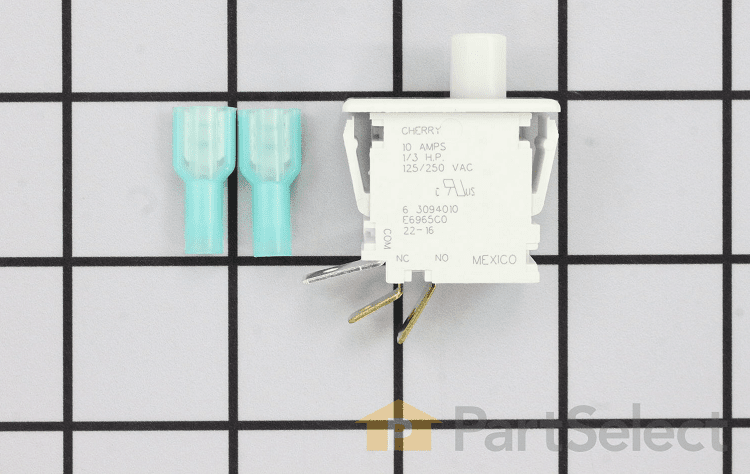 PartSelect.com is currently one of the major vendors on the American appliance aftermarket. Besides many other products, it also has a relatively wide range of replacement parts for Whirlpool dryers – including the door switch kits and assemblies. Just narrow your search by choosing the proper categories, and you should find exactly what you need.
Unlike Amazon, which acts just like a marketplace for other individual vendors, PartSelect is a direct reseller of all the advertised products. In addition, it offers its own authentic photographs, detailed descriptions, and also hundreds of useful guides and instructions.
Customers often praise this store for fast shipping, good customer service, and constant quality of the delivered parts (usually OEM originals). On the other hand, the store's selection of products is not the greatest, and the prices are a bit higher here too.
Pros
Simple online store with user-friendly navigation
Accurate descriptions and actual photos
Responsive customer service
Quality OEM replacement parts
Fast and reliable shipping
Cons
Prices are a bit higher in comparison with other stores
Whirlpool dryer replacement parts' selection is not huge
FAQs
Question: How Much Does it Cost To Replace a Whirlpool Dryer Switch?
Answer: If you hire a professional repairman, replacement of the door switch on your Whirlpool dryer should cost you between $50 and $150.
This price should include both labor and replacement parts. However, if you opt for an original (OEM) Whirlpool replacement switch and an authorized Whirlpool serviceman, expect the costs to be higher (although still within the above-mentioned range).
Question: Is it Worth Replacing a Door Switch on A 10-year-old Whirlpool Dryer?
Answer: That depends on various factors. If your dryer works otherwise flawlessly, looks good, and you're satisfied with its performance in general, investing tens of dollars into a few more years of its service is reasonable.
But if the appliance already looks worn out and shows signs of further deterioration, it is quite possible that even if you repair the switch, other faults will follow soon.
Question: Are Whirlpool Dryer Door Switches Universal?
Answer: Many Whirlpool dryer door switches are interchangeable, but checking the compatibility before you order just any random component is a good idea. Some switches, for example, have just two terminals, whereas others have three terminals. If you buy the wrong design, it may not work well with your dryer.
Bottom line
Whirlpool dryers can be found in thousands of American households. They are considered to be reliable, effective, and affordable, and if you treat them with proper care, they can serve you well for many years. Moreover, they can also be easily repaired at home – especially if you're dealing with a relatively small issue such as the broken door switch.
I hope that this Whirlpool dryer door switch replacement guide answers all your questions and helps you identify and resolve the problem with your dryer fast and painlessly.
Would you like to learn more about DIY replacements and repairs? Here are some other articles you might find interesting: