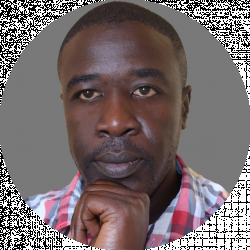 Latest posts by Barry Juma
(see all)
Kenmore Elite is a premium sub-brand of the mother company, Kenmore. These appliances have a higher price point than the standard Kenmore models, and they also boast better specs.
From my research, I discovered that Kenmore Elite appliances elicit mixed reactions, with some owners claiming that they're unreliable while others swearing by the brand. Sadly, Kenmore Elite dishwashers don't feature in JD Power's customer satisfaction 2022 index and aren't as popular as KitchenAid or Whirlpool models. 
I pored through the numerous online reviews and customer feedback of this brand and put together this in-depth Kenmore Elite series dishwasher guide. This piece should help you demystify the Kenmore Elite brand and decide whether it's worth considering for your next dishwasher. 
Bottom Line Up Front
The Kenmore Elite dishwashers are no longer available for sale at Sears or other major retailers like Amazon and Home Depot. It'll be a bit of a hassle finding one brand new.
If you do find one for sale, I would recommend buying it as the Kenmore Elite dishwashers offer top washing performance and very low sound levels. My top recommendations are the Kenmore Elite 14793 and 14799 because of their 39 dBA sound levels.
Kenmore Elite Series Dishwashers at a Glance
The Quietest Dishwasher Model Recommendations – My Top  Recommendations
Smart Dishwasher Recommendations
Dishwasher Model With a Front Control Panel
Kenmore vs Kenmore Elite

I mentioned that Kenmore Elite appliances are the premium version of standard Kenmore models. There are a number of features found in the Elite series dishwashers that you won't get in standard Kenmore dishwashers, in order to justify their higher price.
Here's a quick look at the main differences between the Kenmore Elite and Kenmore dishwashers. 
There are smart Kenmore Elite dishwashers but there aren't any smart dishwashers under the standard Kenmore brand.

You get more premium finishes in Kenmore Elite dishwashers, like black stainless steel, while regular Kenmore dishwashers only get black, white, and stainless steel.

All the company's portable dishwashers are Kenmore brands but there are no portable Kenmore Elite dishwashers.

Kenmore Elite dishwashers get features like MicroClean and 360

o

PowerWash, which aren't available in standard Kenmore models.
Unique Features of Kenmore Elite Series Dishwashers
MicroClean
MicroClean is made up of an elaborate water filtration system that cleans the wash water and recirculated it in the tub to be reused. This feature ensures that the dishwasher uses about 2 gallons less water during a cycle while also boosting the wash performance. According to the company, MicroClean also cuts down the cycle time by about 13 minutes.
TurboZone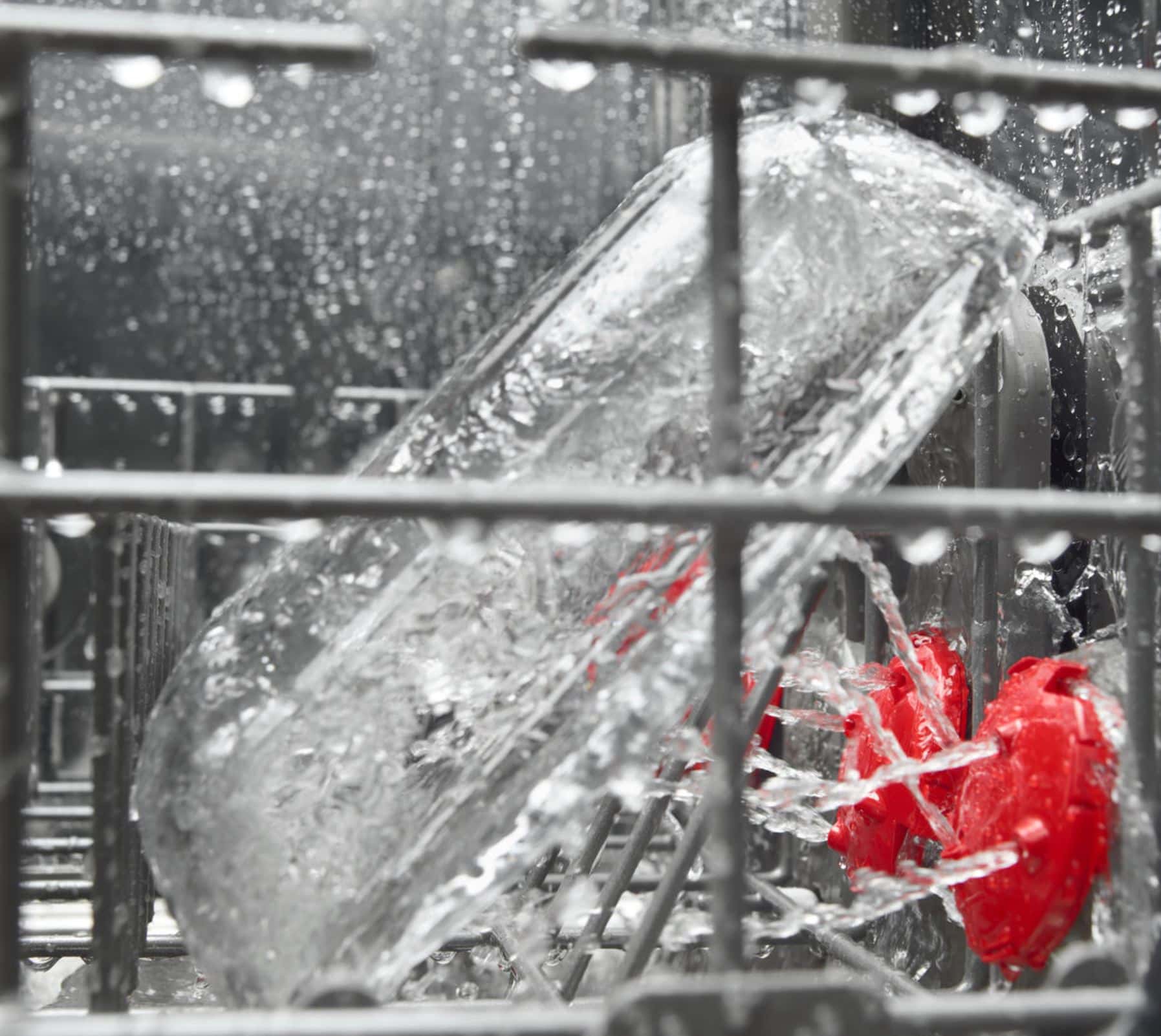 Kenmore Elite dishwashers with this feature have six nozzles that shoot water at high pressure to remove caked-on food. Four of the six nozzles are found behind the bottom rack and they rotate while spraying to enhance the coverage of water. The other two nozzles focus their jets in a single area for a thorough clean.
360o PowerWash
As the name implies, this feature ensures that water reaches every nook and cranny of the dishes. It's connected to the rotating nozzles that make up the TurboZone feature that we've mentioned above. As the nozzles rotate, they create a spiral pattern in the water stream. This is coupled with the spray arm, which also moves back and forth. Water coverage is boosted as a result.
Smart Dry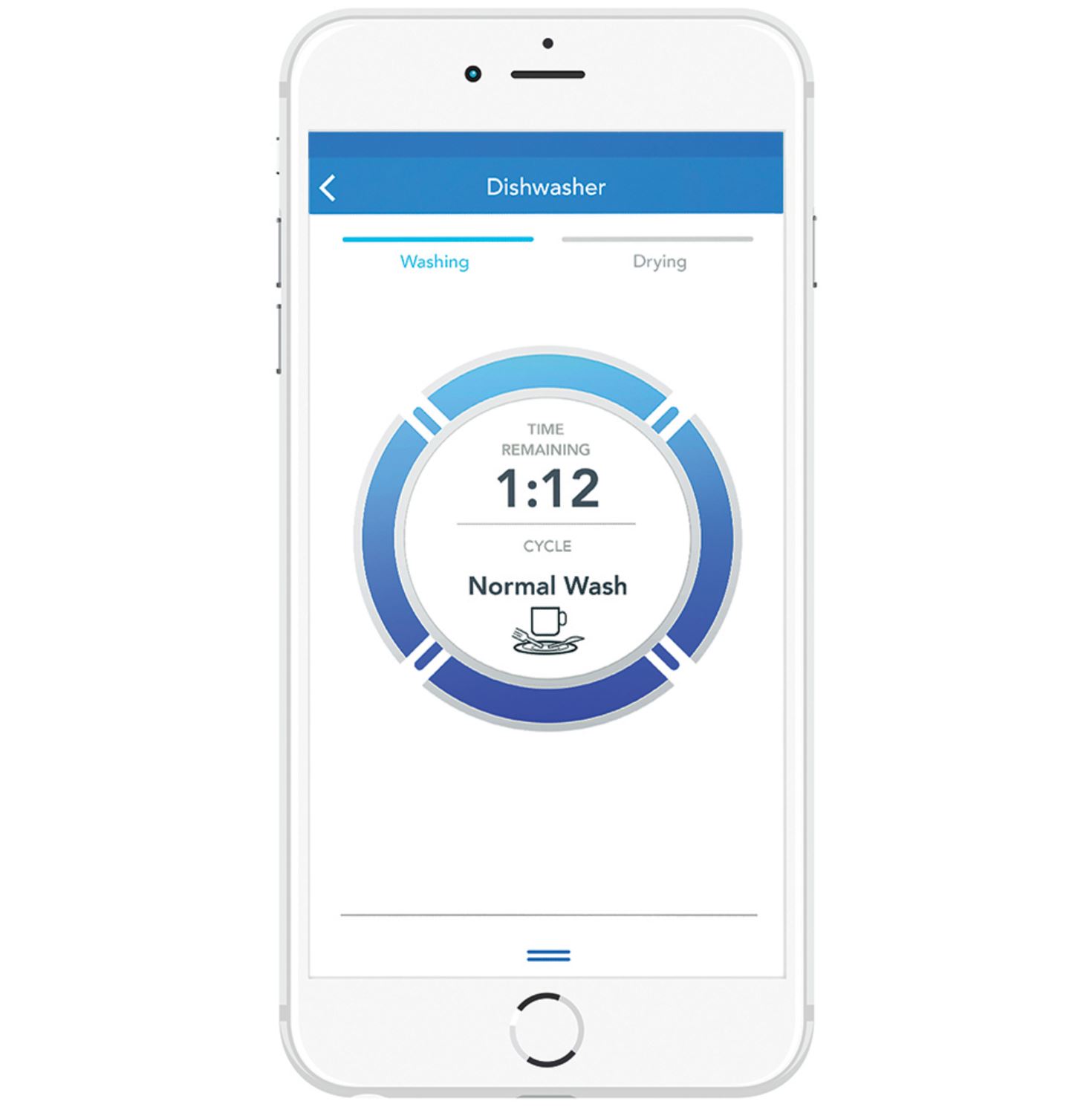 With the help of moisture sensors, Kenmore Elite dishwashers are able to automatically adjust the drying time based on how wet the load is. If the dishwasher detects moisture in the tub, it continues with the cycle and stops when the moisture/humidity level drops. Therefore, dishwashers with Smart Dry save energy that would be wasted during a drying cycle.
Removable Third Rack
As you probably know, a third-level rack in a dishwasher offers room for flatware. However, sometimes it might limit the size of dishes that you can load in the lower racks. Kenmore Elite dishwashers allow you to remove the third rack whenever you need to wash larger dishes like pots or serving bowls. 
What to Consider Before Buying a Kenmore Elite Dishwasher
I wrote a detailed piece on how to find the best dishwasher for your kitchen that you should check out. However, I want to share a few things I believe you should consider before spending money on your new Kenmore Elite dishwasher. 
Type of Dishwasher
You can only find built-in Kenmore Elite dishwashers, but there aren't any portable or under-the-sink dishwashers under this brand. If you prefer either a portable or under-sink model then perhaps you should consider a different brand. 
I wrote more about the types of dishwashers in Kenmore's lineup in the Kenmore dishwasher model guide.
Design
This can be easily overlooked but it's an important factor to consider before choosing a dishwasher. You can find Kenmore Elite dishwasher models with pocket handles or bar handles. You'll also have the option of a hidden-control design or a visible control panel. 
I prefer hidden controls as the dishwasher retains a clean front face. But, that's just my preference. Also, consider a dishwasher color and finish that match your kitchen's aesthetic. You'll have a choice of black, white, stainless steel, and black stainless steel.
Size
The standard dishwasher size is 24 inches in width, which is ideal for the average family. However, if you live alone, perhaps a compact dishwasher with 18 or 22 inches might be a better fit for your needs.  Larger households might be better served by a large-capacity dishwasher of 30 or 42 inches, but these are overkill for most people. 
The Kenmore Elite dishwashers all come in standard sizes (24-inch width), which is the ideal size for most people.
Place Settings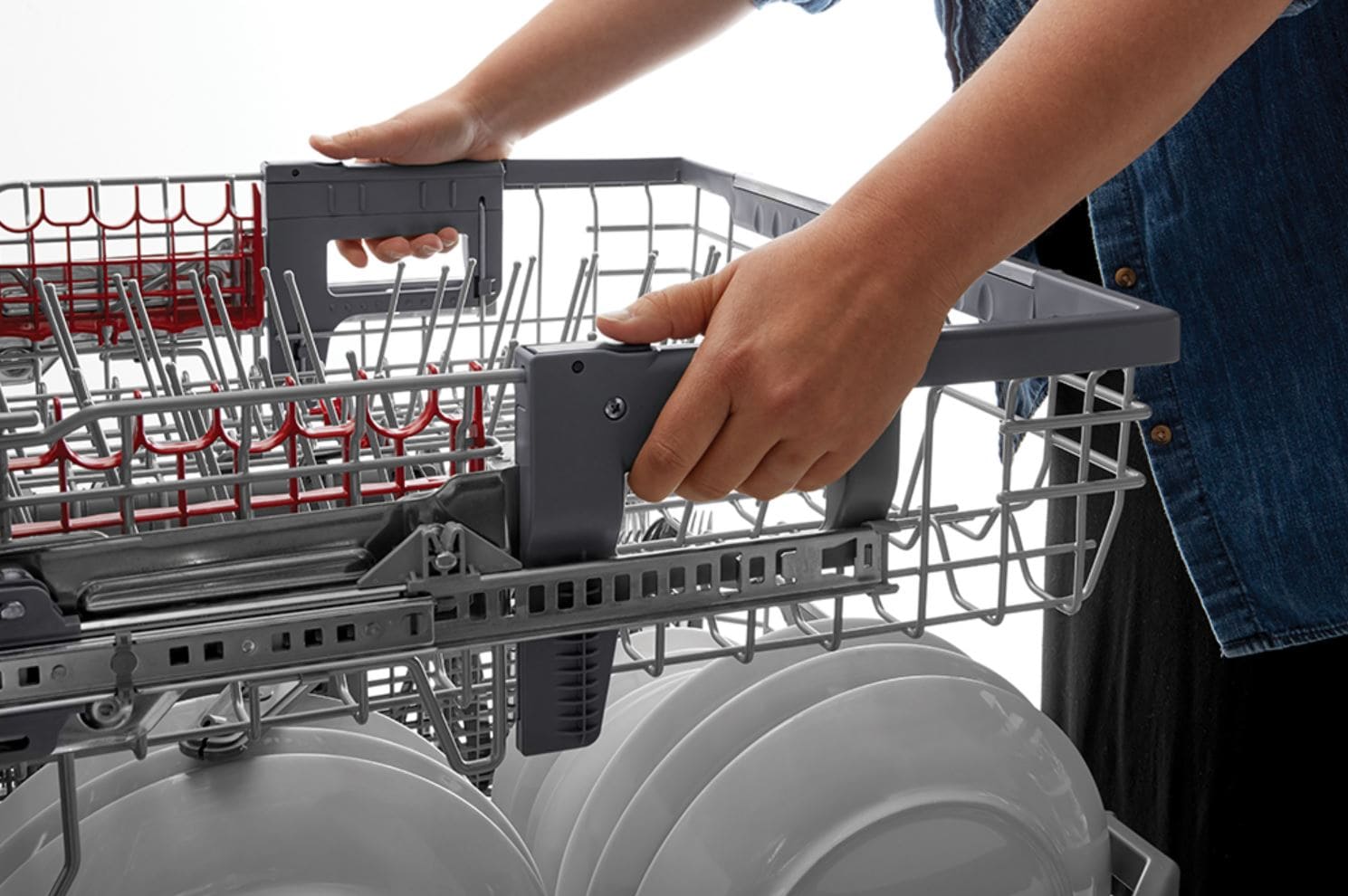 Consider the number of place settings to determine how many dishes the dishwasher can hold. You can get up to 16 place settings in Kenmore Elite dishwashers. Each place setting can hold up to 10 dish items, which I highlighted here.
I would recommend getting a dishwasher with more place settings even if you currently don't have lots of dishes to wash per cycle. This is because your needs might change in the future.
Sound Level
I always recommend dishwashers with sound levels of 50 decibels or less. At 50 decibels, the dishwasher is noticeable when running, but it isn't a bother. In fact, a refrigerator runs at about 50dB. Thankfully, all Kenmore Elite dishwashers have sound levels of less than 50 dB, with some models running at as low as 39 dB. At this level, the dishwasher is almost completely inaudible. 
Kenmore Elite Series Dishwasher Models
Sadly, all the Kenmore Elite dishwashers that I've listed here (and those on the Kenmore website) are no longer available at Sears, the brand's official retailer. Other major stores like Amazon, Home Depot, and Best Buy also no longer have Kenmore Elite dishwashers in stock.
However, you can still buy the models I've recommended below at local electronics stores like American Freight and Sears Hometown Stores.
Selection Criteria
I considered the following factors when selecting the recommended models;
Value for money

– I chose models with features that offer top performance at a reasonable price. 

Design

– The models have varied designs to offer an option for people with different preferences.

Price

– I considered Kenmore Elite dishwashers at different price points for buyers with different budgets.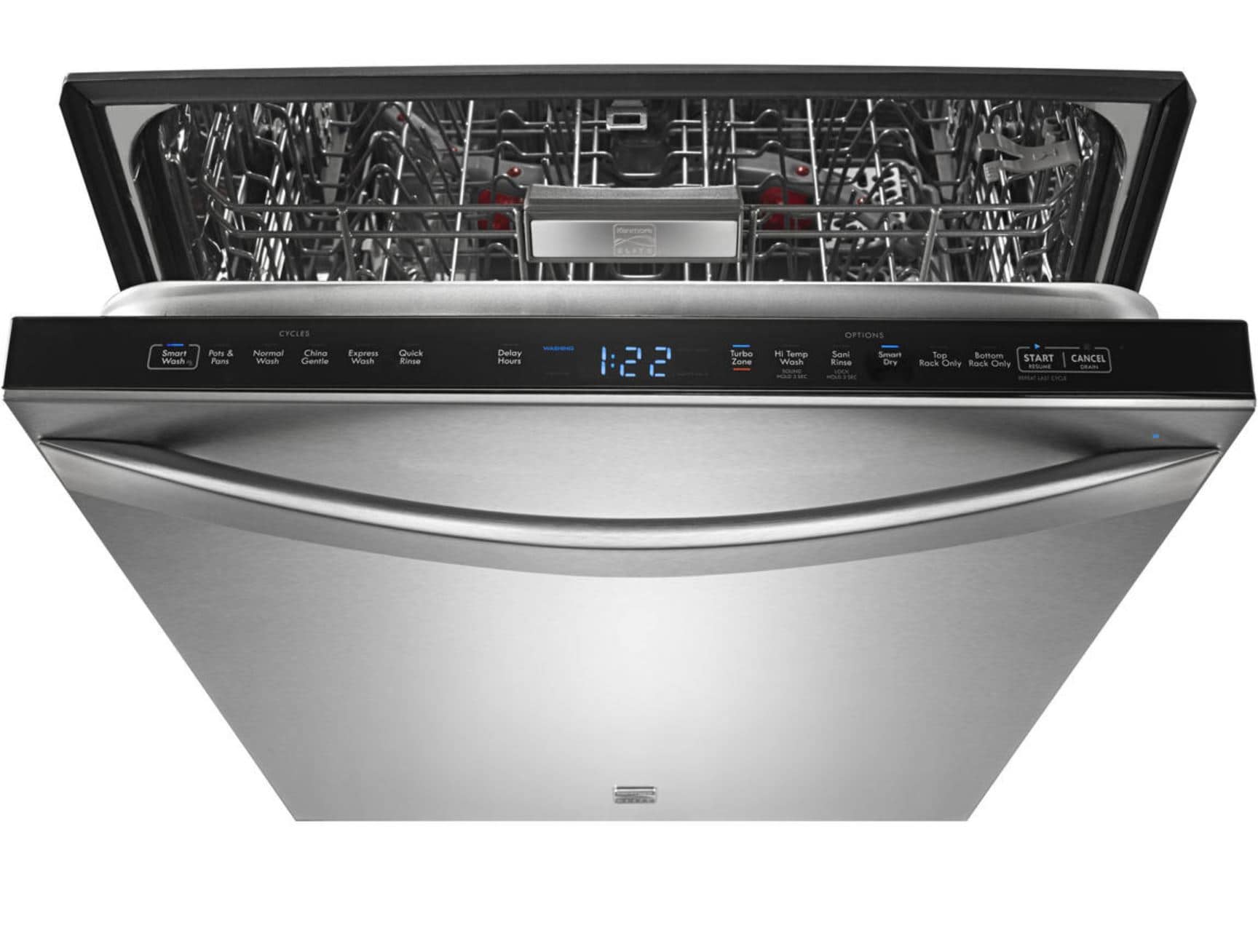 Depending on where you buy the Kenmore Elite 14793 dishwasher, you can get it for between $700 and $1200. It might be a bit difficult to find this model because, as I mentioned above, Kenmore's official retailer no longer has these in stock.
However, if you do manage to find one, you'll be happy with the dishwasher's cleaning performance. This model boasts Kenmore's bleeding-edge features like 360o PowerWash and TurboZone. 
However, what I really love about the 14793 is its whisper-quiet sound level of 39 dBa. As owners can attest, you will hardly hear this dishwasher when it's working. In fact, you might have to keep checking to make sure it's actually on!
Main Features
Its width is 24 inches.

It has a hidden-control design.

There are 14 place settings.

This model has two racks.

It has a stainless steel tub.

Its sound level is 39 decibels.

It has the SmartDry feature.
Pros
You can get this model for less than $1000 in some stores.

It has excellent cleaning performance.

The hidden-control design is sleek.
Cons
There's no third-level rack for the organization of flatware.

Its cycles take longer than average.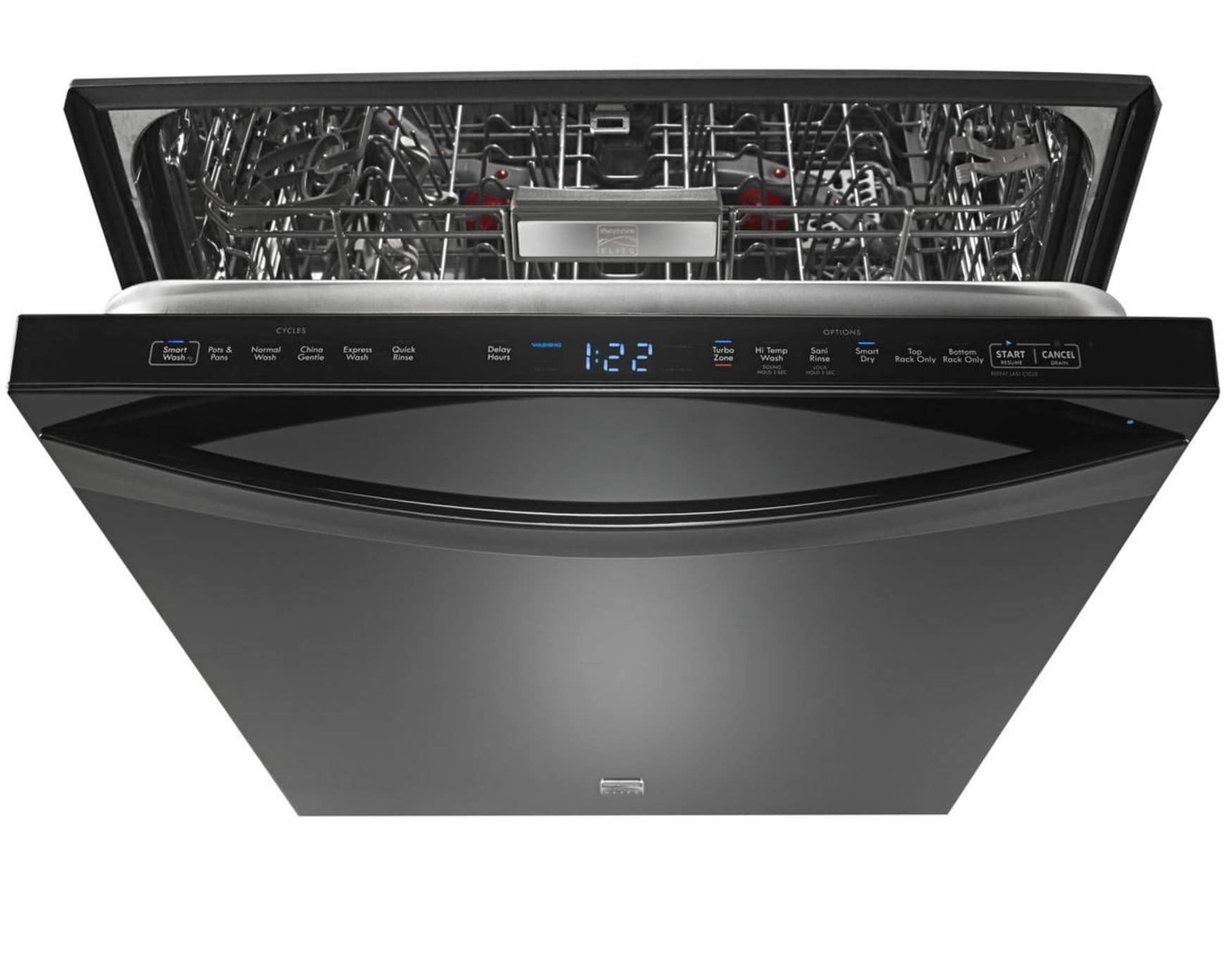 You get a similar design in the Kenmore Elite 14799 to the 14793 model that I've featured above. This one, however, comes with a black stainless steel finish as opposed to just stainless steel in the 14793. 
Still, I'd be lying if I said that these are two different dishwashers because, other than the name and color, everything else is similar. Even the price is almost the same, ranging from about $800 to $1200 wherever it's still in stock. 
So, whichever you choose will be based on your color preference: black or stainless steel. On the plus side, the 14799 dishwasher borrows everything positive from its sibling. This one boasts a ridiculously silent sound level as well; 39 decibels. It also has a similar level of washing performance, with features like TurboZone and 360o PowerWash. 
Main Features
The 14799 model has a 24-inch width.

It has a stainless steel tub.

There are 14 place settings.

It has two racks.

The washer has 6 washing cycles and 2 drying cycles.
Pros
This dishwasher has an elegant design.

It is very quiet.
Cons
There's no third-level rack.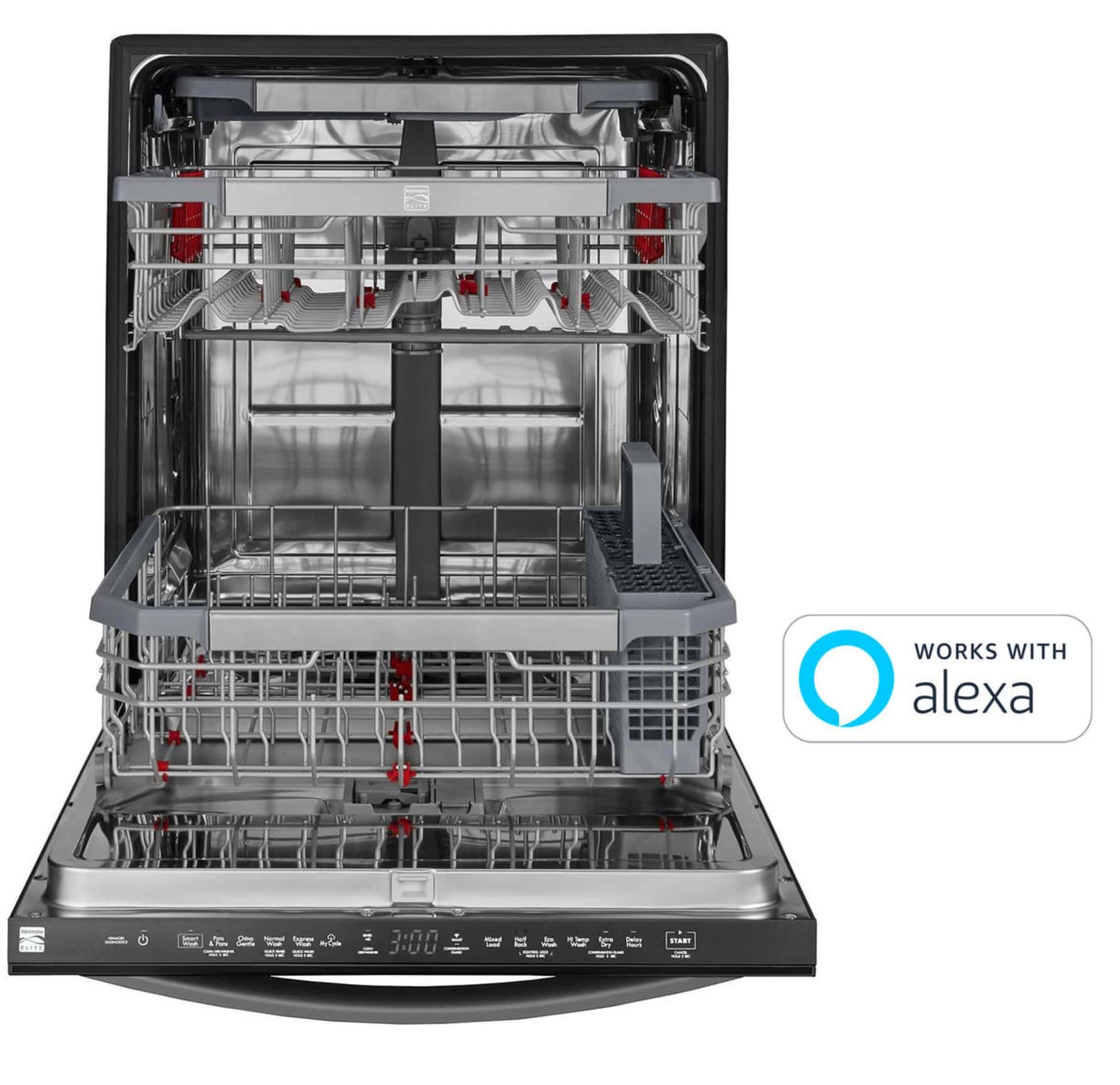 The Kenmore Elite 14677 has a similar hidden-control design to the models above. This one comes with a black stainless steel exterior that elegantly complements its clean face with just a handle. 
Granted, the Kenmore Elite line of dishwashers all seem to have this design, but I'm not complaining. Inside, you get a stainless steel tub with three racks. Yes, there's a third-level rack in this model unlike the ones above. Plus, you can remove this rack if you prefer a two-rack setup. 
This is also a smart dishwasher, so you can remotely monitor or operate the appliance via the Kenmore Smart app. In fact, you can use voice assistants like Alexa to operate the dishwasher.  However, the 14677 model is slightly louder than its counterparts above, with a sound level of 44dBA. Don't get me wrong, this isn't loud, it's just not whisper-quiet. 
Main Features
The Kenmore Elite 14677 has 15 place settings.

There's a removable third-level rack.

It is WiFi enabled.

This model has 360

o

PowerWash technology.
Pros
It has room for extra items in the third-level rack.

You can remove the third rack, making this a versatile dishwasher.

It is quiet.
Cons
This model doesn't dry dishes as well as the ones above.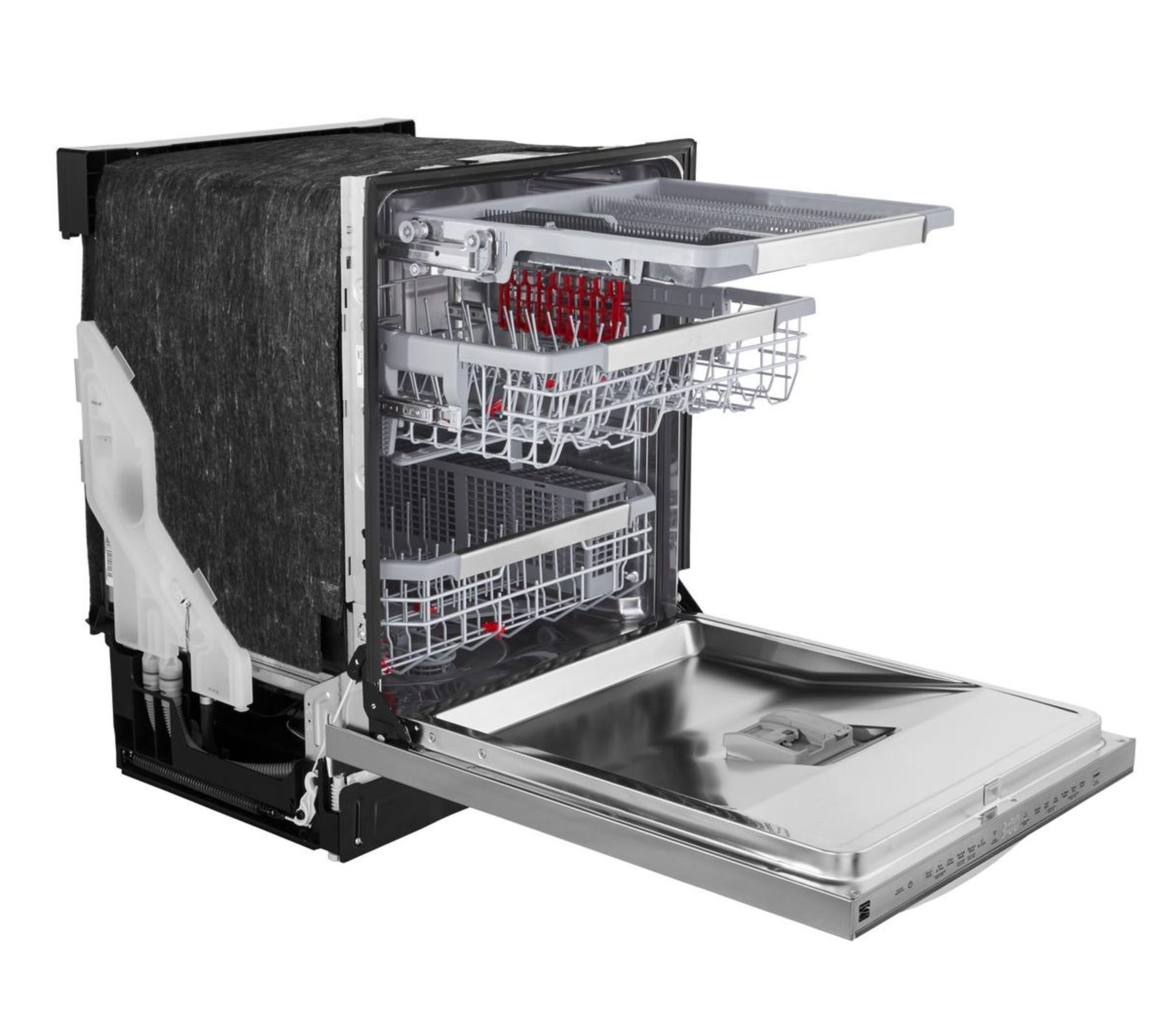 There's very little differentiating the Kenmore Elite 14673 from its sibling above, the 14677. The only difference I've spotted is the color – this one has a stainless steel exterior. Still, this similarity is a good thing because this model also bears the positive features of the 14677. 
For starters, this is also a smart dishwasher (as implied in the name), so you get the convenience of operating it remotely via the Kenmore Smart app. The Kenmore Elite 14673 also has a removable third-level rack, offering room for cutlery and flatware. 
My favorite feature in this dishwasher is the 360o PowerWash X Wash System, which makes it a top performer. However, there's no Smart Dry, so its drying performance might be below expectation, especially when compared to the 14793 and 14799 models. 
I also love how smoothly the racks slide in and out, even when loaded. 
Main Features
This dishwasher has 15 place settings.

It has a stainless steel tub.

Its controls are on the top edge of the door.

The sound level is 44 dBA.

It's compatible with Amazon Alexa.
Pros
It is reasonably priced at around $750.

It operates silently.

It has excellent washing performance.
Cons
There's no Smart Dry feature.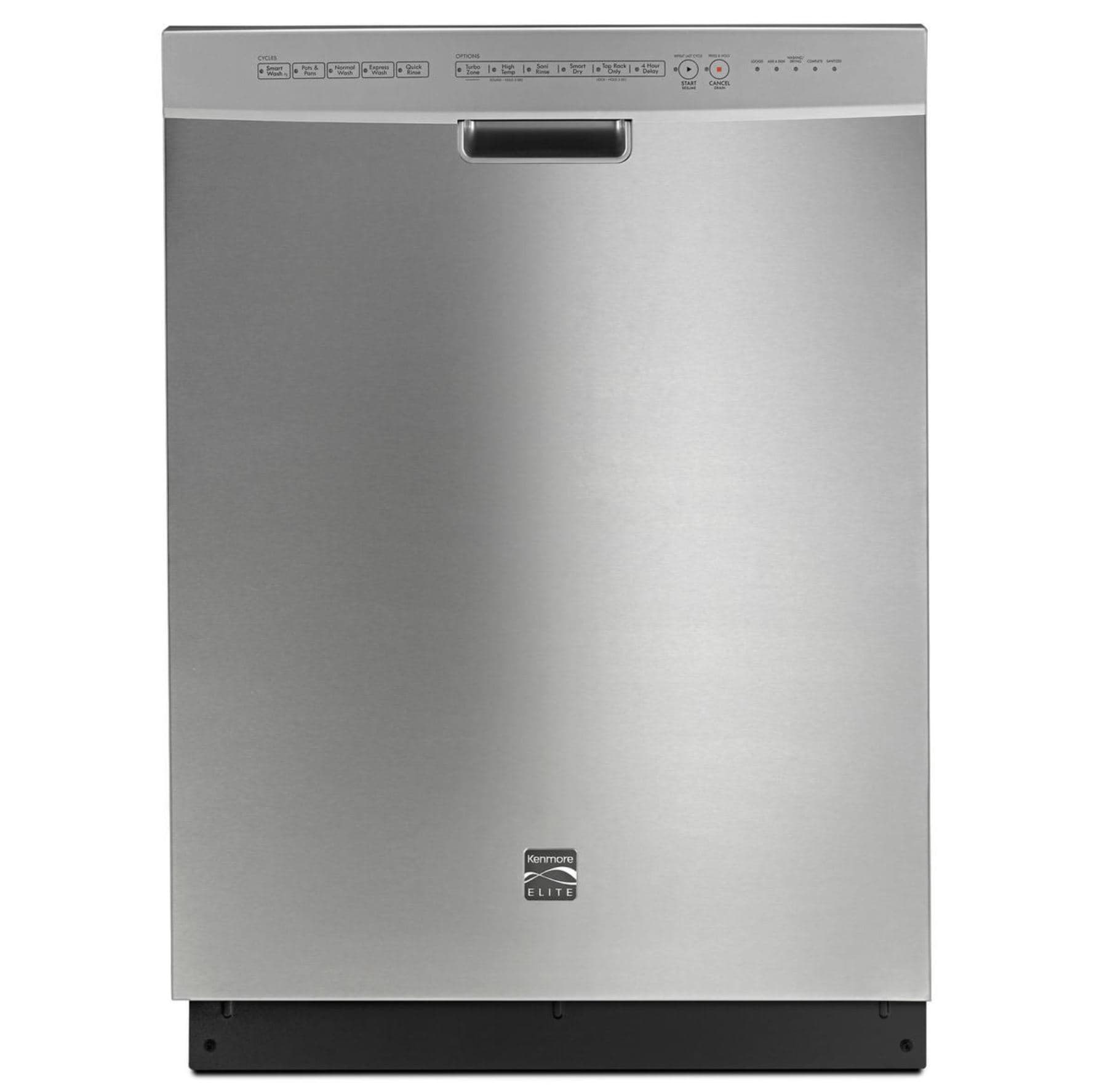 This is the only Kenmore Elite dishwasher with front controls, making it stand out from the rest on this list. It also has a pocket handle instead of a bar handle. So, if you're not a fan of the plain front face, this might be a good option for you. I prefer the former.
The 14743 is an older model so finding it brand new might be a challenge. Still, if you find one, you'll enjoy features like the 360o Power Wash and TurboZone, all of which are in the newer models. Its sound level is the highest on this list, but it's still a reasonable 46 dBA. So, yes, you'll hear it running but it's just about as loud as a refrigerator. 
Thankfully, this model has SmartDry, which is a welcome feature. On the downside, it only has two racks and offers just 12 place settings. 
Main Features
The Kenmore Elite 14743 has a stainless steel tub.

Its sound level is 46 decibels.

It has two racks; the upper one is removable.

It's Energy Star certified.
Pros
It cleans and dries dishes well.

You can fit large pots in the lower rack because the upper rack is adjustable.
Cons
The controls feel unresponsive at times.

It has just 12 place settings.
Kenmore Elite Dishwasher Alternatives
Since the Kenmore Elite dishwashers aren't in stock in most stores, finding them might be a hassle. If you're not set on getting a Kenmore Elite, consider one of the alternatives I've listed below.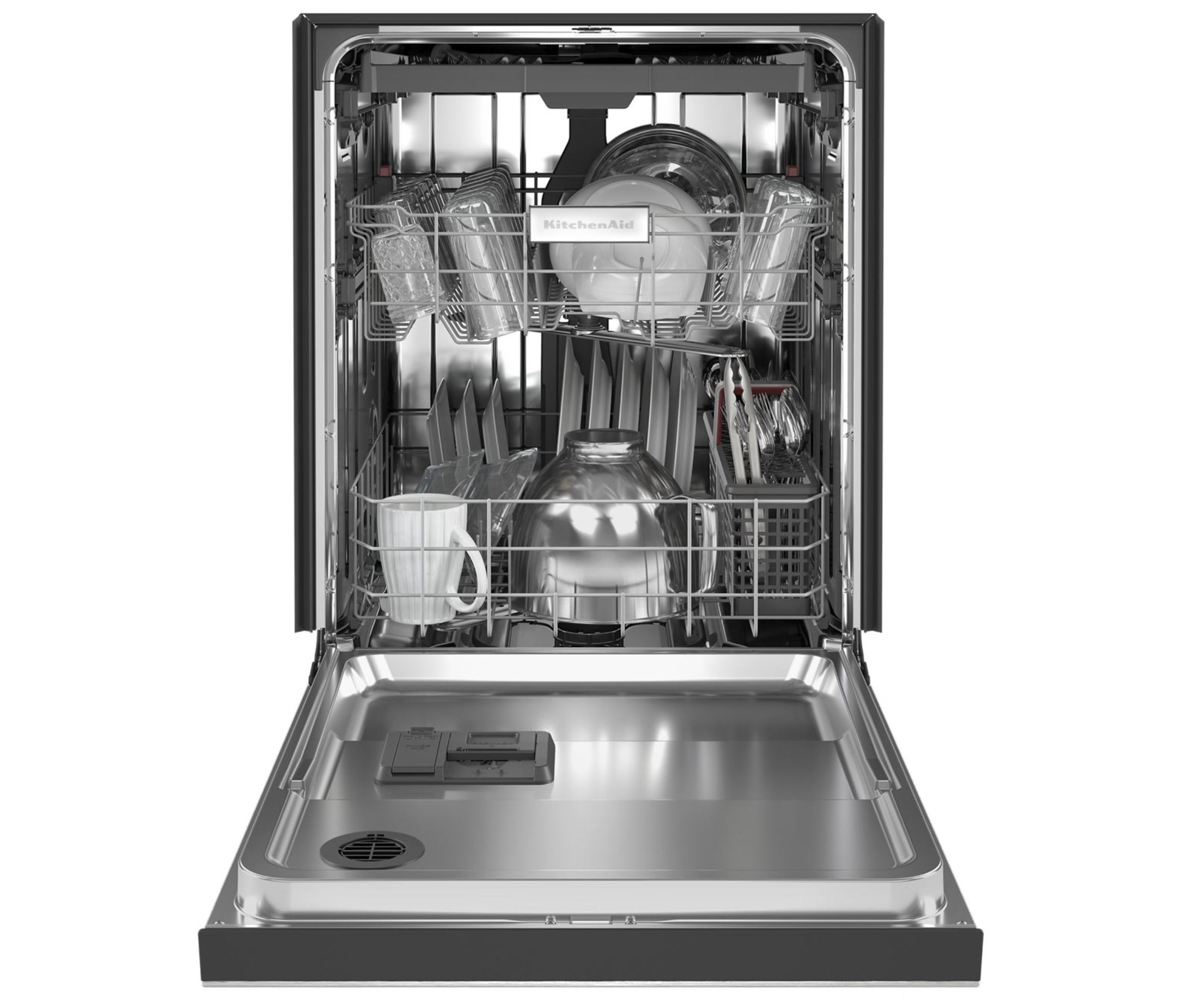 There's no doubt that KitchenAid is a renowned brand for its reliability. In fact, JD Power ranked this number one in customer satisfaction in their 2022 study. This is why I recommend one of the company's dishwashers, the KDFE204KPS, as an alternative to the elusive Kenmore Elite models. 
The KitchenAid dishwasher costs about $1100, but it's worth this price tag. This model has an impressive 39 dBA noise level. I admit, a silent dishwasher is one that's after my heart and this one has won me over. 
It has its control panel on the front face, right underneath the pocket handle. I don't mind this design although prefer hidden controls. What I do love, however, is its stainless steel body, with a fingerprint-resistant finish that KitchenAid calls PrintShield. 
Inside the stainless steel tub, there are three racks that provide a total of 13 place settings. You'll be impressed by how smoothly the racks slide in and out, thanks to the SatinGlide Rails. Sadly, this feature is only found in the middle and third racks. 
What I Like
This dishwasher is energy efficient.

It has sensors that detect leaks.

There are three color options:  stainless steel, black stainless steel, and white.

It's silent.
What I Don't Like
Cycles take a long time to complete.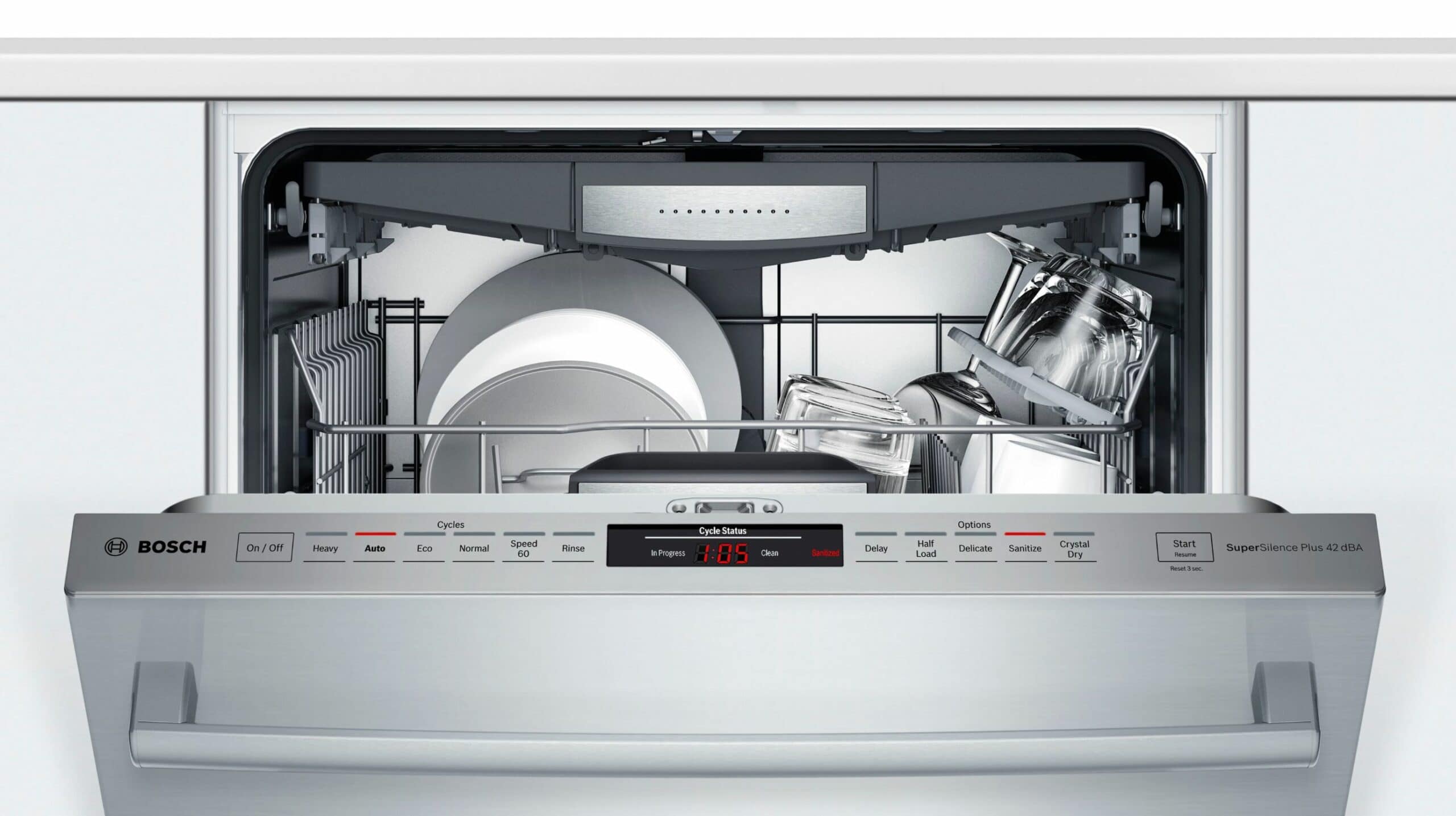 If you prefer the hidden-control design, this Bosch 800 Series dishwasher should be on your list of alternatives to the Kenmore Elite models. It has a clean front face with just a bar handle. The controls are hidden on the top edge of the door, accessible if you walk up to the dishwasher or open the door. The indicator is a spotlight that shines on the floor; Bosch calls this an InfoLight.
This Bosch dishwasher model has a stainless steel exterior, but there's no fingerprint-resistant finish. Its tub is also made of stainless steel, which goes without saying at the price point of $1300.  Three racks are found inside, and a total of 16 place settings are available for use. You can adjust the middle rack to create more room for larger dishes in the lower rack. 
Features like PrecisionWash and CrystalDry give this dishwasher excellent washing and drying performance. Moreover, it works silently, with a sound level of just 42 decibels. 
What I Like
It has a sleek look.

The dishes come out very clean.

Its CrystalDry feature doesn't use a heating element, making it safe for drying plastics as well.
What I Don't Like
It doesn't have a fingerprint-resistant exterior.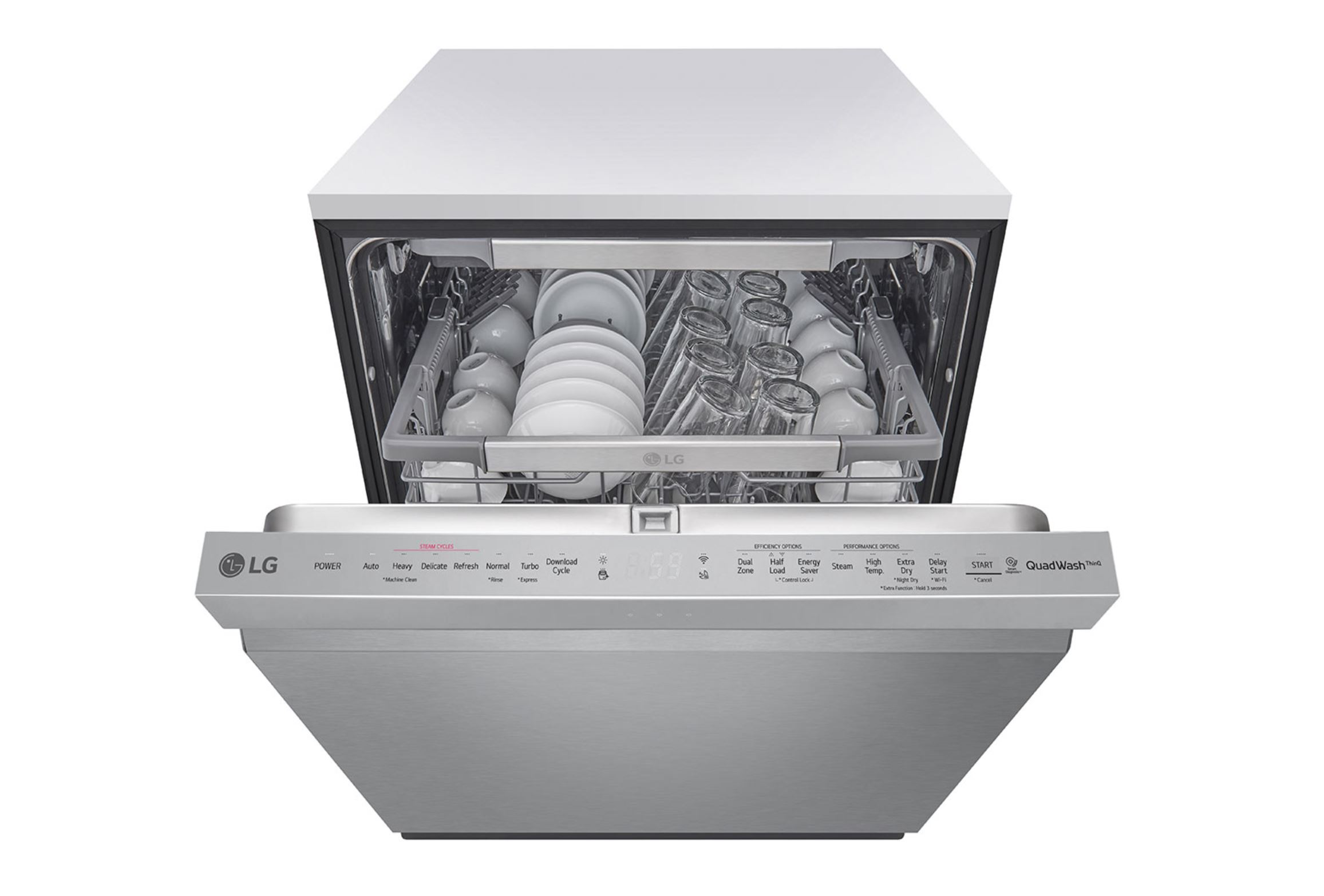 LG's appliances are known to offer great value for their price and the LDP6810SS is no different. At a price of about $1000, you get a smart dishwasher with the company's top-of-the-line features. Some of these features are TrueSteam, which is a cycle that uses steam to clean the load. This model also boasts QuadWash, which is a system of four spray arms that offer improved water coverage. 
Since this is a smart LG appliance, it connects to the ThinQ ecosystem and can be operated via the ThinQ smartphone app. This LG dishwasher has three racks and a total of 15 place settings. And thankfully, the middle rack is adjustable, so you can fit larger dishes in the bottom rack when you need to. 
What I Like
It offers premium features at a reasonable price.

The dishwasher runs quietly.
What I Don't Like
The controls can be unresponsive at times.
FAQs
Question: Who makes Kenmore Elite dishwashers?
Answer: The manufacturing of Kenmore's appliances, including their dishwashers, is outsourced by Sears to other companies like Whirlpool, LG, and GE. Most Kenmore dishwashers are manufactured by Whirlpool.
Question: Are Kenmore and Whirlpool dishwashers the same?
Answer: No, Kenmore and Whirlpool dishwashers aren't the same. Although Whirlpool is contracted to manufacture Kenmore's dishwashers, the Kenmore brand is owned by Sears, while Whirlpool Corporation owns the Whirlpool brand.
Question: What is the life expectancy of a Kenmore Elite dishwasher?
Answer: On average, a Kenmore Elite dishwasher is expected to last ten years, but you can extend its lifespan with proper maintenance.
Kenmore Elite Series Dishwasher Guide: Final Thoughts
Assuming you can find a Kenmore Elite dishwasher in stock, then yes, this brand is worth considering. However, in reality, it's going to be difficult to find a brand new Kenmore Elite model, so you might have to settle for a used one if you're set on getting this brand. 
However, I wouldn't advise you to get a used dishwasher since its longevity is going to be questionable. So, consider one of the alternative brands I've listed above. My top recommendation is the LG Smart Dishwasher because it offers the greatest value for money. 
Read More: